So, as we go through February, it's Black History Month, and I wanted to take a closer look at the all-time Predators' roster and review the impact the black players had on this franchise. In this post, I'm going to touch on the three players who made a stop in Smashville, and they did leave a pretty valuable impact on the team.
Joel Ward
Ward arrived in Nashville in 2008 as a free agent after spending time at the beginning of his NHL career with the Minnesota Wild. He had an immediate impact with his work ethic, defensive prowess, and his ability to be a utility scorer. In 2008-09, his first full season, he had 35 points on 17 goals and 18 assists and a plus/minus rating of 1. That impact left a clear impression on head coach Barry Trotz and general manager David Poile, and Ward was given a two-year extension in 2009. In 2009-10, he had another solid season (13 G, 21 A, 34 P, +/- -5 in 71 games), and saw playoff hockey for the first time in his career with the Predators, although they got bounced in six games by the Chicago Blackhawks in 2010.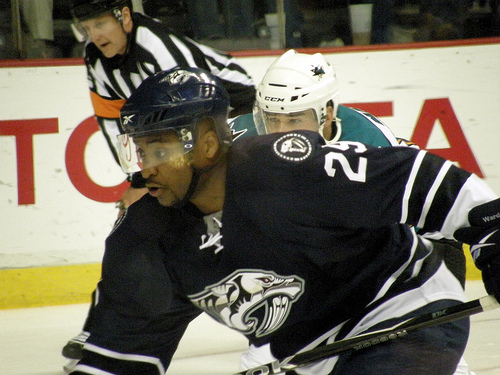 In the 2010-11 season, Ward was a more physical and defensive presence than he was in his first two seasons with Nashville, playing in 80 games, he had 29 points (10 G, 19 A), but saw his penalties in minutes go up to 42 (was 29 in 2008-09, and 18 in 2009-10). But "Playoff Joel Ward" was born in Smashville. In the 2010-11 Stanley Cup Playoffs, Ward played in 12 games and amassed 13 points on seven goals and six assists. Ward left Nashville for the Washington Capitals in free agency in 2011, but he had a huge impact on the team in his three seasons. He ended up playing for the Capitals and then the San Jose Sharks. He was last active in the NHL in 2018 before officially retiring in 2020.
Seth Jones
Seth Jones arrived in Nashville as the fourth overall pick in the 2013 NHL Draft. He is the son of former NBA player Popeye Jones. While the Joneses were in Denver during Popeye's time with the Nuggets was when Seth was introduced to hockey, and with that work ethic and natural skill and athleticism, he was able to be one of the top prospects of the 2013 draft class and ended up landing in Nashville. (from ' A Rising Hockey Star With N.B.A. DNA,' New York Times, 12/21/2012) In his first season, 2013-14, he had six goals, 19 assists, for 25 points. He followed the rookie campaign with eight goals and 19 assists for 27 points, playing in all 82 games. He was big on the power play, scoring 11 of his 27 points while the Predators had the man advantage.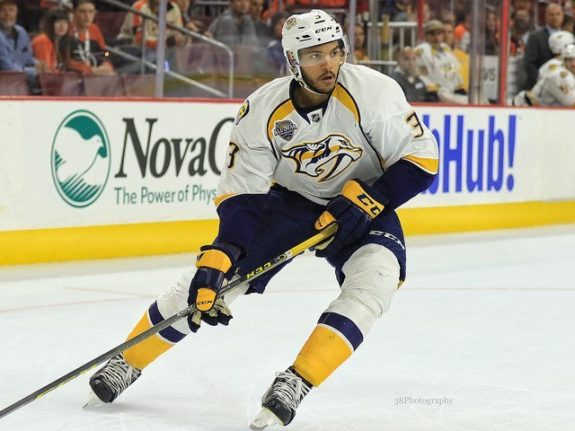 Jones was in the last year of his entry-level contract when he was traded halfway through the 2015-16 season to the Columbus Blue Jackets for Ryan Johansen. He has seen much success in Columbus, being named to four consecutive All-Star Games for the Blue Jackets (2017-20), and the trade has been hailed by THW writer Koby Mitchell as a win-win in his revisiting of the trade, as both teams are really getting value for this deal to this day.
P.K. Subban
When P.K. Subban arrived in Nashville in a trade for Predators' captain Shea Weber in the summer of 2016, he arrived ready to embrace Smashville, and he did just that. Not just on the ice, but especially off of it. And the fans here in Nashville loved the charisma, charity, and character that he brought to the team and the community. Subban definitely brought the impact to the team in a huge way, as he was able to help the team get to the Stanley Cup Final before falling to the Pittsburgh Penguins in six games.
He had 10 goals and 30 assists in that season, and in the playoffs, he played in all 22 games during the Cup run and had 12 points (2 G, 10 A). He followed up the next season playing in all 82 games, scoring 59 points (16 G, 43 A), which was the second-best season of his career statistically. His last season saw some time out due to injury only scoring 31 points (9 G, 22 A) in 63 games before being traded to the New Jersey Devils in the offseason.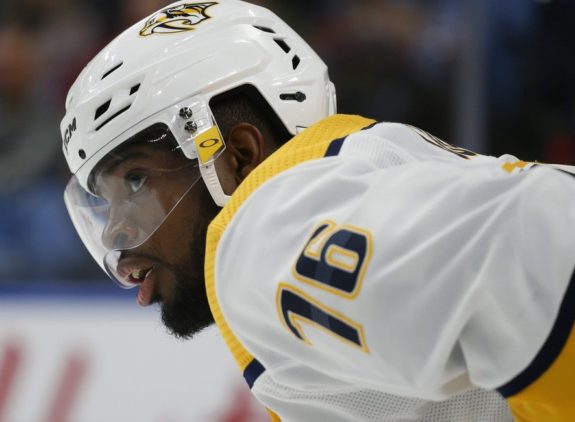 One of the big things Subban did during his time with the Predators off the ice was try to bridge the gap between the police and the youth with P.K.'s Blue Line Buddies; he was able to treat officers and underprivileged youths to a game and create conversation and understanding with the two sides. (from 'P.K. Subban's latest target – the barrier between police, kids,' Tennessean, 12/19/2017) The program was well-received in the community and even had P.K. in the running for the King Clancy Memorial Trophy for leadership and service to the community. He appeared in two All-Star Games with the Preds (2017 & 2018) and was on the cover for EA Sports NHL '19.
All three of these men played for a short time in Nashville, but they all had a pretty big impact on the team at different points in the timeline of the franchise. It's important that we do recognize and appreciate the efforts that they have done for Nashville. And from a personal standpoint, it does make me appreciate their contributions even more and makes me appreciate the front office and coaching staff for giving the opportunity to these gentlemen and being able to create a new generation of Black players to come to Smashville in the future. If you work hard and embrace this community, no matter who you are, they will embrace you right back.
Thoughts? Comment below or find me over at @ddunhamjr on Twitter!
---
---
Nashville Predators writer. Graduate of North Carolina A&T State University and Northeastern University. Been into hockey since NHL 94 and not knowing what I was doing to having a pretty good idea of how to play. Based in Nashville since 2015. Sharks fan.