| | | | |
| --- | --- | --- | --- |
| Born: | July 15, 1962 | Draft: | Undrafted |
| Hometown: | Winnipeg, MB, CAN | Position: | Defense |
| Known For: | 2 Jack Adams Awards | Shoots: | Left |
| National Team: | Canada |  |  |
Barry Trotz (born July 15, 1962) is a Canadian professional ice hockey coach who most recently was head coach of the New York Islanders of the National Hockey League (NHL). He is also the former head coach of the Nashville Predators and the Washington Capitals. As an NHL coach, he is third all-time in wins, only behind Scotty Bowman and Joel Quenneville.
He was previously the coach of the American Hockey League (AHL)'s Baltimore Skipjacks and Portland Pirates, with whom he won an AHL championship in 1994. That same year, he won the Louis A.R. Pieri Memorial Award, which is awarded to the outstanding coach in the AHL as voted upon by the AHL Broadcasters and Writers.
On February 20, 2013, Lindy Ruff was fired by the Buffalo Sabres, making Trotz the longest-tenured head coach in the NHL. He was also the second-longest tenured coach in the four major North American professional leagues, behind only Gregg Popovich of the National Basketball Association's San Antonio Spurs. On May 26, 2014, Trotz was announced as the new head coach of the Capitals. Trotz won his first Stanley Cup as the head coach with the Capitals, defeating the Vegas Golden Knights in five games, in the franchise's first Stanley Cup championship.
Years as a NHL coach: 1998-2022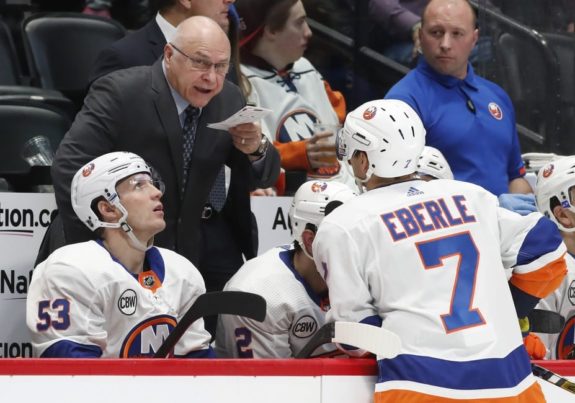 Barry Trotz Statistics
Deeper Dive
Coaching History
1984-85 Univ. of Manitoba CIAU Asst. Coach
1985-87 Dauphin Kings MJHL GM/Head Coach
1987-88 Univ. of Manitoba CIAU Head Coach
1987-91 Washington Capitals NHL Scout
1991-92 Baltimore Skipjacks AHL Asst. Coach
1991-93 Baltimore Skipjacks AHL Head Coach
1993-97 Portland Pirates AHL Head Coach
1997-98 Nashville Predators NHL Scout
1998-14 Nashville Predators NHL Head Coach
2001-03 Canada World Championships Asst. Coach
2008-09 Canada World Championships Assoc. Coach
2012-13 Canada World Championships Asst. Coach
2014-18 Washington Capitals NHL Head Coach
2016-17 Canada World Cup of Hockey Asst. Coach
2018-2022 New York Islanders NHL Head Coach
Achievements
1993-94 Calder Cup Champion
1993-94 AHL Coach of the Year (Louis A.R. Pieri Memorial Award)
1994-95 AHL All-Star Game
2002-03 World Championship Gold Medal
2008-09 World Championship Silver Medal
2015-16 NHL All-Star Game (Head Coach)
2015-16 Jack Adams Award Winner (WSH)
2016-17 World Cup Gold Medal
2017-18 NHL All-Star Game (Head Coach)
2017-18 NHL Stanley Cup Champion
2018-19 Jack Adams Award Winner (NYI)
Sources