With only 15 games left on the schedule, the Anaheim Ducks' 2022-23 season is quickly coming to a close. It's been a forgettable year for the Ducks as they put the finishing touches on their fifth straight season without a playoff berth. While the next significant date for the organization will be the Draft Lottery, one of the more interesting facets of the team will be roster turnover. Even after trading pending free agents John Klingberg and Dmitry Kulikov, Anaheim is rostering 13 expiring contracts with unrestricted and restricted statuses.
Related: NHL Rebuild Rankings: Which Teams are Closest to Contending?
Some decisions — Trevor Zegras, Troy Terry, and Jamie Drysdale — will be easy re-signs. However, a handful of these players are on the margins of the roster, with any sort of promotion or acquisition threatening their spot in the lineup. As the team improves and exits its multi-year rebuild, these are the roster moves necessary to improve the on-ice product. Here are three familiar faces who may not be on the Ducks' roster next season.
Derek Grant
Derek Grant has been with the Ducks on an on-and-off basis since the 2017-18 season. After a career year debuting for Anaheim, he signed as a free agent with the Pittsburgh Penguins only to be traded back to the Ducks months later. Anaheim traded him to the Philadelphia Flyers a year later, but he again returned to sign a three-year deal with the Ducks in the offseason. His contract is set to expire, and his services will unlikely be renewed.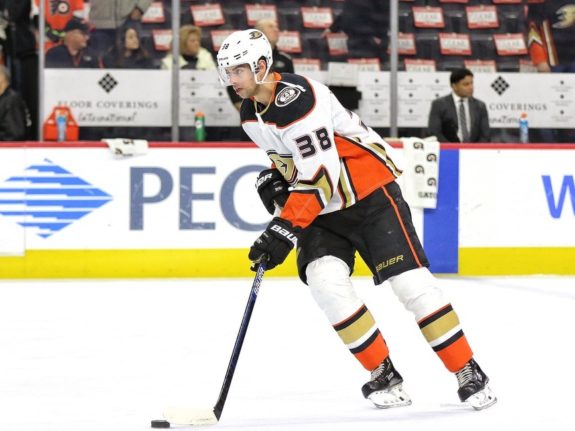 While Grant is far from the most talented center to wear a Ducks' uniform, he has done everything asked of him during these lean rebuilding years. In his first season on the team, Anaheim was hampered by injuries down the middle, forcing him to play as the top-line center between Rickard Rakell and Corey Perry. After failing to score a goal in his first 92 NHL games, Grant finished the 2017-18 season with 12 goals in 66 games. He has 53 goals in 294 career games in Anaheim.
Anaheim's center depth has been an area of focus in recent years, with first-round picks used on Isac Lundestrom, Trevor Zegras, Mason McTavish, and Nathan Gaucher in the last five drafts. Additionally, the offseason signing of Ryan Strome has added another natural center to the roster. Grant never seems to stay away from Anaheim for too long, but it looks doubtful he'll be on the roster by next season.
Simon Benoit
Simon Benoit emerged as the unlikely winner of a position battle between himself, Jacob Larsson, and Josh Mahura. The undrafted defenseman proved to be the more reliable option throughout the 2021-22 season and has now appeared in 116 games over the last two years.
It may be unfair to suggest Benoit has taken a step back this season, but Anaheim's much-maligned defense has made the entire unit look poor. He's best suited to be a third-pairing option, but the depth chart has forced him to play a much larger role. He's fourth on the team in total ice time and second in penalty-killing minutes. Trade deadline departures from John Klingberg and Dmitry Kulikov have only increased his workload.
Like Grant, Benoit's future in Anaheim is at odds with the team's direction. The Ducks have several high-end defensive prospects, including Olen Zellweger and Pavel Mintyukov, nearly ready to make the leap into the NHL. Benoit is a pending restricted free agent and could be a cheap option to re-sign, but it would make more sense to bring in a more experienced veteran to pair with the incoming talent.
Max Comtois
Anaheim's most fascinating restricted free agent decision will be regarding Max Comtois. The 2017 second-round pick has shown flashes of his potential, scoring a goal on his first-ever NHL shift and even leading the team in goals during the shortened 2020-21 season. These flashes have been few and far between, and are appearing with less frequency. In the last two seasons, Comtois has 13 goals in 105 games. There's also the troubling trend of committing penalties — his 72 penalty minutes (PIM) this season sets a new career high and marks the fourth straight year of increased PIMs.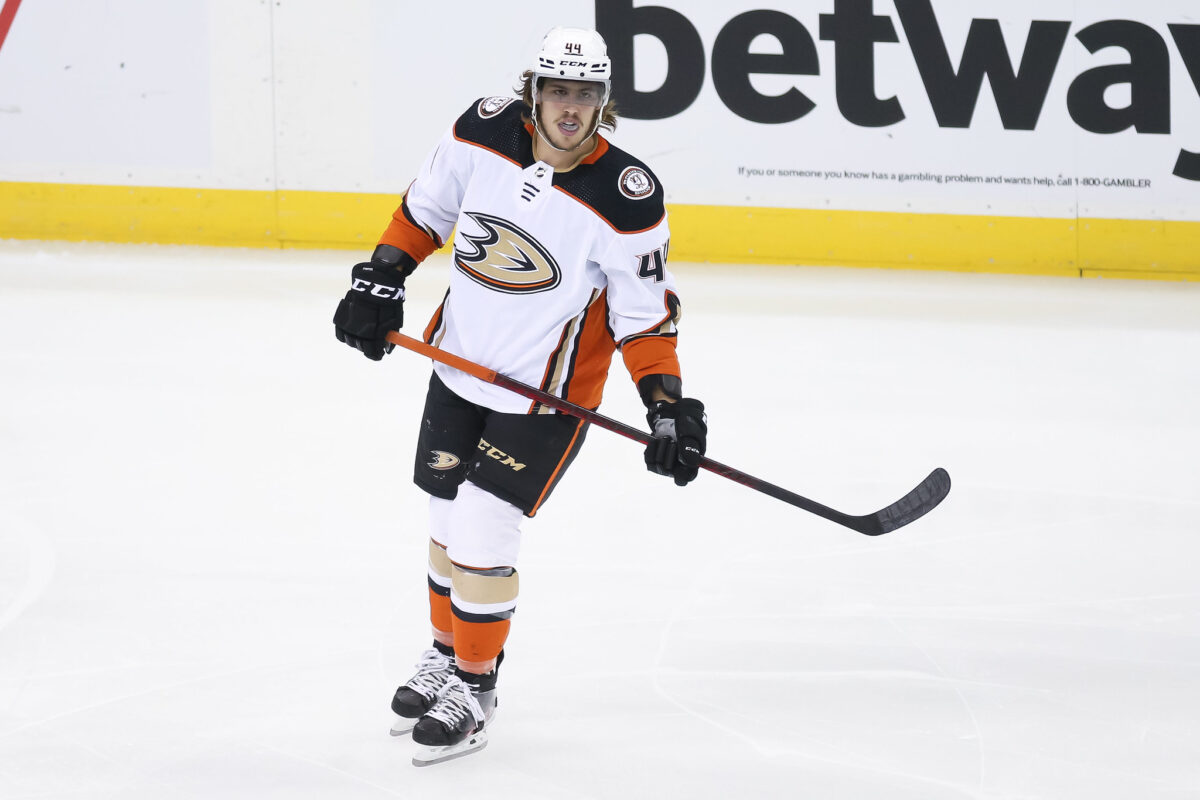 Comtois' tenure in Anaheim can be best described as "frustrating." At his best, he could be a productive winger benefiting from the playmaking ability of Trevor Zegras. Instead, he's spent most of the last two seasons as a bottom-six minute-eater or as a healthy scratch.
It will be interesting to see what the numbers look like during contract negotiations with Comtois. He is a restricted free agent with arbitration, and the gap between the player and the team could be large. General manager Pat Verbeek didn't even extend a qualifying offer to Sonny Milano last offseason, and it was much easier to make an argument for his long-term fit with the club. As disappointing as it may be, Comtois likely needs a new start in a different organization.
Necessary Change in Anaheim
All three players have a quality about them that endears them to Ducks' fans. Grant arrived in Anaheim on the periphery of the NHL and found his place among some difficult minutes in challenging years. Benoit is an undrafted success story that clawed his way into the lineup over first-round talent. Comtois was a hyped-up prospect that many believed would be a top-six option on Anaheim's next playoff team. But as the team pushes closer to competitive relevancy, they are on the margins of a poorly constructed roster that will be looking to upgrade through the draft, as well as the existing prospect pool. As disappointing as it is to see them leave, it would be a necessary step for Anaheim in its quest to become contenders.
Statistics Courtesy of Hockey-Reference.
---
---