As the calendar turns to 2023, the new year often comes with a reality check for NHL clubs. As teams approach the mathematical midway point of the season, their place in the standings becomes more fleshed out. Some teams will have to take these next two months to assess the direction they are heading in and will use the March 3 trade deadline to buy or sell based on those decisions.
Related: Anaheim Ducks' 2023 New Year's Resolutions
For the Anaheim Ducks, those decisions have already been made. With only three regulation wins in their first 38 games of the season, a fifth-straight year without a playoff appearance has been inevitable for some time now. Anaheim will likely be one of the bigger sellers at the deadline, and nearly every player should be available for the right price.
However, the Ducks are at a point in their rebuild where a few players have set the foundation for a solid team in the coming years. For their promising talent, as well as the youth for a long competitive window, these players should be considered untouchable by the organization and a non-starter in any trade discussions. While the organization has a handful of these untouchable players playing among the lower levels, we're going to limit this list to regulars on Anaheim's roster.
Trevor Zegras
First on the Ducks' untouchable list is the team's biggest star. Trevor Zegras' production has taken a dip in his second full season in the NHL, but 28 points in 38 games isn't necessarily a sophomore slump. After playing what seemed like sheltered minutes during his rookie campaign, he now leads the forward group in ice time at 5-on-5 as the team's top center.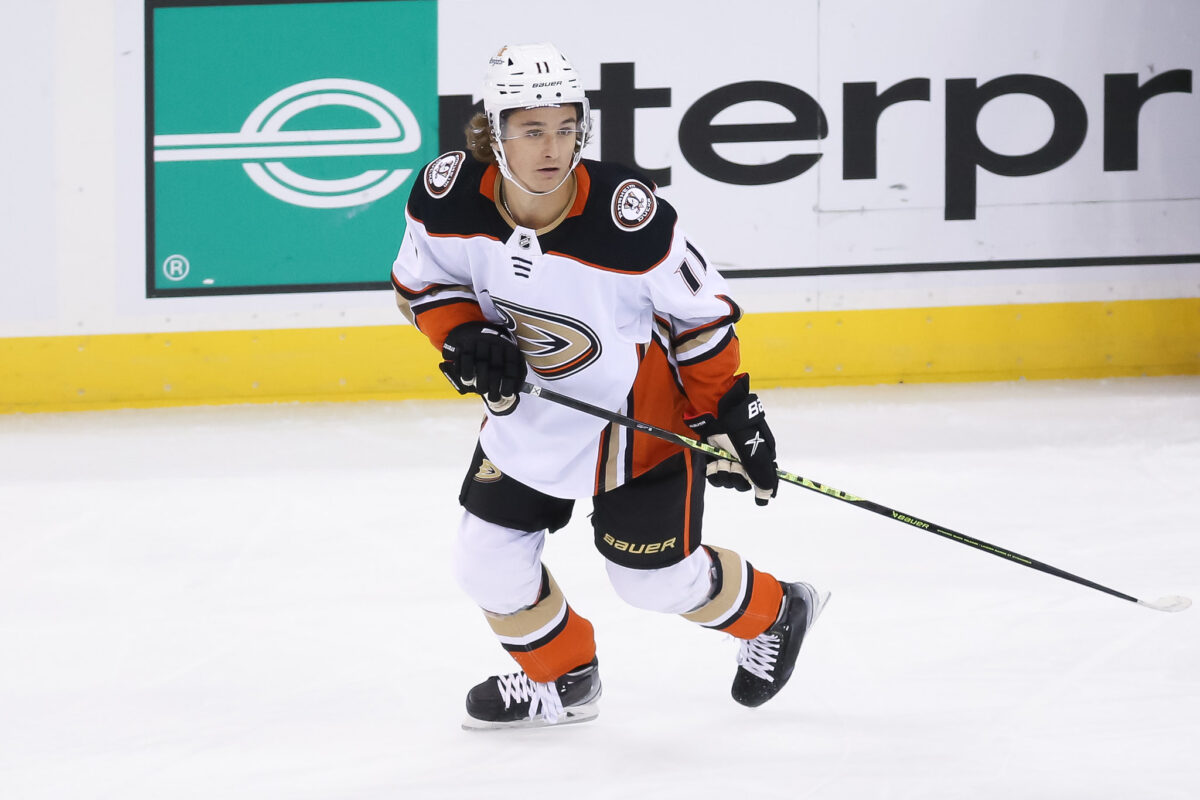 In addition to his skill, Zegras has a star quality that is hard to ignore. The Ducks have been hard to watch at times over the last few years. Since he's arrived in the NHL, he's made at least one of the forward lines worth watching, a godsend for a small market team going through a difficult rebuild. Despite the Ducks' lack of leaguewide relevance since the 2017 Western Conference Final, Zegras' marketability got their jersey on the cover of a video game. At only 21 years old and already the face of the franchise, it's hard to imagine him having any sort of price tag.
Troy Terry
Troy Terry's breakout in 2021-22 was one of the silver linings in another tough rebuilding year. After middling production through his first 120 NHL games, he scored 67 points in 75 games, and his 37 goals were the most by a Ducks player since Corey Perry potted 43 goals in 2013-14. As is the case with many Ducks players this season, Terry's numbers have declined, but he still leads the team in both goals (12) and assists (19). He and Zegras make up two-thirds of the most dangerous line that Anaheim ices each night.
---
Latest News & Highlights
---
Terry's offensive capabilities are reason enough to consider him untouchable. But where he is in his career and where the Ducks are operating as a rebuilding franchise seems to make an ideal connection. He's 25 years old, which means he's still young enough to be in his prime, but he's been around long enough for some of the veteran players to have had an influence on him. He spent much of last season playing on Ryan Getzlaf's line, and the longtime captain certainly left an impression on him. I've long suggested that Terry should be the next Ducks' captain, and I still believe he's the most likely candidate on the roster.
Mason McTavish
After a whirlwind year-and-a-half in which he was drafted third overall by the Ducks and saw minutes in the NHL, American Hockey League, Ontario Hockey League, World Junior Championships, and the Olympics, Mason McTavish has had the chance to settle down in his proper rookie season. His usage was fairly limited, typically in the bottom-six as a winger. But since late November, he has moved to his natural center position and has started to excel on both ends of the ice. He's recently begun to take some defensive zone faceoffs over Ryan Strome, and it is only a matter of time before he turns into the team's No. 2 center over Strome.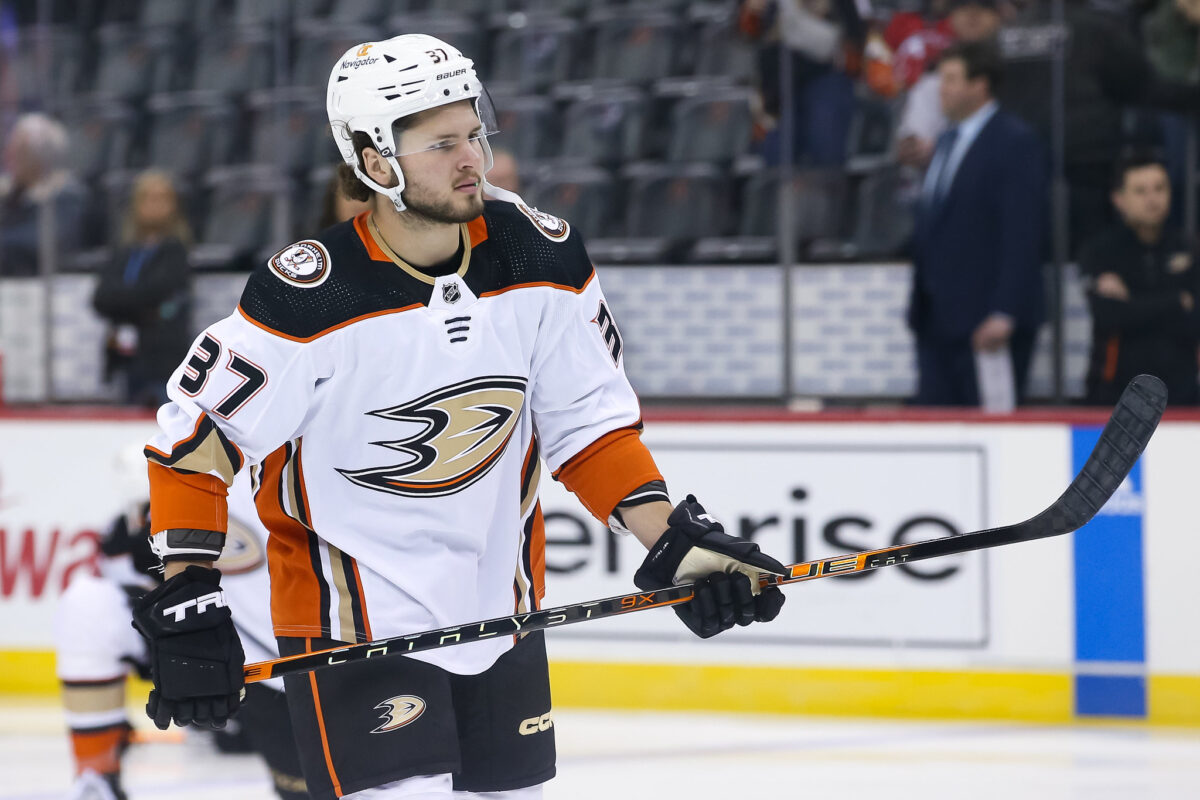 McTavish's development will not only bolster Anaheim's depth at center, but it will also impact their power play. He has a dangerous shot from the right side, and he can take advantage of some slick cross-ice passes from Zegras. The issue is that the Ducks' power play lacks any real secondary scoring threat, and his one-timer can be smothered as a result. But in time, and with enough pieces around him, his shot will be a significant asset to an efficient power play.
Jamie Drysdale
Unfortunately, a shoulder injury has sidelined Jamie Drysdale in what was going to be a pivotal developmental year for the 20-year-old defenseman. He was scoreless in the eight games he played this season, but his role and responsibilities were expected to increase as the trade deadline would see the expiring contracts of fellow right-handed defensemen John Klingberg and Kevin Shattenkirk shopped. Instead, his injury further complicated a work-in-progress defensive unit. Despite the sidetracked development, he is still one of the most crucial pieces to Anaheim's rebuild. As one of the few right-handed defensemen in the system, the expectation is that Drysdale is a top-pairing option in the coming years.
While Anaheim only has a few players that can be considered untouchable, they make a solid foundation for the team moving forward. As more high-end prospects make the jump into NHL, they will build on that foundation and create a competitive roster that will ideally compete for the playoffs in the coming years.
Statistics courtesy of Hockey-DB and Hockey-Reference
---
---