Max Comtois didn't wait long to wow Anaheim Ducks fans in his NHL debut. Just under a minute into his first game, 49 seconds to be exact, the second-round draft pick from Longueuil, Quebec hopped off the bench, collected an Adam Henrique poke pass and slid the puck calmly between the pads of Sharks goaltender Martin Jones. By scoring his first goal so quickly, Comtois joined a list of mostly elite players.
In a way, fans are lucky the Ducks opened their season in San Jose because if the game was played at Honda Center, the arena wouldn't have been half-full by the time Comtois' shot found the back of the net. Without the nightmarish Southern California traffic to deal with, fans could calmly switch on their TV and enjoy the goal from the comfort of their living rooms.
Comtois' first goal came easier and faster than it did for most NHL players. In fact, he scored the sixth quickest goal by an NHL player in his debut. Like Nikita Kucherov in 2013 and Jake Guentzel in 2016, he scored on his first shot, during his first shift of the game. But unlike Guentzel and Kucherov, he scored in his team's season opener.
He scored so quickly that his captain jumped at the opportunity to tease the rookie about his first goal.
Max Comtois received some chirping from teammates as a scrum gathered around him. Getzlaf: "Maxy, tell them how easy the league is."

— Eric Stephens (@icemancometh) October 4, 2018
Getzlaf knows the difficulty of notching that first goal. It took him seven games into his rookie season in 2005-06 to score. Corey Perry scored his first marker in the third game of that season against the Edmonton Oilers. Ducks legend Paul Kariya scored in his second NHL game during the lockout-shortened 1994-95 season.
If you grab the attention of your captain and best offensive player after your first game, it's safe to say you've started your career the right way. But how does Comtois' lightning strike compare with some of history's best?
Dave Christian: From One Miracle to Another
Christian is best known as a member of the 1980 Miracle On Ice U.S. team that upset the Soviets in the 1980 Olympic tournament in Lake Placid and went on to win the gold medal. His playmaking abilities — he had eight assists in seven Olympic games — helped lift Team USA to their unbelievable title.
After the Olympics, Christian reached another remarkable milestone. After the Winnipeg Jets 1.0 drafted him 40th overall in 1979, he scored seven seconds into his first shift; a measly three seconds behind Comtois. In 15 seasons with six NHL teams, Christian scored 340 goals and 433 assists for 773 total points. He is a member of the United States Hockey Hall of Fame.
Quick Draw Mogilny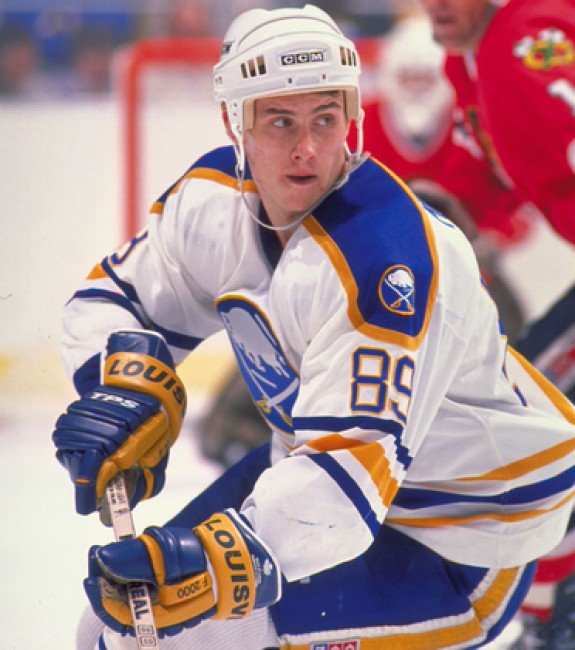 On Oct. 5, 1989, Alexander Mogilny suited up for his first game in the NHL with the Buffalo Sabres. Buffalo's 89th overall pick in the 1988 draft did not hesitate to make his presence felt. Twenty seconds into his first shift against the Quebec Nordiques, Mogilny jumped on a puck that trickled into the crease off the stick of Pierre Turgeon and scored the opener of the game and his career.
The Guinness World Records pegs Mogilny's goal as the quickest from the start of a game by a player making his NHL debut. While Comtois scored faster than Mogilny once his skates touched the ice, Mogilny scored earlier in regulation time.
Interestingly, Mogilny tied another record for quickness when he scored five seconds into a game against the Toronto Maple Leafs in 1991. This matched Doug Smail and Bryan Trottier for the quickest goal scored from an opening whistle. He finished 16 NHL seasons with 473 goals and 559 assists in 1032 games for four teams.
Auston Matthews' Assault on the Record Book
Matthews' NHL debut isn't remarkable for how quickly he scored his first goal, but how quickly he scored his first four goals. Matthews became the only player in modern history to score four goals in his first game. He scored on each of his first three shots and put in his record fourth goal on his sixth shot. He also became the quickest player to score a hat trick to start their career since 1943-44 and joined four other players to score a hat trick in their first game.
Mario Lemieux's First of Many
Lemieux and Comtois share more than just their French Canadian heritage. They both scored on their first shot, during their first shift, in their NHL debut. Lemieux famously picked fellow Hall of Famer Raymond Bourque's pocket to go forehand, backhand, beating Bruins goalie Pete Peters for his first of many career goals.
Comtois scored faster, as Lemieux's goal came 2:59 into the game, but Super Mario gets style points for picking the pocket of a future great.
Yanick "Le-who?"
Yanick Lehoux, as it is properly spelled, was second behind Mogilny as the quickest player to score a goal in an NHL debut, according to Guinness World Records, until Comtois came along. Lehoux scored 65 seconds into his debut for the Arizona Coyotes against the Minnesota Wild in 2005.
Of the players on this list, Lehoux had, by far, the least notable NHL career. He spent parts of two seasons with the Coyotes adding a goal and two assists to his record-book first goal for a total of four NHL points in 10 games. After that, he bounced around the world of professional hockey from Russia to Sweden, Germany to Switzerland. He finished his career in 2016-17 with the Thetford Mines Assurancia of the Ligue Nord-Americaine de Hockey, a low-level professional league in Quebec.
Comtois' Future
Comtois now finds himself in some elite company and some company you may not remember. It's impossible to know whether he will finish his career with his name mentioned along some of the league's most legendary players, but one thing is for sure, his achievement will be remembered longer than it took him to score his first goal.
(All stats found at Hockey-Reference.com)