With just a few weeks left in the 2022-23 Ontario Hockey League (OHL) regular season, the Windsor Spitfires are limping into the playoffs. However, despite their issues, they're still finding ways to stay in the Western Conference title race as they grabbed four big points on the weekend.
Battling for the conference title is difficult under the best circumstances. Every team is going to give you a playoff-style battle, regardless of their place in the standings. For the last two months, the Spitfires have also dealt with numerous injuries that never seem to end. While adversity isn't necessarily welcomed, the club is taking every game in stride. This past weekend, their leaders stepped up in a short lineup and showed that the team isn't going anywhere. Here are three takeaways from their four-point weekend.
---
---
3 Takeaways From Storm and Rangers
Weekend Results:
Fri., Mar. 10 – 7-4 win at Guelph Storm
Sat., Mar. 11 – 6-3 win v. Kitchener Rangers
3. Wright, Maggio, and Christopoulos Stepping Up
Injuries have been an ongoing issue since late November. Forwards Shane Wright (Seattle Kraken), Oliver Peer, Brett Harrison (Boston Bruins), Ryan Abraham, and AJ Spellacy, plus defenceman Daniil Sobolev (Montreal Canadiens) and goaltender Matt Onuska have all seen time on the sidelines. Fortunately, Sobolev, Wright, Onuska, and Peer have since returned, but the club has still scrambled to put regular forward lines together. When life gets tough, though, the veterans step up.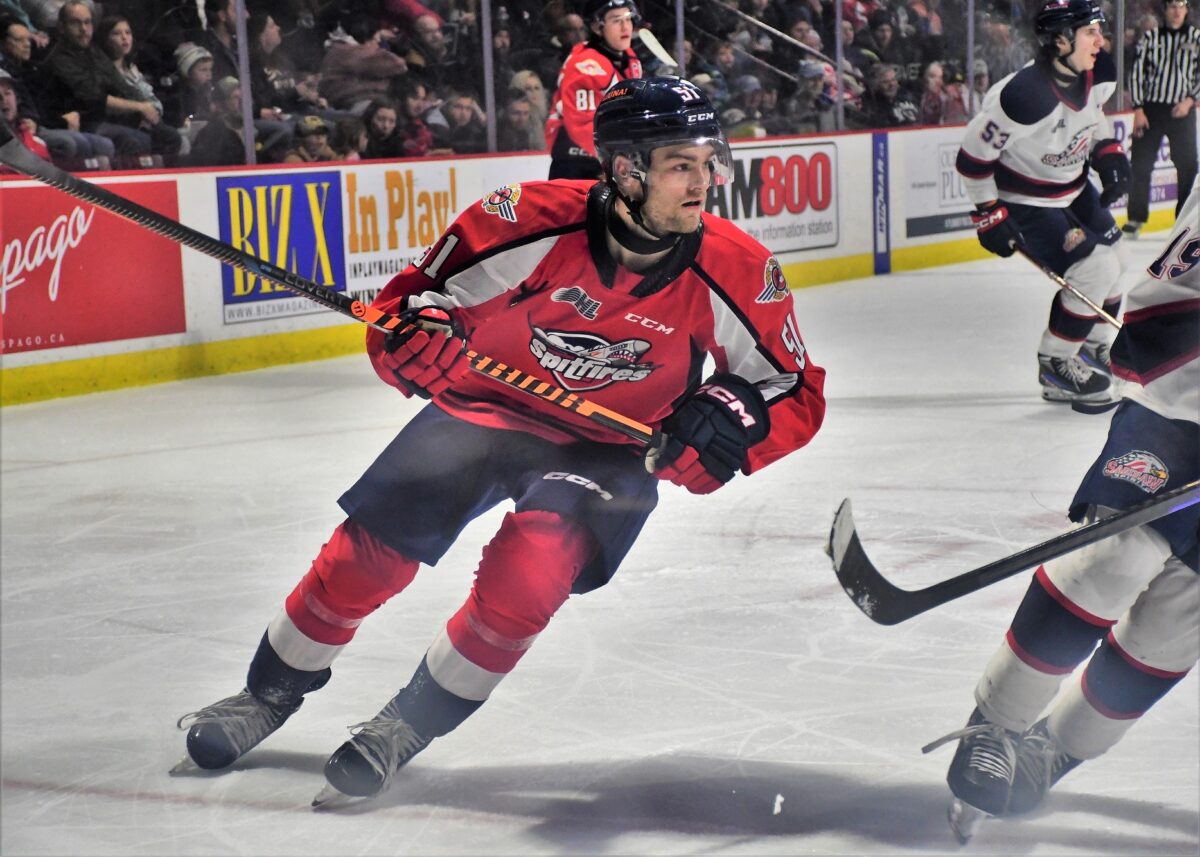 The club called up forward Jackson McLlwain from Junior B to give them 10 forwards, but it was their veterans that took control. On Friday, forwards Alex Christopoulos and Jacob Maillet combined for seven points while Wright added another three. Saturday was a similar story as Wright scored a hat-trick while captain Matthew Maggio (New York Islanders) added four points, inching closer to 50 goals (49) and surpassing the 100-point mark (103). Even defenceman-turned-forward Rodwin Dionicio added three assists in the effort.
While Maggio and Dionicio have been mainstays in the lineup, Wright was injured for much of February. Getting him back into the lineup full-time is a huge boost, not only for the club's offence but his own confidence. He now has 27 points in 14 games since joining the Spitfires on Jan. 9.
"I'm feeling good," he said on Saturday. "It's definitely nice to get a couple of games in a row and get into the swing of things after missing a month. I'm definitely building my way in but feeling pretty confident right now and happy with how things are going."
With a depleted lineup, it's been a tough stretch for the Spitfires. However, their leaders are ensuring that the team continues in the right direction as the playoffs approach.
2. Dionicio Showing Versatility
We mentioned that Dionicio was a defenceman turned forward, but it's for a good reason. When they acquired the 18-year-old from the Niagara IceDogs in January, they knew he was a physical two-way defenceman who had big offensive potential. However, the club has gotten so much more.
Related: OHL: Spitfires Get Dionicio and Castle From IceDogs Before Deadline
---
Latest News & Highlights
---
On Saturday, with the club having an extra defenceman and needing a boost up front, the coaches had a hunch and put Dionicio up front with Wright and Maggio. The result was a three-assist night and a ton of appreciation from the coaches.
"You get a feeling in the game," Savard said. "He's tremendous offensively and you put him with probably your two best offensive guys. You get lucky sometimes and get rewarded. They got a big goal for us. He's an outstanding player as a defenceman but he's also valuable as a forward. We'll try to figure out where we're going to leave him but we're glad he's on our side."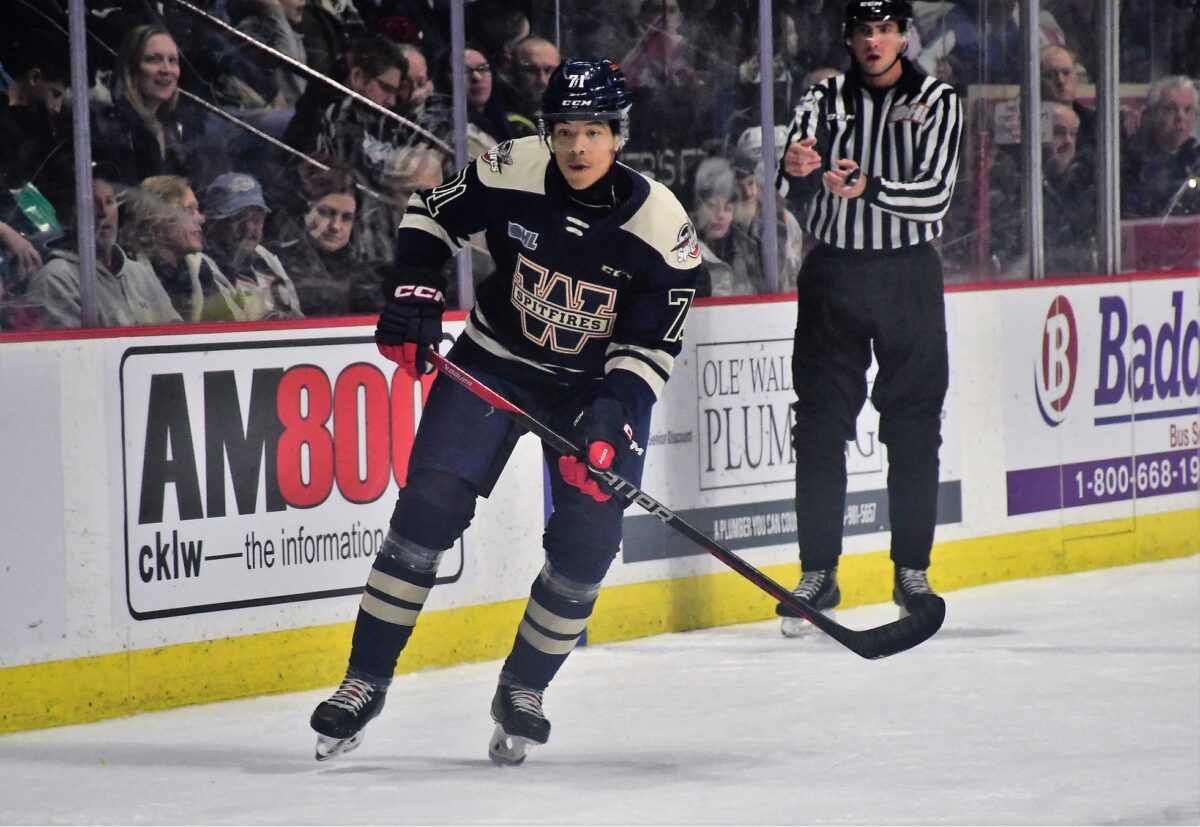 Maggio has seen numerous linemates all season but this was a unique combo for him. He said joining Wright and Dionicio was just plain fun.
"They're both super skilled guys and you trust them to make the right play," he said. "Roddy (Dionicio) is probably one of the most skilled players in the OHL this season and he's fun to play with. Shane is so defensively responsible and a great talent, too. Going out there with them, it makes the game a lot of fun."
Putting a defenceman upfront can be a risky play. However, Dionicio is a 6-foot-3, 215-pounder with speed and that's tough to contain. It's a nice asset to have in the back pocket.
1. Every Point Crucial
Entering this past weekend, there were three weeks and just nine games left on the schedule. We're at the point where the "every point matters" cliche is the reality.
Not only did the two wins boost their confidence, the Spitfires now sit atop the Western Conference with 86 points, tied with the London Knights. However, Savard's club holds the tiebreaker, "regulation and overtime wins", by a 40-35 count. There is still plenty of work left, though. The third-seed Sarnia Sting are undefeated in regulation in their last 12 and zipping up the standings. They're now just six points back with seven games left.
The Spitfires get their second-last weekend of the season started on Wednesday at home against the Saginaw Spirit, who are fighting off the Flint Firebirds for home ice in the first round. That follows with a two-game trip up north to the Soo to face Vancouver Canucks' prospect Kirill Kudryavtsev and the Greyhounds. They're officially out of the playoffs but would love to play the spoiler role as often as possible.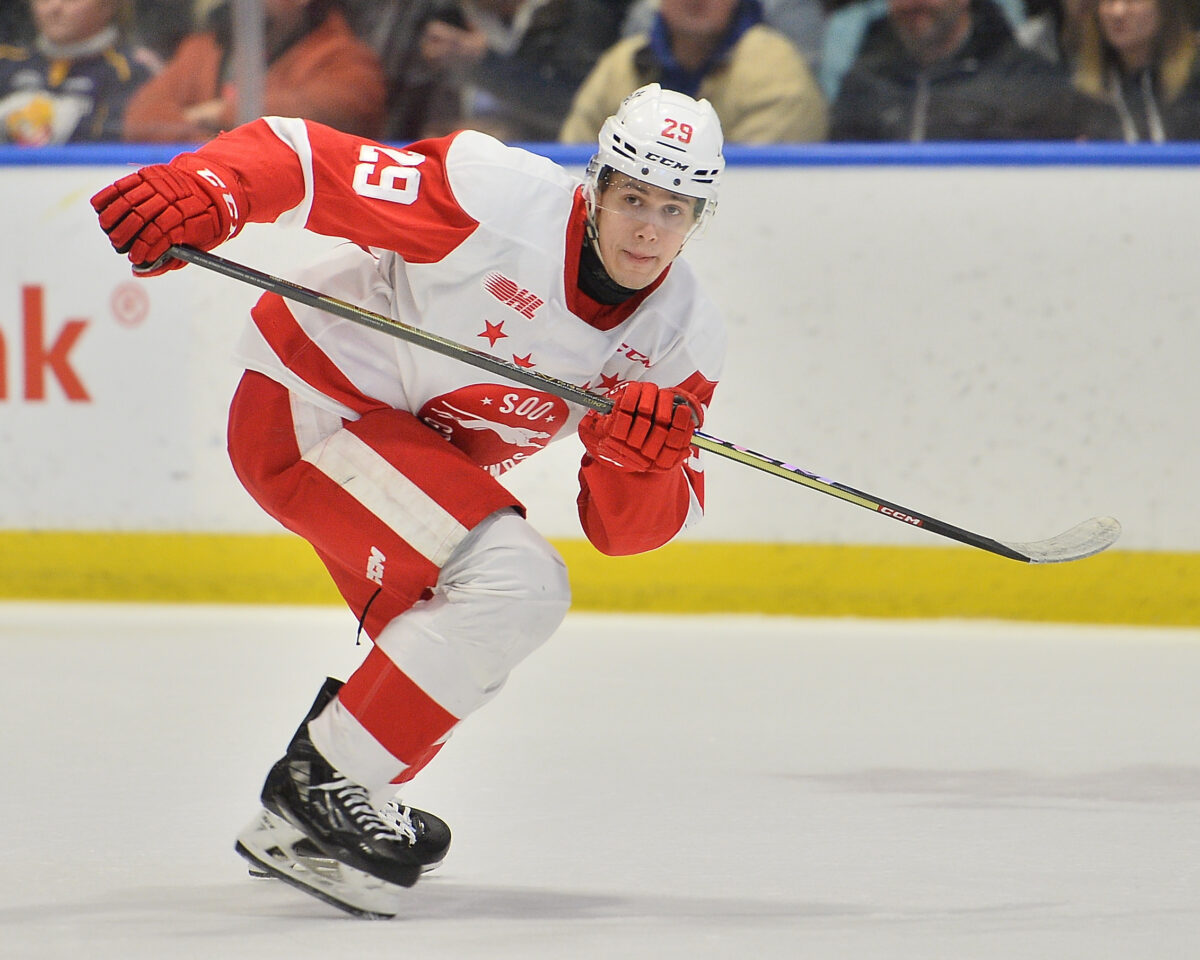 Savard's club has battled adversity throughout the season and especially in the second half. Somehow, they've come out fairly unscathed and can taste the conference regular season title. Right now, though, it's baby steps, getting healthy, and getting a little help from their league foes.