Oliver Moore
2022-23 Team: U.S. National U18 Team (USDP)
Date of Birth: Jan. 22, 2005
Place of Birth: Mounds View, Minnesota, USA
Height: 5-foot-11, Weight: 176 pounds
Shoots: Left
Position: Center
NHL Draft Eligibility: First-Year Eligible
Rankings
The first thing anyone says about Oliver Moore is his incredible speed and for a good reason. In an incredibly deep draft class filled with high-skill centers, he might be the fastest of the bunch. He can get up to top speed in the blink of an eye, and if he's given any space, he can blow by opponents like they were standing still. That level of speed allows him to dictate the flow of the game, as does his agility. He can spot and turn on a dime and change speed effortlessly, ensuring that no matter what happens, as long as he has the puck, his team will get a scoring chance.
But Moore is much more than just a fast skater. He has a blistering shot with a quick release that's led to him scoring 26 times this season with the United States U18 Development Program, which puts him fourth on a very skilled team, as well as another eight goals with the USNDP Juniors in the United States Hockey League (USHL). That puts him on pace to hit similar totals to Trevor Zegras or Clayton Keller during their time in the program.
Related: The Hockey Writers' 2023 NHL Draft Guide
---
Latest News & Highlights
---
When a player moves so quickly, he needs to be able to think quickly, and Moore is no exception. When he has the puck, he can identify exactly where he needs to put it to create a scoring chance. He's not the greatest puck handler, but that hasn't stopped him from putting up 36 assists with the Development Team, the third-highest total on the team behind Will Smith and Gabe Perrault. That's because, no matter where he is on the ice, he works as hard as he can to boost his team. Even on defence, he gives it all, which can't be said about every top young forward, especially those under six feet. But Moore has done more than enough to establish himself as a top prospect in the 2023 NHL Draft.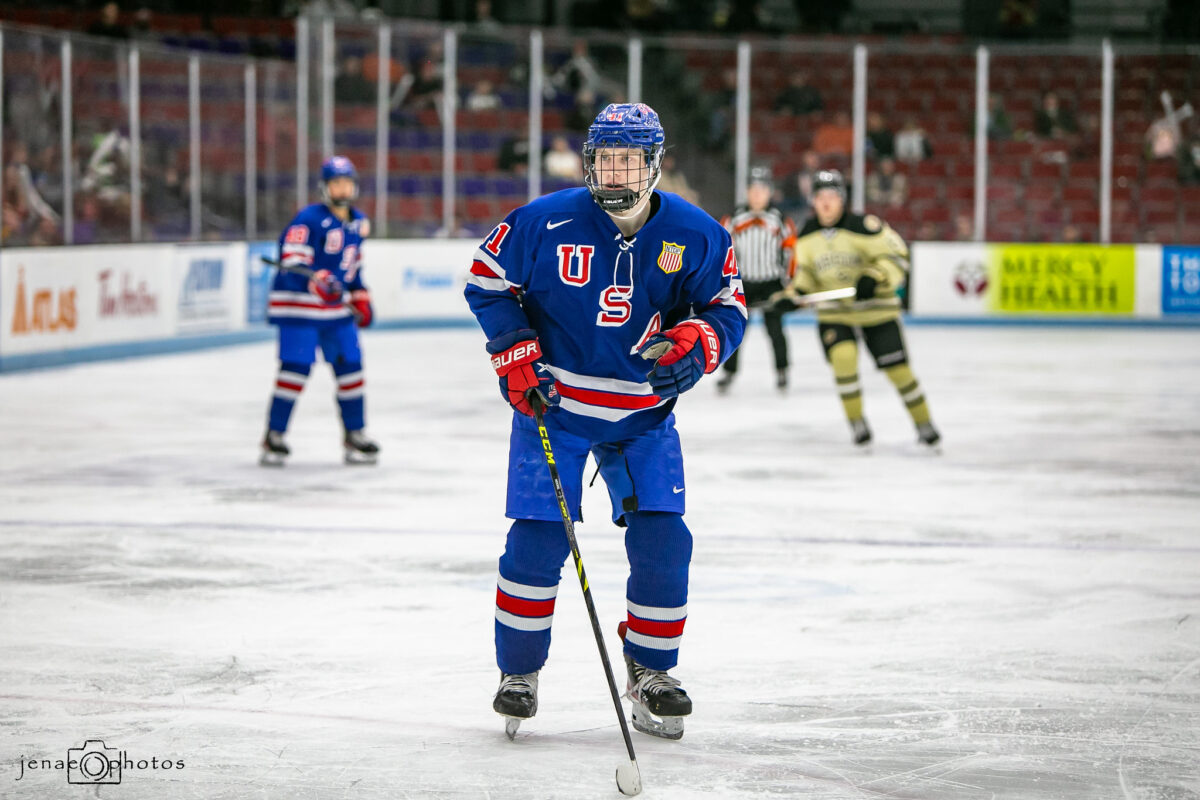 However, Moore hasn't generated nearly the same excitement as others ranked within the top half of the 2023 Draft class, and that largely has to do with where he plays. The US Development Program's first line is headlined by Smith, who is one of the best centers available in 2023 behind Connor Bedard and Adam Fantilli. On his wings are Ryan Leonard, a big, physical forward ranked in the top 10, and Perreault, who hit 105 points in 52 games this season, the fourth-highest point total of all time. With Moore down on the second line, he's been somewhat lost in the shuffle, to no fault of his own.
But that lower profile has allowed Moore to flourish on his own away from criticism that he is only benefiting from playing alongside the team's biggest star. He certainly doesn't have the versatility of Smith, but his tools and speed will make him a highly coveted player on draft day.
Other THW Draft Profiles
Oliver Moore – NHL Draft Projection
Scouts appear to be split over Moore. On one hand, he's been described as the most promising prospect on the USNDP squad this season and although he'll need some time to refine his game at the University of Minnesota, his combo of speed, agility, and scoring prowess make him a top-10 prospect. On the other hand, he is undersized, and a lot of scouts will focus on that. He also tends to overuse his speed, which may mask some of the issues in his game which could show up against the tougher competition in college.
The situation seems reminiscent of Cole Caufield in 2019; a supremely talented player with the USNDP, he was consistently ranked within the top 10 that year. However, on draft day, he slipped down to 15th overall due to his 5-foot-7 frame, allowing the Montreal Canadiens to steal away one of the best goal-scorers of his class. Moore, who should be a top-10 selection, could have a similar slip in June, falling to around the 15th pick. Any further than that, though, and he'll easily be the steal of the draft.
Quotables
"Moore might be the fastest skater in the draft, and one with the potential to become a real game-changer. Moore is the USNTDP's second-line center, so he's often been overlooked by the high-flying top line led by Will Smith. But some believe Moore might have the highest ceiling. Some time with the University of Minnesota will be beneficial. He's a great dual-threat offensive forward that generates much of his line's scoring chances and, again, his speed is his biggest asset." Steven Ellis, Daily FaceOff
"Moore is the second most involved player in offensive transitions in North America behind Connor Bedard. He's sending almost a quarter of his passes to dangerous areas of the ice, and is among the higher-end shot generators in the class. Put this with his superb skating and edgework, dogged mentality of being hard on pucks defensively, and his puck skill: Moore has risen to the top 10 of our rankings and still could climb higher. I'd like to see him carry the puck into the dangerous areas of the ice in the offensive zone and not just on the rush, but he's been showcasing his offensive acumen the last few months." – Austin Garret, Smaht Scouting
"I don't see a lot to nitpick in either his tools or his approach. More and more his game has shown dimension inside the offensive zone so that he can make things happen shift after shift out of all of his effort plays up and under sticks. He just has a unique ability to impose his will on the game. And while his game is bullish, he's also got surprising soft skill. I'm not sure he has the star power of the names in front of him here, but he's got some unique attributes in this class and he's going to make a heck of an NHL player" – Scott Wheeler, The Athletic (from "2023 NHL Draft top 64 prospects: Scott Wheeler's March ranking," The Athletic – 01/03/23).
Strengths
Speed
High work ethic
Fast, accurate shot
Ability to control the pace of the game
Under Construction – Improvements to Make
Needs to add muscle
Puck control
NHL Potential
Moore will need some time to hone his skills, so don't expect him to make the NHL for at least two or three seasons at the earliest. But once he arrives, he looks like he'll be a dangerous top-two center that can put up 70-plus points. While he is fairly unique in his skillset, he has been compared to Dylan Larkin, the Detroit Red Wings' top center, due to his speed and shot. Moore also has some potential to end up on the power play and even the penalty kill if he bulks up in college. The sky is the limit for him, it'll just take some time to get there.
Risk-Reward Potential
Risk – 3/10, Reward – 8/10
Fantasy Hockey Potential
Offense – 8/10, Defense – 6/10
Interviews/Links
Oliver Moore Statistics
Videos
---
---