As with most teams, the Calgary Flames put together a good chunk of their roster through free-agent signings (both restricted and unrestricted). While some of these have worked out better than others, general manager (GM) Brad Treliving has done a relatively good job of putting together rosters that, at least on paper, are competitive.
Related: The Bad: Listing Flames' Poor Signings Since 2020
Unfortunately, it is the bad moves that get the most attention, and the Flames GM has certainly made a few of those over the years. While the contracts listed below have a chance of turning out better in future years, they look to be major issues right now given how the players have performed. Here's a look at the "ugly deals" Treliving has signed since 2020.
Jonathan Huberdeau, LW (Aug. 4, 2022)
When it was announced that the Flames were receiving Jonathan Huberdeau as part of the package that the Florida Panthers were sending in exchange for Matthew Tkachuk, many fans thought Treliving had pulled off a major heist. After all, the 29-year-old not only finished tied for second in league scoring a season ago with 115 points, but the deal also featured defenseman MacKenzie Weegar along with prospect Cole Schwindt and a conditional 2025 first-round pick.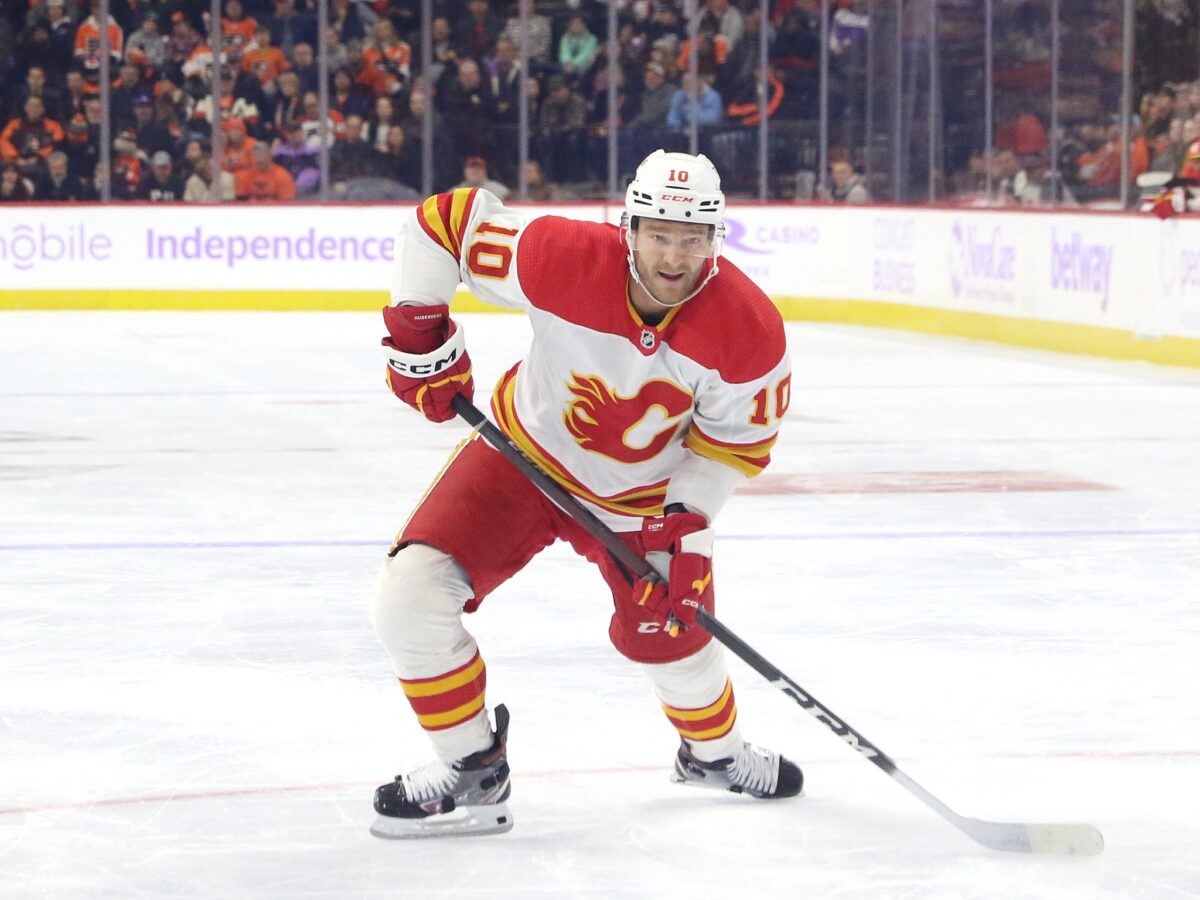 As high as hopes were regarding the deal they have cooled off immensely since, to the point where the eight-year, $84 million extension Huberdeau was signed to shortly afterward looks like it could be a big-time mistake. After having played over a point-per-game pace in each of the past four seasons, he has just 14 goals and 49 points through 70 games, and has had plenty of games where he doesn't seem to make any type of impact.
While it is far too soon to write off Huberdeau given the excellence he showed for years in Florida, it is extremely concerning that a player who hasn't even begun his extension is struggling so much. If it continues past this season, the Flames will be in a very tough spot given that he will account for $10.5 million of their cap.
Nazem Kadri, C (Aug. 18, 2022)
Some may disagree with having Nazem Kadri on this list, but it is impossible to deny the fact that his first season with the Flames has been disappointing. After a career season in 2021-22 in which he put up 87 points, some regression was expected, but not nearly as much as we have seen. Through 73 games, he has managed just 22 goals and 50 points, paces far below what Treliving was expecting when he signed him to a seven-year, $49 million deal.
---
Latest News & Highlights
---
Things started off reasonably well for Kadri, as he had nine points through seven October games and went into the new year with 14 goals and 29 points through 38 contests. Thanks to the solid start, he was selected as the Flames' lone representative at the 2023 All-Star Game. In recent months, however, things have really started to fall apart. He has just three goals over his past 23 games, and is averaging less than 15 minutes per game in ice time throughout the month of March.
What fans can look for in hopes that Kadri will turn things around is his first half of the season. That makes his deal appear far less disastrous than Huberdeau's, but at this point in time, it is still concerning nonetheless. If this type of inconsistency is a sign of what is to come, he will soon begin to get on the bad side of this fan base.
Both Deals Had Risks When Signed
While nobody expected things to go how they have in Calgary this season, there were plenty of questions surrounding the lucrative deals handed out to both Huberdeau and Kadri this offseason. Not only were there questions on how they would adapt to their new teams, but many thought both the term and dollar amounts were too much for players entering the second halves of their careers. These contracts could very well serve as a warning for other teams to take extreme caution when signing players in their late 20s and early 30s to long-term deals.
---
---