In an Edmonton Oilers news and rumors update, one scribe takes a look at the effectiveness of Evander Kane since returning from injury. Is he playing well enough to deserve to keep his spot on the top line? Top players on the team, including Connor McDavid and Zach Hyman have shared their opinions on inclusivity in hockey. Finally, did the Oilers dodge a bullet when they prioritized Mattias Ekholm over Jakob Chychrun?
Evander Kane's Struggles Since Returning
As Allan Mitchell of The Athletic points out in a recent article, it's taking time for Kane to put all of the elements of his game together. Noting that a skate cut and then rib injuries have played their toll on the forward, Mitchell notes, "If Kane's play over the last 17 games was the norm, he'd be miles from the top line."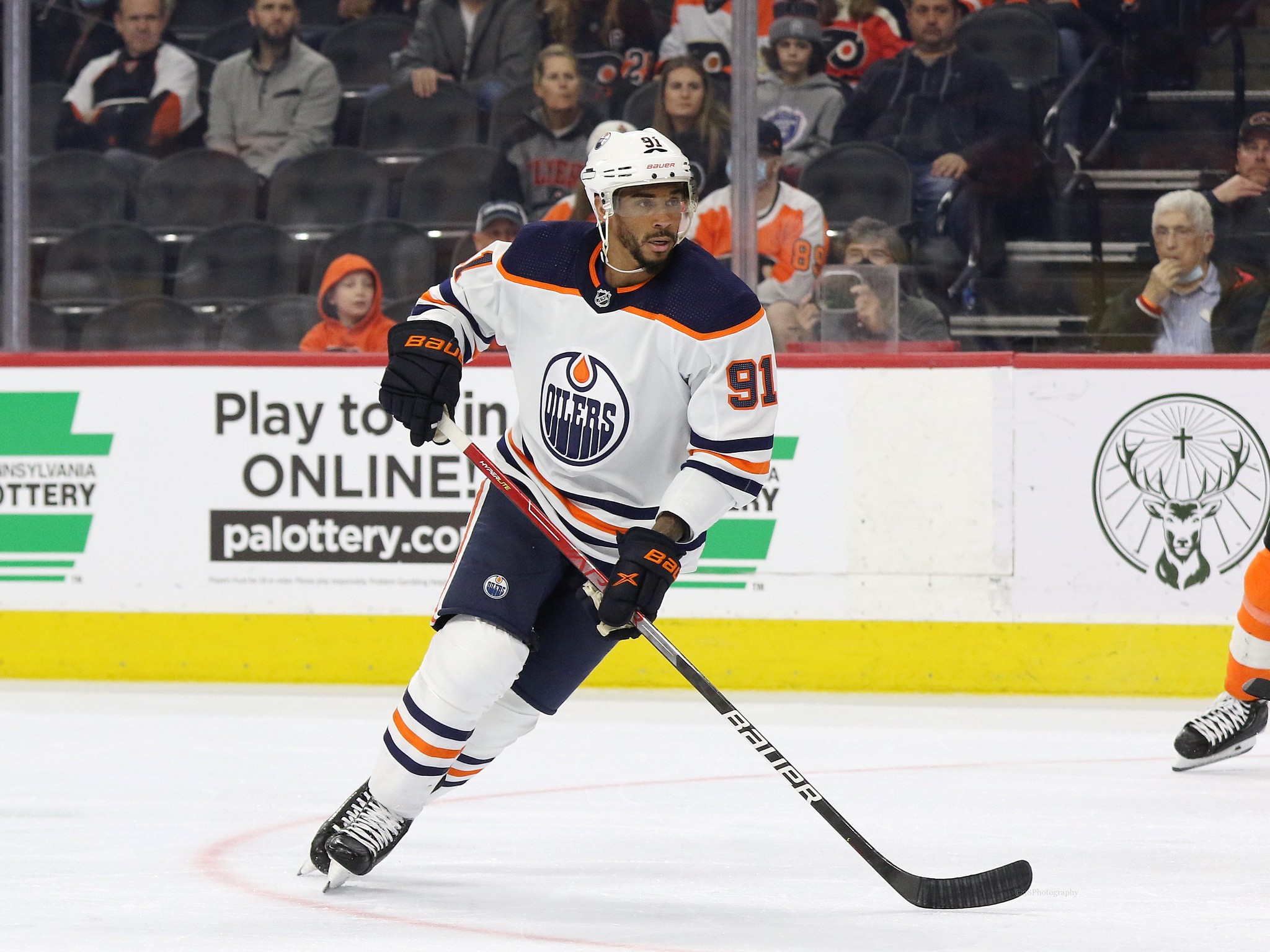 At the same time, Mitchell also notes that the Oilers have trust in Kane to get it figured out and that when playing with McDavid, he's still a useful player who has outscored opponents at a 64 percent rate in 418 five-on-five minutes during the 2021-22 season. The question Mitchell asks is how trusting the Oilers can continue to be if Kane doesn't get going over the last 10 games.
He wonders:
The big question for the coaching staff is can they trust it? Against the Vegas Golden Knights and the Los Angeles Kings in major regular-season games just ahead, can they trust McDavid-Kane-Hyman?… The trio isn't working right now, but the coaching staff is justified in going to the well until it works. If things don't improve, the Kane-McDavid-Hyman unit will need to be abandoned.

source – Lowetide: Evander Kane, Zach Hyman and the Oilers' ideal Connor McDavid line' – Allan Mitchell – The Athletic – 03/24/2023
McDavid and Hyman Advocate for Pride Night
With how much attention has been drawn by some players in the NHL refusing to wear Pride jerseys before games, McDavid was asked about his thoughts on the subject and where the Oilers stand. He told media Friday, "Certainly can't comment on other players and their beliefs and other organizations and what they're up to." He added, "I know here in Edmonton, you know, we strongly believe hockey is for everyone and strongly support Pride Night. Looking forward to it."
Related: Window to Win in Edmonton Likely Closes After Season for 3 Oilers
Zach Hyman also spoke on the topic and noted, "It's important to show that hockey players care." He added, "It's important to show that it doesn't matter what your gender is, what your ethnicity is, what your race is or what your sexual orientation is. You're welcome in the hockey world."
Did Oilers Dodge a Bullet With Chychrun?
Ottawa Senators head coach DJ Smith said on Saturday morning that defenseman Jakob Chychrun would be out for a couple of weeks with a lower-body injury. The injury happened in the third period of the Senators vs. Tampa Bay Lightning game and fans in Edmonton are taking to social media to comment on how disastrous it might have been had the Oilers traded for Chychrun instead of Mattias Ekholm.
---
Latest News & Highlights
---
There have been at least three instances since Chychrun arrived in Ottawa where it appeared he might have suffered an injury. This is the first time he's actually been removed from the lineup and will miss time, but he's only played 12 games for the Sens. In those 12 games he has two goals and three assists. Meanwhile, Ekholm has three goals and six assists for the Oilers in 11 games and looks like a workhorse. He's already been elevated to first-pairing minutes and he's elevated Evan Bocuhard's game exponentially.
It's disappointing to see that Chyrchun hasn't been able to stay healthy, but it seems clear early on that GM Ken Holland made the right call in prioritizing Ekholm at this season's trade deadline.