Now that the regular season is either complete or nearly complete for most of the prospects in the 2023 Draft, it's time to take another look at the top prospects and where they land now. There has been a lot of hockey since my last ranking and plenty of prospects are on the move as a result.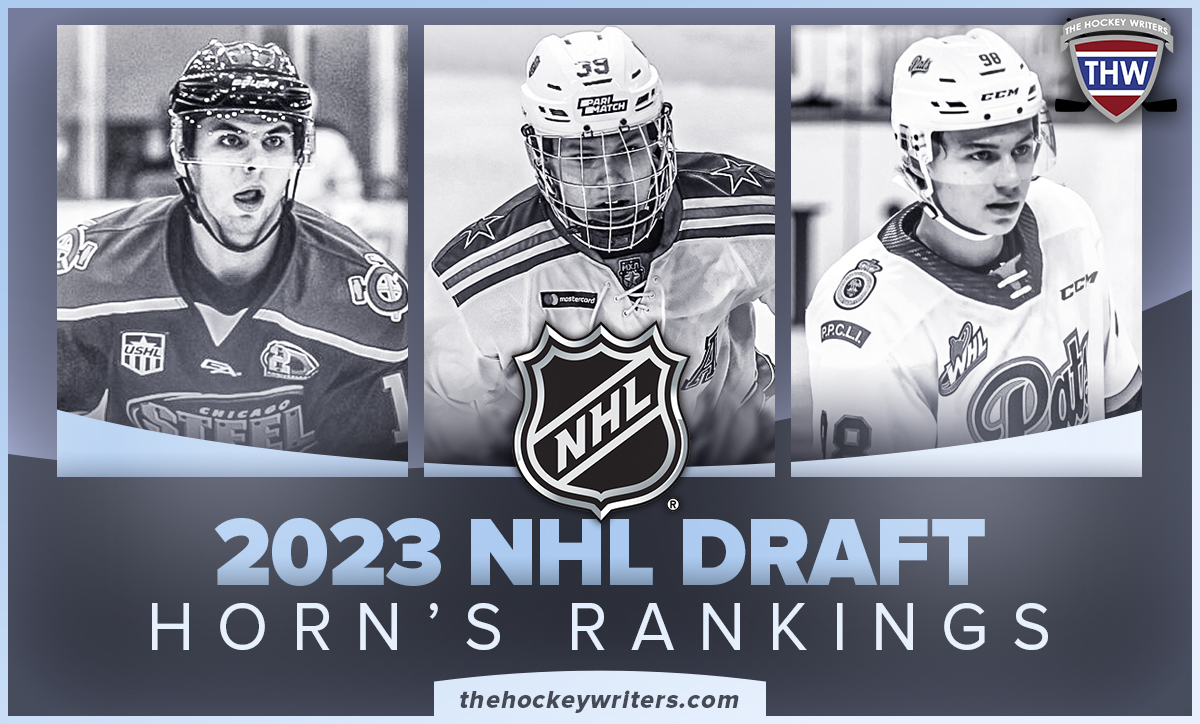 There hasn't been much movement at the very top of the draft, with Matvei Michkov re-establishing himself as an all-world level talent at the end of his season in the KHL. Connor Bedard has continued his dominance over the WHL, recently cracking the 70-goal and 140-point marks which is just absurd. Adam Fantilli finished off strong in the NCAA regular season, finishing with 61 points in just 33 games as a freshman. Leo Carlsson has also had a solid conclusion to his draft year, scoring 25 points in 44 SHL games as a teenager which is something that hasn't been done since players like the Sedin twins and Markus Naslund were young.
---
---
There aren't any prospects who are really threatening to join that group at the top of the draft, but several have pushed their way into the second major group including Nate Danielson and Gabriel Perreault. Danielson has been slowly rising for me all season and I've just been struck by how much offence he creates that turns into nothing because his teammates haven't been able to keep up with him. I think he's got a lot more offence than he has shown, which is already a pretty good amount. Perreault has been racking up the points for the U18 NTDP team and the numbers haven't regressed, making it tough to ignore his offensive creativity and execution.
The last prospect I want to mention before jumping in here is Bradly Nadeau, a center playing for the Penticton Vees of the British Columbia Hockey League (BCHL). Nadeau is a sniper with great speed who led the BCHL in goals, assists, and points this year despite him still being just 17 years old. Junior A hockey leagues in Canada don't often get a lot of respect during draft season but Nadeau's season speaks for itself. I will be very interested to see how he does in the NCAA next season as the University of Maine commit will try to prove that he can score against stiffer competition as well.
Without further ado, let's get into the March edition of my 2023 NHL Draft rankings!
1. Connor Bedard, C, Regina Pats (WHL)
Defining Attribute: Elite Goalscorer no Matter the Stage
Expectations were unfairly high for Connor Bedard coming into his draft year, with the "generational talent" label floating around in many draft conversations. To say he has met those expectations would be a profound understatement. Bedard has crushed all expectations this year and has firmly planted himself in the first overall position. I can't think of a first overall pick so far above the rest of the competition since Connor McDavid back in 2015, of course some tried to argue for Jack Eichel (as they do now for Adam Fantilli), but that argument doesn't hold up well under scrutiny. Auston Matthews had Patrik Laine, Jack Hughes had Kaapo Kakko, and Alexis Lafreniere had Quinton Byfield, it's hard for top prospects to separate themselves from the pack but Bedard has done just that.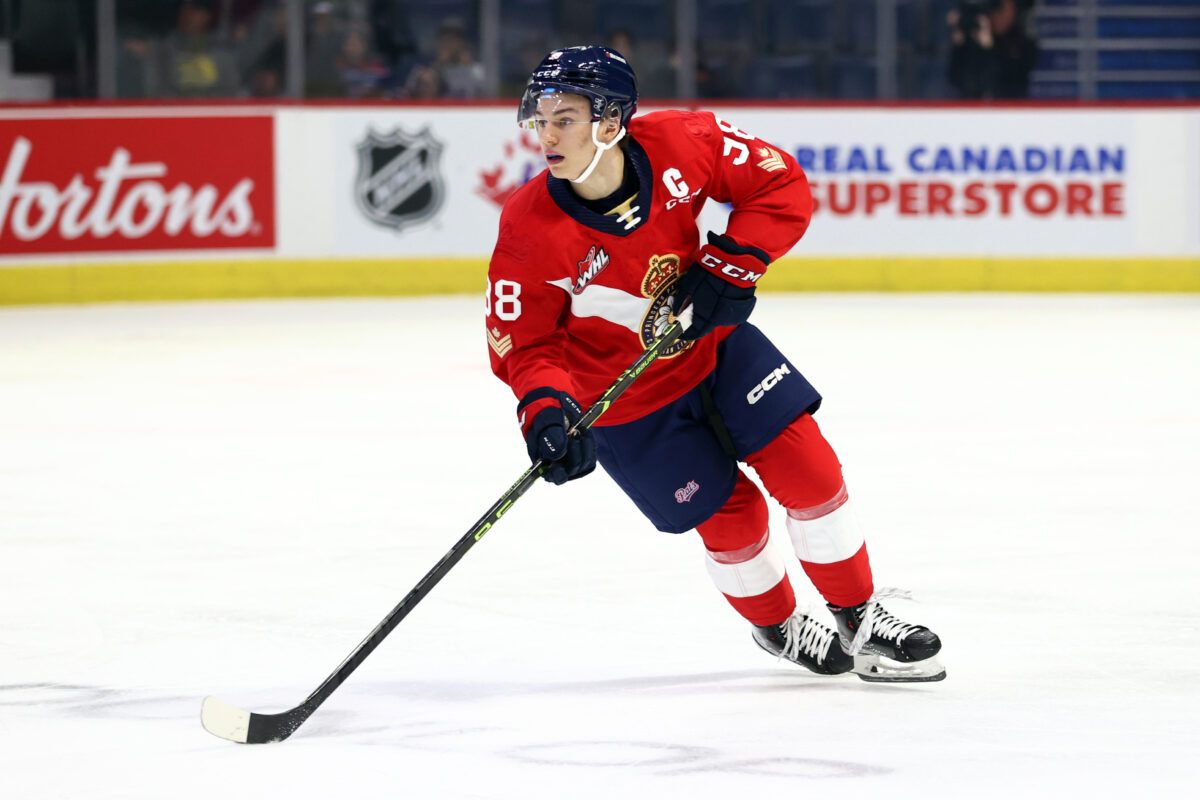 It's not just his dominant, record-breaking performance at the World Juniors, dragging an underperforming Canada team to the gold medal, and it's not just his 50 goals and 100 points in just 40 WHL games. Everywhere he plays, Bedard just oozes poise and talent unlike any other player on the ice. He's already surpassed my lofty expectations for him with 70 goals and 71 assists with a couple games remaining in the regular season, which is just an absurd stat line for a draft eligible player.
Related: Ranking the Top Landing Spots for Connor Bedard
While there are some great prospects in the top-five of the draft, there's no doubt that Bedard is the real reason teams are tanking. He has the potential to change the trajectory of an NHL franchise and will likely score a ton of goals along the way. Bedard's influence on the NHL standings cannot be overstated and I'm sure he'll be waiting patiently to find out which team is going to select him at the NHL Draft lottery on May 8. 
2. Matvei Michkov, RW, HK Sochi (KHL)
Defining Attribute: Brilliant offensive IQ
Matvei Michkov might just be the smartest player in this draft class, with an incredible ability to manipulate opposing defenses. He has a great shot, but more often than not he scores goals because he slipped his defender and managed to find the space and time necessary to score a goal. While Bedard scores by shooting a wrister as hard as possible, trying to punch a hole through the goalie, Michkov will outsmart the defense and score by finding holes in coverage.
I believe Michkov should be the second overall pick on talent, though his contract that will keep him playing in the Kontinental Hockey League (KHL) for three full seasons following the draft makes it extremely unlikely that he goes second overall. He is a special player and looks like he will become a franchise-defining player for whoever selects him, when he finally makes it to North America that is. 
Michkov wasn't earning regular minutes in the KHL earlier this year, so he was loaned to HK Sochi which is one of the KHL's bottom feeders so that he could get substantial ice time. He was the team's top scorer from that point on, with 20 points in 27 games including an incredible 5-point game in the season finale. In the lower leagues of Russian hockey Michkov was able to cheat for offense a lot which was making some people I've talked to a bit nervous. However, his play in the KHL put those questions to rest as he played a much more disciplined two-way game effort wise and still managed to score a ton of points.
3. Adam Fantilli, C, University of Michigan (NCAA)
Defining Attribute: Excellent Pace and Awareness
Adam Fantilli is an absolute monster with the puck, with the skill, skating, and strength to beat defenders no matter how they approach him. Good luck taking the puck away from him because he can easily move around you with his excellent skating or truck through you with his solid 6-foot-2, 185-pound frame. 
He's got the dynamic skill and the frame to be a first overall-caliber prospect in most draft years, so it feels a bit wild to put him at third overall on this list. Fantilli is a reliable enough two-way player that I think it's completely fair to expect him to play in the NHL next season and succeed in doing so. The only question is just how good will he be in year 1?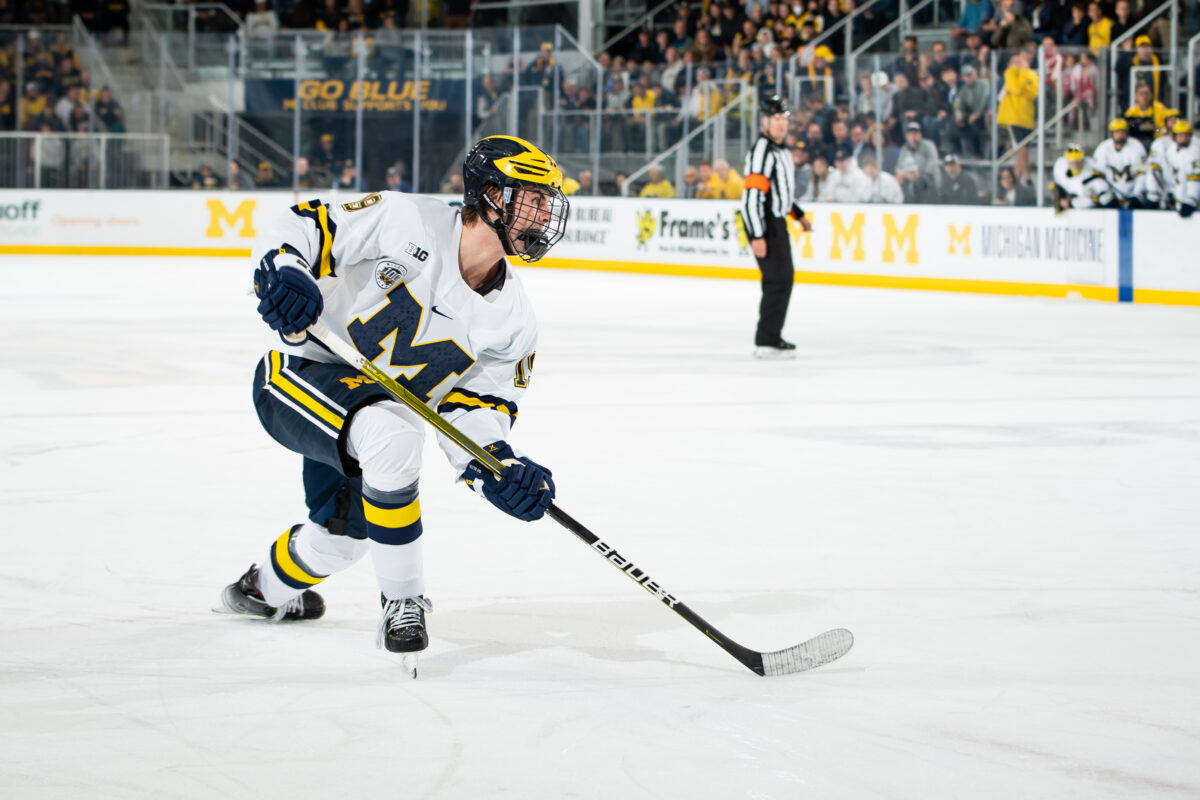 Fantilli recently finished one of the most impressive draft eligible NCAA seasons in recent memory with the only competition being Jack Eichel's dominant 2014-15 season where he put up 71 points in 40 games (1.78 points per game). Fantilli's final stat line is 27 goals and 61 points in 33 NCAA games (1.85 points per game) on a University of Michigan team filled to the brim with talent. Eichel followed up his draft year with 56 points in the NHL, how many will Fantilli have next year?
4. Leo Carlsson, C/LW, Örebro HK (SHL)
Defining Attribute: Versatile offensive player with great hands for his size
With a hot start in the Swedish Hockey League (SHL) as a 17-year-old Leo Carlsson has shot up draft boards and quickly made the top tier of the draft a four-player group. The SHL demands a lot of players when it comes to physicality and defensive effort, both of which Carlsson has excelled at. He hasn't looked out of place against men and has scored points at an excellent rate so far for a draft eligible player.
His skill and power combination make him a nightmare for defenders as he can beat you with his hands or by tossing his large frame into you to protect the puck. Carlsson's ability to find and make space off the puck is also impressive for such a young player playing against grown men. He has the potential to make a real impact in the NHL as soon as next year considering his success on both ends of the ice in Sweden thus far. The way that Fantilli plays wouldn't really fly in the SHL where you need to be defensively stout and reliable at all times, and Carlsson's maturity, reliability, and his clear understanding of what makes him great are the reasons he has succeeded in a top pro league as a teenager.
5. Zach Benson, C, Winnipeg ICE (WHL)
Defining Attribute: Awesome Puck Skills and Motor
Zach Benson is one of the most skilled and creative players in this draft, and the only things holding him back is his size and his underwhelming speed. I'm not all that worried about either (5-foot-9, 160 pounds) because he has the tenacity and elusiveness that smaller players need to have to make a difference at the NHL level these days.
Related: Baracchini's Top 64 for the 2023 NHL Draft
Benson is currently outscoring two of his teammates in Matthew Savoie and Conor Geekie who were both drafted in the top-11 of the 2022 Draft. He's also outscoring most of the WHL for that matter (currently behind only Bedard and Chase Wheatcroft), dominating the opposition when he has possession. He shows off his edgework and hands best while playing through traffic as he just seems to be nearly impossible to nail down and knock off the puck. Benson might be the most competitive player in the whole draft, constantly giving his all in puck battles which leads to him winning a lot more of them than you'd expect from a player his size. If he can add another gear (or two) to his max speed, Benson would be an absolute force in transition. 
6. Will Smith, C, USA U18 (NTDP)
Defining Attribute: Elite Playmaking Ability and Shifty Skating
Will Smith has established himself as one of the very best prospects in this draft with his continued dominance as a member of the United States National Team Development Program where he is scoring just over two points per game. The only player to ever score at a rate of two points per game on the U18 team for a full season is Jack Hughes, you might have heard of him.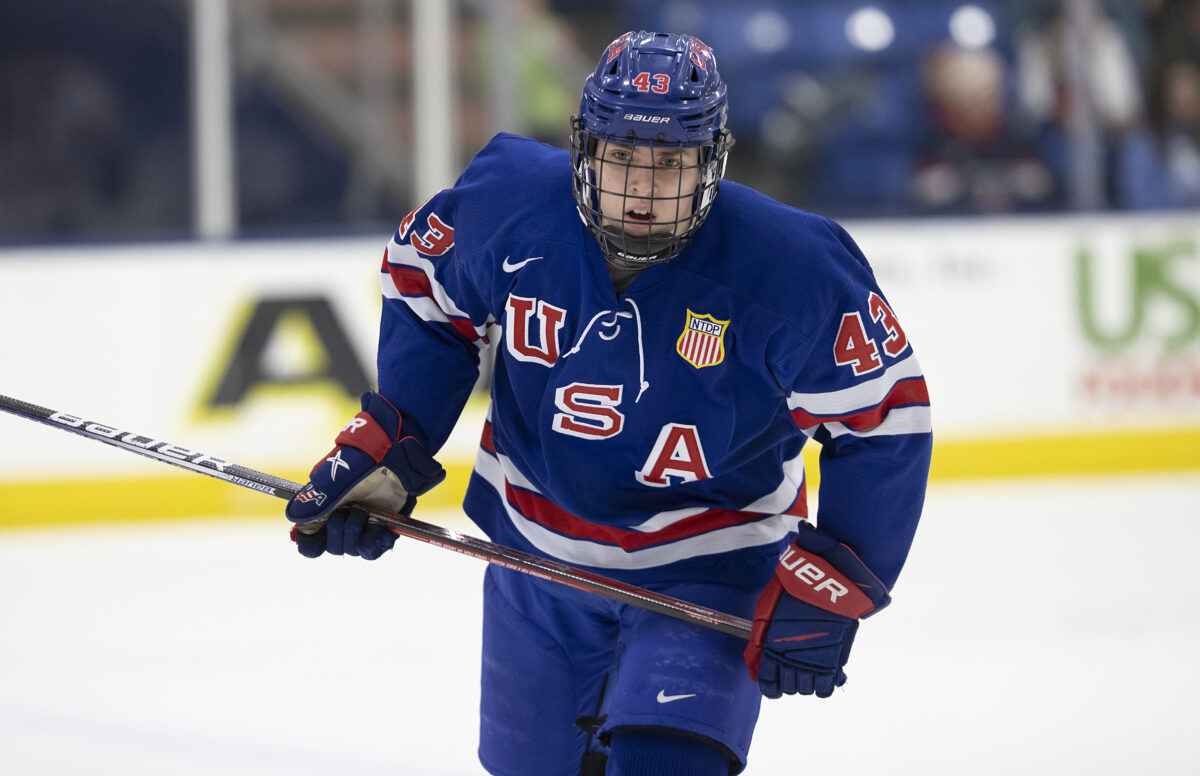 Smith is an incredibly shifty playmaker who can create high danger plays at will by threading passes through traffic, stickhandling around pressure, or taking a shot of his own. He is a very intelligent offensive player and can make these great reads and plays at full speed. He is so difficult for defenders to pin down because of the way he manipulates defenders' movements like waiting for them to turn their skates in one direction before darting in the other, and him being a right-handed centerman doesn't hurt his draft stock either.
7. David Reinbacher, RD, Kloten (NL)
Defining Attribute: Great Defensive Game and Above Average Skating
I believe Austrian defender David Reinbacher is the best defenseman in the 2023 Draft class right now and I expect that he will be the first defender off the board come draft day. Reinbacher is a 6-foot-2 defender with a right-handed shot and great mobility who is playing lots of minutes in the National League (NL), Switzerland's top professional men's league. He's a very responsible defender who shuts down tons of rush attempts with an active stick and stellar positioning.
The biggest question following Reinbacher's great performance last year in the Swiss League (SL), the second-tier Swiss professional league, was if he had more offense in his game to show. So far, the answer is a resounding yes, even considering the increased quality of  competition. He profiles similarly to David Jiricek physically, but with a more defensive tilt to his game. Reinbacher is looking like a potential top-four mainstay in the NHL with exciting defensive potential. His performance at the 2023 World Juniors helped his draft stock a bit, though Austria was dominated by every team they played against. Reinbacher had a solid tourney on a bad team despite dealing with an illness the entire time. Not the most flashy or exciting prospect, but a safe one who plays an in-demand position.
8. Nate Danielson, C, Brandon Wheat Kings (WHL)
Defining Attribute: Consistent and Well-Rounded Play Driver
Few centers in junior hockey enter their draft year as well-rounded as Danielson. His consistency, effort, speed, and skill make him a coach's dream even though he doesn't have the dynamic offensive qualities of some of his peers. Danielson is great at attacking the middle of the ice which makes up for his lack of a finishing touch because it leads to a plethora of chances that better line mates would finish at a solid clip. He has also taken a step forward in terms of production, placing him firmly as one of the top-20 scorers in the WHL. 
Danielson is a two-way center with the strength and skating ability to be an effective NHL player in all-situations. I would compare him to a Bo Horvat or a Dylan Larkin type of player who can handle tough defensive assignments fairly well and produce offense of his own. It's common to watch Danielson play a game and wonder how he ended up with 1 point instead of 3 or 4 because he creates so many chances that his teammates aren't always capable of finishing, partly because he's thinking a play or two ahead of many junior players at any given time. 
9. Oliver Moore, C, USA U18 (NTDP)
Defining Attribute: Incredible Skater
Oliver Moore is one of the best skaters in this draft class with blazing speed and excellent agility. The combination of his skating, shot, and playmaking skills makes him a true offensive weapon. He is agile enough that I expect he'll be very successful on zone entries in the NHL some day, giving his team a chance to control play in the offensive zone whenever he touches the puck. He has produced solid offense so far this year for the US U-18 team which is made more impressive by the fact that he has spent most of that time playing on the second line behind the Smith, Leonard, Perreault trio. 
Related: Early Look at the 2024 NHL Draft
---
Latest News & Highlights
---
The U18 NTDP squad recently got some reinforcements when James Hagens (2025 Draft) and Cole Eiserman (2024 Draft) were called up from the U17 team. Each have had the chance to play with Moore, who has done an excellent job of freeing them up to produce points, with Eiserman potting 11 goals and 14 points in just nine games. Moore is a very exciting two-way center prospect who I don't expect to see slip past the top-16 picks on draft day.
10. Colby Barlow, LW, Owen Sound Attack (OHL)
Defining Attribute: Excellent Shot and Maturity/Leadership
After scoring 30 goals as a rookie in the OHL last season, Colby Barlow has been on my radar as a pro-sized winger with a legit NHL-caliber shot. He's got good tools all around with solid speed, stick skills, and defensive play. Barlow was also named captain of the Owen Sound Attack at just 17 which speaks to his maturity and leadership abilities. He has had another excellent year goal-scoring wise with 46 goals in his first 59 OHL games of the year.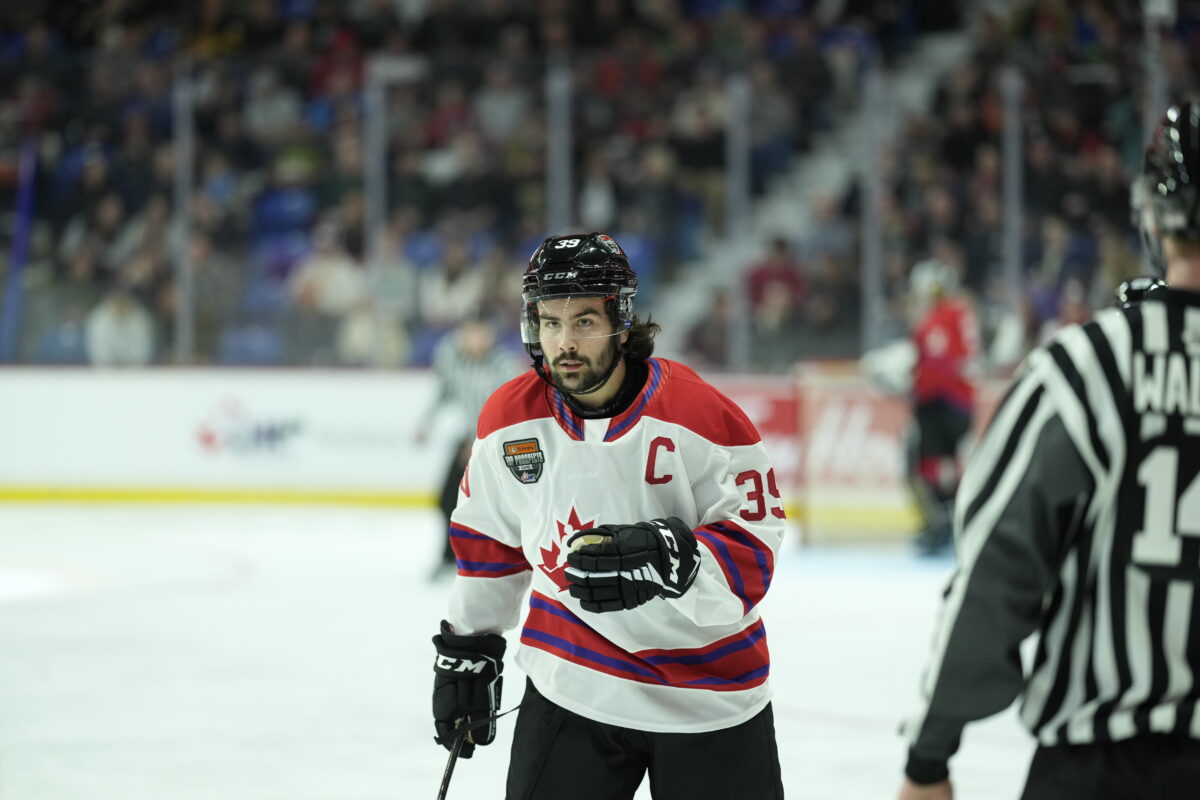 Barlow's size, strength, and maturity as a teenager lead me to believe he could have a real shot at making the NHL out of training camp for whichever team selects him, he's that talented and reliable. He has also proven to be a bit too good for the OHL, scoring over 30 goals in his draft-1 year and now being just a few goals shy of the 50 mark. I've heard some people whispering about how Barlow's success can be attributed to his physical maturity and that there's a chance he has already peaked physically. That argument sounds pretty weak to me as I think he has still got plenty of room to grow strength and skill wise. 
11. Andrew Cristall, LW, Kelowna Rockets (WHL)
Defining Attribute: Very High Skill and Creativity
One of the most skilled and slippery players in this draft is Andrew Cristall, one of the only draft eligible players in the WHL who has been able to roughly keep pace with Bedard in terms of production this year. Holding steady at about 1.7 points per game, Cristall has already shown improvements following his impressive 69-point WHL rookie season last year. He draws tons of attention in the offensive zone and is great at making smart plays under pressure to help open teammates up to make their jobs easier.
The biggest arguments against him are his size and skating, since a 5-foot-10 winger often needs to be an above average skater to make an impact in the NHL and Cristall is not quite there. At this point I think his offensive abilities will at least make him a power play threat even if his skating never catches up, but if the team that drafts him can help him improve his skating, he will be an absolute beast on offense. One thing about Cristall that I think is being overlooked is his shot. He doesn't have the lightning quick, adaptive release of Bedard or the power of Barlow, but Cristall's shot is a legitimate weapon and should be effective in the NHL.
12. Dalibor Dvorsky, C, AIK (Allsvenskan)
Defining Attribute: Great Vision (Sees Everything on the Ice)
Dalibor Dvorsky is another player who has been impressive this season against men, playing in HockeyAllsvenskan, the second-tier Swedish professional league, for most of this season. He's scoring a bit below a half point per game there and has spent a few games in the J20 Nationell as well, Sweden's top junior league, where he has shown that he is clearly a step above his age group, scoring over two points per game.
Dvorsky has shown solid defensive play so far against men and his vision and puck skills have looked right at home, especially on the power play. His play in transition leaves something to be desired, but once he's in the offensive zone his ability to maintain control of the puck and make smart passes at an efficient rate makes him a consistent threat. 
13. Riley Heidt, C, Prince George Cougars (WHL)
Defining Attribute: Strong Skating and Playmaking
Riley Heidt's excellent acceleration and edge work make him a natural choice as the lead puck carrier for zone entries and he has excelled in that role. His playmaking skills either at full speed or after settling in the offensive zone are impressive and make him a very mobile and skilled threat whenever he has the puck. Good habits away from the puck lead me to believe he will be a reliable NHLer with top-six forward upside.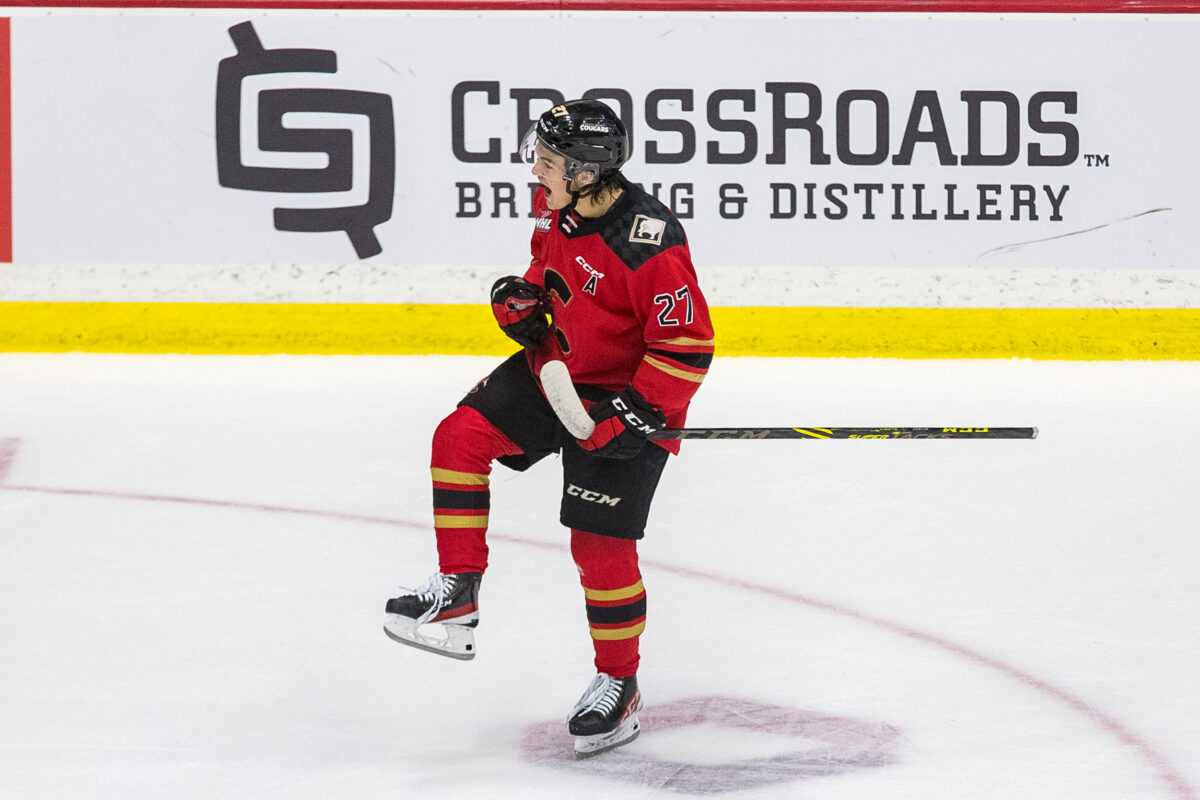 Heidt has blossomed into one of the WHL's best playmakers this year with great vision and the ability to not just see tough passing lanes, but hit them in stride as well. Heidt is only behind Bedard in terms of WHL assists, with 70 apples in 66 games. 
14. Gabriel Perreault, LW, USA U18 (NTDP)
Defining Attribute: Power Play Specialist
Gabriel Perrault looks like someone who could be a power play specialist at the next level with great skill and smarts in the offensive zone. He can pick apart opposing defenses with pin-point passes and sly fakes, and his effort level is admirable. Perreault is one of the most creative and intelligent players in this year's draft he is great at worming his way out of trouble when defenders collapse around him, either with a pass or his lightning-quick hands.
Perreault has scored at an absurd rate in the NTDP this year, with 105 points in just 52 games. That's a rate that has only been achieved once before (Jack Hughes) and might be repeated this year by both Perreault and his linemate Smith. He thinks the game at an incredibly high speed which gives me confidence that his offense will translate to the NHL even if his frame doesn't fill out like I expect it should. 
15. Matthew Wood, C/RW, University of Connecticut (NCAA)
Defining Attribute: Excellent Shot and Hands for his Size
I was eager to see how Matthew Wood would adjust to the college game after he dominated the British Columbia Hockey League (BCHL) last year, leading the league in goals and points as a 16-year-old. His freshman results are extremely positive with Wood being one of the top rookie point scorers and one of the top scorers on his team despite being the youngest player in all of men's NCAA hockey.
Related: Guide to the 2023 Draft Lottery
Wood is 6-foot-3 so his ability to make plays in tight to his skates at speed while maintaining control is very impressive for his size. However, his real calling card is his shot which ranks near the top of the draft class in terms of deception and power. He could use a bit more speed (who couldn't?), but he has shown that his timing and puck protection skills are strong enough for him to succeed in college. Only time will tell if they can do the same for him as a pro.
16. Ryan Leonard, RW, USA U18 (NTDP)
Defining Attribute: Skill Plays at High Speed
Ryan Leonard is a high energy winger who never takes his foot off the gas in terms of both speed and effort. He uses his speed and skill to blow by defenders in the neutral zone and pressure in-zone defenders who struggle to anticipate his next move. His playmaking and shot aren't exceptional, but they're both good enough to be reasonably effective in the NHL someday. 
Leonard is one of the most competitive players in this draft, skating relentlessly through all three zones in pursuit of the puck. Few 18-year-old players can play through contact the way he does, which is a credit to his intense off-ice strength training that has made him a formidable physical player. He has a very versatile skill set and could be a great top-nine winger who adds some grit and goalscoring to his line, similar to a Tyler Bertuzzi-type player.
17. Eduard Sale, RW, HK Kometa Brno (Czechia)
Defining Attribute: Jack-of-all-trades 
Eduard Sale is a great offensive winger who currently leads all U20 players in scoring as a 17-year-old in the top Czechian professional league. He has struggled a bit against men, looking most comfortable while dictating play from the flanks at even strength and on the power play. I could no longer justify ranking Sale in the top 10 because his play this year has been a bit underwhelming with the exception of his Hlinka Gretzky tournament performance which was doing a lot of the heavy lifting of keeping him in the top 10.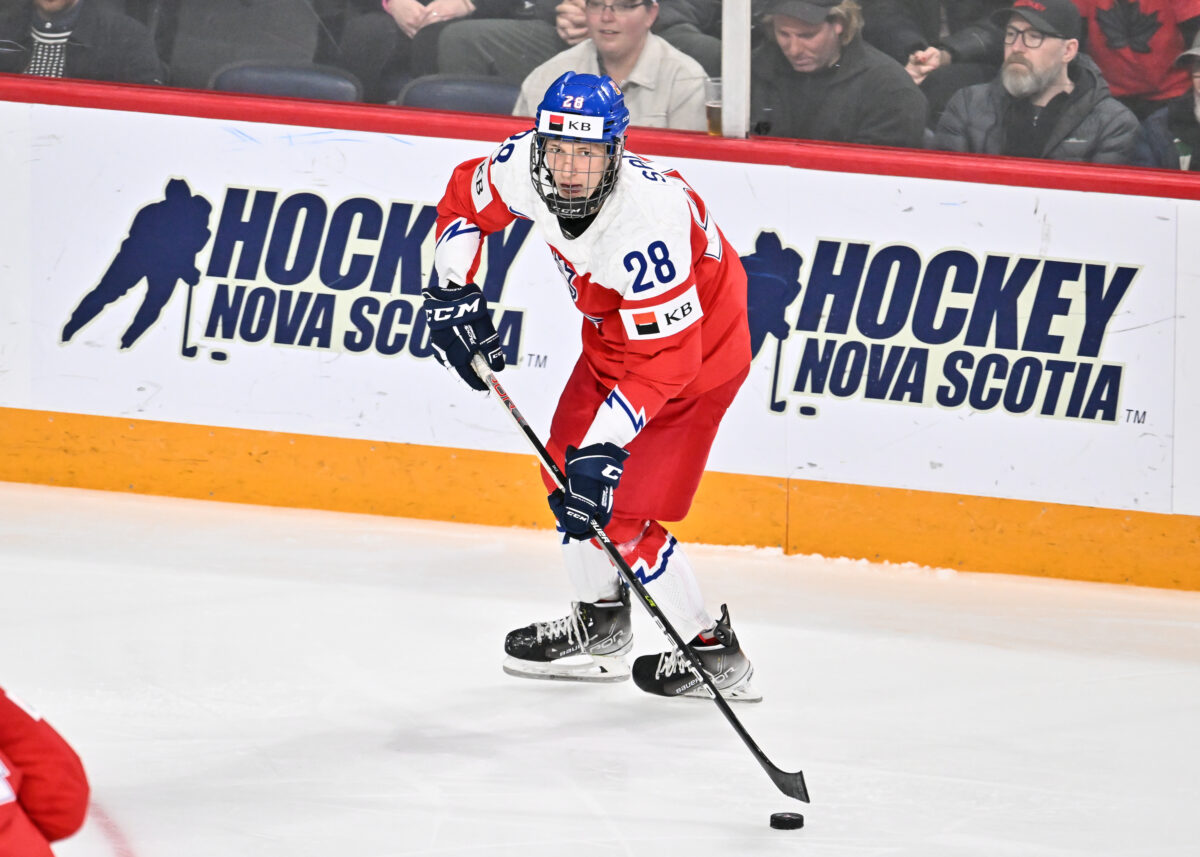 He's a classic example of a jack of all trades, master of none, with great scores across the board when it comes to defensive play, playmaking, skating and shooting, but with none of those individual skills popping off the page at you aside from maybe his puck skills. He looks like he could be a hard-working top-six winger who complements your top guys really well while providing significant offensive value on his own. 
18. Brayden Yager, C, Moose Jaw Warriors (WHL)
Defining Attribute: Offensive Positioning and Great Shot
Brayden Yager has been talked about in the public scouting sphere for nearly as long as Connor Bedard, being drafted third overall in the 2020 WHL Bantam Draft and winning the CHL Rookie of the Year award last year on the back of a remarkable 34-goal, 59-point rookie season. His transition game, defensive play, and wicked wrist shot make him the most important player on his WHL team on many nights.
Yager's playmaking vision is solid but will likely never be his calling card, that would clearly be his shot. He works hard when he's on the ice, making high effort plays without the puck that give me more confidence that he will continue to play as a center in the NHL. He has a great release on his shot, and he has a knack for manipulating shooting lanes or goalie positioning in just a split second to give himself a better scoring chance.
19. Axel Sandin Pellikka, RD, Skellefteå AIK (SHL)
Defining Attribute: Strong IQ and Puck Moving Skill
Axel Sandin Pellikka is a right-handed offensive defenseman who has put up points at a remarkable rate in J20 Nationell, the top Swedish junior league. At the time of writing, he leads all defenseman in points per game and has had one of the most impressive offensive seasons in league history amongst defensemen of any age, not just draft eligible ones. Sandin Pellikka had a great showing for Sweden at the World Juniors, improving his draft considerably. The way he patrolled the blue line for Sweden on the powerplay was very impressive and the trust that he earned from his coaches as a 17-year-old spoke volumes. 
20. Calum Ritchie, C, Oshawa Generals (OHL)
Defining Attribute: Puck Skills and Legit Center
Calum Ritchie has great puck skills and sometimes it looks like he has glued the puck to his stick while carving through defenders or when he's on a breakaway. His skills make him very well suited as a center at the next level with good size, a coveted right-handed shot, good defensive habits (kills penalties quite well), and solid faceoff results. He has the tools to be a top-16 player in the draft easily, but I want to see some more production from him in the OHL before I can see him being worth the pick in that range.
21. Samuel Honzek, LW, Vancouver Giants (WHL)
Defining Attribute: Good Skating and Compete Level
After being selected 10th overall in the 2022 CHL Import Draft by the Vancouver Giants, Samuel Honzek has done nothing but impress in his first season in North America. He currently leads the Giants in points per game and was among the top scorers in the WHL at large before suffering an injury at the 2023 WJC with Slovakia. Honzek has played and succeeded on both special teams this year and his size and strength have made him too much for opposing defenders to handle on more than a few occasions. 
22. Gavin Brindley, C, University of Michigan (NCAA)
Defining Attribute: Great Skating and Effort Level
During every draft cycle there are a handful of prospects who are 5-foot-10 or shorter who get a ton of praise in public scouting circles before unceremoniously sliding on draft day. Some of the most recent examples are: Lane Hutson (2022 Draft), Olen Zellweger (2021 Draft), Logan Stankoven (2020 Draft), and Cole Caufield (2019 Draft), to name a few. My best guess at a player who has great skill but might slide on draft day due to his height is Gavin Brindley.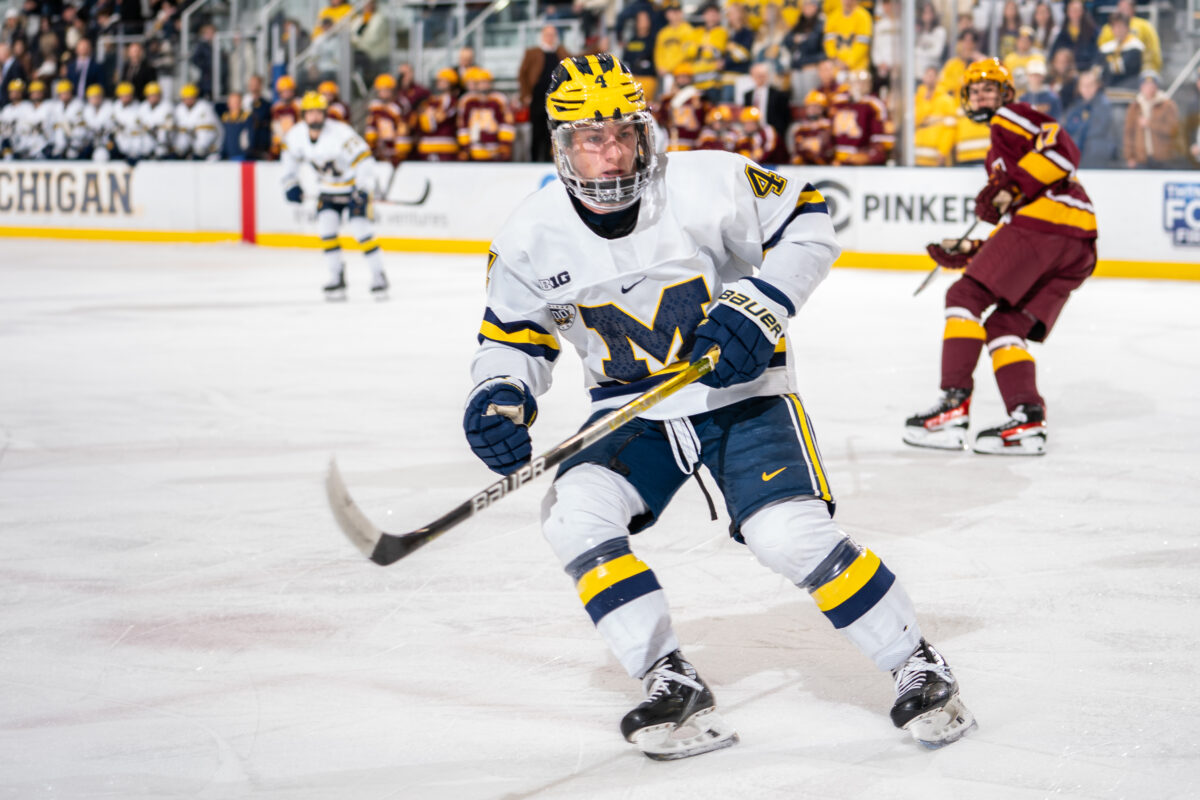 Brindley is a 5-foot-9 forward who has been excellent in the NCAA as an 18-year-old, a very impressive feat. His skating is top-tier in the draft class, and his high energy level makes him a possession monster. His combination of speed and effort will make him a very flexible player who can fill in whatever role is needed of him, which has earned him the second-line center spot for a stacked University of Michigan team.
23. Mikhail Gulyayev, LD, Omskie (KHL)
Defining Attribute: Great Skating Power Play QB
Mikhail Gulyayev is an intelligent offensively minded defenseman who has found moderate success in the top Russian pro leagues this year while dominating the Russian junior circuit whenever he plays against his peers. He is a mobile defenseman who fits the mold of the modern puck-moving defender and power play quarterback.
Related: Matvei Michkov – The Best Russian Prospect Since Ovechkin
In the 2021-22 season, Gulyayev set a new MHL (the top Russian junior league) record for points by a 16-year-old defenseman with 35 points in 54 games. He could suffer from the Russian factor, but his skating ability and impressive offensive toolset leads me to believe he's got a good shot at being drafted in the top-25 or so.
24. Dmitri Simashev, LD, Yaroslavl (KHL)
Defining Attribute: Great Skater for such a big Defender
Dmitri Simashev is a very intriguing prospect with the size/skating combo (6-foot-4) that is so coveted in the modern NHL. He has every physical tool you could hope for, and uses each of them well, with the speed, strength, and reach to be a really great top-four defender in the NHL. However, his offensive production has left much to be desired, leaving many questions about if he will have much offense to provide in the NHL someday. Regardless, it is always impressive to see a draft-year player earning serious minutes in the KHL, especially a defenseman, and Simashev might just have the highest defensive potential in the whole draft.
25. Bradly Nadeau, C, Penticton Vees (BCHL)
Defining Attribute: Great Shot and High Top Speed
Bradly Nadeau has emerged as a potential first round candidate recently, with his dominant season in the BCHL becoming too much to ignore. He currently leads the league in goals, assists, and points as a 17-year-old center with a wicked shot and the speed to be an absolute terror in transition. The only thing standing in the way of Nadeau becoming a goalscoring top-six winger is his size, standing at 5-foot-10, though his skating and compete level give me hope.
26. Quentin Musty, LW, Sudbury Wolves (OHL)
Defining Attribute: Great Shot and Net Driving 
After a solid showing at the Hlinka Gretzky Cup last summer, Quentin Musty was considered by many to be the best U.S. born prospect in this draft class. A slow start to the OHL season saw his draft stock swing way down, but his production has leveled up significantly since, and he's beginning to rise again.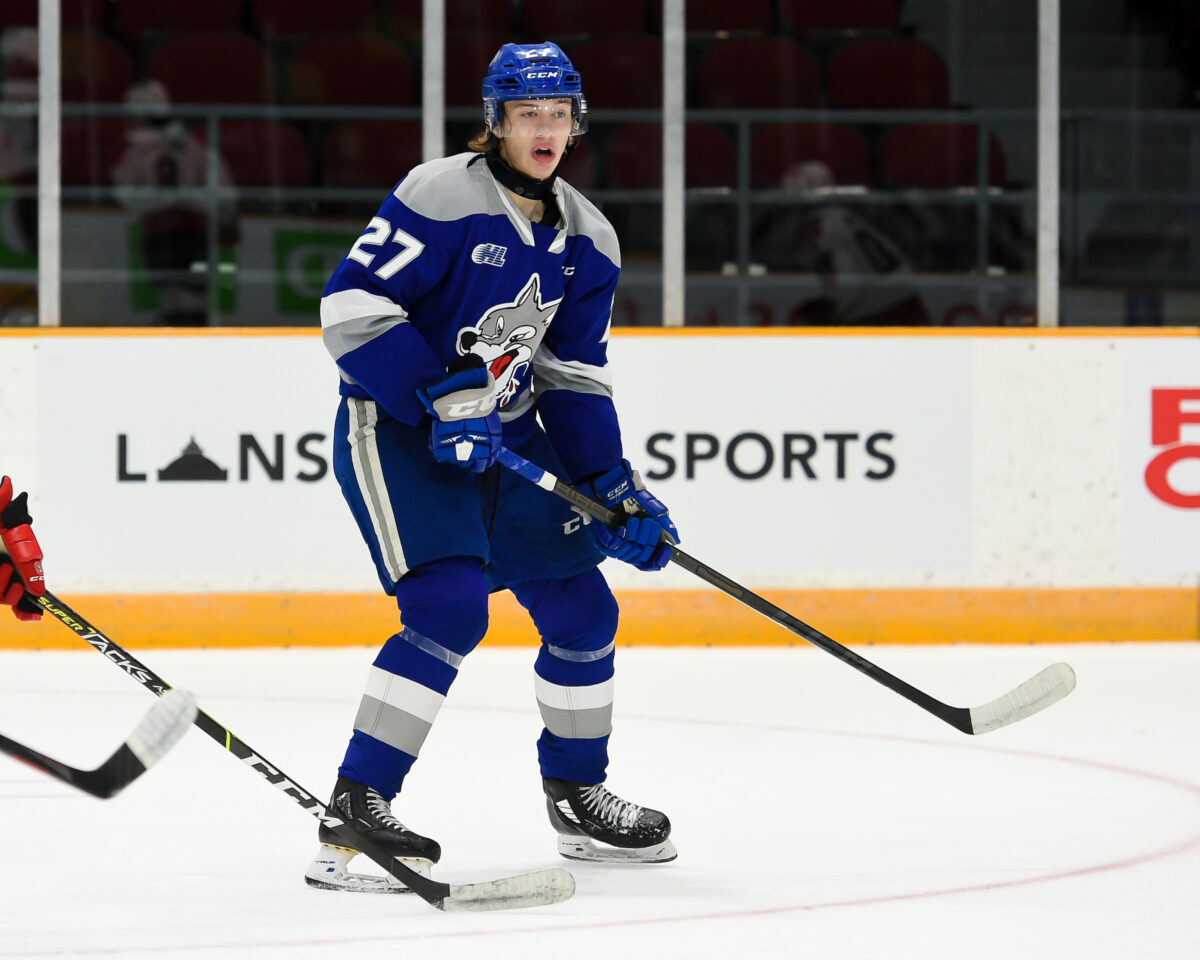 Musty is an athletic winger who can beat goalies with his hard shot or by crashing the net and scoring in tight. He is on the younger side of the draft class with a July birthday so he has plenty of time to grow into the potential that he has shown thus far and increase his draft stock even further.
27. Jayden Perron, RW, Chicago Steel (USHL)
Defining Attribute: Great Playmaking and Skating
Jayden Perron is an excellent play-driving winger with tons of offensive talent. Although he is just 5-foot-9, Perron is earning more and more buzz as a potential first rounder due to his excellent skating, playmaking, and offensive awareness. He's great at changing speeds in transition to separate himself from defenders before either making a move around them or passing to an open teammate. Perron is so agile that his lack of size and strength don't often hinder his game, however he will need to develop a bit of a physical game (like Logan Stankoven has) if he wants to grow into his full potential as a top-six forward in the NHL. 
28. Daniil But, LW, Loko Yaroslavl (MHL)
Defining Attribute: Great Shooter with a Huge Frame
Daniil But is one of the larger players in the entire draft class standing at 6-foot-5 despite just turning 18 in February. He has the size that NHL general managers dream of, and he has great puck skills and shooting mechanics for a player of his size. However, his skating is a bit sub-par at the moment, as is common for taller players, and might hold him back from ultimately reaching his full potential in the NHL someday.
But's shot is heavy, a symptom of his raw strength as well as his shooting mechanics, and he can even be seen pulling the puck towards his skates in the moment before shooting to change the angle and make the opposing goalie's life even tougher. The power and cleverness to his release make it clear that his shot will be an NHL-caliber weapon, especially as a finisher on the powerplay. Despite being so much bigger than the vast majority of his competition in the Russian junior leagues, But isn't the most adept physical player, though I think it's fair to assume he'll become more comfortable with his large frame once he stops growing.
29. Koehn Ziemmer, RW, Prince George Cougars (WHL)
Defining Attribute: Great Hands and Pro Frame
Koehn Ziemmer is another pro-built winger who loves to shoot the puck hard whenever given the chance. His skating is a bit of a weakness with less-than-ideal speed, but he more than makes up for it with his offensive creativity and hands. He loves attacking defenders and beating them in one-on-one skill battles. Ziemmer often seems to have the puck on a string and that's part of why he has been one of the leading scorers in the WHL this year.
30. Ethan Gauthier, RW, Sherbrooke Phoenix (QMJHL)
Defining Attribute: Great Consistency and High Motor
Ethan Gauthier is one of the most consistent players in this draft class in terms of effort and habits, not just production. He's a hard worker who makes his team better whenever he steps on the ice. He has great 1-on-1 skill, allowing him to regularly beat defensemen in juniors. Gauthier has cooled off following an incredibly hot start to the QMJHL season production-wise, but his smart and reliable habits have not changed. I watch him and I see an NHL player with the kind of well-rounded, high-effort skill set that could see him move around an NHL lineup (in a good way) someday provided his lack of speed doesn't hinder him too much.
31. Otto Stenberg, C/LW, Frölunda HK J20 (J20 Nationell)
Defining Attribute: Great Transition Offense
Before the season began, many people saw Otto Stenberg as a top-10 prospect for this draft following his incredible performance for Team Sweden at the Hlinka Gretzky Cup. His production has been disappointing so far this year, but his talent as a high-skill puck carrier is still clear.
The way he dodges checks and evades pressure is impressive, but the way he attacks the middle of the ice is what I like most about him. Stenberg is never the biggest guy on the ice, but he'll drop a shoulder and push his way to the dangerous areas of the ice without hesitation. If he starts to put up more points, watch out for Stenberg as he'll rise up many draft boards (including mine) very quickly.
32. Lukas Dragicevic, LD, Tri-City Americans (WHL)
Defining Attribute: Dynamic Playmaking 
One of the most surprising junior players so far this year is Lukas Dragicevic who has put up points at well above a point per game rate in the WHL from the back end, making him the fourth highest scoring defender in the league as of writing. He provides a ton of offense in transition as well as in the offensive zone where he seems to create scoring chances at will.
Related: 2023 NHL Draft Guide
Dragicevic's skating is average and so is his defending, but his offensive skill and smarts package could get him a look even higher on draft day. There's not a single NHL team who wouldn't love an offensive defender as dynamic as Dragicevic so I'm sure they'll be able to overlook something like his skating, especially when he has decent size for the position (6-foot-1).
33. Tanner Molendyk, LD, Saskatoon Blades (WHL)
34. Charlie Stramel, C, University of Wisconsin (NCAA)
35. Noah Dower-Nilsson, C/LW, Frölunda HK J20 (J20 Nationell)
36. Oliver Bonk, RD, London Knights (OHL) 
37. Oscar Fisker Mølgaard, C, HV71 (SHL)
38. Alex Ciernik, LW/RW, Södertälje SK J20 (J20 Nationell)
39. Luca Cagnoni, LD, Portland Winterhawks (WHL)
40. Maxim Strbak, RD, Sioux Falls Stampede (USHL)
41. Gracyn Sawchyn, C, Seattle Thunderbirds (WHL)
42. Jesse Kiiskinen, RW, Pelicans U20 (U20 SM-sarja)
43. Hunter Brzustewicz, RD, Kitchener Rangers (OHL)
44. Trey Augustine, G, USA U18 (NTDP)
45. Kalan Lind, C/LW, Red Deer Rebels (WHL)
46. Kasper Halttunen, RW, HIFK (Liiga)
47. Caden Price, LD, Kelowna Rockets (WHL)
48. Danny Nelson, C/RW, USA U18 (NTDP)
49. Carson Bjarnasson, G, Brandon Wheat Kings (WHL)
50. Lenni Hameenaho, LW/RW, Ässät (Liiga)
51. Arttu Karki, LD, Tappara U20 (U20 SM-sarja)
52. Etienne Morin, LD, Moncton Wildcats (QMJHL)
53. Roman Kantserov, LW/C, Stalnye Lisy Magnitogorsk (MHL)
54. Beau Akey, RD, Barrie Colts (OHL)
55. Aiden Fink, RW, Brooks Bandits (AJHL)
56. Timur Mukhanov, C, Omskie Krylia (VHL)
57. Luca Pinelli, C, Ottawa 67's (OHL)
58. Adam Gajan, G, Greenbay Gamblers (USHL)
59. Theo Lindstein, LD, Brynäs IF (SHL)
60. William Whitelaw, C, Youngstown Phantoms (USHL)
61. Alexander Rykov, RW, Chelmet Chelyabinsk (VHL)
62. Aydar Suniev, LW, Penticton Vees (BCHL)
63. Tom Willander, RD, Rögle BK J20 (J20 Nationell)
64. Jakub Dvorak, LD, Bílí Tygri Liberec (Czechia)
65. Felix Nilsson, C, Rögle BK J20 (J20 Nationell)
66. Cam Allen, RD, Guelph Storm (OHL)
67. Jesse Nurmi, LW, KooKoo U20 (U20 SM-sarja)
68. Tomas Suchanek, G, Tri-City Americans (WHL)
69. Carson Rehkopf, C/LW, Kitchener Rangers (OHL)
70. Michael Hrabal, G, Omaha Lancers (USHL)
71. Denver Barkey, C, London Knights (OHL)
72. Emil Jarventie, LW, Ilves U20 (U20 SM-sarja)
73. Ian Scherzer, C, Rögle BK J20 (J20 Nationell)
74. Isac Born, C, Frölunda J20 (J20 Nationell)
75. Aram Minnetian, RD, USA U18 (NTDP)
76. David Edstrom, C, Frölunda HC J20 (J20 Nationell)
77. Noel Nordh, LW/RW, Brynäs IF J20 (J20 Nationell)
78. Zeb Fjorsfall, C, Skellefteå AIK J20 (J20 Nationell)
79. Joey Willis, C, Saginaw Spirit (OHL)
80. Andrew Strathmann, LD, Youngstown Phantoms (USHL)
81. Mathieu Cataford, RW, Halifax Mooseheads (QMJHL)
82. Matthew Mania, RD, Sudbury Wolves (OHL)
83. Mazden Leslie, RD, Vancouver Giants (WHL)
84. Jordan Tourigny, RD, Shawinigan Catarctes (QMJHL)
85. Ivan Anoshko, C, Dinamo-Shinnik Bobruysk (MHL)
86. Marc-Olivier Beaudry, LD, Drummondville Voltigeurs (QMJHL)
87. Niks Fenenko, LD, Baie-Comeau Drakkar (QMJHL)
88. Nick Lardis, RW, Hamilton Bulldogs (OHL)
89. Daniil Bourosh, C, Rouyn-Noranda Huskies (QMJHL)
90. Ty Halaburda, LW/RW, Vancouver Giants (WHL)
91. Tristan Bertucci, LD, Flint Firebirds (OHL)
92. Quinton Burns, LD, Kingston Frontenacs (OHL)
93. Artyom Kashtanov, LW/RW, Avto Yekaterinburg (MHL)
94. Jan Kavan, G, HC Kometa Brno U20 (U20 Czechia)
95. Cole Knuble, C, Fargo Force (USHL)
96. Ruslan Khazheyev, G, Belye Medvedi Chelyabinsk (MHL)