Matvei Michkov
2022-23 Team: HK Sochi (KHL)
DOB: December 9, 2004
Place of Birth: Perm, Russia
Ht: 5'10" Wt: 148 pounds
Shoots: Left
Position: Right wing
NHL Draft Eligibility: 2023 Draft Eligible
Rankings
THW – Horn: 4th
THW – Baracchini: 4th
DailyFaceoff – Ellis: 3rd
Draft Prospects Hockey: 2nd
Bob McKenzie: 4th
Craig Button: 5th
It is not hyperbole to suggest that Matvei Michkov is the best Russian prospect to come through the NHL draft since Andrei Vasilevskiy in 2012 or even Alex Ovechkin in 2004. In terms of sheer offensive ability, Michkov may be the only player in the 2023 draft that rivals presumptive top pick, Connor Bedard. Seriously, he's that good.
What makes Michkov stand out are his puck skills and overall intelligence on the ice. He is a highly creative players, and that allows him to create space for himself and his teammates in various situations. He can stickhandle his way out of trouble, and the puck can sometimes seem to be glued to his stick as he works his way around the offensive zone. He anticipates the play well, and can attack an open seam with a wicked shot or a pass with pin-point precision.
Related: 2023 NHL Draft Guide
---
Latest News & Highlights
---
Michkov is aggressive and confident with the puck. He's willing to try things that other players wouldn't dream of, and he's able to try those things because he is successful more often than not. He's the type of player that "puts on a show" and will sell tickets as he gets older. But it's not just about his dazzling moves or how confident he is in the offensive zone – none of that matters if there aren't results to back it all up.
While playing for a bad HK Sochi club this season in the Kontinental Hockey League (KHL), Michkov has 20 points in 27 games. He's got a powerful shot considering his age and size, and he knows how to use his teammates as decoys to open up shooting lanes. It's not hard to get excited about a future where he plays with players that can match his skill level, but the fact that he's doing what he's doing without an elite team around him just shows how much he can move the needle on his own.
Michkov isn't afraid to be "THE guy" and make things happen on his own, but one of the few drawbacks in his game is that he sometimes relies on his own abilities too much. He can get tunnel vision in the offensive zone and look to make a play all on his own even when there's a prime opportunity to use his teammates. He's a playmaker, but he is not necessarily a play creator; his ability to create for others should develop over time, but what will always set him apart from other top-tier players is his ability to take over and bend the game to his will. Proper development will allow for him to keep that killer instinct while also removing his "blinders" to open him eyes to other ways to use his creative talents.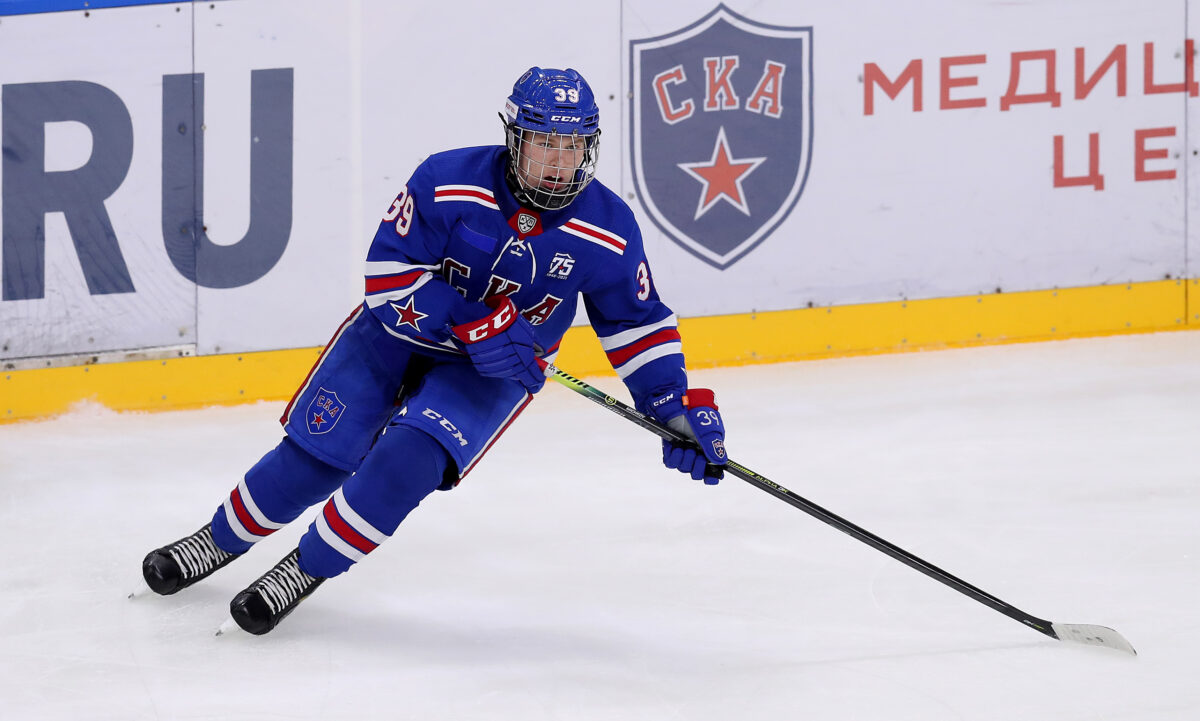 Despite his ability to dominate on the ice with his sky-high skill level, there are some concerns that NHL teams will have to consider when they are deciding whether or not to draft him. First, he is a smaller player, and his overall lack of body strength may be a concern, especially against the biggest and baddest defensemen the NHL has to offer. That shouldn't be too much of a concern, however, as he will continue to physically mature over the coming years. He's less Ovechkin and more Patrick Kane when it comes to his size; nobody will care that he's undersized because his game is built on his ability to dazzle with the puck.
The other more notable concern teams will have to weigh is his current commitment to play in Russia. Last year, he signed a contract extension with SKA St. Petersburg that will keep him in the Eastern Hemisphere through the 2025-26 season. This means that any team considering drafting him will have to be willing to wait a few years before they can inject his talent into their lineup. It's not dissimilar to the situation the Minnesota Wild faced with Kirill Kaprizov; Kaprizov was a 2015 draft pick that didn't make his debut with the Wild until 2020. The key difference is that Kaprizov was a fifth round pick while Michkov is expected to be a first round pick – there's a lot more pressure for a team to get something out of a first round pick than there is for a fifth round pick.
Still, Michkov is the type of talent that is worth waiting for. There are teams that will understandably decide that they cannot afford to wait for him, but he has the potential to take his team to another level once he arrives, just like Kaprizov did in Minnesota.
Other THW Profiles
Matvei Michkov – NHL Draft Projection
On talent alone, you can make a solid argument that Michkov should be the second player off the board after Connor Bedard. Unless the team picking second can afford to be patient, however, there's a pretty high chance that he falls down the draft board a bit, possibly even outside of the top five. He should still be a top 10 pick, though. The further he falls, the more likely it is that we'll look at him as one of the biggest draft steals of the decade – and possibly even longer.
Quotables
"He's one of the most creative and intelligent offensive players I've seen in the last few years. He combines his incredible puck skills with a true elite goal-scoring instinct. He anticipates the play and attacks defenders differently than other forwards and always seems to find ways to figure into scoring chances despite not being the biggest or fastest. He can make plays at a high level, but Michkov is a finisher who will score a lot of goals as a pro." – Corey Pronman (from "2023 NHL Draft prospects: Connor Bedard leads Corey Pronman's midseason ranking", The Athletic, 1/31/23)
"All things considered, Michkov is still a top-five talent in this draft. His offensive ability is very advanced and he'll be quick to make an impact on the scoresheet and the power play. But the holes in his defensive game and passing are what's keeping him back from being a no-brainer in the top-three." – Jake Janso, FC Hockey
"If he were guaranteed to be coming to the NHL next fall, a center, and an inch or two taller, he'd have a nearly perfect profile for me. He's different than Bedard in tools and approach. Michkov's brilliance comes primarily from his ability to read and process the play at an extremely advanced level, make his decisions quickly, and execute on them with incredible proficiency, whether that's ripping a patterned shot (his one-timer, his standstill wrister, his curl-and-drag, etc.), a quick move into a pass, a sudden stop-up, or an attacking cut." – Scott Wheeler (from "2023 NHL Draft top 64 prospects: Scott Wheeler's March ranking", The Athletic, 3/1/23)
Strengths
Probably the most creative player in the 2023 draft
Shot/scoring ability
Ability to create his own opportunities
Elusive skating stride
Stickhandling
IT factor
Under Construction
Utilization of teammates
Defensive play
Backchecking
Strength
NHL Potential
Michkov has the potential to become one of the best wingers players in the world. While you have to be careful about drawing comparisons to all-time greats like Ovechkin, Michkov has the talent to become a household name like the Great Eight, and it wouldn't be surprising to see him become one of the top Russian scorers of all time when all is said and done. His offensive talent and potential is so potent that his defensive deficiencies are pretty much an afterthought. Bedard is the crown jewel of the 2023 Draft, but Michkov isn't far behind.
Risk/Reward
Risk – 4/5, Reward 5/5
Fantasy Hockey Potential
Offense – 10/10, Defense – 4/10
Statistics
Videos
---