Leo Carlsson
2022-23 Team: Örebro HK (SHL)
Date of Birth: Dec. 26, 2004
Place of Birth: Karlstad, SWE
Ht: 6-foot-3 Wt: 194 pounds
Shoots: L
Position: C/W
NHL Draft Eligibility: 2023 first-year eligible
Rankings
From the start of the 2023 draft season, all the attention has been centred around top prospect Connor Bedard and to an extent, Adam Fantilli. However, Örebro HK's Leo Carlsson is right up there as he too has a high ceiling to be an elite level, two-way impact forward for any team that selects him.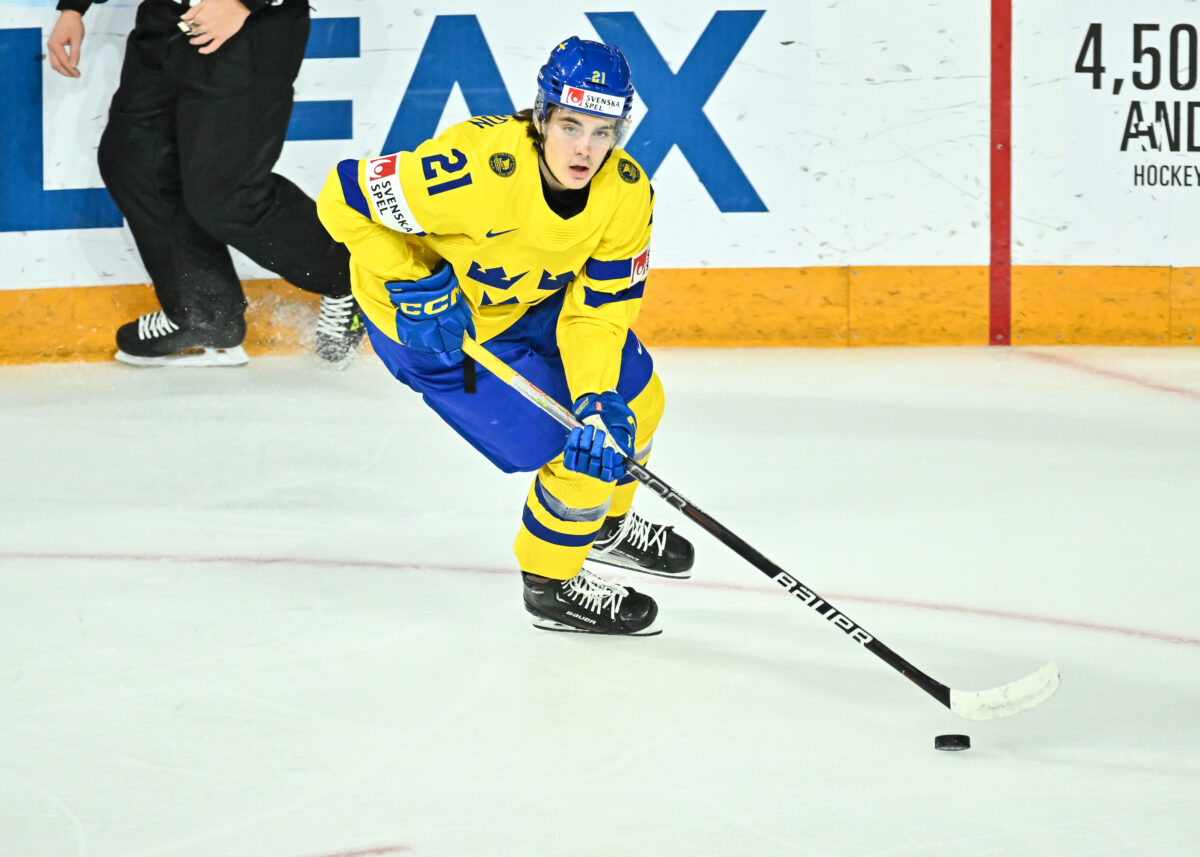 Playing in the SHL the last two seasons as a teenager, Carlsson has shown that he isn't fazed by the senior level as he's always constantly making an impact when he's on the ice. He has 25 points in 42 games, showing that he's able to keep up and play with the competition at that level. This alone will benefit his development as he starts to transition to North America and the NHL level. His game continues to evolve and his play continues to draw in fans. 
---
---
Carlsson is a very strong and talented playmaker that shows excellent poise and confidence when he has control of the puck. From his puck handling, to constantly finding the open spaces, everything he does is effortless. A natural centre, he has seen time on the wing, but no matter what position he plays, he remains extremely effective as he lets his skillset and high-end IQ take over any situation. He's extremely calm as he shows no panic in high pressure situations as his awareness and smarts allows him to be a threat in all three zones to find the open space and attack. Even at the 2023 World Juniors Championship, he was given every opportunity to succeed in a top line role and he certainly made an impact with six points in seven games. 
Carlsson's greatest asset is his high smarts and situational awareness as he processes the game extremely well at a fast pace. Whether he has the puck or not, he's always in the right place at the right time to create a play or potentially finishing one off. To always be in those spots and constantly read the play effectively is very impressive at his age. He has an intense compete level and work ethic while also showing great strength in battles along the boards or when chasing down loose pucks. When he has the puck, he utilizes his size extremely well to get the inside edge on opposing players, drive to the middle of the ice and to create space for his teammates by drawing in players and making a crisp pass for his teammates.
Even when he doesn't have the puck, he's always making himself open for a shooting opportunity, providing support for his teammates or sneaking in and driving hard to the net undetected for a scoring chance. He can make highlight reel plays but also play a simplistic and effective game as well. 
Related: 2023 NHL Draft Guide
Carlsson's combination of his size, soft hands and puck control to make moves in tight and smooth skating stride allows him to beat defending players with ease. When in transition, he can be very deceptive, as he does a great job to either cut to the outside or fend them off with his size and pulling off moves in tight spaces and break free when they converge on him. While he doesn't have high-end speed, his smooth stride allows him to still beat players and create separation while maintaining great control of the puck. His feet are always moving which the opposition still has a hard time to keep him contained.
Even though he's a versatile offensive threat, Carlsson is just as effective defensively. He has the ability to cut off lanes, keep players to the outside and utilizes his long reach and active stick to break plays up. He's always on top of the puck carrier creating havoc and applying great pressure. He's patient, quick to help and defend against the rush and doesn't get caught out of position.
Other THW Draft Profiles
Leo Carlsson- NHL Draft Projection
In any other year, Carlsson could be battling for the first overall spot given his overall potential and elite level skillset. But there is no doubt that in this year's class, he definitely has been running away and cementing himself as a top-three prospect and potentially a game changing player. Most scouting outlets have him at that spot and rightfully so, while others have him just inside or outside the top-5. He's definitely worth a top-5 selection, but given his upside, how can you not take him as the next centre behind Bedard and Fantilli? 
Quotables
"Carlsson has a very well-rounded toolkit; he's a good skater, has good size, and elite puck skills. He has the ability to beat players with his hands – even against high-level SHL defenders. He can also utilize his 6-3 frame and protect the puck at an elite level. What also separates Carlsson from many others is his good hockey sense and excellent anticipation ability, along with his great ability to process the game at high speed." – Eetu Siltanen, Dobber Prospects
"Carlsson's vision and stick-handling can get him out of well-pressured jams in all three zones. He will find quality passing lanes in the neutral zone when looking for a teammate in stride to pass to and has no issue with maneuvering the puck around tight pressure. Carlsson hunts for loose pucks with speed and has the physicality to deliver quality checks along the boards to cause puck disruption in tight board battles."– Josh Tessler, SMAHT Scouting 
---
Latest News & Highlights
---
"The big Swedish forward, who has the versatility to play wing or centre, depending on the circumstances, has already earned some great early-season reviews for his play in Europe. He can score goals or make plays, and that offensive potential, along with a good-sized frame, nudges him into the top five to start this season."– Bob McKeznie, TSN
 "The top Swede in the '23 draft has been a highlight machine, routinely going through defenders with skilled moves and then putting them on his back and driving to the net, showcasing the power in his game."– Tony Ferrari, The Hockey News
Strengths
Elite level IQ
Work Ethic
Puck protection and possession
Soft hands and playmaking abilities
Smooth skater
Net front presence 
Under Construction- Improvements to Make
Continue to improve top-speed
Uncertainty at centre position
NHL Potential
There isn't any doubt that Carlsson is going to be an impactful player in the NHL one day. Whether it's at centre or on the wing remains to be seen. The combination of his high-end skill, hockey IQ and two-way abilities in all three zones will have teams line up for his services. He can potentially be an all-situations kind of player– effective at five-on-five, a power play specialist– he can do it all and would still be able to put up strong offensive numbers. The fact the he continues to thrive against men as a teenager shows that his ceiling is high. 
Risk- Reward Analysis
Risk- 1/5, Reward 5/5
Fantasy Hockey Potential
Offense- 8/10, Defense 8/10
Awards/ Achievements
Carlsson is already posting a strong resume when it comes to his accomplishments. He's competed internationally for Sweden, winning a bronze medal at the Hlinka Gretzky Cup before the 2021-22 season and a gold medal at 2022 World U18 Championship. 
Interviews/ Links
Leo Carlsson Stats
Videos