It is March 5, and the New Jersey Devils hold a record of 40-15-6. The club continues to exceed expectations as they are currently hunting for first place in the Metropolitan Division.
It has been a crazy past few months in New Jersey. Head coach Lindy Ruff saw his team pass test after test at the start of the season and establish themselves as a legitimate threat to the rest of the league. They have tied and broken both franchise and league records since October.
Ahead of tonight's matchup against the Arizona Coyotes, let's take a look back and see how the team has earned the third-best record in the NHL and how general manager Tom Fitzgerald rewarded his club at the 2023 NHL Trade Deadline.
New Jersey Finally Found Stability in the Crease
Vitek Vanecek has been everything the organization and fans could have hoped for. The 27-year-old holds a 26-6-3 record this season emerging as the team's bonafide starter.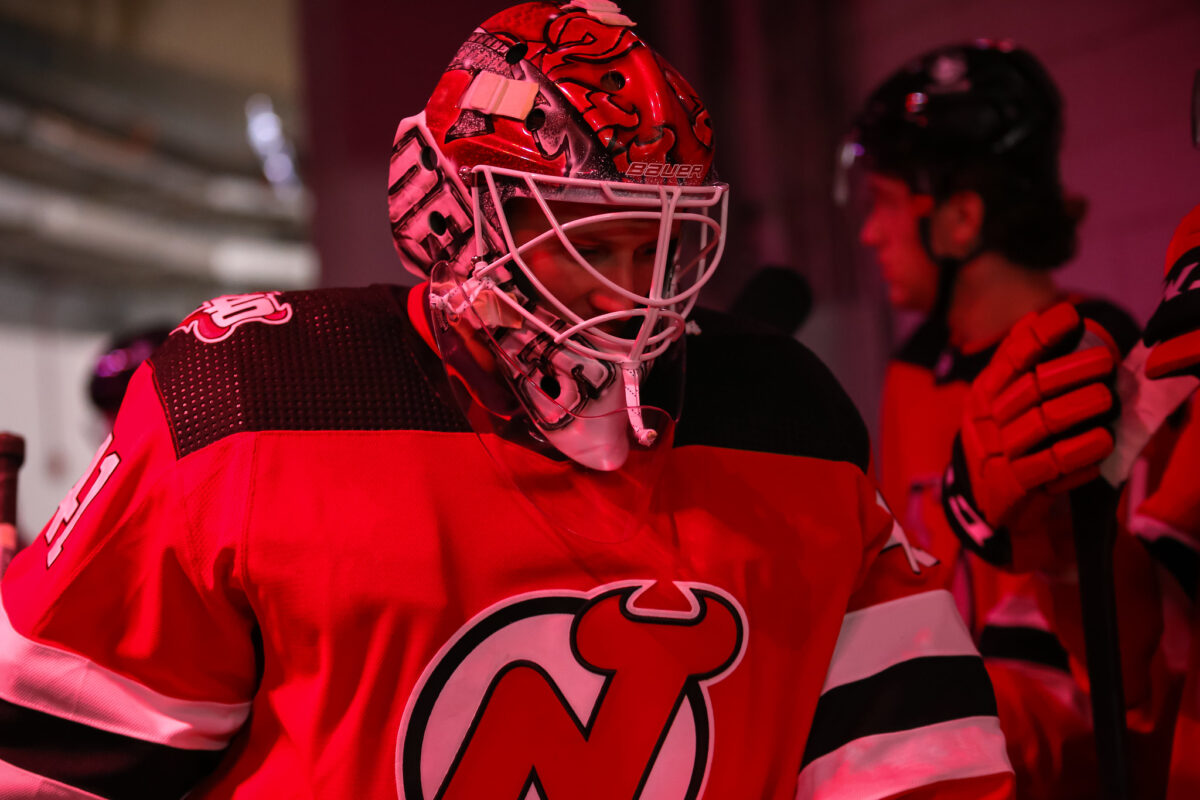 In addition to Vanecek, Mackenzie Blackwood's numbers have improved and Akira Schmid has done a complete 180 and has impressed with six wins in nine starts. The trio of netminders has provided stability in the crease, and because of that, the team is comfortable playing in tight matchups and holds one of the best overtime records in the league. The club's 21 comeback wins lead the NHL this season, and a big part of those come-from-behind victories is having a reliable player between the pipes.
Different Players Stepped Up Throughout the Season
To start, no player has been more valuable to the Devils than 21-year-old Jack Hughes. He has collected 75 points (36 goals, 39 assists) in 57 games and will more likely than not be on a handful of ballots when it comes time to vote for the NHL Awards. In addition to Hughes, Dougie Hamilton, Jesper Bratt, and Nico Hischier have earned over 50 points this season.

Bratt led the way in October by establishing a new franchise record for the longest season-opening point streak (11 games), surpassing the one Tim Higgins set during the 1984-85 season.
In November the team won 13 of their 14 games and showcased their depth with different players stepping up throughout their win streak. The "BMW" Line of Nathan Bastian, Michael McLeod, and Miles Wood found their rhythm and combined for 19 points during that span. Tomas Tatar also had his own seven-game point streak where he earned nine points.
Dougie Hamilton was a point-per-game player in December and January and rediscovered his offensive touch after a season where everything went wrong. Now it is Dawson Mercer who has the hot stick for the Devils. He earned his 21st goal of the season on March 3, versus the Vegas Golden Knights, and in doing so extended his goal streak to eight games.
At different times throughout the season, various players had their moment to shine whether it was Hischier's 13 multi-point games or Hamilton's 25 power play points, it has been a collective effort since the season opened on Oct. 13.
Fitzgerald Rewarded His Team at the NHL Trade Deadline
Thanks to their team's consistent success this season, Fitzgerald was in a position to add some high-caliber talent ahead of the trade deadline.
Related: Devils Land Timo Meier: What's Next?
---
Latest News & Highlights
---
After months of speculation, the official announcement was made that Timo Meier had been acquired by the Devils. GM Fitzgerald landed his man and the team finally found an elite winger to play alongside Hughes. It became apparent they needed to look outside the organization for a winger to play alongside the Florida native, and Meier checks all the boxes.
Additionally, the organization announced they traded for Curtis Lazar from the Vancouver Canucks. It was a smart move to add depth and as Ken Daneyko said on a recent episode of the Dr. Hockey Podcast, it takes more than 23 players to win a championship.

"What makes a team is different guys in different roles," he said. "You're not going to win with 12 Jack Hughes' either upfront. You need different elements…It takes 26, 27, 28 guys. It's not just your top 20 skaters. You need guys to come into the lineup and have an impact for a series or a game."
There's a Price That Comes with Success
At least there was for Alexander Holtz.
There was a lot of excitement surrounding the 21-year-old when he made the Devils' opening night roster. There was even more of a frenzy when he scored his first career NHL goal 12 minutes into the 2022-23 campaign. It seemed like the start of a storybook season, but as fans know, a different story developed as time progressed.
He has appeared in only 19 games for New Jersey this season, putting up three goals (two on the power play) and one assist. He's averaged around 10 minutes of ice time per game and on more than one occasion fans saw Ruff scratch Holtz and his linemates as he opted to shorten his bench and roll three lines.
Holtz has appeared in only five games for the Utica Comets of the American Hockey League. The young Swede has watched more hockey than played and during his recent media availability, Fitzgerald spoke about the decisions made surrounding the former seventh-overall pick.
"We still see a lot of value in Alex. The problem, which would probably fall in my plate, is should he have been in New Jersey or should he have been in Utica playing. I truly believe that players can develop by practicing every day with NHL players. The speed, pace, and quality of players you're playing with and against. That's development, but you know what happened? You get on 13-game heaters and lineups don't change and then you get on a four or five-game heater and lineups don't change. I probably should have recognized this earlier. …We truly believe in Alex, we believe in why we drafted him and what kind of player he is going to be, and we think he is going to be that."

– Devils General Manager Tom Fitzgerald
It's been a tough go and as Ben Birnell of the Daily Sentinel shared via Twitter that during an appearance on the Comets Insider radio show, GM of the Utica Comets and assistant GM of the Devils Dan MacKinnon admitted Holtz "expressed a desire to come down and play games with Utica" after asking for a meeting with Fitzgerald and MacKinnon. Fitzgerald summed up Holtz's 2022-23 season best.

"He's basically become a victim of our success, in my opinion."
The Devils have been and continue to be one of the most exciting teams to watch in the NHL. A few would go as far as to say they are a favorite entering the postseason. There have been no passengers in Ruff's lineup, and the organization rewarded them by putting the club into a position to be competitive when the playoffs begin. The experience will be key for this young club as their window to contend is just beginning.
---
---