Born:
July 20, 1978
Draft:
1998, Red Wings, 191st Overall
Hometown:
Sverdlovsk,
Soviet Union
Position:
C
Known For:
Nickname
"Magic Man"
Shoots:
Left
National Team:
Russia
Pavel Valerievich Datsyuk (born 20 July 1978) was nicknamed the "Magic Man" honoring his incredible stickhandling and creativity with the puck. From 2001 to 2016, he played for the Detroit Red Wings of the National Hockey League (NHL). In 2017, Datsyuk was named one of the "100 Greatest NHL Players" in history, and was the only active player outside of the NHL at the time of announcement.
Datsyuk won the Stanley Cup in 2002 and 2008 with the Red Wings, and the Gagarin Cup in 2017 with SKA Saint Petersburg. He was part of the Russia men's national ice hockey team at the Olympic Games in 2002, 2006, 2010 and was team captain in 2014 and 2018. With his gold medal win at the 2018 Olympics, Datsyuk joined the Triple Gold Club.
Datsyuk won the Frank J. Selke Trophy as the NHL's top defensive forward three times. He also won four consecutive Lady Byng Memorial Trophies, from 2006 to 2009, awarded for performance and sportsmanship.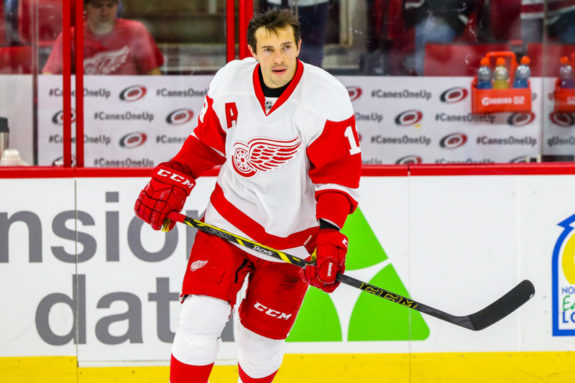 Pavel Datsyuk Statistics
Trade Tracker
Date
Traded From
Traded With
Traded To
Traded For
June 24, 2016
First-Round Pick
(Jakob Chychrun)
First-Round Pick
(Dennis Cholowski)
Second-Round Pick
(Filip Hronek)
Joe Vitale
Deeper Dive
Achievements
IIHF World Championships Gold Medal — 2012
IIHF World Championships Silver Medal — 2010
IIHF World Championships Bronze Medal — 2005, 2016
IIHF World Championships Best Forward — 2010
IIHF World Championships All-Star Team — 2010

Olympic Gold Medal — 2018

Olympic Bronze Medal — 2002
NHL All-Star Game — 2004, 2008, 2009, 2012
NHL Second Team All-Star — 2009
Frank J. Selke Trophy — 2008, 2009, 2010
Lady Byng Memorial Trophy — 2006, 2007, 2008, 2009
Stanley Cup Champion — 2002, 2008
Sources