| | | | |
| --- | --- | --- | --- |
| Born: | March 2, 1982 | Draft: | 2000 Rangers #205 Overall |
| Hometown: | Åre, Sweden | Position: | Goaltender |
| Known For: | Nicknamed "King Henrik" | Catches: | Left |
| National Team: | Sweden | Current Status: | Retired |
Henrik Lundqvist (Swedish pronunciation: [ˈhɛ̌nːrɪk ˈlɵ̂nːdkvɪst]; born 2 March 1982) is a Swedish former professional ice hockey goaltender. He previously played 15 seasons with the New York Rangers. Before winning the Vezina Trophy in 2012, he was nominated in each of his first three seasons, and is the only goaltender in NHL history to record 11 30-win seasons in his first 12 seasons. He holds the record for most wins by a European-born goaltender in the NHL. His dominating play during his rookie season resulted in the New York media and Rangers fans giving him the nickname "King Henrik". During the 2006 Winter Olympics in Turin, Italy, he led the Swedish men's team to their second Olympic gold medal.
Before joining the Rangers, Lundqvist played for Frölunda HC in Swedish Elitserien. During his years in Sweden, he developed into the league's finest goaltender, winning the Honken Trophy three consecutive seasons; 2003, 2004, and 2005. In 2005, he also won two of the most prestigious awards in Swedish ice hockey, the Guldpucken (Golden Puck) and the Guldhjälmen (Golden Helmet).
Lundqvist is considered a butterfly-style goaltender, though unorthodox because of the aggressive way he performs the butterfly. He is best known for his strong positional play, both mental and physical toughness, and his upright torso stance. He retired at the age of 39 on Aug. 20, 2021.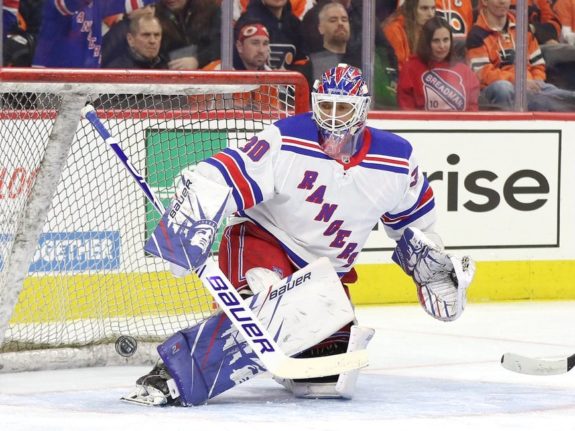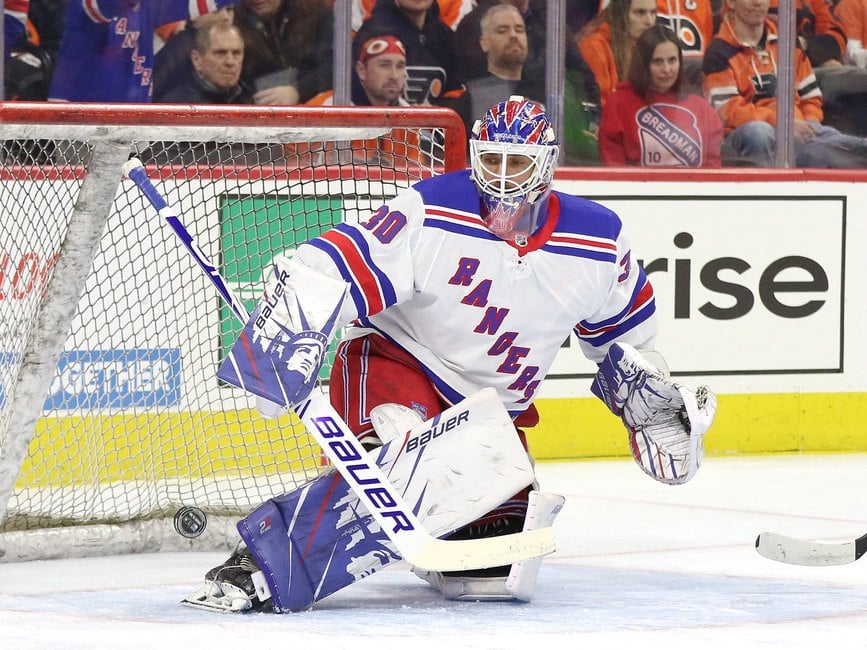 Henrik Lundqvist Statistics
Deeper Dive
Achievements
6x NHL All-Star Game (2008, 2009, 2011, 2012, 2018, 2019)
World Championship Gold Medal (2017)
Olympic All-Star Team (2014)
Olympic Silver Medal (2014)
NHL Second All-Star Team (2013)
Vezina Trophy (2012)
NHL First All-Star Team (2012)
NHL All-Rookie Team (2006)
Olympic Gold Medal (2006)
Elitserien Most Valuable Player (Guldhjälmen) (2005)
3x Elitserien Goalie of the Year (Honken Trophy) (2003, 2004, 2005)
2x Elitserien Champion (2003, 2005)
Elitserien Best Player (Guldpucken) (2005)
3x Elitserien All-Star Team (2003, 2004, 2005)
World Championship All-Star Team (2004)
World Championship Silver Medal (2004)
World Championship Top 3 Player on Team Sweden (2004)
Swedish Junior Hockey Player of the Year (Årets Junior) (2002)
2x J20 SM Gold Medalist (2000, 2001)
U18 WJC Bronze Medal (2000)
Sources