| | | | |
| --- | --- | --- | --- |
| Born: | June 29, 1968 | Draft: | 1987 Flames #166 Overall |
| Hometown: | Oxbow, SK | Position: | RW |
| Known For: | 5-foot-6 stature | Shoots: | Right |
| National Team: | Canada | Current Team: | Retired |
Theoren Wallace "Theo" Fleury (born June 29, 1968) is a Canadian former professional ice hockey player. Fleury played for the Calgary Flames, Colorado Avalanche, New York Rangers, and Chicago Blackhawks of the National Hockey League (NHL), Tappara of Finland's SM-liiga, and the Belfast Giants of the UK's Elite Ice Hockey League. He was drafted by the Flames in the 8th round, 166th overall, at the 1987 NHL Entry Draft, and played over 1,000 games in the NHL between 1989 and 2003.
One of the smallest players of his generation, Fleury played a physical style that often led to altercations. As a junior, he was at the centre of the infamous Punch-up in Piestany, a brawl that resulted in the disqualification of both Canada and the Soviet Union from the 1987 World Junior Ice Hockey Championships. Once considered unlikely to play in the NHL due to his small size, Fleury scored over 1,000 points in his career, placing him 61st in career NHL scoring and won the Stanley Cup in 1989 with the Flames. During his career Fleury recorded 90+ points four times, and 100+ points twice. He twice represented Canada at the Winter Olympics, winning a gold medal in 2002. Throughout his career, he battled drug and alcohol addictions that ultimately forced him out of the NHL in 2003. He played one season in the British Elite Ice Hockey League in 2005–06, and made two attempts to win the Allan Cup. After an unsuccessful NHL comeback attempt with the Flames, he retired in 2009.
Outside of hockey, Fleury overcame his addictions, operated a concrete business in Calgary with his family, and filmed a pilot for a reality television show about it. He marketed his own brand of clothing, which led him to play two professional baseball games for the Calgary Vipers of the Golden Baseball League. In 1995, he was diagnosed with Crohn's disease, and his annual charity golf tournament has helped raise more than $1 million for the Crohn's and Colitis Foundation of Canada.
Fleury co-wrote Playing with Fire, a best-selling autobiography released in October 2009, in which he revealed that he had been sexually abused by former coach Graham James. Fleury filed a criminal complaint against James, who subsequently pleaded guilty to charges of sexual assault. Fleury has since become an advocate for sexual abuse victims and developed a career as a public speaker. He was a recipient of the Indspire Award in the sports category in 2013. Additionally, Theoren hosts the "Theo Fleury 14 Hockey Camp" which helps to teach, inspire and educate young hockey players ages 6 to 16. Moreover, Fleury travelled to Vancouver in 2013 where he assisted and co-hosted the 19th Annual Aboriginal Achievement Awards.
In recent years, he has become a social media star for the alt-right movement, and a supporter and accolade of disgraced and twice-impeached US President Donald Trump. Mired in conspiracy theories and anti-government rhetoric, his once great hockey career has almost been completely erased from memory.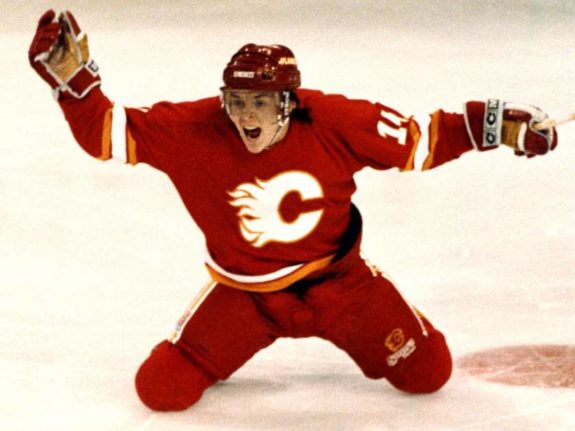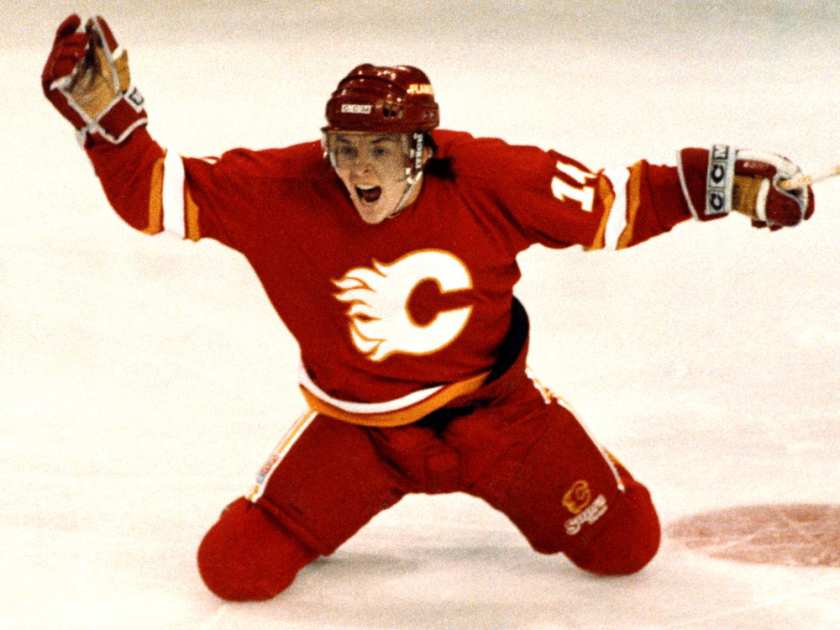 Theoren Fleury Statistics
Deeper Dive
Achievements
Captain of the Flames (1995-1997)
EIHL All-Star First Team (2006)
EIHL Champion (2006)
Olympic Gold Medal (2002)
7x NHL All-Star Game (1991, 1992, 1996, 1997, 1998, 1999, 2001)
NHL Second All-Star Team (1995)
Canada Cup Champion (1992)
World Championship Silver Medal (1991)
Stanley Cup Champion (Flames – 1989)
IHL Turner Cup Champion (1988)
U20 WJC All-Star Team (1988)
U20 WJC Gold Medal (1988)
WHL (East) Second All-Star Team (1988)
WHL Most Points (Bobby Clarke Trophy) (1988)
WHL (East) First All-Star Team (1987)
Sources