The '12 Days of Christmas' is a classic holiday song first published in its current form in 1908. In a nod to the classic carol, join The Hockey News as we count down the 12 Days of Hockeymas. Each day, we will provide you with a piece of hockey history as we eagerly await the start of the 2020-21 NHL season.
Today we are six days away from Christmas, just as the Calgary Flames have had three separate players appear in six All-Star Games in franchise history. Making an All-Star appearance even just once, in any sport, means that, at one point, a player was among the best in the league. To appear six times is a phenomenal feat. Not surprisingly, two of the three players on this list are now in the Hockey Hall of Fame.
Jarome Iginla
2002, 2003, 2004, 2008, 2009, 2011 (did not play), 2012
The most recent former Flame to play in six All-Star Games was the legendary Jarome Iginla. Now 43 years old, Iginla, who recently appeared in a hilarious weather interview, played 16 seasons in Calgary from 1996-2013. His career as a Flame was noteworthy, with 525 goals and 609 assists in 1219 career games, numbers which all rank number one in team history. Not only was he a fantastic player, but he was a terrific leader, captaining the Flames for his final nine seasons before being traded at the 2013 trade deadline.
2002
His first All-Star appearance came during the 2001-02 season, his fifth in the NHL. That season was one of his best in the NHL, as he set career-highs in goals with 52 and points with 96, though he topped that later on. Both of these totals led the team by a wide margin; Craig Conroy was second in both categories with 27 goals and 75 points. Despite his great season, however, the Flames finished with just a 32-35-12-3 record and missed the playoffs. Still, his outstanding individual performance earned him the Art Ross, Maurice 'Rocket' Richard, and Lester B. Pearson Trophies.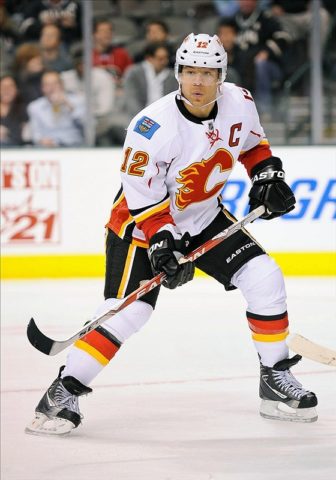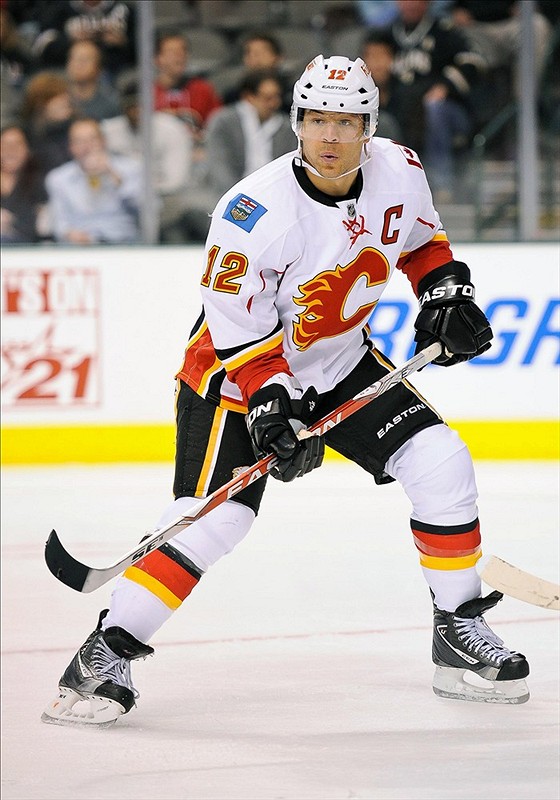 The 2002 All-Star Game in Los Angeles was uneventful for Iginla. This was the last of three seasons that used the North America vs. the World format, when Team North America lost 8-5 and Iginla was pointless.
2003
Iginla was put in the All-Star Game again the next season, his second of three straight selections. The 2002-03 season was a down year for him given his lofty standards, but he still led the Flames in scoring with 35 goals and 67 points in 75 games. However, the team missed the playoffs again.
The 2003 NHL All-Star Game was held in Sunrise, Florida, with a new Western vs. Eastern Conference format. While Iginla's team managed a 6-5 shootout win, he failed once again to put up any points.
2004
The final of Iginla's three straight All-Star Game selections came during the 2003-04 season, which was the best season the team had during his tenure. He posted 41 goals and 73 points in 81 games and was simply fantastic, almost singlehandedly carrying the Flames into the playoffs – the team's second leading scorer was again Conroy with 47 points. Iginla's 41 goals tied both Ilya Kovalchuk and Rick Nash for the league-lead, which gave him the second and final Rocket Richard Trophy of his career.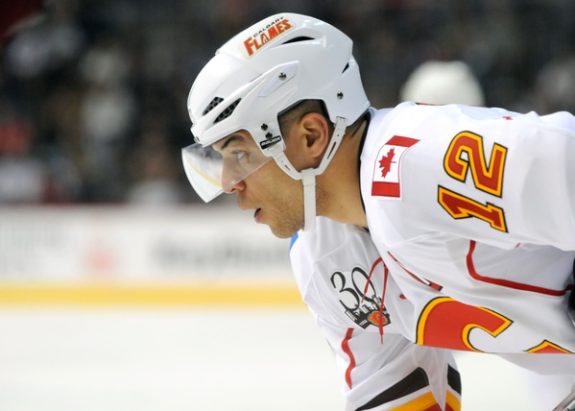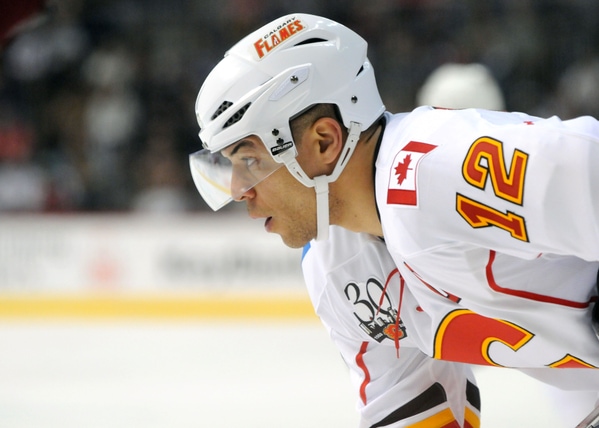 Flames fans will remember the 2003-04 season vividly as the team advanced to the Stanley Cup Final, largely thanks to Iginla, before falling one game shy of the ultimate goal to the Tampa Bay Lightning. His 13 goals and 22 points in 26 playoff games led the team.
Before that playoff run, Iginla suited up for the All-Star Game in St. Paul, Minnesota. The Western Conference didn't pick up a second straight win, as they were defeated 6-4 by the Eastern Conference. Despite his great season, Iginla didn't find his scoring touch at the All-Star Game, and was pointless for a third straight year.
2008
After being selected to three straight All-Star Games, Iginla went three years without being picked before he reappeared in 2008. The 2007-08 season was arguably the best of his career, with 50 goals and 98 points in 82 games. Once again, his totals led the Flames by a significant margin, as Kristian Huselius placed second in points with 66, while Daymond Langkow was second in goals with 30.
That season marked the fourth straight that the Flames qualified for the Stanley Cup Playoffs, after finishing the season with a 42-30-10 record. Unfortunately, they were eliminated in the first round by the San Jose Sharks.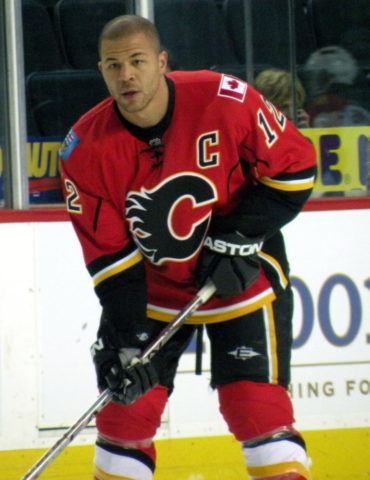 The 2008 NHL All-Star Game was held in Atlanta, Georgia. The Eastern Conference came out on top that year, winning a high scoring affair 8-7. Despite the loss, Iginla assisted on a Rick Nash goal, marking his first-ever point in an All-Star Game. This appearance also marked the first time Iginla wasn't the only member of the Flames to participate, as defenceman Dion Phaneuf was also selected.
2009
Iginla was selected for his second straight All-Star Game in 2009, his fifth total. The 2008-09 season was another impressive one for him. Despite his goal total dropping from 50 to 35, he still managed to put up 89 points, yet again leading the team. However, while he did lead his team in points again, he had more help than in seasons past, as Mike Cammalleri led the team in goals with 39 and had 82 points.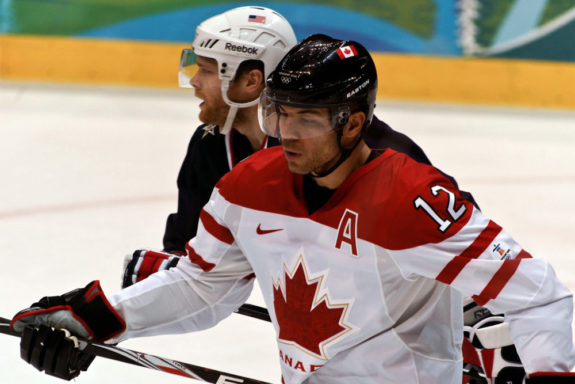 The Flames made the playoffs again with a 46-30-6 record, however, they failed to make it out of the first round yet again, and were defeated in six games by the Chicago Blackhawks. It was a disappointing playoff series for Iginla, who had four points in six games.
That year's All-Star Game was held in Montreal. Fans were treated to a very exciting game, as the Eastern Conference won 12-11 in a shootout. Iginla scored the Western Conference's eighth goal of the game, as well as his first-ever in an All-Star Game.
2011
After an off 2009-10 season, in which he managed just 69 points, Iginla was not selected to play in the 2010 All-Star Game. However, he had a bounce-back season in 2010-11 and again earned a spot as a result. His 2010-11 season finished with 43 goals and 43 assists in 82 games. It wasn't enough, however, as the Flames missed the playoffs for a second straight season.
The 2011 All-Star Game was held in Raleigh, Carolina. Iginla, however, was not in attendance despite being selected. He chose to sit out and spend time with his ailing grandmother.
2012
The 2012 All-Star Game marked Iginla's last appearance in a Flames jersey and in his career. Despite the selection, the 2011-12 season was not a great year for him. He managed to put up just 67 points, his lowest total since 2005-06. At 34 years old, he was beginning to decline. Still, it was evident he was his team's best player and had he had more talent around him his totals likely would have been higher than they were.
Both his 32 goals and 67 points led the team in scoring that year on what was a pretty poor Flames team, finishing with a record of just 37-29-16. They missed the playoffs for a third straight season, in a year that turned out to be Iginla's final complete campaign with the team.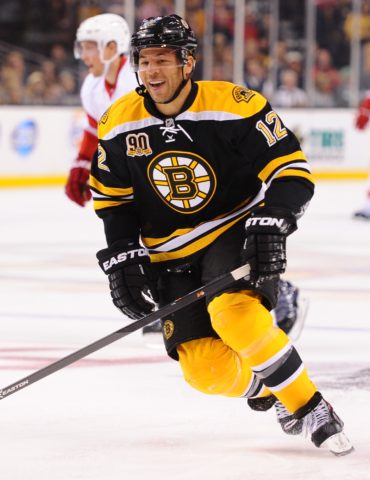 The 2012 All-Star Game was just the second (2011 first) to feature a fantasy draft format. The teams were named "Team Alfredsson" and "Team Chara", who got to select which players they wanted on their team. Iginla was drafted in round 14 by Team Chara, and played a big role in a 12-9 win in which he had a goal and two assists.
The Trade
The following season, Iginla was dealt to the Pittsburgh Penguins at the 2013 NHL Trade Deadline. While it was a sad time for Flames fans, it was great for them to see their leader try to win his first-ever Stanley Cup. Unfortunately, that never happened after leaving the Flames for stints with the Penguins, Boston Bruins, Colorado Avalanche, and L.A. Kings. Still, it was clear just how special Iginla was, and he was recognized as such when he was announced to be part of the 2020 Hockey Hall of Fame class.
Theoren Fleury
1991, 1992, 1996, 1997, 1998, 1999
The second player to appear in six All-Star Games during his time as a Flame was Theoren Fleury. As of now, Fleury is the only player on this list (the other is mentioned below) to not be in the Hockey Hall of Fame. The now 52-year-old was an absolute draft steal, as the Flames grabbed him in the eighth-round (166 overall) of the 1987 draft. The reason for him dropping so far was due to his small stature of just 5-foot-6, 180 pounds.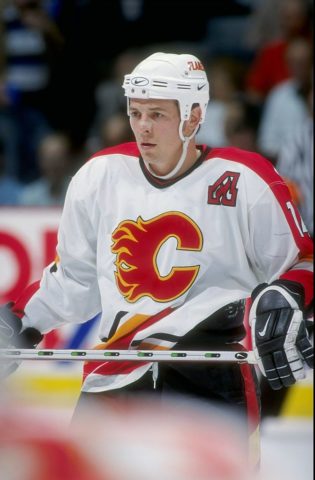 He quickly proved a lot of doubters wrong and went on to have a fantastic NHL career. He played a total of 11 seasons with the Flames, posting 364 goals and 466 assists for 830 points in just 791 games. Had it not been for his well-documented off ice issues, those totals, along with his overall career totals, would likely be even better than they are.
1991
Fleury's first All-Star appearance came in just his second full season in the league in which he posted what held up as his career highs in 51 goals and 104 points. Both of these totals led a stacked Flames' team that included players like Al MacInnis, Joe Nieuwendyk, Doug Gilmour, Sergei Makarov, and many more. They advanced to the playoffs that year with a record of 46-26-8.
For the 1991 playoffs, they matched up against their main rival in the Edmonton Oilers. But despite finishing 20 points above the Oilers in the standings that year, they fell short, losing the series in seven games. Fleury's seven points over those seven games tied Gary Suter for the team lead.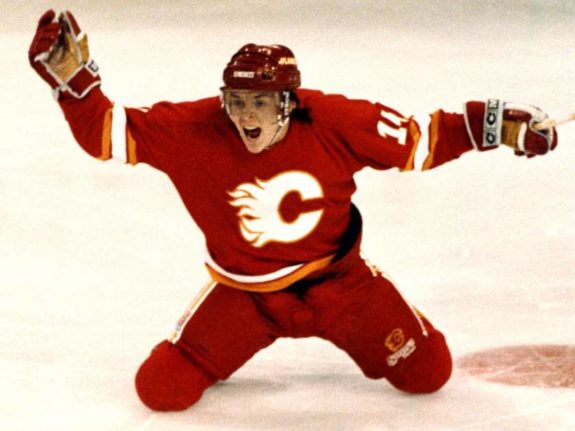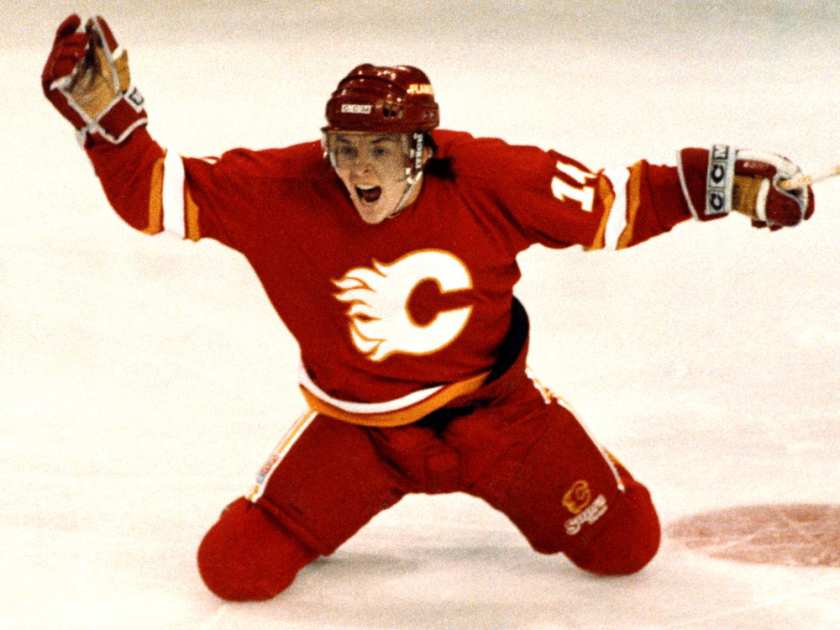 The 1991 All-Star Game took place in Chicago, Illinois. The format back then was the Wales Conference (Eastern) versus the Campbell Conference (Western). The Campbell Conference, which featured three other Flames in Mike Vernon, Al MacInnis, and Gary Suter, went on to win the game 11-5, with Fleury registering one goal in his All-Star Game debut.
1992
The 1991-92 season saw Fleury's numbers drop considerably from the season prior, as he scored 33 goals and 73 points in 80 games. Nonetheless, he was still putting up impressive totals and earned his second straight nod to the 1992 All-Star Game. The lower totals, however, clearly hurt the Flames, as they had a rough season that saw them go 31-37-12.
Philadelphia, Pennsylvania, was the host city for the 1992 NHL All-Star Game. Fleury once again had multiple teammates joining him in the festivities, as Gary Roberts and MacInnis were both all-stars as well. Fleury and his Campbell Conference teammates came up on the short end that year, as they fell to the Wales Conference by a final score of 10-6. Fleury went without a point in the game.
1996
Despite some great seasons, Fleury did not play in the following three All-Star Games. However, he was selected to play in the 1996 event after a great start to the 1995-96 season. He went on to finish out that season with 46 goals and 96 points, as the Flames made the playoffs despite a sup par 34-37-11 record. Like Iginla went on to do in so many seasons, Fleury led his team in scoring by a long shot that year, as German Titov finished second in scoring with 28 goals and 67 points.
While they were able to qualify for the playoffs in '96, their time spent in it was very short-lived, as the Chicago Blackhawks swept them in round one. Though Fleury's performance wasn't great in the series, he still tied for the team lead in points with three.
The 1996 All-Star Game took place in Boston, Massachusetts. By this time, the league had gone from the Campbells and Wales Conference to the Eastern and Western. Fleury was the lone Flame playing for the Western Conference at the event that year and went pointless for his second straight All-Star Game in a 5-4 loss.
1997
The 1997 All-Star Game was the second of four straight Fleury was picked to play in. Despite the selection, however, he had his worst statistical season since his first full season in the league in 1989-90, posting just 29 goals and 67 points in 81 games played. But those numbers did still lead his team, as the entire Flames' roster struggled and had just a 32-41-9 record. As a result, they missed the playoffs for the first time in the last five years.
San Jose, California, played host for the 1997 event. Fleury was once again the lone representative in the game for the Flames. He was able to chip in with an assist on an Owen Nolan goal, but the Eastern Conference walked away with an 11-7 win.
1998
The 1998 NHL All-Star game was the third of four straight nominations for Fleury. All in all, the 1997-98 season was somewhat of a bounce back from the previous one. Though he had just 27 goals, his lowest total in a full season during his Flames career, he was able to put up 51 assists for 78 points. But those numbers easily led his team in scoring, as Cory Stillman came in second with just 49 points. Unfortunately, Fleury's MVP-like play for his team wasn't enough to bring them back to the postseason, as they had a horrific 26-41-15 record.
While it was no surprise given how bad his team was throughout the season, Fleury was the only Flame selected to play at the event hosted in Vancouver, British Columbia that year. That year saw the All-Star Game go back to a North America vs. World format, with Fleury obviously suiting up for North America. He played a huge role in his team winning by a final of 8-7, registering a goal and two assists in what was one of his best All-Star Game performances.
1999
1999 marked the fourth straight season Fleury was selected to play in the All-Star Game, and his final as a representative of the Flames, as he was traded later that season to the Colorado Avalanche. His final season in Calgary, in which he played 60 games, saw him put up 30 goals and 39 assists. He went on to play 15 games for the Avalanche that season as well, posting 24 points.
As he had been for the previous three years, Fleury was once again the Flames' only representative, which was a true testament to how bad the team struggled during his last few seasons with them. Despite the team trading him just 60 games into the season, his 69 points still led his team in scoring, with Stillman's 57 points ranking second once again.
Tampa, Florida, was the host for the 1999 NHL All-Star Game, and it was again a North America vs. World format. Fleury chipped in with two assists on goals scored by Mark Recchi and Wayne Gretzky in an 8-6 win for Team North America.
Rest of Career
As mentioned above, the Flames traded Fleury during that 1998-99 season to the Avs. He finished that season out in Colorado before signing as a free agent with the New York Rangers, with whom he spent three years. Unfortunately, his off-ice habits really began to escalate at that point, and while he was still a productive player, he was not the same as he had been in Calgary. After his three years in New York, he played one season in Chicago, his last in the NHL.
After his final season in 2002-03 with the Blackhawks, Fleury did not play until the 2005-06 season where he elected to go overseas and lace them up for the Belfast Giants in the EIHL. While the caliber of hockey is much lower than the NHL, he proved he still had extreme talent, posting 22 goals and 74 points in 34 games.
He then spent three seasons playing senior hockey in Alberta before deciding he wanted one more crack at the NHL, which led to the Flames inviting him to training camp for the 2009-10 season. He played quite well throughout camp and was able to post four points in four exhibition games. It wasn't enough, however, as he was released and announced his retirement shortly after.
Al MacInnis
1985, 1988, 1990, 1991, 1992, 1994
The final player who played in six All-Star Games while with the Flames is Hall of Fame defenceman Al MacInnis. The Flames selected the now 57-year-old with the 15th overall pick at the 1981 NHL Entry Draft. Both his 340 career goals and 1274 points rank third in his draft class, with only Ron Francis and Dale Hawerchuk finishing with more.
As for his Flames totals, he is fourth all-time in games played (803), seventh in goals (213), first in assists (609), and third in points (822). These numbers make it quite clear that he is the best defenceman in franchise history, as well as one of the best to ever do it in league history.
1985
MacInnis' first All-Star Game selection came during his first full season as an NHLer in 1984-85. He showed very quickly just how good he was, as his 66 points in 67 games easily led Flames' defencemen in scoring — Jamie Macoun finished second with 39.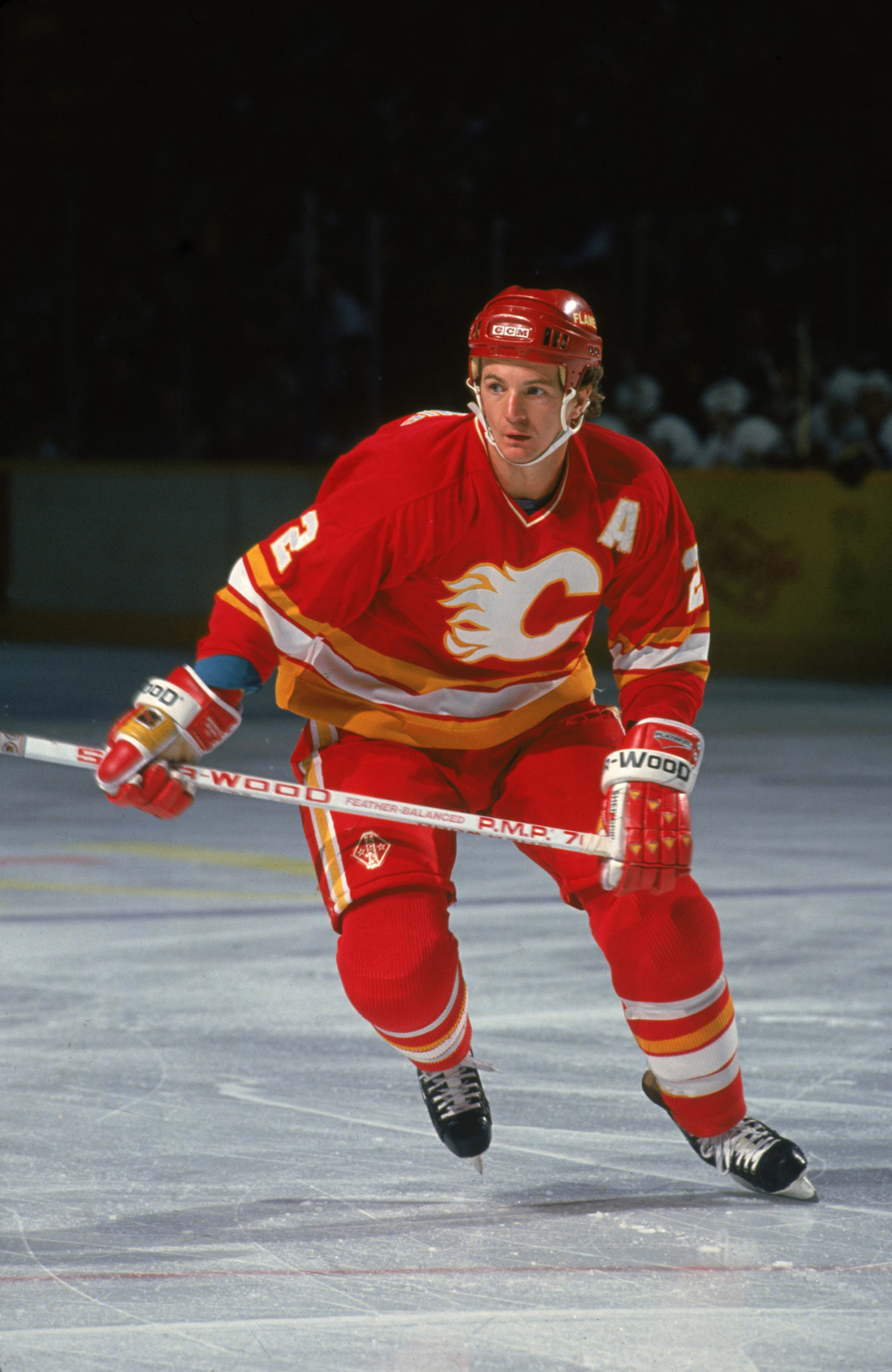 The Flames finished that season with a 41-27-12 record and were able to make the playoffs. Unfortunately, they lasted just four games during the 1985 postseason, as the Winnipeg Jets eliminated them in four games. MacInnis was able to register one goal and two assists in his first ever NHL playoff series.
MacInnis, along with his teammate Paul Reinhart — who was also selected to play in the 1985 All-Star Game — didn't have to worry about travel plans as Calgary hosted the game that year. It was a Wales versus Campbell Conference format, which saw the Wales Conference come away with a 6-4 victory. MacInnis was unable to register a point in his first-ever All-Star performance.
1988
After getting the call to play in an All-Star Game midway through his first full season, MacInnis had to wait three more years to earn another trip in 1988. The 1987-88 season was a fantastic year for him, as he registered what was, at the time, career highs of 25 goals and 83 points in 80 games played. Despite the great totals, however, he trailed fellow defencemen Gary Suter, who had a miraculous 91 points that season.
MacInnis' 83-points that season ranked sixth on the Flames' roster, proving just how talented of a team they were. They had a fantastic regular season, finishing with a 48-23-9 record and easily qualified for the '88 Stanley Cup Playoffs. They easily advanced out of the first round, defeating the Kings four games to one.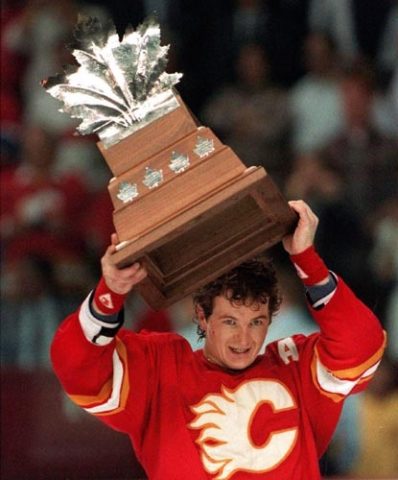 Despite their Stanley Cup aspirations, however, they ran into the Oilers in the second round and weren't able to put up much of a fight, as they were unable to win a single game. The Oilers then went on to win their fourth Stanley Cup in five years. While the end result was disappointing, MacInnis played quite well, with nine points in seven contests.
St. Louis, Missouri, played host for the 1988 NHL All-Star Game. Given just how good the Flames were that year, MacInnis was joined by multiple teammates at the festivities in Brad McCrimmon, Joe Nieuwendyk, Gary Suter, and Mike Vernon. Once again, MacInnis' team came out on the losing end, being defeated in overtime by a final score of 6-5. He was held pointless for a second straight time.
1990
One year removed from a Stanley Cup and Conn Smythe win, MacInnis was selected to play in his third career All-Star Game. The 1989-90 season was yet another fantastic one for him, as he set new career-highs of 28 goals and 90 points, trailing Nieuwendyk by just five for the team lead. The Flames, who boasted many offensive weapons, finished with a 42-23-15 record and qualified for the 1990 Stanley Cup Playoffs.
While the regular season went great, the playoffs were a completely different story, as they were upset by the Kings in the opening round, losing four games to two. That loss turned out to be the first of many opening-round losses for the Flames, as they failed to win a single round from then until the 2003-04 season. Despite the overall disappointing performance from the team, MacInnis still managed five points in those six postseason contests.
Pittsburgh, Pennsylvania, was the host of the 1990 NHL All-Star Game. MacInnis yet again had plenty of teammates accompanying him, as Nieuwendyk and Vernon rejoined him, as well as Terry Crisp and Joe Mullen. Though MacInnis did fall to a personal 0-3 record at the event after a 12-7 loss, he was able to finally get on the board at an All-Star Game, scoring his team's third goal of the game.
1991
The 1991 All-Star Game marked the second of three straight years MacInnis was picked to participate. The 1990-91 season was his best throughout his entire career statistically, as he tied his career-high in goals with 28, and had a career-best 103 points. He finished the season just one point behind Fleury for the team lead.
The Flames yet again had a great regular season, as they finished with a record of 46-26-8. But as mentioned above, this was just the beginning of their playoff struggles, as they were upset by the Oilers in a series that went seven games. MacInnis wasn't able to dominate as he had during the regular season, posting just five points in seven games.
Chicago, Illinois, as mentioned above with Fleury, hosted the 1991 NHL All-Star Game. Though MacInnis went without a point in the game, he was able to be a part of his first-ever All-Star Game win, as he and his Campbell Conference teammates won by a final of 11-5. He was also able to show the world just how hard he could shoot the puck, as he won the hardest shot competition with a slapshot registering at 94 MPH.
1992
1992 saw MacInnis attend the All-Star Game for a third straight season. While the 1991-92 season saw a drastic decline in points compared to the season prior, he still registered an impressive 20 goals and 77 points in 72 games. He finished the season second in points yet again, this time trailing Gary Roberts, who had 90. The Flames were unable to qualify for the 1992 Stanley Cup Playoffs, which marked the first and only time they missed during MacInnis' tenure.
The 1992 All-Star game saw MacInnis join Fleury and Roberts in Philadelphia. He and his teammates were able to pick up a 10-6 win, and he was finally able to register his first assist in an All-Star Game. He was once again victorious in the hardest shot competition, this time having his shot registered at 93 MPH.
1994
MacInnis' final performance at an All-Star game in a Flames jersey came in 1994. The 1994-95 season saw him tie his career-high in goals with 28, a number he hit three times in his career, and also register 82 points. The second-highest scoring defenceman on his team that year was Michel Petit, with just 23 points, proving just how vital MacInnis was to the Flames' success.
The 1994 playoffs had one of the most disappointing exits in MacInnis' time with the Flames, as they lost a seven-game series to the Vancouver Canucks in the opening round despite having a 3-1 series lead. MacInnis put up eight points in those seven games, which happened to be the last time in his career he dawned a Flames uniform.
MacInnis and Nieuwendyk were the Flames selected to participate in the 1994 All-Star Game, which New York City played as host. While the game was very close, MacInnis and his teammates came out on the short end, losing the contest 9-8. He was able to register an assist on a goal scored by Dave Andreychuk.
St. Louis Blues
After a stretch of frustrating playoff performances, MacInnis elected not to sign an extension with the Flames and instead agreed to an offer sheet from the St. Louis Blues. Given that he was a restricted free agent, the Flames received Phil Housley, along with two second-round picks.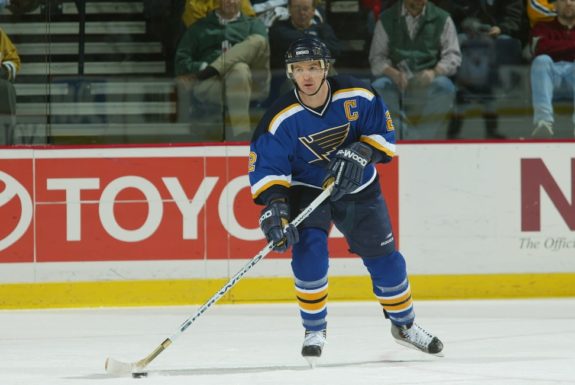 MacInnis went on to spend 10 seasons with the Blues before retiring. He had a tremendous career as a Blue, which included his first and only Norris Trophy win in 1998-99. Despite the great years in St. Louis, however, he was never able to put up as dominant of numbers as he did during his time as a Flame. In 613 total games with the Blues, he had 127 goals and 452 points.
Rich History
As this list shows, Flames fans have been treated to some great talent over the years. The three on this list are just three of many fantastic players that have had the opportunity to play in Calgary. While they may not have a player that rivals any of the three on this list, they still do possess some high-level talent in players such as Johnny Gaudreau, Matthew Tkachuk, and Sean Monahan, just to name a few.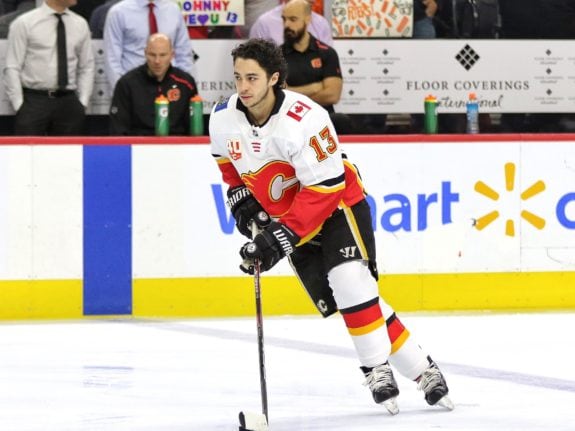 Unfortunately, they have lacked playoff success like many of the Flames' teams over the years listed above. But after some offseason moves by general manager Brad Treliving, this team looks like a potential threat in the West. Perhaps this is the year they are finally able to make some noise in the postseason once again.
---
---