For the Chicago Blackhawks, there was someone important missing from the NHL 100 ceremony; that one person is Stan Mikita. One of the top centers of the 1960's and one of the biggest contributors to the 1961 Stanley Cup win, Mikita is one of Chicago's greatest legends. He has dedicated his life to the organization, yet has very little memory of his days as a Blackhawk. With his health in decline, he missed being present when named to the NHL 100 list.
Fading Memories
In 2015, shortly before the Blackhawks won the Stanley Cup in June of that year, it was announced in a Chicago Tribune by Chris Kuc that Mikita had been diagnosed with suspected dementia with Lewy bodies which causes memory loss, sleep disorders, and hallucinations. To put it simply, his memories and brain function is fading, and unfortunately fading fast. As his wife, Jill, describes to the Chicago Tribune, "His mind is completely gone. I don't like to use that term, but there's no other way to describe it."
The crisis has been tough on the entire Mikita family, as Jill said, "The hardest thing was in the beginning. You saw him slipping away. Every day you would see him and there would be less and less in his eyes. They were just going dead." Mikita currently resides at a Chicago-area assisted living facility
A Harsh Possibility
It is no secret that in Mikita's early days, he was an enforcer who wasn't afraid of the penalty box. This all changed after his eldest daughter, Meg, asked him why he spent so much time in the penalty box. He changed his behavior and ended up improving his game and ended up with back-to-back Lady Byng trophies in 1967 and 1968, and in those same years, he won two Art Ross and Hart trophies. Mikita also played in a time without helmets and was one of the first to play with a helmet.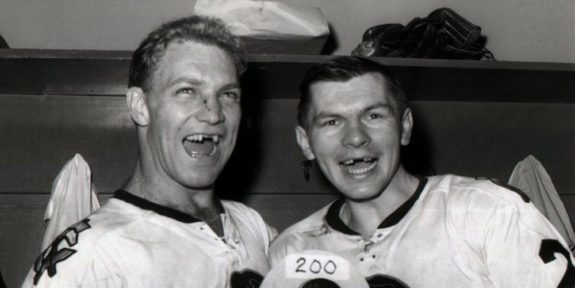 Recently, Chronic Traumatic Encephalopathy (CTE), a "progressive degenerative disease of the brain found in athletes, military veterans, and others with a history of repetitive brain trauma" has been a hot discussion topic around the NHL. The discovery of the disease was documented in the 2015 film Concussion when Dr. Bennet Omalu (portrayed by Will Smith) discovered a new disease after examining the brains of deceased NFL players. The problem has unfortunately come to the NHL.
One of the symptoms of CTE is dementia, and with Mikita's past as an enforcer and history of playing without a helmet, the question of CTE has been raised. The Mikita family is considering other possibilities for his disease such as treatments he has received for brain aneurysms and tongue cancer in the past. When asked about the possibility of CTE as well as a possible lawsuit to the NHL if it is true, Jill told the Chicago Tribune, "There is no proof of anything. We have no intentions to sue, none whatsoever. I don't think there's anybody to blame. It's just the way it is."
When Stan's youngest daughter, Jane, was asked the same question, she told the Chicago Tribune:
"If he does have CTE, who cares? It's not going to change anything," Jane Mikita said. "He played a sport and a game that he loved and that provided us as a family with a wonderful upbringing. Hockey was good to Stan and Stan was good to hockey. There is no finger to be pointed. He knew what he was doing lacing up those skates every time he got on the ice."
CTE cannot be diagnosed until after death. Mikita has requested for his brain to be donated after his death, which his family will honor.
Mikita's Legacy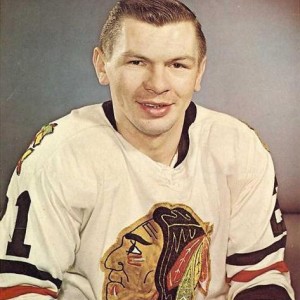 Mikita is one of the most respected and successful athletes in Chicago sports history and has left a lasting legacy on not only the Chicago Blackhawks organization but the city itself. A statue of Mikita along with teammate Bobby Hull stands in front of the United Center for all to see. Mikita's stats speak for his greatness and he spent all 22 years of his NHL career in Chicago. His list of awards is also extensive with one Stanley Cup, two Lady Byng trophies, two Hart trophies and four Art Ross trophies. His legacy also descended into pop culture in the 1992 film Wayne's World with the Stan Mikita's Donuts restaurant. The restaurant came to life during the 2017 All-Star weekend with Stan Mikita's All-Star Cafe located outside the Staples Center.
Despite his memories fading, there is no doubt his legacy will live on in not only the history of the Blackhawks but in the sport of hockey.