Offence was on full display at the CHL Top Prospects Game in Quebec City on Monday night.
Team Cherry got the better of Team Orr for only the third time in the last eight years, taking the 24th installment of the game 7-5. Besides having the most goals in a prospects game since 2008, when it was still Team White vs. Team Red, what did we learn from the showcase? Here are the key takeaways from last night's contest.
Patrick and Hischier's World
If there was any doubt that Brandon's Nolan Patrick and Halifax's Nico Hischier would be the top two NHL draft selections come June, that should be erased immediately. Without question, the two centremen are the best players available in this year's class, and they showed it on Monday night.
Patrick, who captained Team Cherry at the game, had two assists, while Hischier scored a goal and picked up two helpers for Team Orr. That included a dazzling breakaway goal in the second period. Personally, I like Hischier over Patrick as the first overall selection, but it really depends what team wins the lottery, and the needs they have. No Swiss-born player has gone better than fifth in an NHL draft (Nino Niederreiter in 2010) and barring a miracle, that will most certainly change.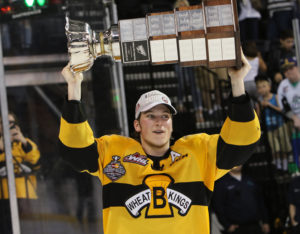 What we did learn is that both of these players should be NHL-ready by the start of next season, and wherever they go, they'll immediately make an impact. Hischier has amassed 68 points in 40 games for the Halifax Mooseheads of the Quebec Major Junior Hockey League, good enough for fourth place in league scoring. He's also played about ten less games than the players in front of him due to the World Juniors. He had seven points in five games there, and almost singlehandedly knocked out the eventual winner United States in the quarterfinals.
Nolan Patrick suits up for the Brandon Wheat Kings of the Western Hockey League. He's only played 11 games this season but has scored 17 points in that span. As a 17-year old last year, he had 102 in 72 games, including another 30 in the playoffs. These two have been fun to watch all season, and it was much of the same on Monday night.
Windsor Spitfires Impressed
As the hosts of this year's Memorial Cup, the Windsor Spitfires have huge expectations for the rest of the season. Today, they're only four points out of first place in the Ontario Hockey League. But regardless of where they finish, they'll be more worried about the upcoming playoffs. A lot of that success will hinge on the play of Gabriel Vilardi and Michael DiPietro down the stretch. If Monday night was any indication, they shouldn't be too worried.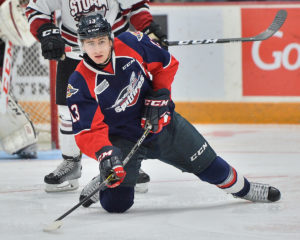 Besides Patrick and Hischier, Vilardi was the best player on the ice, scoring the game-winning goal on DiPietro to solidify the 7-5 win for Team Cherry. Even so, DiPietro was rock solid, giving up just two goals in 27 minutes of play. He showed why he leads the OHL in both goals-against average and save percentage, turning aside 14 of 16 shots.
Playing on a line with Owen Sound's Nick Suzuki and Victoriaville's Maxime Comtois, Vilardi looked every bit the third overall draft rank. He played well in his own zone, made smart plays up the ice, and had six shots on goal. That included the game-winner.
For Windsor, the main issue is making it out of a Western Conference that features Erie, London, Sault Ste. Marie and Owen Sound, but regardless of where their post-season fates take them, they'll be a competitive team in the Memorial Cup come May. A huge part of that is the play of Vilardi and DiPietro this season, which was on display Monday.
Future is Bright for OHL
Nineteen OHL players took part in the Prospects game, significantly more than the WHL and QMJHL. A lot of these young guys won't play in the NHL for a few years, and until then, they're the future of the OHL.
Team Cherry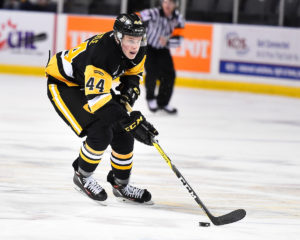 Besides Gabriel Vilardi, who had the best showing of any OHLer in the game, Hamilton's MacKenzie Entwistle looked great. He picked up a goal and an assist for Team Cherry in the win. Barring being traded, he very well could be the next Bulldogs' captain. Mississauga's Owen Tippett, who's been ranked consistently in the top five of draft prospects, impressed as well. The assistant captain matched Entwistle's goal and a
Mississauga's Owen Tippett, who's been ranked consistently in the top five of draft prospects, impressed as well. The assistant captain matched Entwistle's goal and a helper and used his size and skill to his advantage throughout the game.
Erie's Ivan Lodnia, London's Robert Thomas, and Guelph's Isaac Ratcliffe all had solid showings as well, picking up a point each in the win.
Owen Sound's Nick Suzuki and Sarnia's Adam Ruzicka held their own too, even though they were left off the scoresheet. Suzuki was a huge part of the Attack's 15-game win streak that was recently snapped. Ruzicka needs a few more years to fully develop, but he's having a good season for the Sting, with 29 points in 42 games.
Team Orr
Meanwhile, there was no shortage of Ontario Hockey League talent on Team Orr. As mentioned, Michael DiPietro was great. He gave up two goals on bad bounces but otherwise looked excellent.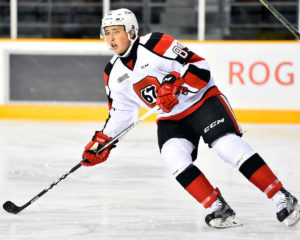 Kingston Frontenac defenseman Jacob Paquette picked up two assists for Bobby's squad, and a few shots on goal to go along with it. 67s' forward Sasha Chmelevski is having a great sophomore season in Ottawa, with an impressive 17 goals and 31 points in 39 games. He scored a beauty goal early in the first period, out-waiting defenseman Artyom Minulin before roofing a puck on Ian Scott. Morgan Frost, who has been a huge part of Sault Ste. Marie's
Morgan Frost, who has been a huge part of Sault Ste. Marie's offence this year, picked up an apple. He also won eight of 14 face-offs. He's scored a remarkable 40 points in 47 games for the Greyhounds, and the 17-year-old will be a big part of their playoff hopes moving forward.
While there was considerable talent from the entire Canadian Hockey League, Monday night's Prospects game showed that the level of talent in the Ontario Hockey League is tough to match. Regardless of where these players go in the draft come June, the future of the OHL is a bright one indeed.