| | | | |
| --- | --- | --- | --- |
| Born: | December 13, 1969 | Draft: | 1989, Red Wings, 74th Overall |
| Hometown: | Pskov, Soviet Union | Position: | C/D |
| Known For: | Soviet Defector | Shoots: | Left |
| National Team: | Soviet Union and Russia | Current Status: | Retired |
Sergei Viktorovich Fyodorov (born December 13, 1969) is a Russian former professional ice hockey player and the current general manager of CSKA Moscow of the Kontinental Hockey League (KHL). During his playing career, for which he is best known for his 13 seasons with the Detroit Red Wings, Fedorov was primarily a center, but occasionally played as a winger or defenseman.
Fedorov was one of the first hockey players to defect from his native Soviet Union in order to play in the National Hockey League (NHL). While playing with Detroit, he won the Stanley Cup three times, as well as the Hart Memorial Trophy as the NHL's most valuable player in 1994. After leaving the Red Wings in the summer of 2003, Fedorov played stints with the Mighty Ducks of Anaheim, Columbus Blue Jackets and Washington Capitals before retiring from the NHL in 2009, becoming the first Russian to achieve the feat. He played in over 1,200 NHL games and scored 483 goals in the NHL. He is a three-time Olympian, the first European-trained player to win the Hart Trophy and is considered to be one of the best playoff performers in NHL history. In 2017, Fedorov was named one of the "100 Greatest NHL Players" in history.
Fedorov was considered one of the best players in the world from the 1990s to the early 2000s. He last played for Metallurg Magnitogorsk of the KHL, where he was made captain in early September 2011. He was also an ambassador for Russia at the 2014 Winter Olympics in Sochi. Fedorov was inducted into the Hockey Hall of Fame on November 9, 2015, and to the International Ice Hockey Federation Hall of Fame in 2016.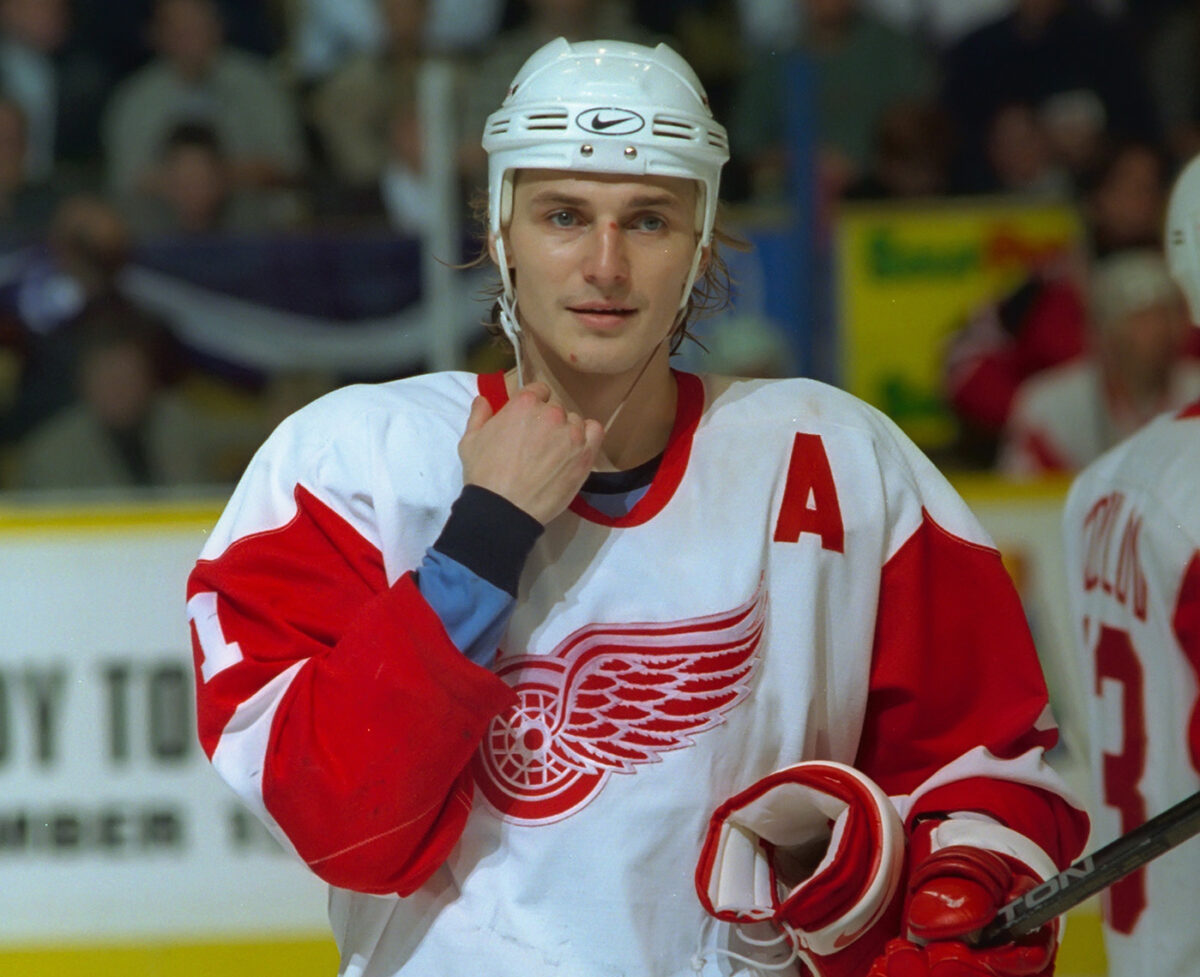 Sergei Fedorov Statistics
Trade Tracker
Date
Traded From
Traded With
Traded To
Traded For
November 15, 2005
Fifth-Round Pick
(Maxime Frechette)
Francois Beauchemin
Tyler Wright
February 26, 2008
–
Ted Ruth
Deeper Dive
Achievements
IIHF U20 WJC Silver Medal — 1988
IIHF U20 WJC All-Star Team — 1988
IIHF U20 WJC Gold Medal — 1989
IIHF World Hockey Championships Gold Medal — 1989, 1990, 2008
IIHF World Hockey Championships Silver Medal — 2010
World Cup of Hockey Bronze Medal — 1996
Olympic Games Silver Medal — 1998
Olympic Games Bronze Medal — 2002
NHL All-Rookie Team — 1991
Selected to Six NHL All-Star Games — 1992, 1994, 1996, 2001, 2002, 2003
NHL First Team All-Star — 1994
Hart Memorial Trophy — 1994
Lester B. Pearson Award — 1994
Ted Lindsay Award — 1994
Frank J. Selke Trophy — 1994, 1996
NHL Record for Most Career Overtime Points (27)
First Russian Player to Reach 1,000 Points
Stanley Cup Champion — 1997, 1998, 2002

Inducted into Hockey Hall of Fame — 2015

Inducted into IIHF Hall of Fame — 2016
Sources