Aside from being inducted into the Hall of Fame, retiring a number in professional sports is kind of like the icing on an athlete's cake. The great ones are hoisted into the rafters to be adored by all, for generations to come. The Red Wings have retired only seven in franchise history – Nicklas Lidstrom (No. 5), Steve Yzerman (No. 19), Sid Abel (No. 12), Terry Sawchuk (No. 1), Alex Delvecchio (No. 10), Ted Lindsay (No. 7), and Gordie Howe (No. 9). Clearly, for the Wings, it is an honor reserved for the most cherished athletes to ever step foot on Detroit ice.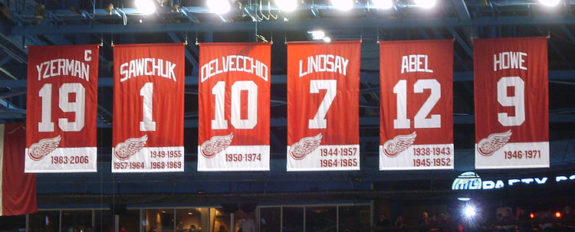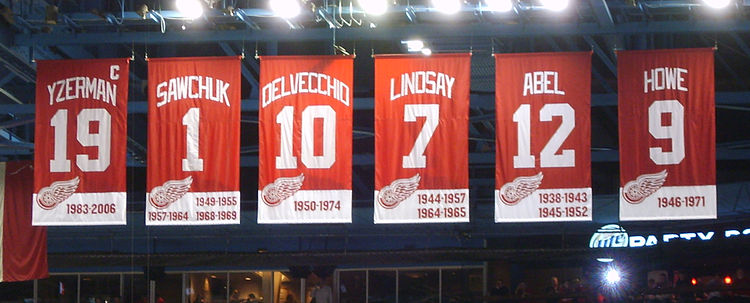 As of late, there's been a lot of chatter about which Wing will be the next to have his banner raised. Not surprisingly, Henrik Zetterberg's name has come up, but the two others sparking the most mixed reviews are Sergei Fedorov and Pavel Datsyuk. These fine-skating Russians both contributed enormously at key points during their time with the Red Wings. Both also were the cause of scorn among the Wings and their fan-bases, resulting in some bad blood. Which would you choose?
Building a Case for Fedorov
Fedorov has one of the most impressive resumes to recommend himself. Helene St. James of the Detroit Free Press laid it out pretty plainly, "Fedorov's numbers speak for his incredible talent: 400 goals (the first one in his NHL debut, Oct. 4, 1990) and 554 assists in 908 regular-season games over 13 seasons with the Wings. He also had 50 goals and 113 assists in 162 playoff games with Detroit, and he finished his NHL career with 483 goals, 696 assists, and 1,179 points in 1,248 games." Also during his time with the Red Wings, Fedorov became a three-time Stanley Cup champion.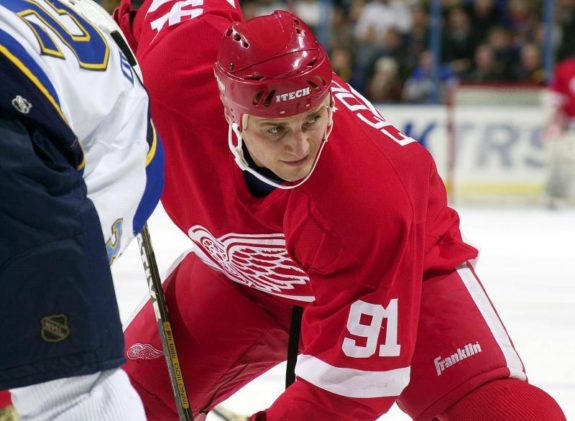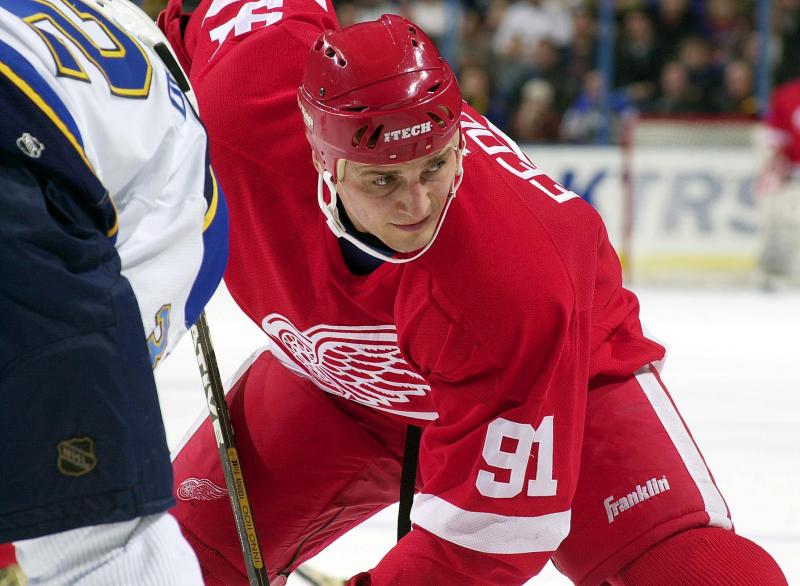 He played in six All-Star games, is a two-time Selke Award winner, a Hart Memorial Trophy winner, and the recipient of the Ted Lindsay Award. On top of all the brass and accolades, Fedorov was inducted into the Hockey Hall of Fame in 2015, along with former teammate Nicklas Lidstrom. Adding yet another sizeable ring to his collection, Fedorov has more than earned his way into the hearts of hockey fans everywhere. At least for a time.
Building a Case Against Fedorov
Unfortunately for Wings fans, many are still feeling the burn from years past. Being snubbed by one of their favorite Russians is not something they took lightly… and don't to this day. Though many Red Wings fans now don't remember the bitter offense of being slighted by their golden-boy, those who'd care about retiring his number recall it with perfect clarity.
2003 found the Wings and Fedorov at odds. Ultimately choosing to part ways after 13 seasons, Sergei took his talent to Anaheim. The Wings were open to dealing and had offered a five year, $50 million dollar deal, $10 million more than Anaheim. They were declined and Fedorov packed his bags and headed to the West Coast.
The snub, though a natural part of conducting business, left a sour taste in everyone's mouth. This alone would be the deal breaker for Sergei in the minds of fans everywhere. Having not completed his career in Detroit is where the fan base is getting hung up. In fact, upon his return to Detroit, while wearing an Anaheim jersey, Fedorov was booed by the Wings' crowd. Though much time has passed, allowing old wounds to heal, fans were still deeply cut by what appeared to be disloyalty and arrogance.
Building a Case for Datsyuk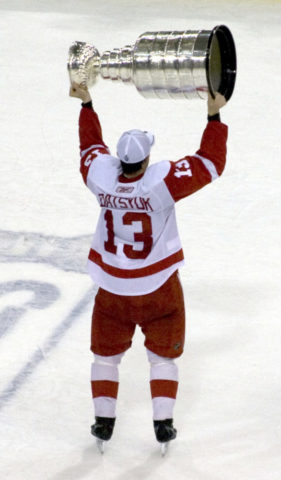 Pavel Datsyuk was another Russian who stole the hearts of the Red Wings fans. Especially when partnered with Henrik Zetterberg, nothing could describe his beautiful dangles and stealthy puck steals. His incredible puck handling even received its own phrase – "The Datsyukian Deke." An honor in and of itself, Datsyuk also had a plethora of stats that will make him a topic of conversion when Hall of Fame induction nominations come up.
Helene St. James stated, "…he is one of the most accomplished players in team history. Datsyuk helped the Wings win the Stanley Cup as a rookie in 2002 when he was part of a line with Brett Hull and Boyd Devereaux that Hull dubbed "two kids and a goat." Another Cup followed in 2008, and by the time Datsyuk left in 2016, he ranked seventh in team history with 918 points."
Datsyuk has two Stanley Cups to his name, four Lady Byng Memorial Trophies, and two Frank J. Selke Trophies. He was also selected in 2008-09 for the All-Star team. Though not retired yet and therefore not eligible for the Hall of Fame for a few years, Datsyuk has enough to recommend him.
Building a Case Against Datsyuk
Datsyuk caused an uproar in 2016 – one year shy of his contract expiring – by asking to be released and given permission to go back to Russia. Pav spent 14 seasons with the Wings and many had hoped he'd stay until the end. Datsyuk's reasons for returning home, however, were a matter of the heart – which some fans found more agreeable. Having a teenage daughter back in Russia living with his first wife, Datsyuk wanted to be with his family more than anything.
Despite his family-first reasoning, Datsyuk leaving in the midst of Detroit's cap-struggles put the Wings in a very tight spot. I'm sure some would say that Datsyuk's departure and lack of Stanley Cup contention since then, is no coincidence.
Reader's Choice
Retiring Fedorov's number has been a source of chatter for a few seasons now. Datsyuk however, is recently rising in the ranks when it comes to the retirement discussion, among other noteworthy Red Wings. Both Russians have impeccable records and both stumped the Wings in one way or another. I took a Twitter poll and the fanbase response was neck-and-neck the entire time – neither tipping the scale for too long.
Fedorov and Datsyuk have their merits as players which make them very eligible for the honor of having a banner in the rafters, however, is the scorn both caused too great to overlook? You tell me.
I am a Detroit Red Wings prospect journalist for Access Hockey MI covering the Grand Rapids Griffins and Toledo Walleye prospect development. Draft analyst for USHL hockey with the Muskegon Lumberjacks.