From the beginning of his tenure as general manager, Jason Botterill made it clear that the Buffalo Sabres' organizational rebuild would start in the minor leagues. With a well-curated cast of veterans mixed with a handful of returning prospects, the first step in his vision came to fruition when the Rochester Americans qualified for the Calder Cup playoffs last season (their first appearance in three years).
While the team does have quite a few veterans returning for the 2018-19 campaign, a decent chunk of the Amerks' roster will consist of first-year players. Some will come from the Canadian Junior and collegiate ranks while others are getting their first taste of North American action after spending time in the SHL. Let's take a look at which rookies will make the biggest impact in Rochester next season.
Victor Olofsson
Arguably the most exciting (and likely to spend a notable amount of time with the Sabres) prospect on the list, Olofsson set the SHL on fire last year as the league's leading goal scorer. After being drafted by the Sabres in the seventh round of the 2014 NHL Draft, the 23-year-old has steadily improved in every season he's spent in Sweden and should contribute on the scoresheet early and often.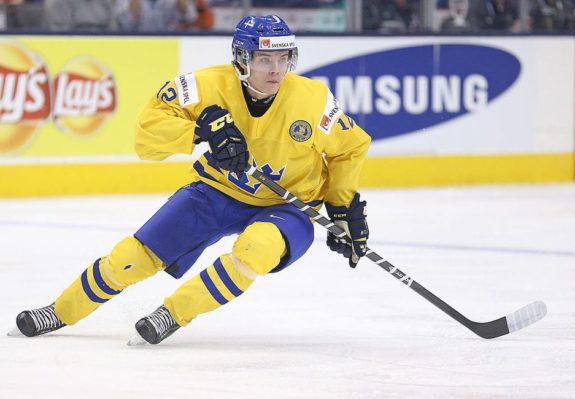 With 43 points in 50 games last year, he projects as an excellent complement to the Sabres' outstanding cast of young centers in the organization. As a natural left wing (an area where the franchise has a distinct lack of talent and depth), he should get an opportunity with the big club early on, especially if his goal-scoring prowess remains evident in the AHL.
On top of his elite shot release, his skating speed is worth noting, especially considering the quick-transition style of play that Phil Housley plans to implement in Western New York. If all goes well, Olofsson will go down as one of the biggest steals of his draft class.
Rasmus Asplund
One of the many Swedish prospects in the Sabres pipeline, Asplund could very well be the top center in Rochester next season. As one of the youngest players on the roster at just 20 years of age, his experience in the professional ranks will be a huge benefit as he adjusts to AHL action.
As a stocky two-way pivot, he boasts outstanding defensive ability. Never one to shy away from contact, he will use his strength and transitional skill set to secure himself a long-term middle-six role at the NHL level. Looking down the road a few years, a group consisting of Jack Eichel, Casey Mittelstadt and Asplund should make for one of the best center spines in the league.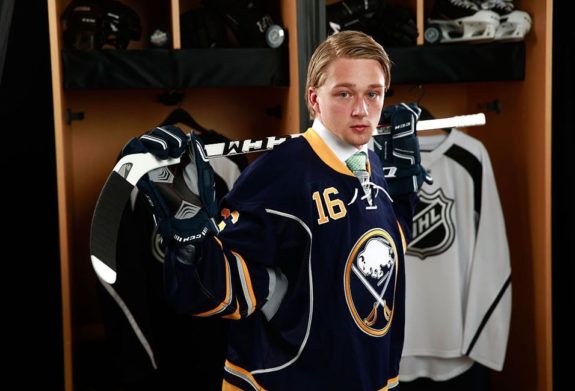 Despite his unquestioned talent on the ice, the most interesting thing about Asplund is how he was acquired. In a relatively unpopular move, the Sabres dealt Mark Pysyk to the Florida Panthers in exchange for Dmitry Kulikov while swapping second-round picks in the 2016 draft to move up and select Asplund with the 33rd pick. His long-term success will determine which team actually "won" the trade.
Related: Ranking the Sabres Prospects Before the Draft
Cliff Pu
Coming up from the OHL ranks to make his Amerks debut is another big, play-making forward in Cliff Pu. As a key member of the Kingston Frontenacs during their playoff push last season, he posted an impressive 84 points in 65 games, (which includes his time with the London Knights before being traded mid-season).
Another Tim Murry draft pick, Pu made waves last season at the Sabres' annual Prospects Challenge in Buffalo. In scrimmages against youngsters from the Pittsburgh Penguins, New Jersey Devils and Boston Bruins organizations, the then 19-year-old was far from out of place against older, more refined prospects. In fact, he out-played teammates Justin Bailey and Nick Baptiste, whom many fans expected to steal the show.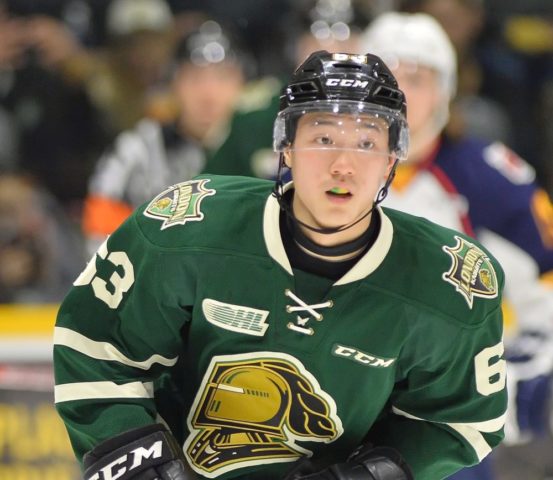 Unlike Olofsson, he will require at least a full season in the AHL before seeing any real time in the big league. Fortunately for him, the Amerks are a team on the rise and he'll be surrounded with a great deal of young scoring talent in Rochester. Fans will need to stay patient, but Pu projects as a very strong third line winger at the next level.
Andrew Oglevie
As a collegiate free agent signing, most Sabres fans haven't watched Oglevie throughout his development, but his time at Notre Dame was certainly noteworthy. Producing at over a point-per-game clip over the past two years, he joins a crowded crop of centers in the Buffalo pipeline. During his final season in South Bend, he managed to receive a place on the NCAA All-Tournament team.
Like many others, his future will hinge on his ability to bring his scoring prowess with him in the professional ranks. His 39 points in 36 games last year was good for second most on the Fighting Irish roster. As an older prospect at 23-years-old, his leash won't be quite as long, so he will need to make waves in short order.
Botterill obviously saw something in him or else he wouldn't have signed him to an entry-level deal in April. Whether or not he believes Olgevie is a piece of the Sabres' future bottom-six remains to be seen.
Lawrence Pilut
Another exciting addition from across the pond, Pilut received the SHL's Most Outstanding Defenseman award last season, leading all blueliners in points with 38. Known for his elite vision and puck-moving ability, he is the prototypical Housley-style defender.
🚨⚔️Lawrence Pilut (SHL Defenseman of the Year) with his first goal⚔️🚨 @news4buffalo #Sabres pic.twitter.com/1tw2bDZFAl

— Nick Filipowski (@NickFilipowski) June 30, 2018
When the injury bug inevitably strikes the Sabres roster, he will be one of the first call-ups. If struggling veterans like Zach Bogosian and Nathan Beaulieu are unable to hang onto spots in Buffalo, the team could turn to the 22-year-old in a hurry, especially if they get off to a hot start in 2018-19.
One area where Pilut will need to improve in his physicality. While there is little debate surrounding his offensive prowess from the back-end, but the 5-foot-10, 181-pound youngster needs to make sure to focus on his defensive game. With players like Rasmus Dahlin, Rasmus Ristolainen and Brendan Guhle in the fold, the Sabres have a very strong crop of players on the blue line moving forward. Pilut could force his name into that mix with an impressive inaugural campaign.
Will Borgen
Borgen holds a pretty unique place in the organization. As the only true stay-at-home defender in the prospect ranks, he could fill a vital role beside someone like Dahlin somewhere down the line. For now, he will need to prove his worth with the Amerks just one year removed from being named to the Team USA Olympic roster.
At St. Cloud State last season, the 21-year-old won the NCHC conference's award for Best Defensive Defenseman. In 2015-16, was part of the American squad that won the bronze medal at the World Junior Tournament.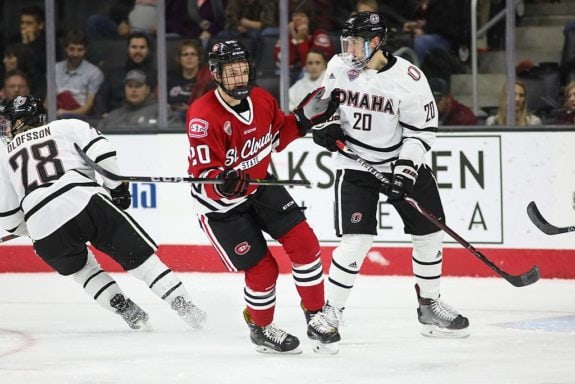 Borgen got a small taste of AHL action last year after his collegiate season came to an end. In eight games with the Amerks last year he fit right in on the back-end despite not registering a point. In 2018-19 he will serve a key role on the penalty kill as the team tries to account for a somewhat gloomy situation between the pipes.
Related: Sabres Prospect Update
A passionate supporter and lifelong fan of the Buffalo Sabres. Former Admin and Staff Writer at buffalohockeycentral.com.