The Buffalo Sabres' outlook got a lot brighter after the team won the NHL draft lottery. With a certain blue-chip defenseman all but guaranteed to don the blue-and-gold next season, fan interest has been reignited after an abysmal 2017-18 showing. Pair that with the excitement surrounding the continued growth of high-potential players like Casey Mittelstadt, Brendan Guhle, Linus Ullmark (who should play their first full season in the NHL next year) and the future looks promising.
In addition to the "household names" there are several other lesser-known prospects in the Sabres' system that fans should be excited about. As players like Nick Baptiste, Justin Bailey and Hudson Fasching are on the cusp of no longer being considered "prospects", we take a look at the next crop of young players on the farm.
Forwards
Even with Mittelstadt earmarked for a full-time role in the NHL next season, the Sabres still have a great deal of talent in the pipeline at forward. Several European players are slated to make the jump to North America next season and it will be interesting to see who continues to develop and jockey for position on an increasingly crowded organizational depth chart.
Victor Olofsson
Perhaps the most NHL-ready prospect in the Sabres' system, Olofsson had a sensational year with Frolunda of the SHL. Tallying 27 goals in 50 games last season, the 22-year-old led the league while notching 43 points, earning himself a two-year deal with Buffalo.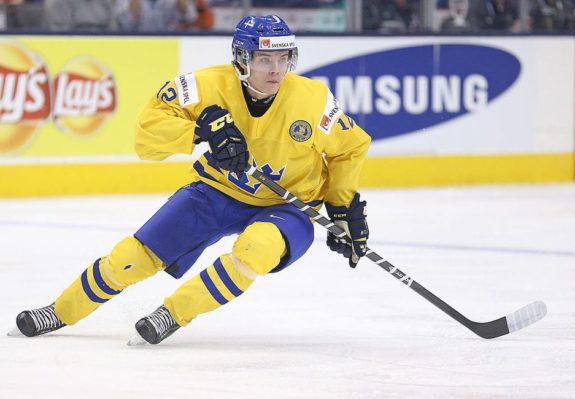 In 2014, the Sabres selected Olofsson in the seventh-round of the NHL draft (181st overall). If he can continue to score goals in North America next season, he could become the steal of the draft.
He isn't the stockiest player at 5-foot-11, 172-lbs, but his effortless skating ability will mesh well with the system head coach Phil Housley is trying to implement in Western New York. Though he could start the 2018-19 campaign in Rochester with the Amerks, don't be surprised if he is an early call-up for the blue-and-gold.
Rasmus Asplund
On a Sabres team that was criticized for lack of effort and toughness last year, Asplund will be a welcome addition in the near future. The big-bodied center has been skating with grown men in the SHL since he was 17 years old, and he never looked out of place.
While his stats don't jump off the page, he projects nicely as a bottom-six player who can chip in on offense while providing an excellent two-way game. As seems to be the case with most of the players in the Sabres' system, Asplund's elite speed allows him to transition from offense to defense seamlessly. Fans should expect him to spend a majority, if not all, of next season honing his craft in the AHL. At just 20 years old, he will have plenty of time to develop.
Cliff Pu
Pu has been a revelation over the past two seasons in the OHL. In 2016-17 and 2017-18, he posted back-to-back seasons of over 80 points with the London Knights and Kingston Frontenacs. During the Sabres' annual Prospect Challenge last summer, he quickly became a fan favorite, out-playing elder statesmen Bailey and Baptiste.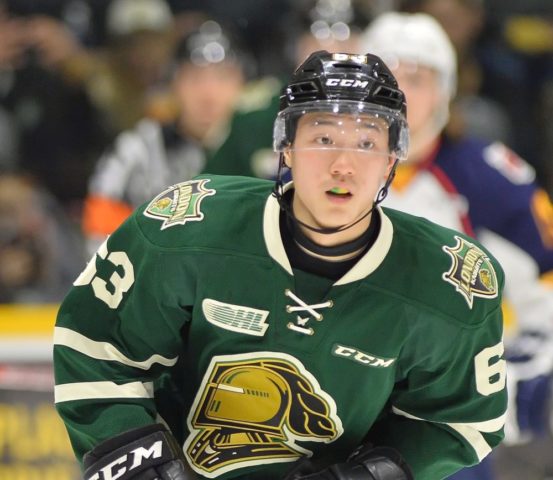 After selecting him 69th overall in 2016, the Sabres wasted little time signing him to an entry-level contract. With a hulking frame at 6-foot-2, 192-lbs, he should have no trouble adjusting to the professional game. Though he does need to spend time developing his on-ice vision, he has the natural scoring ability that Buffalo desperately needs.
Expect him to spend plenty of time in Rochester before being thrust into NHL action.
Marcus Davidsson
Buffalo has cornered the market on Swedish forwards, haven't they? Last season, Davidsson experienced an impressive jump in scoring production with Djurgardens of the SHL, notching 21 points in 39 games, a 12-point bump from the year prior.
Similar to Asplund, he is known as a two-way player who never takes a shift off. Though he doesn't necessarily boast elite scoring skills, he projects to be a valuable depth asset who can serve as a penalty-kill specialist down the middle. He'll spend another year across the pond in 2018-19, but he's a player to keep an eye on moving forward.
Brandon Hagel
As one of the team's lesser-known prospects, Hagel quietly put together an impressive 2017-18 season. While serving as an alternate captain for Red Deer of the OHL, Hagel posted over 40 assists for the second consecutive season. Though his overall scoring output took a slight hit last year, he was routinely praised for how much he improved his two-way game.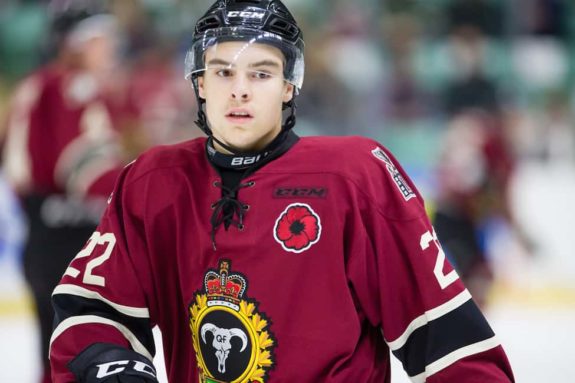 General manager Jason Botterill has preached a slow and thorough development philosophy since joining the Sabres, so he won't rush Hagel (or anyone for that matter). With so much talent on the farm up front, the 20-year-old will need to stand out in a big way next season. Either way, he's come along nicely for a sixth-round pick.
Linus Weissbach
Speaking of players who have excelled beyond their draft pedigree, it's tough to leave Linus Weissbach out of the conversation. As a seventh-round selection in 2017, the Swedish speedster made waves in the collegiate ranks, tallying 26 points in 34 games as a freshman at the University of Wisconsin.
Known as a high-energy offensive threat during his time in the USHL, it was a relief to see his game translate so well to older, more experienced competition in the NCAA despite his smallish frame. There is little doubt that Botterill and the gang will keep their eye on him next season to see if he can continue to increase his production with the Badgers. The organization could use more natural speed on the wing.
Alex Nylander
Don't worry, we didn't forget about everyone's favorite player to debate. After struggling to produce in the AHL for two straight seasons, fan perception has soured on the eighth-overall pick from 2016. After recovering from a lower-body injury sustained during the Prospect Challenge last summer, Nylander's game took a great deal of time to get back to normal.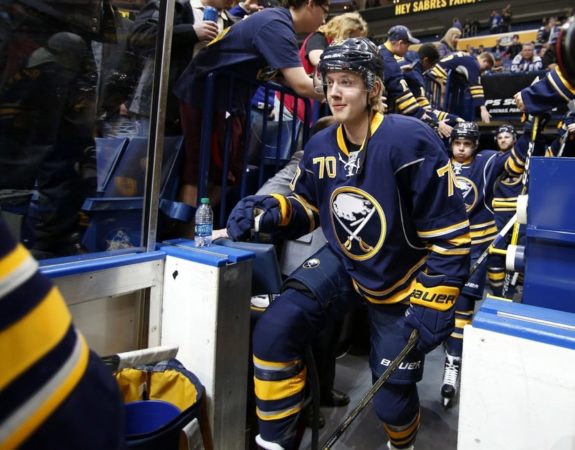 Injury aside, his pedestrian 27 points in 51 games was a huge disappointment in a year when most expected him to make his case for a full-time role in the NHL. Though he did receive a brief call-up toward the end of last season, his performance with Rochester should be viewed as a complete and utter disaster. He was inconsistent, and his determination was often questioned by Amerks' head coach, Chris Taylor. If he doesn't improve in a big way next season, he will continue his fall into "bust" territory.
Related: Sabres Top 4 Prospects 2018
Defensemen
While the Sabres have their fair share of excellent young forwards, the cupboard is relatively bare on the blue line. With Brendan Guhle and Casey Nelson set to graduate to full-time NHL gigs next season, Botterill will look to re-stock his defensive ranks during the draft. Even with Rasmus Dahlin all but locked-in as the first-overall pick, the team still needs reinforcements on the back-end throughout the organization.
Will Borgen
It's tough not to be impressed with Borgen's performance last year. In an era when offensive defensemen are all the rage, Borgen makes his hay as a stay-at-home presence on the blue line. In fact, he is so proficient in his own end that he earned himself a spot on the Team USA Olympic roster last year, despite only producing 15 points in 36 games for St. Cloud State of the NCAA.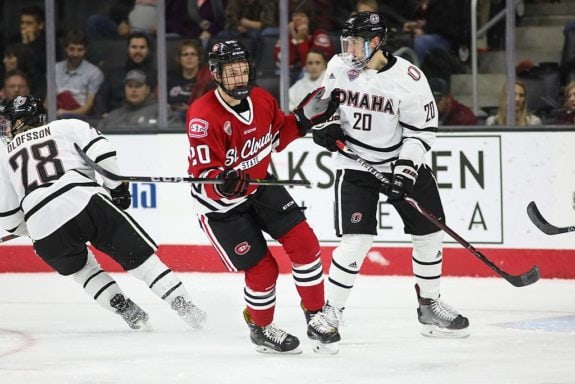 At the end of his collegiate season, the Sabres signed the 21-year-old to his entry-level deal, allowing him to play with the Rochester Amerks for the last eight games of the 2017-18 campaign and into the AHL playoffs. Next year, he will likely spend the season in the AHL, barring a serious rash of injuries in Buffalo. It will be interesting to see if his shutdown ability continues to stand out in Rochester.
Jacob Bryson
While not exactly a household name, Bryson is a player who Sabres fans should familiarize themselves with moving forward. Named an alternate captain for the Providence Friars in just his sophomore season, he continued to develop as a steady two-way defenseman in the NCAA. At just 5-foot-9, 179-lbs, his small size is partially masked by his natural skating ability, but it will be interesting to see how he projects as a professional.
Bryson will return to Providence for his junior season but if he can keep improving at his current rate, the Sabres should lock him down next offseason. If they don't, they run the risk of losing the former fouth-rounder as a free-agent in 2020.
Vojtech Budik
As one of four Sabres' prospects that played in the World Junior Championship that took place in Buffalo last winter, Budik served as a big-bodied, physical presence on the Czech blue line. That's not to say he isn't a contributor on offense. In 63 games with Prince Albert last season, he posted 41 points, spending time on both the power play and penalty kill.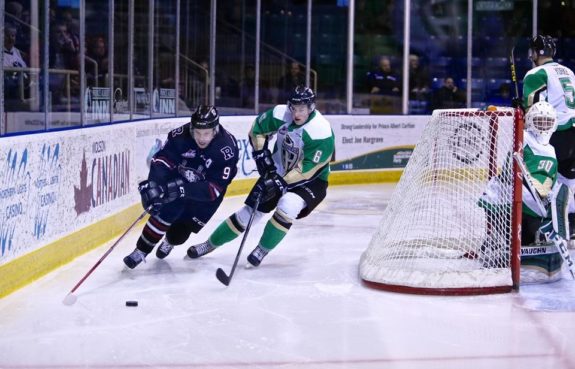 At 20-years-old, he will spend another season in the OHL before the Sabres decide whether or not to sign him to an entry-level contract. His jump in production from last season was encouraging. If he can match that improvement in 2018-19, he will be a shoe-in candidate for a professional deal. As a fifth-round pick in 2016, he is yet another prospect in the Buffalo system that seems dead-set on surpassing their draft slot.
Goaltenders
With Ullmark all but locked into a full-time role in the NHL next season, the Sabres' goaltending group isn't exactly deep. For a position that typically takes longer to develop successful professional players, it's something that Botterill needs to address in the offseason. Teams can never have too many strong prospects in net.
Ukko-Pekka Luukkonen
It's a good thing that goaltenders take a long time to develop. Perhaps by the time Luukkonen is ready for the big league, fans will have had enough time to learn how to spell his name. All joking aside, the 19-year-old has elite potential but at this point, he is still raw.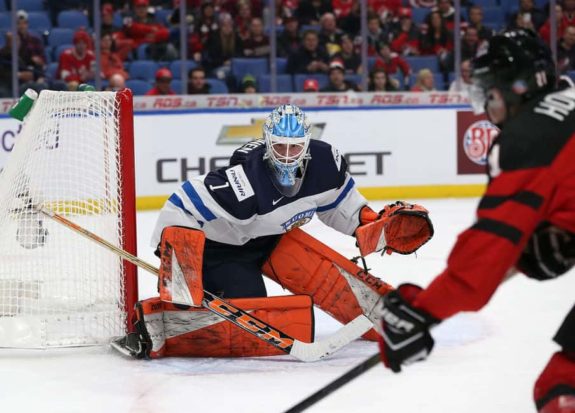 After a relatively disappointing performance at the World Junior Championship, he will need a good showing in 2018-19 as he is slated to spend the season with HPK in the Finnish Liga. This will be his first taste of high-level, professional competition. Though he still has plenty of time to hone his skills, this will be a big development year for him.
If Ullmark somehow falters as the Sabres' long-term starter, Luukkonen will be the organization's only hope for the future unless they make a move for another high-level prospect.
Jonas Johansson
Johansson is an interesting, yet underwhelming prospect. He did show flashes of greatness in relief of Ullmark last season in Rochester and during his time with the team's ECHL affiliate, the Cincinnati Cyclones, though overall, he left a lot to be desired.
With very few organizational options to call upon in Rochester next season, unless Botterill is able to find an upgrade via free agency, the 22-year-old might be forced into a starting role with the Amerks. If that's the case, it could be a make-or-break year for his career. After him, the Sabres have no other goaltenders in the pipeline.
A passionate supporter and lifelong fan of the Buffalo Sabres. Former Admin and Staff Writer at buffalohockeycentral.com.