There are a lot of prying eyes in Buffalo keeping close watch on Finnish netminder Ukko-Pekka Luukkonen. The fact that the Buffalo Sabres drafted him as the highest selected European goaltender at the 2017 NHL Draft is mostly the cause of that. Doesn't help matters that he was the second choice out of all goalies either for that draft.
Buffalonians know their hockey. They are most curious about any sort of prospect that could be coming to their beloved Sabres. Having such an esteemed goaltender as a selection of theirs obviously has garnered the attention of the fans, and has made Finland's games at this tournament fairly well attended.
Fans Support & Sabres' History With Scandinavians
Luukkonen told THW his thoughts after the New Year's Eve game against the USA as to what sizable fan support has meant to him at this tournament:
"I think it's nice to have," he said. "I know that there are fans who are cheering for me in the stands. The games being held here in Buffalo is a big thing for me. So far, I haven't thought that much about it in the game, but it has been nice to see that there are a lot of fans from Buffalo that watch the games."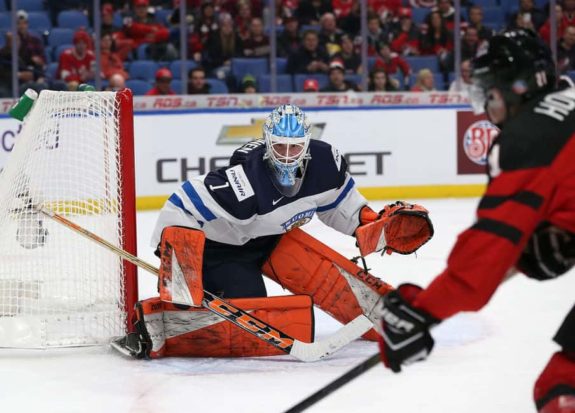 The Sabres also have a history of modest success with Scandinavian goaltenders. Fellow countryman of Lukkonen's Mika Noronen stands out. Then there are obviously the Swedes — Jhonas Enroth, Anders Lindback, Mikael Tellqvist and Anders Nilsson. Current Sabres goaltender Robin Lehner and top Rochester Amerks goalie, Linus Ullmark. Still, there has never been a clear cut Scandinavian goalie as a legitimate number one for the Sabres. Although Lehner has filled the role, he has had numerous critics since he has joined the organization.
With the preliminary games of the 2018 World Junior Championships wrapped up here in Buffalo, has Luukkonen measured up? Is he a true contender for the starting position in the Sabres' goal crease at a future point? The jury is still out. Luukkonen has not been poor at this tournament, but he has not been exceptionally great either.
Luukkonen's Early Showings at WJC
When the WJCs got underway on Dec. 26, Luukkonen was given a major test right out of the gate. The Finns faced powerhouse Canada in their first game of the tournament. Their goaltender played moderately well. Luukkonen stopped 28 out of 32 shots. His third period was particularly noteworthy as he steered aside Canada's biggest shot outpouring of the game. Facing 15 shots, Luukkonen turned away all of them and gave his team a fighting chance to remain in the game.
You have to love his great size and his positioning. Luukkonen covers the bottom portion of the net extremely well, and has sound movement all the way around. His positioning has been enjoyable to watch since this earliest game of the World Juniors.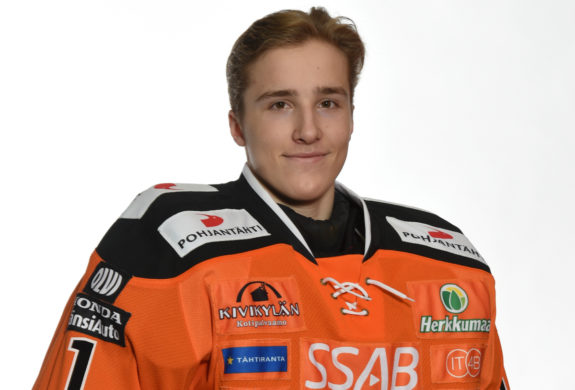 Finland had the day off on the second day of tournament action, but resumed play on Dec. 27. By no means would their game against Denmark be any sort of test for Luukkonen. Were it to be considered as such, it would probably even portray him in a negative light. By no means is that intended to be condescending towards Denmark. Luukkonen only faced seven total shots in the game. Even with that paltry amount of shots, he still ended up allowing a goal. The one that got by him took place in the second period when Luukkonen faced six total shots — the most action he would see all game.
Allowing one in on so few shots may have some critics scoffing at Luukkonen's abilities. It is better to put the game against Denmark aside, and focus more so on the fact that it was a win for Finland, and a win for Luukkonen. Bottom line was that he stopped what he needed to. For the most part.
The Finnish Netminder Through Three Games
Luukkonen ended up manning the nets for all of Finland's preliminary games, including their third and fourth contests against Slovakia and the USA respectively. This is about what we figured would be the case before the tournament ever got underway. Finland's crease belonged to Luukkonen barring injury or performance catastrophe. Although his numbers could be better, nothing truly catastrophic has taken place.
Another win was generated on Dec. 30 against Slovakia. Luukkonen would make 24 saves off of 26 shots. The Finns would defeat the Slovakians by a score of 5-2.
Through the first three games Luukkonen's numbers, though respectable, were not even among the top five goaltenders at the tournament. With a record of 2-1, Luukkonen had a .892 save percentage and a fairly solid 2.36 goals against average. The GAA is actually pretty good, but speaks more to the Finns' effort as a squad as opposed to Luukkonen's individual performance. The .892 SV% is relatively average, and that rests more upon his shoulders.
Against the USA in Fourth & Final Prelim Game
Against the United States, Luukkonen appeared frequently unguarded. The skaters for Finland looked slightly tired and more than once USA got in behind the defense. Early in the first period, USA's Kieffer Bellows was left wide open in front of the net and Luukkonen had to make an solo stop. He would also have to stop USA captain Joey Anderson who slipped in on a partial breakaway. This still would not be enough, as Trent Frederic and fellow Sabres prospect Casey Mittelstadt each tallied in the opening period to give the USA a 2-0 lead.
#Sabres 2017 draft pick Ukko-Pekka Luukkonen picks up the W as Finland 🇫🇮 defeats Denmark 🇩🇰 4-1. #WJCinBUF https://t.co/lbGZQYVVQk pic.twitter.com/tZhxKfAWoH

— Buffalo Sabres (@BuffaloSabres) December 28, 2017
This would continue to be the case as the game went along. Luukkonen, to his credit though, continued to face a sizable number of shots from the USA. The Americans' Anderson would eventually beat Luukkonen not once, but twice on the power play. On the second Anderson tally he was again left open and was able to swipe it home. This took place despite Finland getting markers of their own from Aapeli Rasanen and Eeli Tolvanen.
Luukkonen told THW after the game about what his and Team Finland's biggest challenge has been since the tournament began.
"As a team and as a goalie, I think it's a solid 60 minutes in every game," he said. "As today, we were a little bit off the first period. We started with the wrong foot the whole game, so I think that is the biggest thing for me and the team to improve upon."
Despite Rallying, the Finns Suffer Loss to USA
Finland would endeavor to stage a rally, but it would be for naught. Trailing 4-2 in the third, Joona Koppanen scored shorthanded at 8:25 into the period. Just over a minute later, Finland's Kristian Vesalainen tied it at 4-all with assists to Olli Juolevi and Juuso Valimaki. For Vesalainen, it was his second point of the night as he had picked up an earlier assist on the goal by Tolvanen. Vesalainen and Tolvanen tied for the team lead for Finland as each player registered two points on the night.
With the game seemingly headed to overtime, the USA's Adam Fox streaked in on Finland's goal like a man possessed. Fox is actually one of the United States' top defenders. He read the play extremely well and went in all alone on Luukkonen. Fox's goal with a minute and 37 seconds remaining was the game winner for USA.
Luukkonen and Finland would suffer the 5-4 loss. However, the 6-foot-4 netminder made the most saves of any of his four games at the tournament thus far. Facing 37 shots, Luukkonen made 32 saves for a .865 SV% on the night. That was a better number than USA's Joseph Woll who had a .833% of his own.
THW asked Luukkonen if he felt the game against USA was his best game despite the loss:
"I think I played better yesterday (against Slovakia) because we won," Luukkonen expressed. "The most important thing in this tournament is to win. I think today I should have saved a couple goals and helped more our team to win. Can't complain too much. It was a pretty okay performance from me."
A Future for Luukkonen in Buffalo
Ukko-Pekka Luukkonen is all of 18 years of age — he won't turn 19 until March. There is still a lot of time before he would don the blue and gold of the Sabres. Given how Buffalo's current season is going as well as last year's debacle, seeing Luukkonen as a Sabre might be closer than one would think. Still, there is more that this young man wishes to accomplish before he makes another return to the "City of Good Neighbors".
It's been a summer spent across North America for #Sabres draft pick Ukko-Pekka Luukkonen. Story by @AmyMoritz: https://t.co/JDK3Xsp7pX pic.twitter.com/UAqOye89nP

— Buffalo News Sports (@TBNSports) August 4, 2017
THW asked Luukkonen where he foresaw himself playing over the next two to three years. He responded:
"I hope that I have had a first year in the top league in Finland first of all. But after that, I hope it's Buffalo or Rochester. I hope that I'll make it to here (Buffalo), but we will see."
Luukkonen has yet to play in SM-liiga, which is the Finnish Elite League. Presumably he will do so for Hämeenlinnan Pallokerho (HPK) in the near future, as he already plays for their junior squad. Luukkonen's orange pads, the colors of HPK, have stood out like a beacon for the goaltender at this tournament in Buffalo. For the time being, that beacon will call him back to Finland once the Buffalo World Juniors have come to a close.
General Manager of the Buffalo Beauts (NWHL). Hockey history writer "The Hockey Writers". Credentialed media for the NHL Combine and 2018 IIHF World Junior Championships in Buffalo, NY, USA. Born and raised in Buffalo, NY. Lifelong hockey fan for over 40 years. Proponent of the women's game.