When Team Finland takes to the ice in Buffalo, they are looking to replicate what they did just two years ago on their own home soil. Capturing the gold in Helsinki in 2016, the Finns would love nothing more than to go three for five in gold medals. They also took home first place in 2014. If Finland is shooting for an every-other-year gold medal, then it would stand to reason that they can do the same in 2018. Their roster is chock-full of the right ingredients to find success.
Right ingredients or not, Finland will not be able to take matters lightly. They are in Group A for their division in Buffalo. The Finns will be staring into the faces of Canada, the United States, Denmark, and Slovakia. A grouping that is not for the faint of heart. Finland will need to do more than just surpass bitterness and bedlam in the midst of these other teams. They will need to score.
THW breaks down how Finland's roster ought to take shape.
Goaltending
None of the three goaltenders listed on Finland's preliminary roster was with the 2017 team. In terms of size, they are a most interesting collection. Buffalo Sabres 2017 second-round draft choice in the Ukko-Pekka Luukkonen is the largest of the three. At 6-foot-4 and close to 200-pounds, Luukkonen takes up a lot of space in net. He is the goalie that the hometown Buffalo crowd will be watching most closely of any goaltender at the tournament. In 17 games for Finland's LeKi club, part of a second tiered league in his homeland, Luukkonen has a 2.82 goals-against average an a .914 save percentage in 17 games. It will enjoyable to see this highly-touted netminder in action.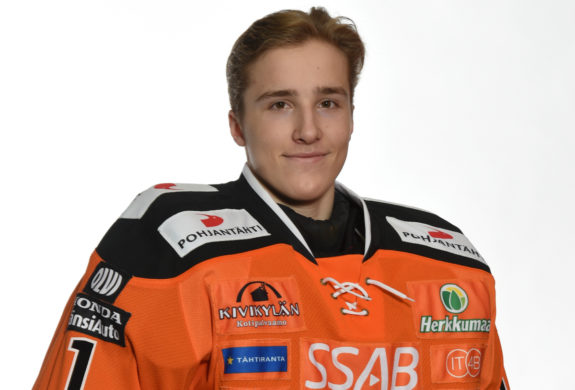 Lassi Lehtinen is the most diminutive. In a way, he hearkens back to a bygone era of goaltenders like Mike Vernon or Arturs Irbe. Lehtinen is 5-foot-11 and under 170 pounds. Like Luukkonen, he also plays in the second-tiered Finnish league known as Mestis. Playing for KeuPa HT, Lehtinen has a 2.20 goals-against average of his own and a .915 save percentage in 10 games for that club.
The third goaltender, Niilo Halonen, is more in the middle in terms of his size. While he is also under the 170-pound mark, he is a few inches taller than Lehtinen. Halonen has gotten into two games with SaPKo of the Mestis league but has less impressive numbers than his counterparts: a 3.00 goals-against and an .887 save percentage.
There is no clear decisive choice for starter out of the three Finnish goaltenders. Luukkonen is likely to get the nod or at least a sizable chunk of the action, if for nothing else than that he may feed off of a Buffalo crowd that is in support of him.
Defense
Dallas Stars fans will be watching Miro Heiskanen most closely at these World Juniors. Heiskanen was the third overall pick in the 2017 NHL draft. Playing in Finland's premier hockey league, SM-liiga, for HIFK Helsinki, Heiskanen has scored nine goals and four assists in 18 games so far this season. At 6 feet and 170 pounds, this sleek defender will be one the D-men Finland will count on the most in Buffalo.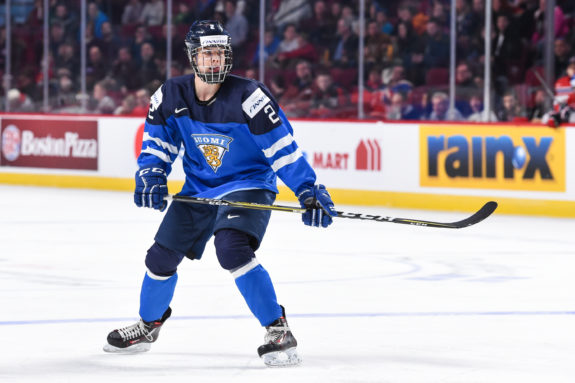 At 6-feet-7-inches, Finland's Eemeli Rasanen is a behemoth. He has also been a standout defenseman for the OHL's Kingston Frontenacs this season and last year too. In 2016-17, Rasanen had six goals and 33 assists in 66 games for the Frontenacs. This year he has had 21 points (three goals, 18 assists) in 26 games. The Toronto Maple Leafs selected him in the second round this past summer.
One final given defender for Team Finland will be the Calgary Flames' first-round choice in 2017, Juuso Valimaki. Selected 16th overall, Valimaki had 61 points in 60 games in the 2016-17 season for the WHL's Tri-City Americans. He has followed that up in 2017-18 with five goals and 12 assists in just 16 games for Tri-City.
The other defensemen Finland will be choosing from are Robin Salo (New York Islanders), Kasper Kotkansalo (Detroit Red Wings), Olli Juolevi (Vancouver Canucks), Urho Vaakanainen (Boston Bruins), Roope Laavainen (Chicago Blackhawks) and Henri Jokiharju (Chicago Blackhawks)
Forwards
Five forwards on the preliminary roster are from last year's 2017 squad—one which failed to medal in Canada. Some new blood in the camp should spark the 2018 Finns. Lord knows they will need it after scoring just 12 goals in six games last year and having to survive relegation against Latvia.
Janne Kuokkanen is a given for this roster. Not only is the Carolina Hurricanes' second-round pick in 2016 a returning player to the national U20 team, but he is a scoring sensation. During the 2016-17 OHL season with the London Knights, Kuokkanen had 62 points in 60 games. Come playoff time that season, he led all of Dale Hunter's skaters with 10 goals in the Knights' 14 playoff games. Kuokkanen has played four games this current NHL season for the Hurricanes but has spent the bulk of his time with their AHL affiliate Charlotte Checkers. There he has scored three goals and nine assists in 14 games.
#WorldJuniors #FINvsLAT | Finland tops Latvia 4-1 and sweeps the relegation series.

Game Stats: https://t.co/CNrFfsQK61 pic.twitter.com/3l1JiTGhle

— #WorldJuniors (@HC_WJC) January 4, 2017
Otto Koivula, another returning player from 2017, is a very sizable winger for Finland. At 6-feet-4-inches and at the 220-pound mark, he is big as an ox but with a scoring touch. In SM-liiga, Koivula finished third in scoring for Ilves Tampere in 2016-17 with 10 goals and 20 assists in 50 games. This is particularly impressive when considering that he was the only teenage forward on that roster. Koivula is also a fourth-round draft pick of the New York Islanders from 2016.
Another forward who is guaranteed for the Finns of 2018 is Nashville Predators prospect Eeli Tolvanen. Playing for the KHL's Jokerit Helsinki, Tolvanen currently leads the team in scoring this year with 17 goals and 14 assists in 37 games. He is the only teenager for Jokerit. Tolvanen also had a 2016-17 season with the Sioux City Musketeers in the OHL of 54 points in 52 games. That included 30 goals. Not surprisingly, Nashville made Tolvanen a first-round selection in 2017. He is also a returning player from the 2017 Team Finland junior team.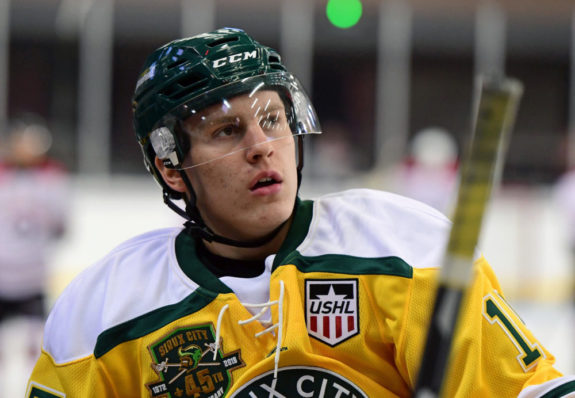 The other possible forwards for Finland include: Juha Jaaska, Jerry Turkulainen, Jere Innala, Kristian Vesalainen (Winnipeg Jets), Joona Koppanen (Boston Bruins), Sami Moilanen, Eetu Tuulola (Calgary Flames), Markus Nurmi (Ottawa Senators), Rasmus Kupari, Aapeli Rasanen (Edmonton Oilers), Eetu Luostarinen (Carolina Hurricanes), and Aleksi Heponiemi (Florida Panthers).
The Bottom Line
Finland desperately needs to rebound after an abysmal performance in 2017—one that saw them place ninth overall. They barely survived relegation in two showings against Latvia. Considering their roster options, though, it looks like they will perform somewhat better in 2018. Their weakest link might be their goaltending. Be watchful of that, and who ends up being their cornerstone in net. Whether it is Luukkonen or one of the other two, they will need to step up in a big way at the 2018 World Juniors. Luukkonen certainly has the potential and skill to do so.
Finland finishes off Latvia 4-1, will return for 2018 #WorldJuniors in Buffalo! Latvia is relegated. Story soon on https://t.co/SQ0XtyCVaw pic.twitter.com/xAO9sNOZ92

— 2020 IIHF #WorldJuniors (@iihf_wjc) January 4, 2017
Defense may be the strongest aspect of the Finns. With potentially four returning D-men from 2017, they were a stingy unit that year. Despite the team's limited offense, they only gave up 10 goals. With four solid defensemen returning, Finland will be solid on defense once more.
Here is THW's prediction as to who makes the final 23-man roster for Finland:
Goaltenders: Ukko-Pekka Luukkonen, Niilo Halonen, Lassi Lehtinen
Defense: Miro Heiskanen, Eemeli Rasanen, Juuso Valimaki, Robin Salo, Olli Juolevi, Urho Vaakanainen, Henri Jokiharju
Forwards: Eeli Tolvanen, Kristian Vesalainen, Otto Koivula, Janne Kuokkanen, Sami Moilanen, Eetu Tuulola, Aapeli Rasanen, Aleksi Heponiemi, Eetu Luostarinen, Jerry Turkulainen, Joona Koppanen, Markus Nurmi, Rasmus Kupari.
---
All the 2018 World Junior Championship Team Information:
Czech Republic — Team Preview — Roster
USA — Team Preview — Roster
Russia — Team Preview — Roster
Belarus — Team Preview — Roster
Canada — Team Preview — Roster
Denmark — Team Preview — Roster
Finland — Team Preview — Roster
Switzerland — Team Preview — Roster
Slovakia — Team Preview — Roster
Sweden — Team Preview — Roster