Canada would love nothing more than to take the gold medal on American soil. After the United States defeated the Canadians in the 2017 gold medal game 5-4 in a shootout, their neighbors of the north were in agony to have come so close and just fall so slightly short. To have it happen in hallowed Montreal was even a tougher pill to swallow. To say that there might be old scores to settle in Buffalo is likely an understatement.
As far as Canada is concerned, what is good for the goose is good for the gander. It is their time and opportunity to return the favor to the United States. Tit for tat in its truest sense. Canada has not won a gold medal since 2015. For the rightful birthplace of hockey, that is far too much time to have elapsed. They want gold and they want it in Buffalo.
Goaltending
Canada is one of the few teams to have named more than three goaltenders to their 32-man preliminary roster. At most, only three of those goalies will make the final cut. Michael DiPietro is the odds on favorite of the four possible choices. And why wouldn't he be? The 18-year-old third round selection of the Vancouver Canucks in 2017 has been incredible throughout his junior career with the OHL's Window Spitfires.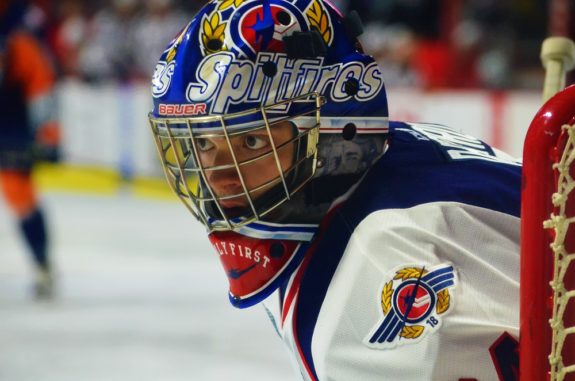 Last year, in 2016-17, DiPietro backstopped Windsor to the Memorial Cup championship, and was named the tournament's Most Outstanding Goaltender. At 6-feet and 200 pounds he has near perfect goaltending size. In 51 games last year he had 30 wins, and put up numbers of 2.35 goals against and .917 save percentage. DiPietro may very well be the best of any goaltender in Buffalo.
Carter Hart is one of only seven players from Canada's 2017 junior team that is potentially making a return — it is pretty safe to say that he will. Hart played in four of Canada's seven games last year, including the gold medal loss to the United States. In those four games he was a 2.38 and a .906 in net. The second round selection in the 2016 draft by the Philadelphia Flyers has an incredible 1.32 goals against and a whopping .961 save percentage in 17 games this year with his junior club, the Everett Silvertips of the WHL.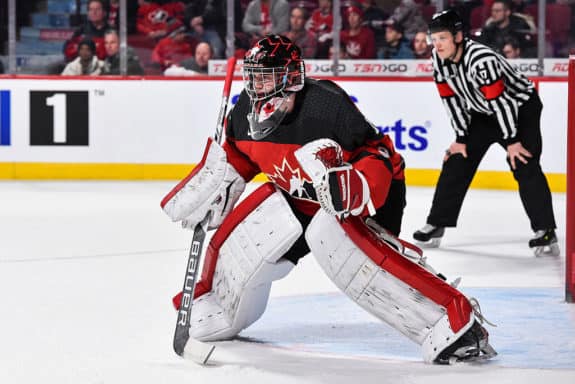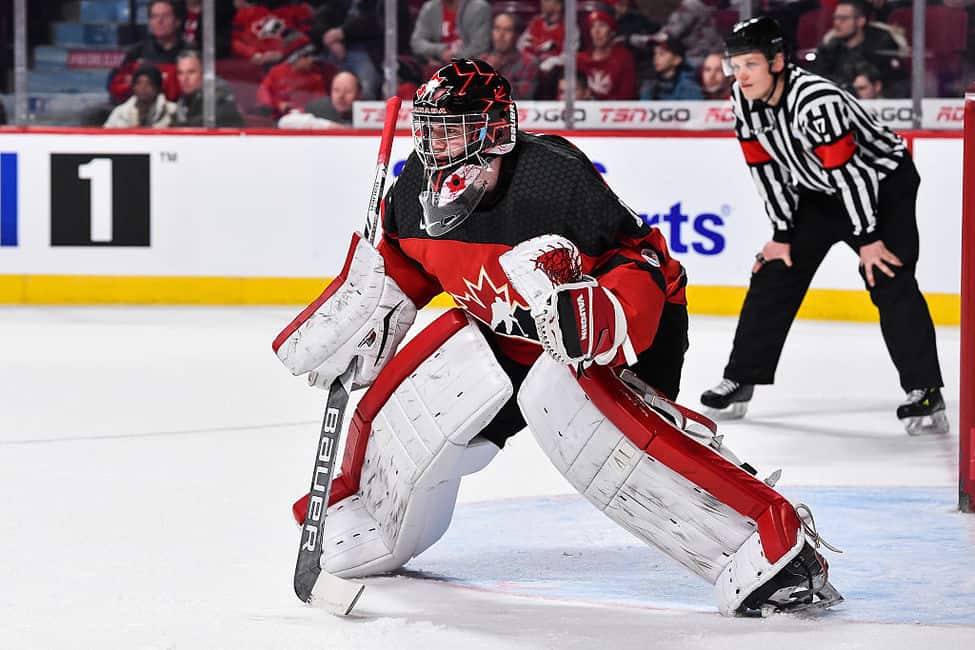 Colton Point and Samuel Harvey are the other two possibilities in net. Harvey has played four straight years with the Rouyn-Noranda Huskies. Each year his save percentage has improved. Currently in 2017-18 Harvey has played in 24 QMJHL games and has a record of 16-4-1, to go with a .921. Point has been remarkable for the NCAA's Colgate Red Raiders. A fifth round selection in 2016 by the Dallas Stars, he presently has a 1.90 goals against and .938 save percentage for Colgate. Point is also a big boy too, at 6-foot-4 and close to 220 pounds.
Defense
You will not find many better defenseman (if any) at this tournament than Jake Bean. One of three blueliners returning from 2017, Bean was the 13th overall selection of the 2016 NHL Draft. The Carolina Hurricanes found themselves a heck of a gem. In his four seasons with the Calgary Hitmen, he has been nearly a point per game defender. 173 points in 186 games to be exact. Bean scored 24 goals from the backend during the 2015-16 WHL season.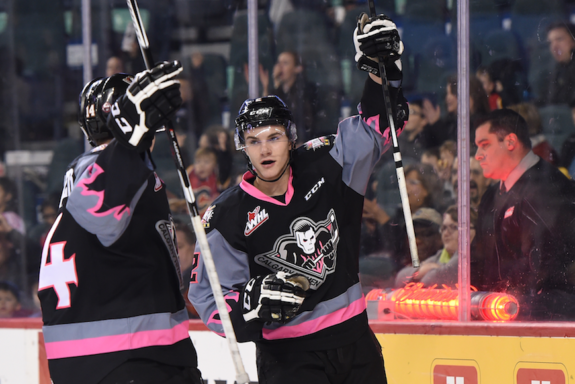 Cal Foote would be an ideal selection for this team as well. Much like his Cup-winning father (Adam), the younger Foote plays the same robust, tough-as-nails style. He has the size to back it up too at 6-foot-4 and around the 215-pound mark. Foote was a first round selection (14th overall) by the Tampa Bay Lightning over the summer. His finest junior season for the WHL's Kelowna Rockets came last season when he tallied 51 assists in 71 games.
Canada has a true giant on their blueline with Logan Stanley, and he is not a gentle one on the ice. At 6-feet-7-inches and over 230 pounds, Stanley could physically manhandle the opposition in Buffalo. Not a force that you want to awaken. Stanley is presently playing for the Kitchener Rangers after coming over from three seasons with the Windsor Spitfires. He has seven goals and 18 assists in 29 games for the Rangers, in addition to 58 penalty minutes. He had 103 PIMS in 64 games for Windsor in 2015-16.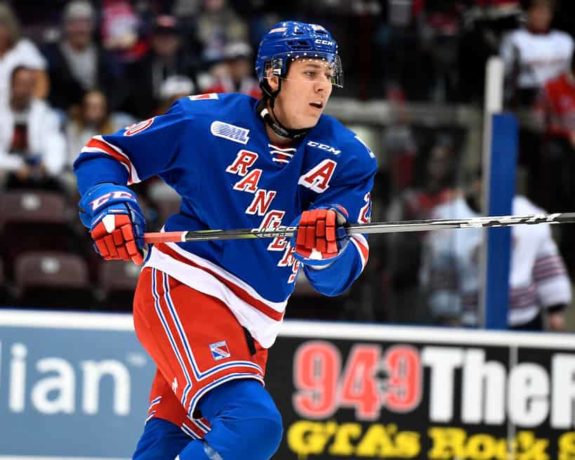 The other defenders up for consideration are Kale Clague (Kings), Dennis Cholowski (Red Wings), Cale Makar (Avalanche), Josh Mahura (Ducks), Dante Fabbro (Predators), Conor Timmins (Avalanche) and Mario Ferraro (Sharks).
Forwards
Michael McLeod, Dillon Dube, and Taylor Raddysh are the three returning forwards from the '17 team.  McLeod is a first round draft choice, having been selected 12th overall in 2016 by the New Jersey Devils. Dube and Raddysh also were chosen in 2016 but went in the second round to the Calgary Flames and Tampa Bay Lightning respectively. All three are capable of immense firepower. Raddysh is fresh off of a 109-point season in just 58 games for the Erie Otters in 2016-17. All three will be in Buffalo in 2018. No question.
All of the other possible choices at forward for Canada are just as exciting to put onto this roster. Take Cody Glass for example. Selected sixth overall this summer by the Las Vegas Golden Knights, Glass is just an incredibly intelligent player. He plays both ways, thinks steps ahead and is very difficult to strip the puck off of. He already has 20 goals and 28 assists in just 30 games this year for the WHL's Portland Winterhawks. Vegas could very well have drafted the face of their franchise.
Rink Trained @GlassCody12 named to the @HockeyCanada National World Junior Camp! Congrats Cody! pic.twitter.com/BDRIX7ZsxR

— RINK Training Centre (@RINKTrainingCtr) December 6, 2017
Sam Steel is another one of the seemingly endless elite caliber players available to Canada. Steel was taken by the Anaheim Ducks in the first round of the 2016. He has served as an alternate captain for the Regina Pats in 2015-16 and 2016-17, and is presently the team captain this year. Last season, '16-17, he compiled 50 goals and 81 assists in just 66 games.
Any one of the aforementioned players is capable of blossoming into a superstar. They are surrounded by numerous other talents for Canada, including Brett Howden (Lightning), Jordan Kyrou (Blues), Robert Thomas (Blues), Nick Suzuki (Golden Knights), Tanner Kaspick (Blues), Alex Formenton (Senators), Drake Batherson (Senators), Jonathan Ang (Panthers), Maxime Comtois (Ducks), Jonah Gadjovich (Canucks), Boris Katchouk (Lightning), Kole Lind (Canucks), and Tyler Steenbergen (Coyotes). The entire selection of Canada's forwards have been drafted by NHL teams.
The Bottom Line
If they want it badly enough, the gold medal in Buffalo will belong to Canada. They are the most talent-laden team of any nation in the tournament.Team Canada has every aspect of the game covered. Size, firepower, two-way play, hockey smarts, crisp passing. The list could go on, but there is no need — Canada on paper is extremely dominant. But now they need to assemble all of those attributes with the glue of drive and a will to win.
You also need cohesion. While nearly every player on the preliminary roster could be considered a star, the question becomes, "Well, how well do these stars play together?" That remains to be seen. Team Canada coaches and management will need to find the appropriate recipe. If they are able to do so then Canada will be able to claim victory.
Here is THW's prediction as to who makes the final 23-man roster for Canada:
Goaltenders: Michael DiPietro, Colton Point, Carter Hart.
Defense: Cal Foote, Jake Bean, Logan Stanley, Kale Clague, Dante Fabbro, Cale Makar, Dennis Cholowski. 
Forwards: Sam Steel, Dillon Dube, Michael McLeod, Cody Glass, Taylor Raddysh, Brett Howden, Robert Thomas, Nick Suzuki, Maxime Comtois, Jonah Gadjovich, Boris Katchouk, Kole Lind, Tyler Steenbergen.
---
All the 2018 World Junior Championship Team Information:
Czech Republic — Team Preview — Roster
USA — Team Preview — Roster
Russia — Team Preview — Roster
Belarus — Team Preview — Roster
Canada — Team Preview — Roster
Denmark — Team Preview — Roster
Finland — Team Preview — Roster
Switzerland — Team Preview — Roster
Slovakia — Team Preview — Roster
Sweden — Team Preview — Roster