With the World Junior Championships set to kick off this week, the United States have announced the roster they'll be sending to the tournament to defend their title of World Champions from a year ago (a roster that looks pretty similar to the one that was previewed on THW in the past). Winning a gold medal for your country is an honor that simply can't be put into words, and it's for that reason that this tournament means so much not just to the fans watching worldwide, but also to the young players who give their all every year to represent their country on such a large scale.
Final 2018 U.S. National Junior Team roster announced: https://t.co/Tfzvn7dWUH#USAWJC 🇺🇸 pic.twitter.com/RxLhSkUe1Q

— USA Hockey (@usahockey) December 23, 2017
"We're excited about these 23 players that will represent the United States on home ice in Buffalo," said Jim Johannson, general manager of the 2018 U.S. National Junior Team and also the assistant executive director of hockey operations for USA Hockey. "With depth at every position, the decisions we made today were very difficult and that is a credit to development of talent throughout the country. Our players and staff are excited to be in Buffalo and for the tournament to get underway."
In putting together their team, the United States compiled a roster complete with 13 forwards, seven defenders and three goalies. Out of the 23 players on the roster, seven are returning players who were part of the gold-medal winning squad last year. 16 players on the roster have represented the US in IIHF tournament play in the past. With that much experience on the roster, the United States have put themselves in a good position to look for back-to-back gold medals.
United States Goaltenders
Jake Oettinger (Boston University), Joseph Woll (Boston College), Jeremy Swayman (University of Maine)
There was never any doubt that both Jake Oettinger and Joseph Woll would make the team despite some inconsistencies that they've both experienced at Boston University and Boston College respectively. Woll's experience in net could land him the first look in net for the United States but Oettinger's upside is something that simply can't be ignored. It's a good problem to have as both netminders are tremendously talented and can be relied upon to backstop the US to a gold medal win. If they happen to struggle, however, Swayman is a goalie that shouldn't be overlooked.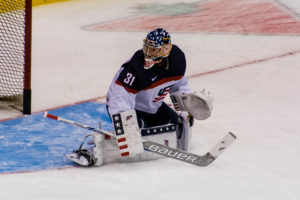 Rounding out a very New England-themed crease, Swayman has been excellent at the University of Maine this season as a freshman. While he likely won't see any time in net during the tournament due to his role on the team relative to his fellow goaltenders, his presence alone should instill confidence in fans of Team USA as Swayman is a more-than-capable option in net should he need to take the reigns.
Though the entire United States' roster looks strong, their depth in net might be their strongest attribute. Three drafted goaltenders – Oettinger in the first round by the Dallas Stars in 2017, Swayman in the fourth-round by the Boston Bruins in 2017 and Woll in the third-round by the Toronto Maple Leafs in 2016, the crease should be in good hands throughout the tournament regardless of who lands each start.
Defensemen
Mikey Anderson (University of Minnesota Duluth), Adam Fox (Harvard University), Quinn Hughes (University of Michigan), Andrew Peeke (University of Notre Dame), Scott Perunovich (University of Minnesota Duluth), Dylan Samberg (University of Minnesota Duluth), Ryan Lindgren (University of Minnesota).
The United States will two blueliners wearing an "A" on their jerseys for the tournament in Aam Fox and Ryan Lindgren. Two polar opposite defenders in terms of what they'll be asked to do in the tournament, Fox, a third-round pick of the Calgary Flames in 2016, will be tasked with providing some much-needed offense from the backend. Lindgren, a second-round pick of the Boston Bruins in 2016, will be tasked with a shutdown role similar to the one that fellow-Bruins second-round draft pick Brandon Carlo was tasked with doing for the US in the past.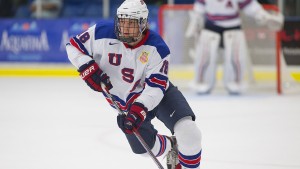 Two players who can make a name for themselves this tournament are Quinn Hughes and Scott Perunovich. Despite being undersized, Hughes is an excellent playmaker on the blue-line who could be the most skilled defender joining the United States at the tournament.
His offensive instincts and smooth skating should make him invaluable to the team and he could raise his draft stock in the process as he's eligible to be drafted in 2018. He will have to work on turnovers, but that's to be expected from a young, offensive-minded defender.
Similarly to Hughes, Perunovich's size can be considered an issue as the 5-foot-10, 170-pound defender was passed on in the 2017 NHL Entry Draft. Still, his speed shouldn't be understated. With such good speed and remarkable offensive instincts, Perunovich excels with the puck on his stick. What he brings in offense, however, he lacks in defense due to his lack of size – likely a big reason for teams passing on him in the draft. If he wants to get himself back on the map, he'll need to make the most of the minutes he gets in the tournament and focus on doing what he does well.
Jack of All Trades
In contrasts to much of the United States' blue-line, Andrew Peeke plays in a more defensive-minded role. His ability in his own zone should translate to minutes on the ice as well as he can be trusted in crunch time with the likes of Lindgren and even Mikey Anderson. One of the more hands-on players on the roster, Anderson brings a level of physicality that others on the blue-line simply don't. Whether he gets a lot of ice time or not, he should be counted on for some crucial minutes throughout the tournament given his solid nature.
Dylan Samberg is another player who may not excel in one particular area but who has raw ability that has yet to be truly tapped into just yet and can make an impact in multiple ways. A second-round pick in 2017, expect the Minnesota Wild to watch Samberg closely throughout the tournament to see if his booming shot can make a difference in the tournament.
Forwards
Joey Anderson (University of Minnesota Duluth), Kieffer Bellows (Portland Winterhawks), Logan Brown (Windsor Spitfires), Trent Frederic (University of Wisconsin), Patrick Harper (Boston University), Max Jones (London Knights), Will Lockwood (University of Michigan), Casey Mittelstadt (University of Minnesota), Josh Norris (University of Michigan), Ryan Poehling (St. Cloud State Univeristy), Brady Tkachuk (Boston University), Riley Tufte (University of Minnesota Duluth), Kailer Yamamoto (Spokane Chiefs).
One thing that stands out above all else when looking at the United States' forward group is the sheer number of first-round picks in the group. Out of the 13 forwards to make the roster, nine were first-round picks in either 2016 or 2017. That doesn't even include Brady Tkachuk who could find himself being taken in the top-five in the 2018 NHL Entry Draft. Another thing to note is the skill that the team possesses.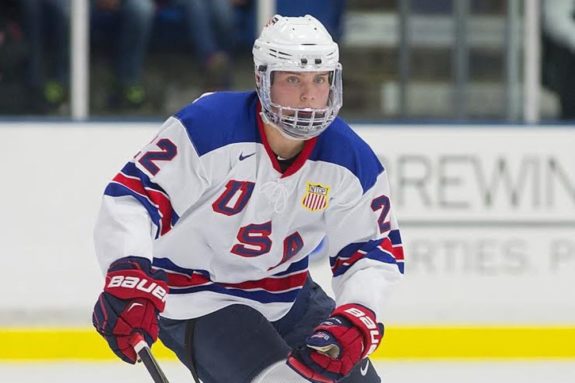 Joey Anderson, a third-round pick of the New Jersey Devils in 2016, will wear the "C" for the United States during the tournament. The decision was a no-brainer given how advanced he is for his age. Whether it's his high hockey-IQ, his disciplined play, his ability on the ice or his ability to make other elite players around him look even better, Anderson should be an integral part of the team both on and off the ice.
He'll be joined by Kieffer Bellows who will wear an "A" on his jersey this tournament and will be relied upon to contribute some big goals and plays as he proved he can do in 2017 during the gold medal game against Canada.
Trent Frederic will be joining fellow Bruins' draft picks Lindgren and Swayman on the United States roster and should play a similar role to Anderson and Josh Norris. With his solid size and elite passing ability, Frederic will be expected to play strong in the dirty areas and win board battles as he's known to do at Wisconsin.
Another big-bodied forward on the United States' roster is Logan Brown who will be a huge addition to the US roster this year. Missing the tournament last year due to an unfortunately-timed injury, Brown is a highly skilled centerman – an impressive feat. given his 6-foot-6, 218-pound frame.
Variety of Size Apparent for the US
Another large forward, Max Jones will be expected to play a power-forward role with the United States during the tournament in what should be a complementary energy role. He likely won't be relied upon for scoring during the tournament but his presence on the ice alone should justify his place on the team. His style of play could make him a fan-favorite by the time the tournament is over. Similarly, Tkachuk should be relied upon as a power forward though his skillset and offensive ability could find him playing a more crucial role on the team.
The two most skilled and dynamic players on the United States' roster are Casey Mittelstadt and Kailer Yamamoto. Both first-round picks in the 2017 NHL Entry Draft, they could figure into the scoring early and often for the United States given their dynamic play and ability to create space for themselves and others around them.
Patrick Harper, like Yamamoto, is a smaller forward but excels in the skill side of the game. While he likely won't figure into the team's plans in quite the same way as Yamamoto, Harper should see time in the United States' lineup nonetheless in a lesser capacity in hopes of bringing some dynamic play to all lines on the team. He could do well paired with a guy like Ryan Poehling who does all of the little things well. His offensive production isn't here it needs to be for him to see top-line minutes in the tournament, but his ability to make his teammates' lives easier will be important nonetheless.
Finally, Riley Tufte and Will Lockwood will bring some excellent speed for the United States in different ways. Tufte is a larger forward at 6 foot 5 and 227 pounds and should be counted on to play a physical role while dominating the board battles. Lockwood, on the other hand, could be a secret weapon on the penalty kill for the US given his excellent acceleration and top-speed.
The Bottom Line
With such a strong roster, it wouldn't be surprising to see the United States return to the gold medal game in 2018. Given how unpredictable the World Junior Championships have proven to be in recent years, however, there's the possibility that a top-team can fail to even make it past the round-robin portion of the tournament if they rest on their laurels and fail to give the tournament everything they have.
Talent and a strong roster can only get you so far and it's for that reason that games are played and not just projected based on likely outcomes. Anything can happen and the US will have to be ready for that if they plan on repeating as World Champions this year.
---
All the 2018 World Junior Championship Team Information:
Czech Republic — Team Preview — Roster
USA — Team Preview — Roster
Russia — Team Preview — Roster
Belarus — Team Preview — Roster
Canada — Team Preview — Roster
Denmark — Team Preview — Roster
Finland — Team Preview — Roster
Switzerland — Team Preview — Roster
Slovakia — Team Preview — Roster
Sweden — Team Preview — Roster
Brandon Share-Cohen has covered the NHL and various professional sports for seven years. Working with The Hockey Writers, Brandon works extensively on covering the Boston Bruins in addition to his role as the News Team Lead.