Will 2018 in Buffalo end up being another Cinderella-run for Denmark? It's unlikely, but after their unexpected fifth-place finish last year anything is possible. Head coach Olaf Eller will again be leading the charge for the Danes. Perhaps he can orchestrate similar chemistry to 2017's team and build some momentum with it. The fact that seven players are returning from Eller's previous squad is helpful.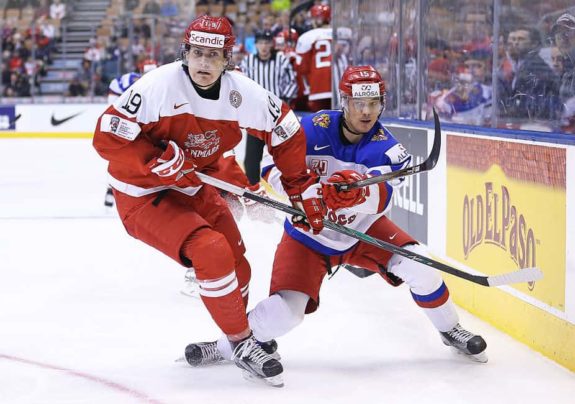 There is only one player on Denmark's roster from a Canadian junior team while four players play junior in the United States. The majority of the roster play hockey in their homeland. Regardless, Denmark has its fair share of enjoyable players to watch at this tournament. But how many will  be difference-makers?
THW examines Denmark's finalized 23-man roster:
Goaltenders
Emil Gransoe (Topeka RoadRunners), Kasper Krog (SonderjyskE Vojens), Mads Sogaard (Austin Bruins). 
Kasper Krog is likely to be the starting netminder for Denmark. He is diminutive at 5-foot-9 and approximately 175 pounds. A good comparison to Krog might be Arturs Irbe or Mike Vernon in terms of size and style. He played in three tournament games last year including a win over Finland. In Krog's three games he had a mediocre 3.27 goals against average, but his save percentage was quite good at a .920%. That number was the third highest save percentage of any goalie in last year's tournament.
 Mads Sogaard, who turned 17 years old 13 days prior to the tournament's start, is one of the youngest players but is also one of the largest. At 6-feet-6-inches and just shy of 200 pounds, he is likely to function mostly in a backup role for Denmark. Sogaard plays in the NAHL with the Austin Bruins. In 10 games this season, he has a 3.01 GAA and a .901 SV%.
Correction: @mads_sogaard in between the pipes tonight. #BearWitness pic.twitter.com/Q9YPDp2Sqm

— Austin Bruins (@theaustinbruins) October 14, 2017
Emil Gransoe may see some playing time in net for Denmark. He was on last year's team but took on the tertiary role of the three goaltenders and saw no game action. Gransoe has played the last two years in the NAHL with the Topeka Roadrunners. Gransoe has 17 appearances this season with a 3.48 GAA to go with a rather decent .910 SV%.
Krog should be Denmark's go-to netminder, but Gransoe might see some action too this time around.
Defensemen
Rasmus Birk Heine (Rodovre Mighty Bulls), Jakob Jessen (Herning Blue Fox), Christian Harris Larsen (Odense Bulldogs), Lasse Holm Mortensen (Rodovre Mighty Bulls), Oliver Paaske Larsen (Leksand Stars), Malte Setkov (Malmo Redhawks), Jeppe Mogensen (AIK Stockholm).
Oliver Paaske Larsen is a mainstay on the Denmark defense and likely their best blueliner. He has been representing his country in international play since 2013 and has done quite well. Playing in 16 games this season for Leksands IF, a team in Sweden's second highest hockey league, Paaske Larsen has a goal and an assist, and is a plus-5.
The big man on defense for Denmark is Detroit Red Wings prospect Malte Setkov. A towering 6-feet-6-inches, the Red Wings drafted him in the fourth-round of the 2017 NHL draft. The bulk of Setkov's season has been played in the same league as Paaske Larsen, but with IK Pantern. He has a lone assist through 12 games. Setkov's size is the most obvious attribute that he brings to the Danes.
Malte Setkov talks about being drafted by the #RedWings. #DRWDC #LGRW pic.twitter.com/DMiC05C2Sx

— Detroit Red Wings (@DetroitRedWings) July 7, 2017
Lasse Holm Mortensen is another one of the younger players at this tournament, turning 17 back in July. He is also a good-sized defender. Holm Mortensen stands at 6-foot-3 and about 190 pounds. He has nine games this season in Denmark's top league with the Rødovre Mighty Bulls with two assists to his credit.
Forwards
Andreas Grundtvig (Esbjerg Energy), Christian Wejse Mathiasen (Esbjerg Energy), Christoffer Gath, (Herlev Eagles), Daniel Baekhoj Nielsen (Herning Blue Fox), David Madsen (Vaxjo Lakers), Jacob Schmidt-Svejstrup (Fargo Force), Joachim Blichfeld (Portland Winterhawks), Jonas Rondbjerg, (Vaxjo Lakers), Lucas Andersen (Jokerit Helsinki), Magnus Molge (Malmo Redhawks), Nikolaj Krag-Christensen (Rungsted), Phillip Louis Schultz (Rodovre Mighty Bulls), Valdemar Ahlberg (Austin Bruins).
One of Denmark's most pivotal players will be Nikolaj Krag-Christensen. The St. Louis Blues made him the 209th selection in the 2016 draft. At 6-foot-3 and roughly 200 pounds, you have to love Krag-Christensen's size most of all. This is the third and final World Juniors U20 tournament for Krag-Christensen. Last year, he assembled two goals and two assists in five games. The Danes will desperately need that same sort of output in 2018.
2016 draft pick Nikolaj Krag Christensen gets his first official #stlblues headshot with @scottrovak. #ProspectCamp pic.twitter.com/tGhu5l2BQI

— St. Louis Blues (@StLouisBlues) July 6, 2016
Jacob Schmidt-Svejstrup must also be considered one of the best players for Denmark. Committed to play NCAA hockey for the Maine Black Bears, Schmidt-Svejstrup has torn up both the NAHL and the USHL. Last year with the Coulee Region Chill of the NAHL, he had 15 goals and 12 assists for 27 points in 26 games. This year, he has 29 points in 23 games with 17 goals and 12 assists for the USHL's Fargo Force. Like Krag-Christensen, the Danes will need big-time production from Schmidt-Svejstrup in order to do well.
Joachim Blichfeld is another fine young forward for Denmark. The San Jose Sharks took note and drafted him in the seventh round of 2016. Blichfield has played exceptionally well in the WHL for the Portland Winterhawks. He is nearly a point per game player with 41 goals and 47 assists in 89 WHL games. Capable of playing either the right or left side, Blichfield needs to score in this tournament.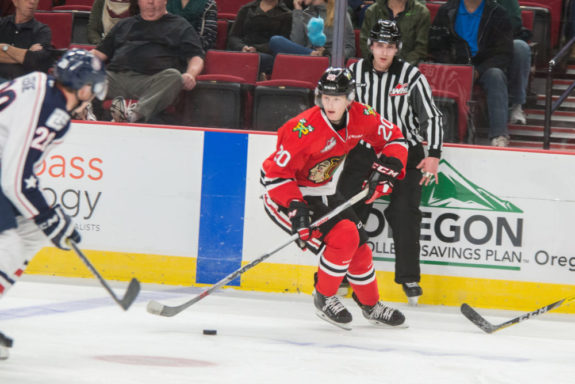 Another Austin Bruins player to be participating in Buffalo is Valdemar Ahlberg. At 6-feet-2-inches and over 200 pounds, Ahlberg is solid. He has had decent numbers in the NAHL this year with four goals and six assists in 24 games.
The Bottom Line
Do not expect another Cinderella story from the Danes this year. While it is always exciting when an underdog team goes on a wild run, it doesn't seem to be in the cards for the Danish squad this year. They are a young team, but with some underappreciated size and power, both up front and on their back end.
Schmidt-Svejstrup, Blichfield and Krag-Christensen are certainly capable of doing some damage. Krog can steal games in net too. Because that is the case, Denmark should safely avoid relegation in Buffalo. Look for them to finish seventh or eighth.
---
All the 2018 World Junior Championship Team Information:
Czech Republic — Team Preview — Roster
USA — Team Preview — Roster
Russia — Team Preview — Roster
Belarus — Team Preview — Roster
Canada — Team Preview — Roster
Denmark — Team Preview — Roster
Finland — Team Preview — Roster
Switzerland — Team Preview — Roster
Slovakia — Team Preview — Roster
Sweden — Team Preview — Roster