With all the pucks the Winnipeg Jets have pumped past opposing goalies, you'd think one of them would've come off the stick of Dustin Byfuglien by now. Shockingly, you would be wrong.
Byfuglien has missed the past seven games with an injury. He sat out two games early in the season as well and hasn't had his usual offensive success since returning. He has no goals through 28 games this year.
Byfuglien hasn't been completely offensively defunct, as his 15 assists pace all Jets defenders, but the goals haven't been there for him. It's quite a striking contrast for a player who's hit double-digit goals in five of his six seasons as a Jet so far and six of seven as a defenseman. The only year he missed was the lockout-shortened 2013 campaign.
Byfuglien's importance to the Jets is often overlooked, but consider that they've gone 3-3-1 in his most recent absence, and it's hard to argue that he hasn't been important to the team. They need him back, and they need him back to his old self.
#NHLJets D Josh Morrissey on being without Dustin Byfuglien for the next few weeks: pic.twitter.com/CQ7JZoJhdu

— Ken Wiebe (@WiebesWorld) December 12, 2017
The Jets must hope he'll be back soon, as he was week-to-week and supposed to be out until after Christmas. It's a somewhat vague timeline, and even vaguer diagnosis (standard procedure in the NHL) but we are, well, after Christmas.
The Jets could use him, and they could use him as he was at times last year. They need the big hitter with a mean streak and a booming shot. They need their highest-scoring defenseman from every year since their return.
Is Byfuglien Slowing Down?
It's been a down year for Byfuglien on paper, at least at first glance. But a deeper look indicates that, for the most part, he's been his usual self.
He's still second on the Jets in hits with 74, despite having played nine fewer games than leader Brandon Tanev. His advanced stats at five-on-five are down from years past but are still positive. His 15 assists pace the team's blueliners. This is not the decline of Dustin Byfuglien.
The list of defenseman who are having uncharacteristically poor offensive seasons is unusually long this year. Joining Byfuglien in the no-goals club are Duncan Keith and Ryan McDonagh.
Brent Burns took until Nov. 24 to pot his first goal of the year. Erik Karlsson's struggles, likely tied to his recent injury, have been magnified since the Senators have faltered. It has been a tough year for many of the usual suspects among high-scoring NHL defenders.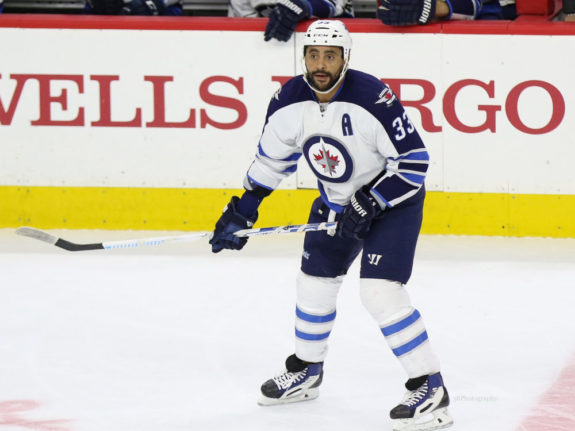 It's not like Byfuglien hasn't been shooting the puck either. His 69 shots in 28 games are well-down the Jets depth chart, but second among defensemen despite having played nine fewer games than Jacob Trouba, who leads in that area with 89.
This may be a function of deferring to Patrik Laine. Where once Byfuglien was the Jets' heaviest shooter on the power play and their best five-on-four weapon, that honor now belongs to the young Finnish sniper.st
Byfuglien's power-play goals have been trending down since 2013-14, and that hasn't dipped his goal or point totals significantly yet. He's been consistently over 50 in the point department in recent years, except when he missed 13 games in 2014-15.
Some have pointed to Byfuglien's mega-contract of 2016 as the moment where his game slowed down, but he scored a grand total of one point fewer in 2016-17 than in 2015-16. More likely he's just hit an incredible run of bad luck.
Byfuglien Could Elevate Jets to Dominance
As mentioned above, the Winnipeg Jets have had no trouble putting the puck in the net this year. Two of their defensemen, Josh Morrissey (who's having a quietly brilliant season) and Tyler Myers, are easily on pace for double-digit goals, and four of their forwards have done so already.
The Jets have been a lesser team without Byfuglien in the lineup, no doubt about it, yet they've still kept above water. Once they get him back, seeing as he historically drives possession and scores a ton, they could be downright scary.
Dustin Byfuglien has scored 20, 18, 19 and 13 goals the past four years. He has 0 in 18 games this year. Jets still winning, and when he starts scoring they should be even better. #NHL

— Jason Gregor (@JasonGregor) November 21, 2017
Consider that the Jets have accomplished all they've accomplished this year in a down-season for arguably their best defenseman. By comparison, a down season by Ottawa's best defenseman has moved them from a conference finalist to a strong candidate for a lottery pick.
The Jets have endured a tough stretch of late, and only in the loss to the Islanders did they look really outclassed. Even in that game, they still managed 40 shots to the Isles 29. They've fought through Byfuglien's absence in games against tough teams as best they could and as well as could be expected.
Now it's almost time for the big man with the big shot and the bigger hits to step back into the lineup. The Jets opponents should be very nervous of what they can do if the 33 train gets rolling again.
A long time hockey fan and player from Winnipeg, Manitoba. Play-by-play man with the SJHL's Estevan Bruins. Graduate of Red River College's Creative Communications program with a major in journalism. Former PxP man for the University of Manitoba Bisons. Lover of all things Jets and Avs related and always looking for a good hockey debate.