The NWHL is just about at it's halfway point with each team having played seven of their 16 games, and now we are halfway through the 20-day holiday break. There have been a ton of storylines and exciting performances during the 2017 portion of the third season of the league and we'll highlight a few of the most notable ones for each of the Founding Four teams before we turn the calendar to 2018.
*Of note: two of the major off-ice stories during the first three months were the NHL's New Jersey Devils becoming business partners with the Riveters and the owners of the Buffalo Sabres purchasing the Beauts — and both are major confidence boosts for a league still in its infancy stage.
The first two seasons saw the Boston Pride and the Buffalo Beauts square off in the Isobel Cup Final, will that become a trilogy? Or will we see one or both of the other two franchises play for a chance to claim the NWHL championship in mid-March? Can the Metropolitan Riveters do what the Pride couldn't last season and complete an undefeated season? Can the Beauts accomplish what Boston couldn't when they failed to win back-to-back championships? Or will the Whale ride the wave of a goalie's hot hand to the Cup?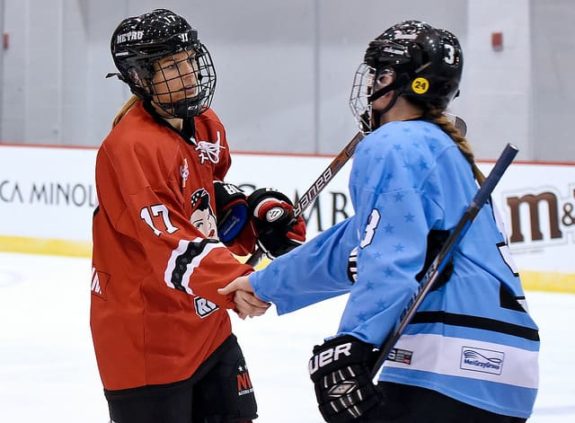 Connecticut Whale 2-5-0, 4 points
The league's lowest scoring team with only 11 goals has played in a league-high three one-goal games (2-1-0) thanks to the brilliance of their number one netminder Sydney Rossman – who has been the Whale's best player through seven games. Their blueliners have yet to chip in any goals and have a handful of assists, but they've sacrificed their bodies to block shots and Elena Orlando leads the league with 16, with her teammates Cydney Roesler (9) and Shannon Doyle (8) not far behind.
Up front despite the lack of scoring Kelly Babstock is doing Kelly Bastock things and leads Connecticut with six points (2g-4a), leads the league with 32 shots on goal and has won the second most face-offs in the league. Rookie dynamo Emily Fluke has added five points (2g-3a) and is fourth overall in the NWHL with 24 shots. In their last game Fluke's line with Meghan Huertas and Amanda Boulier was fantastic and if they can build off that success going forward the Whale should rack up more wins.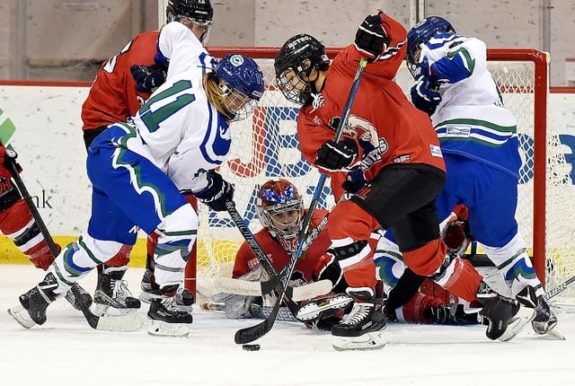 Boston Pride 2-4-1, 5 points
Boston found themselves in an unfamiliar position early on during the season winless in their first four games (0-3-1) and didn't pick up their first victory until December 2. The new captain, Jillian Dempsey has been spectacular and one of the league's most underrated players is a point-a-game player for the Pride so far: 7 points (3g-4a) in 7 games; she's also second among all active players (fifth overall) on the NWHL's all-time scoring list with 36 points. Haley Skarupa chipped in five points over four games before leaving the team when she was a late selection to join Team USA's quest for a gold medal at the 2018 Winter Olympics.
The Pride defense has added some offense, with a total of 14 points led by Alyssa Gagliardi's first two NWHL goals and five points. They've recently added Kaleigh Fratkin to their roster and like Meagan Mangene, she has played both forward and defense in this league. Summer free agent signings Paige Harrington and Kaliya Johnson have registered two assists apiece from the backend. In goal, Brittany Ott has gotten the lion's share of the play in net and is second in both save percentage and GAA among the league's four starting netminders.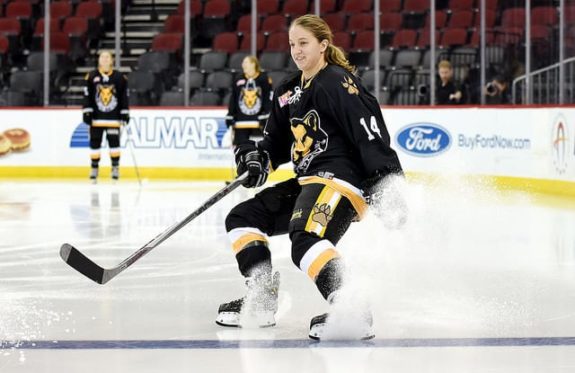 Buffalo Beauts 3-4-0, 6 points
The defending champions have hit some bumps in the road to a repeat – including a three-game losing skid and losing three games to the Riveters by a combined score of 16-7. The Beauts two leading scorers each have six points in the six games they've played: rookie Maddie Elia (1g-5a) and veteran Kourtney Kunichika (1g-5a), with the latter now 7th all-time on the NWHL points list (34 points). Rookie Taylor Accursi is fourth in the league in goals (5) and leads the league in power-play goals (3).
In net Amanda Leveille has surrendered the most goals of the league's four starting goalies, but she's also faced the most shots of the four by a wide margin, and she's played every minute for all seven of Buffalo's games. On the blueline, Sarah Edney is one of only two skaters on the team (Corinne Buie) to have appeared in every game and she has three points (1g-2a) after leaving the CWHL to help defend the Beauts' crown.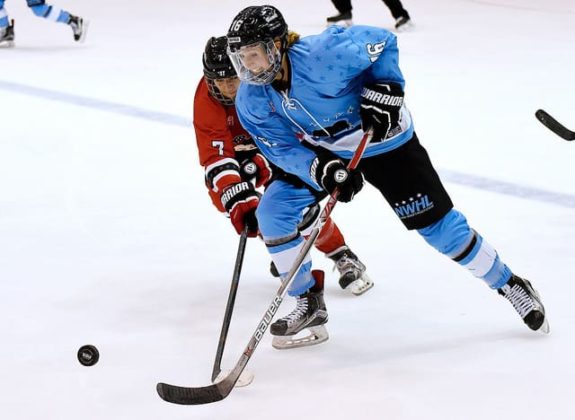 Metropolitan Riveters 7-0-0, 14 points
The Riveters lead the league in everything right about now, and they have the top-five scorers in the NWHL – led by 1st half MVP Alexa Gruschow who has taken her game to another level. In her second pro season, she has already surpassed her entire point total last season and is the league's leader in points (13), goals (7), game-winning goals (4), face-off wins (94) and is tied for the league-lead in plus/minus (+9).
Miye D'Oench (11 points), Rebecca Russo (8), Bray Ketchum (6) and Harrison Browne (6) have all been key components of the Rivs top-six and have looked unstoppable at times. Even more so when the defense is also contributing like they have been — Courtney Burke has already equaled last season's point total (11) with all assists, rookies Jenny Ryan (9) and Kelsey Koelzer (6) have fit in seamlessly, and vets Kiira Dosdall and Michelle Picard (4 assists/points each) have been a presence in all three zones. As a team, they've only trailed in two games for just over a period's worth of time: a total of 24:21.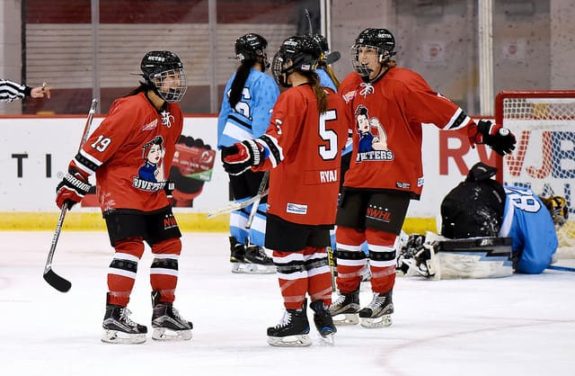 If Gruschow is indeed the MVP, then goaltender Katie Fitzgerald is a close second because the reigning Goaltender of the Year has gotten even better since last season ended. Not only is her record perfect, but she's only surrendered eleven goals and also has the only shutout this season. Metropolitan's defenders like to join in on the offense from time to time, and every time Fitzgerald has had their backs and saved their butts.
Dan Rice is in his 9th year of reporting for THW & has covered NJ Devils home games for 15+ years at various websites. He began his journey working for legendary broadcaster/writer Stan Fischler from 2002-04 & completed an internship at the ECHL; he also has been writing features for the NWHL (nwhl.zone) website since 2016.