Sometimes in hockey, the path you chose leads somewhere that you could have never imagined, which is one way to describe goalie Sydney Rossman's path to the NWHL. Born in Excelsior, Minnesota she would leave the 'State of Hockey' for Quinnipiac University in Connecticut and her stellar play in goal for the Bobcats opened the eyes of those in the NWHL. The Connecticut Whale drafted Rossman late in the 2016 NWHL Draft (5th round/19th overall) and got themselves a helluva goaltender that maybe they wouldn't have if she pursued playing goal back home in the Midwest.
In her first season as a pro, she's opened even more eyes as she's guided the Whale to two wins over their first five games while showing off her agility and puck-tracking prowess. As followers of the third-year league know Connecticut has used Quinnipiac as sort of a pipeline for players — this season five former Bobcats are members of The Pod and last season there were six.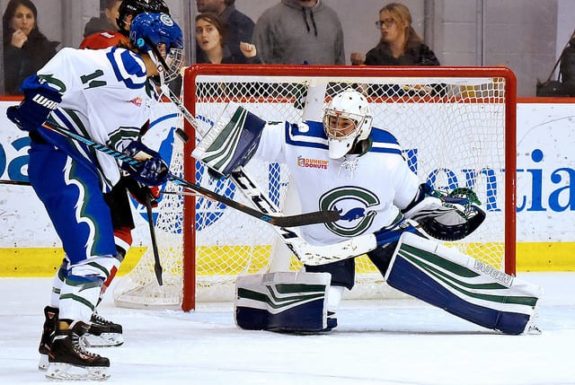 Rossman is one of seven players from the 2016 NWHL Draft active in the league this season (Kelsey Koelzer, Sydney Daniels, Jenny Ryan, Hayley Scamurra, Paige Savage, Maddie Elia) and she's most likely the most valuable to her team currently. Her play has given stability to a team that has seen a lot of different players come in, and a franchise that sorely needed a bonafide number one goaltender.
Following a game in New Jersey against the Metropolitan Riveters The Hockey Writers spoke with Sydney Rossman about her path from Minnesota to Connecticut, playing like a boss at QU, being a chatty goalie and more.
The Hockey Writers: So why did you want to become a goalie? Someone did tell you that the players would be shooting the puck at you right?
Sydney Rossman: (laughs) Yeah, I used to play knee-hockey in the basement with my brother who's a few years older than me and his friends, and they kind of just threw me in the net. From there I just turned into a goalie, and we do have cool gear. That's a bonus – the helmets, the pads, everything – the goalies are definitely the best looking ones on the ice gear-wise.
Thank you to @VaughnHockey & @NWHL for the new gear! Can't wait to get the season going with @CTWhale_NWHL 🐳 pic.twitter.com/doG3VGDzeI

— Sydney Rossman (@syd_rossman) August 31, 2017
Rossman a Boss as a Bobcat
THW: Your junior year at Quinnipiac you gave up a total of 35 goals in 38 starts?
SR: Sounds about right (laughs).
THW: That's pretty good…
SR: We had a really strong team that year defensively. Cydney Roesler was on that team, and we're obviously teammates here (with the Whale), but we were just a solid team all around. I didn't get a ton of shots, my D and forwards obviously covered up for me there. We were just a pretty special, unique team and I think that's what helped us be really successful.
THW: This team drafted you in the 2016 NWHL Draft after that phenomenal season of yours, is that something you thought about during your senior season at Quinnipiac?
SR: It's in the back of my mind but at the end of the day I still had a full season in front of me with a job to get done. So I was thinking about it and knew that I had some options after college. But the most important thing was my senior season.
THW: How cool of a feeling is it to 'have some options after college', which is something that a lot of women hockey player's haven't had until recently? How did you find out that you were drafted by an NWHL team?
SR: Yeah it is pretty cool. Through social media and from my coaches at Quinnipiac, who were contacted first to see if this was an option (I'd be interested in) because some girls don't want to play after college.
Home Away From Home
THW: You're originally from Minnesota, so how'd you find your way to Quinnipiac University in Connecticut?
SR: Just through hockey. I never even heard of the school until I visited during my sophomore year of high school I think. I had never been to the east coast, Minnesota is kind of its own little place out there. But I love the east coast obviously since I'm here for a fifth year while I'm still doing school stuff. I'm not ready to head back home just yet (smiles).
THW: Did that move east happen because there are so many talented players and so few spots in Minnesota at the DI level collegiately and you were able to find a starting spot in Connecticut?
SR: Yeah, most Minnesota girls stay and play in the WCHA, but I kind of wanted to try something new and as a goalie, you don't have a lot of options out there; timing-wise with the other goalies on teams. The east coast just seemed like my best option at the time.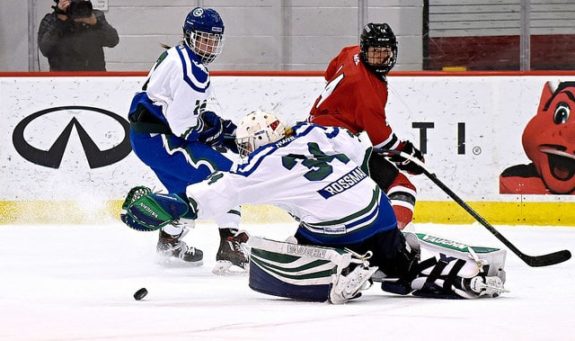 Whale-Cats
THW: You mentioned Cydney earlier, and there are some other Quinnipiac connections here with the Whale last season before you joined so is it safe to assume you knew about the team and league a bit during your senior season?
SR: Yeah, I went to a few games last year when they played in Northford, which is a little bit closer to where I lived. It was cool to see those girls move on after having such successful careers at Quinnipiac and have professional careers too.
#NWHL FREE AGENCY NEWS: The @CTWhale_NWHL have signed 2016 Draft Pick Sydney Rossman.

MORE: https://t.co/dnQa9154fN pic.twitter.com/0DL7Ee4Tje

— NWHL (@NWHL) May 15, 2017
THW: Did the fact that you know Cyd, and knowing Kelly Babstock make the decision that much easier for you to join the team?
SR: The fact that it's a team in Connecticut, near the school I went to, the people I worked with for four years, trained with, went to school with…it was really convenient and probably the best option I had going forward. I'm still doing my Masters, I'll be finishing up in May. I still work with the trainers at Quinnipiac off the ice. I'm able to skate around Hamden with some goalie coaches. This is just a really convenient place for me to be at this time.
Fins Up
THW: We also heard from one of your goalie partners, Keira Goin, that you and her coach together as well?
SR: Yup, I help out at Wesleyan a little bit, working with their goalies two mornings a week; and she's the assistant coach there. It's cool that we are together there and here as well.
THW: How would you assess your play this season? So far you've alternated wins and losses.
SR: It's up and down. I think we've surprised some people already with our two wins and our tough battles. I'm going to do my best to keep the puck out of the net, but at the end of the day we know that's not always realistic. Tonight I would've liked to have played a little better and have a few back but I think we're headed in the right direction.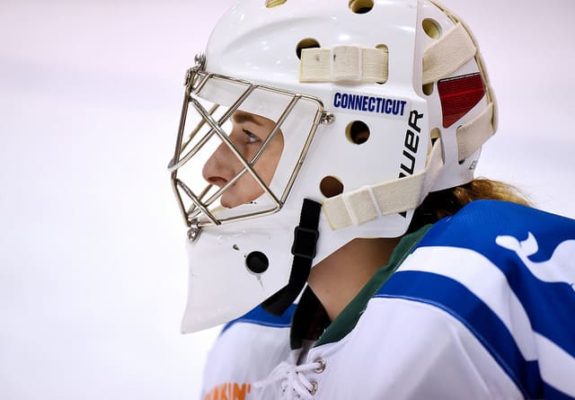 THW: We've been to four of your games now and noticed that you are a very vocal, or chatty goaltender; shouting instructions, or offering encouragement to teammates. Have you always been that way?
SR: Yeah I've always used my voice to stay in the game. I've noticed when I'm not talking as much I'm kind of checked out. So it's a way for me to focus more and if I'm contributing to my defense, whether they're in our zone or not, I think I can help our team win.
THW: So do you have nicknames for everybody?
SR: Yeah, a few here and there. But last names mainly.
THW: What have some of the adjustments been for you coming from college to the pro game?
SR: Obviously I played against some really talented players in college, but I think the difference with this league is that everyone is just bigger, stronger, older, more mature. You play with 17-year-olds in college and here there are some girls that are 30. So I think it's just a matter of the maturity level and the toughness, the physicality is definitely a huge part; they don't really let anything go in college, a more tight game. Here it's a little bit more aggressive and fast-paced, which I really like.
Dan Rice is in his 9th year of reporting for THW & has covered NJ Devils home games for 15+ years at various websites. He began his journey working for legendary broadcaster/writer Stan Fischler from 2002-04 & completed an internship at the ECHL; he also has been writing features for the NWHL (nwhl.zone) website since 2016.