Like snowflakes, no two goalies are alike; but they are a lot alike in one way. They're all a bit, let's just say – different. They have to be to stand in front of frozen chunks of vulcanized rubber, AKA pucks, being constantly and intentionally shot at them at high rates of speed, right? Okay, they're weird; there, we said it. Not that that's a bad thing. They all have great personalities and Mandy Leveille of the Buffalo Beauts is no different.
When we opened the interview with the 22-year-old goaltender asking if, in fact, goalies were weird, she smiled and said, "I don't want to say it but, other people might think we're weird. But we're pretty normal; in a weird way."
I donut understand why people think goalies are weird. pic.twitter.com/AXInQhWNcl

— Amanda Leveille (@MandyLeveille29) October 6, 2016
In fact, without the NWHL (which was established in 2015), maybe some of us would have never gotten to see just how goofy Leveille is. If you're on social media, you may have seen a sample of some of the shenanigans that she and her puck-stopping teammates (Kelsey Neumann and Brianne McLaughlin) have gotten into since September. We can only imagine what else they have in store as we move along throughout the season.
More on that below as The Hockey Writers caught up with Buffalo's rookie netminder prior to their game against the New York Riveters (a 25-save, 5-3 win by Leveille) to find out more about her outstanding collegiate career, some of her favorite goalies and the adjustment of transitioning to the pro game among other topics, like shenanigans.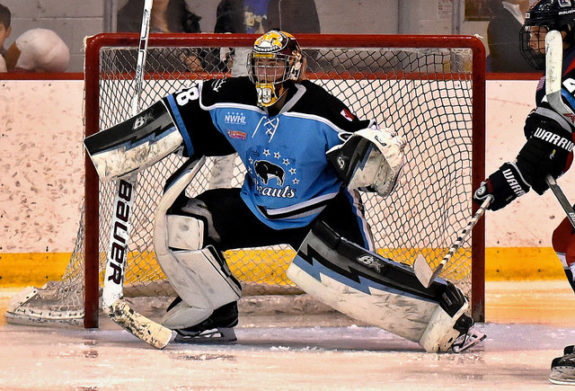 Just Another Weird Goalie
The Hockey Writers: So do you have a routine and things that you always do when you are getting ready for a game or practices?
Amanda Leveille: Yeah definitely, but not necessarily rituals; I call them routine. I like to do the same thing, on and off the ice, before every game just to get myself prepared because whether you play at home or on the road – if you can have something that's the same and constant, it calms your nerves and gets you ready. The facilities are going to change where you go, but if you have a set routine you'll be ready and your preparation will be right on point for game-time.
The @BuffaloBeauts goalies up to their usual shenanigans. This time with @SchlagsWrites #NWHL #Buffalo pic.twitter.com/AUIRtreUFy

— 716 Sports Podcast (@716SportPodcast) November 15, 2016
THW: You seem to have a lot of fun off the ice…
AL: I do (smiles)
THW: As we have seen on Twitter, you have been in some pretty amazing places and done some fun things in your goalie gear. Can you tell us a little bit about how much fun you've been having with your fellow Beauts goalies?
AL: I have two of the best goaltending partners I think that I have had in my whole life. All of the goaltending partners that I've had have been fantastic, but one thing we have here that is really special is that they will go and do weird things in their gear with me (smiles) and that's something that helps us bond as goaltenders, because obviously, we're competing to have a number-one position. But if we can all be friends off the ice and cheer for each other, whoever is playing, that's going to help us be successful.
When the turkey hits…. #happythanksgiving pic.twitter.com/TF2zReM1xt

— Amanda Leveille (@MandyLeveille29) November 24, 2016
THW: Did you know Kelsey or Brianne before this season started?
AL: No. I heard of Bri obviously because she played in the Olympics and she set a lot of records in college. But before this, I had never met them in person, but now that I've met them I think that they're fantastic and I call them some of my best friends on the team.
Golden Gopher
THW: You played at the University of Minnesota…(Leveille's face lights up like Clark Griswold when he finally gets all of his Christmas lights to work on his house)…and you're a three-time National Champion, which is pretty phenomenal. Can you tell us about your experience there and the success you had with the Gophers?
AL: My teammates and the coaching staff at the Gophers are second-to-none. They had very high standards of how they wanted us to act off the ice and that correlated onto the ice for our success. And being part of three championships, even sitting here thinking about it now, is just truly remarkable and something that I'll forever be grateful for. The Gophers play Wisconsin today, so after our game today I'm going to watch them tomorrow and I'm pretty pumped for that. I hope they beat the Badgers. We don't like the Badgers.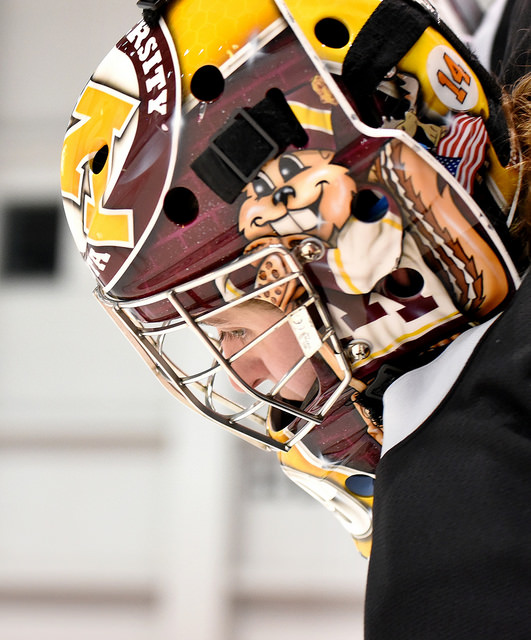 THW: We did a little research here – in your first three starts, you had three shutouts. And in your first seven games played, you didn't give up one goal. That's insanely good.
AL: Yeah, I had a very good team in front of me my freshman year. Megan Bozek, who's on my team now (in Buffalo), she was there. I think we had three Olympic defensemen that year? That was a really good team; defense, forwards and then goaltending. I got to play with Noora Räty that year (38 games/0.96 GAA/.956 save %), which was pretty tough because I didn't get in a lot of games. But I learned a lot from her and it helped me throughout my next three years being the starter there.
THW: Even though it was seven games, you didn't give up a goal the entire season; that has to be an amazing feeling, right?
AL: Yeah (smiles), I mean no goalie wants to get scored on. But as much as it's not fun to get scored on, it helps you be a better goalie. You can learn from your mistakes.
Turning Pro
Whale umm… I'm not lion but we lost our otter goalie @BrianneMcL at the zoo let minnow if you see her there. #mclevman pic.twitter.com/J3jn429TmF

— Amanda Leveille (@MandyLeveille29) November 6, 2016
THW: You were drafted by the Beauts (3rd round, 12th overall) and signed with them before the summer. Did you watch any of the games or keep track of the league last season?
AL: I tried to keep up with it as much as I could because I thought it was such a fantastic thing for women's hockey. I mostly followed Bozek because she was a former teammate. I saw one game in the playoffs, I think she had three goals or something? (Bozek had three goals and an assist in the Beauts' first round 2-1 series win against the Connecticut Whale and was named Player of the Series). I thought that was fantastic, she helped her team go onto the Isobel Cup Final, which was super fun to see an old teammate do that.
THW: Obviously you said you know Bozek, and there are some other ex-teammates scattered throughout the league; Amanda Kessel here with the Rivs and so on. What has the adjustment or transition been like for you as a goalie, coming from college to the pro game now?
AL: On the ice it's been pretty similar – obviously different teammates, different teams that you are playing against in different systems. I think the biggest transition for me and adjustment has been off the ice. I've had a lot more free time than what I was used to in college (grins). I always had a set schedule of what I had to do and now I have a lot of free time, which I wanted so badly in college and now that I have it, I kind of want to have something to fill my time with.
Without day jobs we clearly have too much THYME on our hands…. Lettuce know where we should go next. pic.twitter.com/CCkTd5fW4e

— Amanda Leveille (@MandyLeveille29) October 21, 2016
THW: Do you have a day job or anything, other than goofing around in your goalie gear in the streets of Buffalo?
AL: (laughs) Unfortunately not, since I do live in Buffalo it's kind of a far commute for me to go work in Canada since I'm not eligible to work in the U.S. besides being in the Beauts program. But I'm on the hunt for jobs…(smiles), so if anyone wants to find me one, I'll gladly take you up on it.
THW: Is there a player or players that you really enjoyed watching growing up, be it male or female? Any goalie that inspired you to be a goalie?
AL: Definitely. I really like Martin Brodeur, and I saw his statue outside the building here which was super cool. My mom was also a huge fan of him, and I tried to mimic my play after him when I was a little kid. He was always flopping around and stuff and I used to do that. I also really like Carey Price and Shannon Szabados – who is the Team Canada Olympic goaltender.
Dan Rice is in his 9th year of reporting for THW & has covered NJ Devils home games for 15+ years at various websites. He began his journey working for legendary broadcaster/writer Stan Fischler from 2002-04 & completed an internship at the ECHL; he also has been writing features for the NWHL (nwhl.zone) website since 2016.