Martin Brodeur had his no. 30 rightfully retired and raised to the Prudential Center rafters on February 9 — a night that New Jersey Devils fans had been anticipating since the late 1990s when the young goaltender took the NHL by storm and would eventually shatter and own just about every goaltending record that stood in the league when he made his debut. Brodeur's no. 30 rightfully took its place alongside Ken Daneyko's no. 3, Scott Stevens' no. 4 and Scott Niedermayer's no. 27 high above the Devils' home ice as those four were the pillars that the franchise's three Stanley Cup championships and four of their five Eastern Conference championships were built around.
The arena was packed. The fans were loud. Excited. Sad. All of the emotions were on display on this night. The sold-out crowd finally got a chance to say goodbye to their hero in a proper way, and as a bonus they had one more chance to chant "Louuuuuuuuuuuuu" when the architect of those teams GM Lou Lamoriello made his first public return to the team that he guided successfully for so long. Lamoriello didn't speak at the other three retirement ceremonies, but one always assumed he would speak at Brodeur's.
"I don't care that he's not there (the Devils' GM) anymore. (That) I'm not part of the organization anymore; but, it's in you. He engrained that into us, all the players. Scotty will tell you. Dano will tell you; well Dano obviously, the guy lives and breathes the Devils, which is a little different," Brodeur explained after the retirement ceremony. "But all the players we just grew up in it and that was all that mattered — it was the team. That was just the message, we want this organization or the name of the Devils to continue having success; we built something. The Montreal Canadiens built something and they expect their players to follow suit, and that's what Lou tried to build here in New Jersey."
We Salute You Martin Brodeur:
"We're not the biggest fan base, but I meant it when I said they are one of the greatest — because of how passionate they are, and they stick with the plan. You go in and year-in, year-out, the same people are there and you add-on their kids and it goes on and on. I met kids that twenty years ago….now they're 22-years older and they're still around, I think it's amazing," he explained to the media when asked about playing 99.9% of his career in oft-overlooked or frowned upon New Jersey. "If you goto the markets like Montreal or New York or Toronto, they're so big that there is zero personal touch with their fans; maybe a couple. Here, it's unbelievable; I looked around and even today I recognized people from my playing days that are still there rooting on the new Devils here."
But the celebration was really over a few days. It began on February 6 when Brodeur was brought out to drop the ceremonial first puck in a game between the Devils and Washington Capitals. Naturally, because he's a goalie, the two starting goaltenders — Cory Schneider and Braden Holtby — were summoned to center-ice for the ceremony, perhaps the first of it's kind. Well, it must've been because it didn't seem that the goalies really knew what they were doing out there.
"I got a heads-up a couple of weeks ago; it was pretty exciting. Cory and I didn't really know what to do," Holtby told The Hockey Writers with a grin. "After it happened I realized we didn't take a picture. But it was pretty cool, and a big honor to be able to do that."
This is amazing. Brodeur, Schneider, Holtby in one of the coolest puck drops ever. pic.twitter.com/nLnDfAhh2P

— NHL (@NHL) February 6, 2016
Two nights later, in front of a large contingent of season-ticket holders and fans, the Devils unveiled a bronze statue of Brodeur titled 'The Salute', that will be on display outside the arena. The future Hall-of-Famer was extremely impressed with the likeness, adding with his typical grin and humor, "The statue looks a little more fit than me too." Great players have their number retired, but very few get immortalized with a statue. Mario Lemieux. Bobby Orr. Michael Jordan. Legends of their time and game. A class that Brodeur earned with his longevity and almost unfathomable success.
"His competitiveness. That's what it boils down to. There wasn't anything flashy about his game, except for his compete level," New Jersey's Travis Zajac said to THW, explaining why Brodeur was so special. "He never gave up on plays and that's why you always saw him make incredible saves on second efforts. I think that's what propelled him to the top. He had fun. That was the most important thing, I think that's why he played so long; you have to enjoy the game and have fun with it. (For him) it was all about winning. It was all about being a good teammate. He never let himself get bigger than the game. He excelled at every tough situation — he was a guy that put us over the top."
Past Meets Present
Holtby, who is in the midst of a remarkable season and definitely will challenge Brodeur's record for most wins (48) in a single season, admitted that he didn't know much about no. 30 while he was growing up. But as he got older, "Once I started to really dig deeper in the position I really appreciated him a lot more. Especially after I read his book, it's pretty amazing everything he did."
Schneider is clearly Brodeur's successor in New Jersey, and the franchise and it's fans should feel so fortunate to have another supreme netminder on their side while some franchise's are still searching for just one. Although it was likely awkward at times when Schneider arrived, he is admittedly so a better goalie because of that experience.
"How he carried himself, the way he approached the game. After all the success he had and what he meant to this franchise, he just took it in stride and loved playing the game," Schneider told THW following the game on the ninth. "For me, I learned to stop over thinking things. He didn't overthink things — kept it simple and stopped the puck. For me, I think that was a good thing to see as a young guy — or if you're not playing a lot, you tend to let things creep into your head. Now I've really tried to adopt that mantra where nothing bothers me and I just really try to focus on the game."
Golden Era of Goalies
Timing is everything. Brodeur played in the Golden Era of Goalies where it seemed half of the league at one time was filled with very good goalies. As he explained, they all pushed each other, and brought out the best of each of them. "I came in during a pretty good era, as far as goaltending. Patrick Roy. (Ed) Belfour. CuJo (Curtis Joseph). (John) Vanbiesbrouck. Dominik Hasek. I'm probably missing a couple in there. These are guys who were — it was a big challenge (to matchup against their teams)."
"I didn't play against him too much as I was out west for most of his career but I'm happy to say I scored a goal on him," first-year Devil Lee Stempniak told THW with a sly smile, "just one, which is a feather in the cap. But he's a great goalie and had tremendous instincts — he could anticipate a play really well which is what the best of the best do. They're able to read the play, think the game a little bit differently and make saves that more often than not they have no business saving. It was a great night tonight. A huge honor. Our fans were unbelievable. It's a privilege to say that I played against a player like Martin Brodeur."
"Buffalo was a team that we played a lot, (Hasek and I)  had some great battles. A few big battles — a 0-0 tie — we had a four overtime one in the playoffs. It brought out the best in us. We knew we were facing each other, even though it has nothing to do with going against one another; it's our team, and you want to be the best for your team. Knowing that the goalie on the other side would be good, I think that really raised our game to a different level when we played against each other."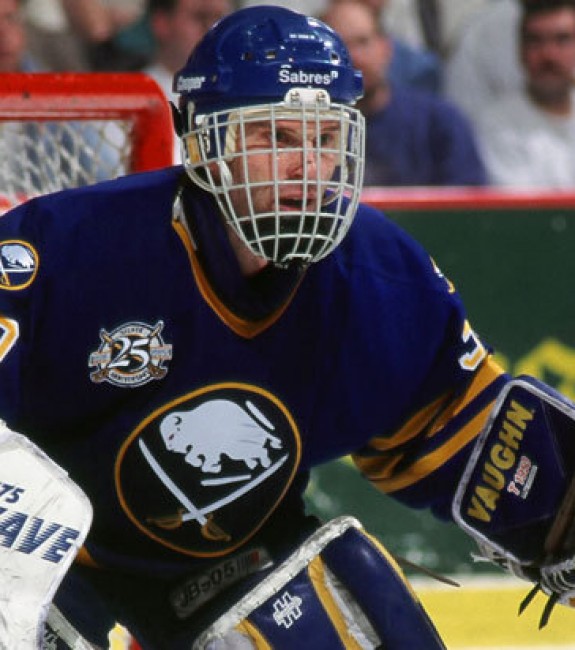 The Last Good Bye
Finally after a few days of celebration and partying (this was scheduled around Super Bowl Sunday, Marty knew what he was doing!) it was time for the final act of Brodeur's playing career in New Jersey. Once and for all his no. 30 would join his old teammates, all Devils legends, up in the rafters forever. Every fan that comes to Prudential Center from February 14 until the building is no longer standing will look up to the ceiling and see: 3, 4, 27, 30. Forever.
https://twitter.com/adamek96/status/574508139955032064
"The way they handled everything around me, the way that I was able to do the things I wanted to do, bring the people I wanted to bring; it was amazing. I have to thank the Devils organization for that, I think these guys did way above what I expected," Brodeur would say afterwards. "It was a great weekend and I got one more little party and then I'm on a plane to Florida!"
As those who have covered Brodeur's career know, he is one of the best athletes for a writer to work with. Always available for a quote. Always willing to answer a question he may have already answered a few more times for someone. And he liked to laugh, loved the game, loved having fun. "He had fun. That was the most important thing, I think that's why he played so long," Zajac would say. "You have to enjoy the game and have fun with it." That was evident again, on this last night that he was back home in New Jersey before departing for Florida, and then back to work as the assistant (to the) GM with the St. Louis Blues.
"You look at the number going up (to the rafters) and this is it. After that I'm going to have to beg to get cheered like that. When your done playing the game, you realize how low-key you can get. I get to rinks sometimes, I goto junior rinks and like people don't even look at me anymore…I've been out of the game for a year," he said chuckling, "not every one (rink) but I'm surprised. Sometimes I try to hide and I'm like: why am I hiding? Nobody knows who I am!"
They know who he is in New Jersey though. MAR-TY! MAR-TY! MAR-TY!
"It was really special for me to hear that again. It's hard as a former player, you think your career is going to be forever. You take it for granted when people yell your name," he admitted getting serious for a few minutes. "It hits…when it ends, it ends pretty suddenly. It was definitely nice for me to hear that again, but I don't want to have to do that again (speak in front of all of them) for them to cheer my name again. It was pretty cool to have that feeling one more time."
"He knows that he's a Devil for life and he'll always have a special place here," Schneider said, "the fans know that."
Who's Next?
Brodeur offered his choice for whom should be the next Devil to join the four legends hanging up above the ice. "I think so, but that's me," He answered when asked if he thought Patrik Elias would be the next member of the exclusive club. "The organization will decide. Don't tell him, because he's still playing; he'll be mad at you if you talk about jersey retirement already. Look at the reception that he got…at one point I thought it was his own jersey retirement with the speech that he had," he added while giggling. "He stole a couple of lines from my speech too."
"Patty and I had a great relationship when I played. We led together. It's like anything, we spend a lot of time trying to find ways to get our team to be as united as possible. I grew up watching some guys that did certain things and I did the same thing; we brought it to other guys that came along.We have to pass the torch in that way to try to get our team to be the best that we can be. We had a bunch of heart and soul on our teams as far as the way we led."
Will Brodeur ever return to New Jersey and join the front office? Maybe. But they seem pretty set with Ray Shero as the current GM and Tom Fitzgerald as the assistant GM. Maybe the latter position opens up when Brodeur is done with his obligations in St. Louis. Maybe not. Perhaps the next time he returns to the Rock it will be for Elias' retirement night. Or maybe it will be a celebration of when he is named to the Hockey Hall Of Fame in two years. It really doesn't matter. He'll always be in New Jersey with his number 30 hanging above the Prudential Center ice. And he'll always be a Devil.
Dan Rice can be reached via Twitter: @DRdiabloTHW or via Email: drdiablo321@yahoo.com.