The great magician Harry Houdini once said, "Never tell the audience how good you are. They will soon find out for themselves." Whether she knows it or not, Buffalo Beauts forward Taylor Accursi plays the game the same way. It is fair to say that before the Beauts hit the ice for the season, no one knew the type of wizardry that Accursi can weave with a puck.
Considering that she opened the scoring for the Beauts' regular season and already has two points in one game, fans are on their way to finding out just how good she is.
First Beauts Goal and First Beauts Win
The Beauts won their first regular season game this past weekend. On the road at Terry Conners Rink in Connecticut, Buffalo came away with a 3-2 win over the Whale. In the first period with Connecticut's Jamie Goldsmith in the box for holding, Accursi got the first goal. She shared with THW how the play developed:
"The play started when the battle in the corner for the puck was won by Elia, and she was able to get it back to the point," Accursi recalled. "I like to be a net-front presence usually, however, I happened to move to the side and deflected the point shot past the goalie. Once I saw it was in, I just put my hands up and smiled because we were up 1-0."
🚨@Accursi6 tips in the shot from the point and we're on the board for the first time this season! #DefendTheCrown #BUFvsCTW pic.twitter.com/645ypYzF8q

— Buffalo Beauts (@BuffaloBeauts) October 28, 2017
The goal was the first professional goal of Accursi's young career. Having graduated from Mercyhurst University in May, she is still in the early beginnings of her pro career. Whether it is the NWHL or NHL, whether it is a thing of beauty or a fluky one, players remember their first goal. The first of Accursi's career is bound to be etched into her mind for many years to come.
"Scoring my first pro goal felt pretty awesome!" she shared enthusiastically. "In the moment I didn't think too much about it, but getting the puck after the 3-2 victory definitely meant something."
"The Magnificent Accursi"
In days gone by, emblazoned in elaborate letters, there would have been the words"Come One, Come All – See the Magnificent Accursi!" If you get an opportunity, please take in a Beauts game this season. Pull one up on Twitter. Sit back and watch what Accursi can do with a puck. You will not be disappointed.
Her game is deceptive. It comes from that rare combination of being a superb stick-handler and having the ability to accelerate at a moment's notice. Accursi has shown multiple instances of being able to generate a burst of speed in less than a stride.
She catches opponents off guard, especially when the puck is on her stick. She can dangle with the best of them in Datysuk-esque fashion. Like Houdini, she is a bit of an escape artist. A small opening and, zoom, she's gone.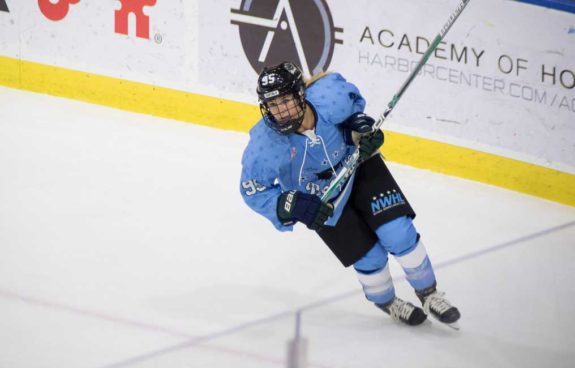 Asked how she became such a great stick-handler, Accursi responded:
"My stick-handling developed over the course of my hockey career but more or less in my driveway and on the pond. They had to be fast in order to attempt beating my dad 1 on 1."
Obviously, it is a skill that has been honed for quite some time. As Accursi has progressed through her collegiate career and now into a professional one, her skill set has improved with age.
The Deceptiveness of Accursi's Speed
After the Beauts' final exhibition game, Co-Coach Ric Seiling was particularly pleased. Of the numerous positives that he drew from the game, one was the speed of his team and their ability to get open. Seiling stated at the time:
"We were creating opportunities. I just told the girls that the way they're moving and operating, and getting open for each other—all of a sudden I think someone's tied up and, bang, we move the puck to an open person, and we're still having the pressure on…"
The first of many 🚨 for @S_Shureb5 & @Accursi6! #DefendTheCrown pic.twitter.com/U7Ea5KbiIB

— Buffalo Beauts (@BuffaloBeauts) October 28, 2017
Those words reflect Accursi's play quite well. They speak to her speed and her shiftiness. She considers her elusive pace and her ability to create a play as two of her strengths.
"My best characteristics or attributes as a player have always been my skating speed and my ability to set my teammates up as well as scoring goals. I've always scored goals."
During her senior season at Mercyhurst, she tallied nine goals in 35 games for the Lakers. Among those nine markers were five power-play goals. She has two goals already as a Beaut. While Buffalo's third and decisive goal was initially credited to teammate Hayley Scamurra, the NWHL officially credited Accursi with the goal in the league's box score. It also means that she is credited with having the Beauts' first game-winner for the season.
Professional Play Brings New Challenges
Accursi fits right in at the professional level and is adjusting very nicely to NWHL play. That being said, there is always a courtship between new players and a new league. As she gets her feet wet, she is noticing differences in the style of play and is adjusting her game accordingly.
"After my first game in the NWHL, I have noticed that the refs let a lot of physical play go," she explained. "In college, there would be a lot of penalties for the little things like hooking and body-checking. But the pro game has a lot more physicality to it which doesn't bother me."
Most knew that the 2017-18 Beauts would have solid goaltending and offense right off the bat and their defensive core would be reliable with a knowledgeable, experienced coaching staff and a will to win. But rarely mentioned, is that this edition of the Beauts can play physical hockey. They are a tough group for any team to contend with.
Accursi, Rebecca Vint, Sarah Shureb, Jessica Sibley, Kristen Lewicki, Kayla Parsons, and more never shies from physical play. In some cases, they seem to feed off of it.
One Game Down, Two Goals, Fifteen Games to Go
Seeing is believing. Watching Accursi will make you a believer in her skill and ability. She's fun to watch. Potting two goals in your debut, including the game-winner, is a fine way to start. While points and goals are nice in the stats column, what Accursi is most excited about is having the opportunity to play with a magnificent collection of teammates.
"Two points in one game is nice, however, I am looking forward to being surrounded by this great team every week," Accursi said. "The team chemistry off the ice is great and really translates onto the ice. This group is capable of accomplishing a lot this season. I know it's early but everyone has the same common goal in mind—the Isobel Cup."
For a magician like Accursi, helping Buffalo become the NWHL's first repeat Cup champion would be her finest performance yet.