From May 1-31, NWHL teams can re-sign players from their 2016-17 roster and their draft picks during the restricted free agency period, and beginning on June 1 any unsigned players left will be free to sign with any team.
The third season of the NWHL will begin in October as the Buffalo Beauts defend their Isobel Cup championship, and with up to 12 players unable to participate in the league this season due to their selection for Team USA's 2018 Olympic team, this will be the most competitive season yet.
My colleague Dan Rice will keep THW readers up-to-date on New York and Connecticut's signings throughout the summer, while I post updates on Buffalo and Boston.
Beauts Add 2 More From "Beanpot" Schools
Browne Joins Rivs as Wash Leaves, Whale Add Two
Beauts' Greco Back for a 2nd Year
The Buffalo Beauts have developed a penchant for acquiring players who have ties to Robert Morris University. Members of the Beauts' championship squad Morgan Beikirch, Ashley Vesci, and Brianne McLaughlin all played for Robert Morris. Another former Beauts' champion and star player, Kelly Steadman, served as an assistant coach and a director of hockey operations for RMU. On August 17th the Beauts selected current RMU player Brittany Howard in the NWHL draft. Now Buffalo has added former Robert Morris sniper and CWHL All-Star, Rebecca Vint. THW examines the Vint signing.
Vint's Time at Robert Morris
Hailing from Mississauga, Ontario, Vint played her college hockey at Robert Morris from 2011 until 2015. She would absolutely explode during her freshman season when she sniped 22 goals and 22 assists in 32 games – simply phenomenal numbers for any first year college player. Among those 22 goals were 11 power play tallies and six game-winners. Such a performance was enough to earn Vint the CHA's Rookie of the Year award, the Freshman Scoring Championship, and a First Team All-Conference Selection.
BREAKING: Welcome to Buffalo, @bvintt24! #DefendTheCrown

We have agreed to terms for the upcoming season!

MORE: https://t.co/bAtWLrkh7F pic.twitter.com/IG9Cyj68Mw

— Buffalo Beauts (@BuffaloBeauts) August 22, 2017
This was merely the beginning of Vint's success. She would hit double digits in goals in all four of her seasons with the Colonials. While her freshman point totals would be the highest of her collegiate career, her highest goal output came during Vint's junior year when she notched 24 of them. Her final totals at RMU were 73 goals, 61 assists and 134 points in 127 games.
Vint Is an RMU Record Holder
When Vint finished her career at Robert Morris, she held the school's all time scoring record. Oddly enough, that record stood until last season when it was broken by Buffalo's draft selection, Howard. Vint once scored five goals in a game against Penn State in November 2012. That tied the team record.
ICYMI: Former @RMUWHockey
leading scorer, @bvintt24, will play for the @BuffaloBeauts this season.

Story: https://t.co/WF2py62UaH pic.twitter.com/KLgmopdgtb

— NWHL (@NWHL) August 23, 2017
Vint's former coach and head coach of RMU women's hockey, Paul Colontino, shared the following about his former player via an NWHL press release:
"Rebecca had a great career here at Robert Morris and was an integral part of the success that the program saw during her four years," said Colontino. "She has a great passion for the game, and that rare combination of skill and desire to be successful in the pros. Rebecca will be a fantastic addition for the 2017 NWHL champion Buffalo Beauts and help the Beauts on their quest for a repeat championship."
Success With CWHL's Thunder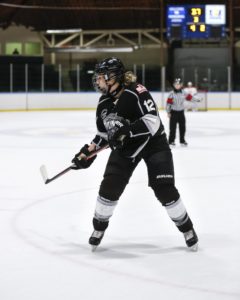 The Brampton (now Markham) Thunder drafted Vint in the third round of the 2015 CWHL draft. The success she attained at Robert Morris would continue into her CWHL career. Her first season in the league, 2015-16, saw Vint average better than a point per game. She would tally 26 points in 24 games. Better yet, Vint's 19 goals tied her for second overall in the entire league.
This past 2016-17 season Vint would continue her superb scoring although her games played and numbers dipped slightly. Within 19 games, the 25-year-old had eight goals and seven assists for 15 points. Vint would also garner a selection to the 2017 CWHL All-Star Game.
Perhaps needless to say, Vint looks back on her days with the Thunder most positively. Speaking of her time with the team, she shared via NWHL press release:
"It's really important for me to give a huge shout-out to the rink staff and volunteers who are such a vital part of the Thunder family," said Vint. "I also want to thank my teammates. We all became close friends. While I'm excited for this new challenge in the NWHL, I will miss lacing them up with the Thunder."
Together With Edney Again
While Vint's signing is the 23rd announced by the Beauts this summer, the team's 22nd is another player who left the Thunder to come stateside. Defender Sarah Edney has been Vint's teammate the past two seasons in the CWHL. Now they will be teammates in Buffalo in pursuit of an Isobel Cup championship.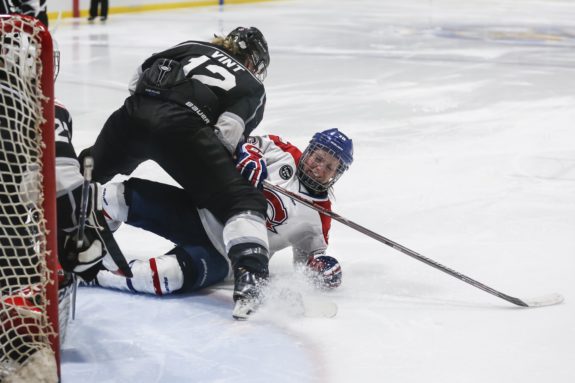 "I'm ready to experience pro hockey on the other side of the border, and could not be more proud to be part of the Beauts and the NWHL," Vint said via the same press release. "It's an honor to have the opportunity to help my new teammates in Buffalo defend the Isobel Cup. I know Sarah Edney and I are fully committed to giving the Beauts our best."
Two Away From Being Full
Now that the Vint signing has been announced, the Beauts only have two roster spots to spare. Vint is another high-scoring forward. For a team that struggled to find the back of the net last year and still won the Cup, goal-scoring will not be an issue at all for Buffalo in 2017-18.
Here is the Beauts roster as of Aug. 23:
Goalie: Amanda Leveille, Kelsey Neumann, Julia DiTondo
Defense: Lisa Chesson, Sarah Casorso, Kayla Parsons, Colleen Murphy, Jacquie Greco (defender-forward), Kelly Seward, Sarah Edney, Jordyn Burns
Forward: Jessica Sibley, Kourtney Kunichika, Kathy Donohue, Taylor Accursi, Hayley Scamurra, Jordan Ott, Corinne Buie, Kaylyn Schroka, Sarah Shureb, Kristin Lewicki, Maddie Elia, Rebecca Vint.  
General Manager of the Buffalo Beauts (NWHL). Hockey history writer "The Hockey Writers". Credentialed media for the NHL Combine and 2018 IIHF World Junior Championships in Buffalo, NY, USA. Born and raised in Buffalo, NY. Lifelong hockey fan for over 40 years. Proponent of the women's game.