From May 1-31, NWHL teams can re-sign players from their 2016-17 roster and their draft picks during the restricted free agency period, and beginning on June 1 any unsigned players left will be free to sign with any team.
The third season of the NWHL will begin in October as the Buffalo Beauts defend their Isobel Cup championship, and with up to 12 players unable to participate in the league this season due to their selection for Team USA's 2018 Olympic team, this will be the most competitive season yet.
My colleague Dan Rice will keep THW readers up-to-date on New York and Connecticut's signings throughout the summer, while I post updates on Buffalo and Boston.
Browne Joins Rivs as Wash Leaves, Whale Add Two
Beauts' Greco Back for a 2nd Year
Faber Returns to Whale, Rivs Add More D
The Buffalo Beauts have now added their 21st and 22nd players to their roster. With the roster max set at 25, the idea of "being situated" may have seemingly been attained. Or soon will be. The two newest players joining the club come from Boston area schools. One is a recent graduate. The other is a prized defender making the jump from the CWHL to the NWHL. THW takes an in-depth look at both players joining the Beauts.
Maddie Elia of BU
Western New York native Maddie Elia returns to her stomping grounds to play for the hometown team. Though Boston University is where she played her college hockey for four years, Elia grew up in Lewiston, NY, close to Niagara Falls. With it being just a brief drive to downtown Buffalo, she is most excited for the opportunity to play in front of the hometown crowd.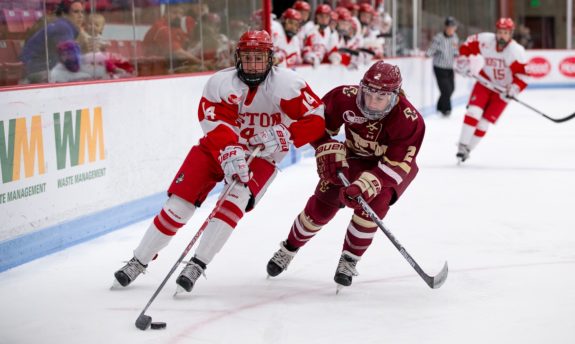 "Being drafted by the Beauts and signing with them is a huge honor and accomplishment," said Elia via an NWHL press release. "It's super cool and exciting to be able to play for my hometown team because I love it here and it's such a great place to live. Playing college hockey in Boston, it was hard for my friends and family to make it to my games, so it's awesome that they will be able to travel 10 minutes to watch me play for the Beauts. Hopefully, there will be a lot of Elia Jerseys in the stands. I know that's what I'll be giving every family member and friend for Christmas."
Elia Is a Scorer Ready to Contribute
When it wrapped up, Elia had surpassed the 100-point plateau during her collegiate career with the Terriers. In 145 games, Elia recorded 112 points. Her finest point total would be during her senior year when she scored 12 goals and 24 assists. Those 36 points were accomplished in just 32 games. In all but one season with the Terriers, she hit double digits in goals.
NEWS: We have signed @madfrog126 (@BUwhockey) for the 2017-2018 @NWHL season!

Welcome home, Maddie! #DefendTheCrown pic.twitter.com/7VR5fWmLTd

— Buffalo Beauts (@BuffaloBeauts) August 3, 2017
Via the same press release, Elia added:
"My expectations for my first season in the NWHL are to be the best team player I can be and to help the Beauts win hockey games by playing my style of hockey, which is being hard on the puck, strong in the defensive end, competing and making plays every single game. It's exciting to be a part of team that has the chance to repeat as Isobel Cup champs."
Elia is one of many Beauts who can find the back of the net. Opposing defenders and goaltenders will have great difficulty in attempting to stymie waves of Buffalo shooters. Repeating as Cup champions could very well be in the cards for the likes of this emboldened roster.
Sarah Edney of Harvard
With Sarah Edney, Buffalo has quite arguably "stolen" one of the better defenders from the CWHL. Edney, a 2015 graduate of Harvard University, joins the Beauts' "D" after two seasons with the Brampton (now Markham) Thunder. Like Elia, Edney is also quite excited about coming to Buffalo, especially with the opportunity to play for the reigning Isobel Cup champs. She shared via NWHL press release:
"The idea of being part of the intense competition of the NWHL and helping Buffalo defend the Isobel Cup is really thrilling to me. Buffalo is not far from home and I have so many close friends in the U.S. from my college years. I can't wait to get started in October."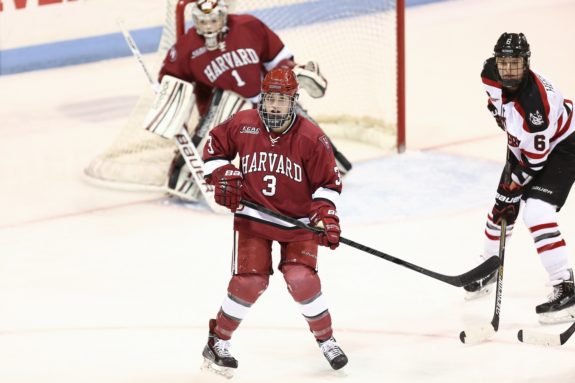 Edney had two successful seasons with the Thunder. For the 2015-16 season, she appeared in all 24 of the Thunder's games. She registered five goals and five assists in her first year of hockey post-grad. When that year's postseason came around, Edney would be a point-per-game player with a goal and an assist in Brampton's two playoff games. This past 2016-17 CWHL season, Edney appeared in 14 games for the Thunder. Though fewer appearances than the season prior, she still tallied four goals and six assists.
Edney for the Crimson and Canada
At Harvard Edney proved to be a most productive defender throughout her entire time with the Crimson. In each of her four seasons, she would register at least 20 points. Edney's finest outpouring came during her junior year. Not only would she have a career-high 25 points in 34 games, but she would be a plus-32. Three of her seven goals that year were power-play markers, while two tallies were game-winners.
ICYMI: Beauts fans, help us welcome @s_edney93 to Buffalo! #DefendtheCrown

STORY: https://t.co/Q4R4xDXGHx pic.twitter.com/V3cmW5wFoj

— Buffalo Beauts (@BuffaloBeauts) August 18, 2017
Internationally, Edney captained Canada's U18 women's national team to a silver medal at the 2011 IIHF World Women's U18 Championship. During the five tournament games she scored a goal and two assists. Current and former NWHL players Harrison Browne, Shelby Bram, Amanda Makela, Nicole Kosta, and Cydney Roesler were all teammates of Edney's on that particular squad. Suffice it to say that between college, international, and CWHL experience, Edney already possesses a strong sense of what NWHL play is all about.
Edney joins a Buffalo defense that possesses major firepower. The depth that the Beauts now have on "D" could be the deepest in the entire league. For those who like to play a bit of fantasy coaching in their heads, the defense combinations for Buffalo are great fun to fathom.
The Beauts' 2017-18 Lineup…Thus Far
It remains to been seen if the Beauts will go full bore and sign the maximum 25 players. At 22, they are really not far off. What makes the defending champs such a foe to be reckoned with is their seemingly endless firepower. There is not a skater on the Buffalo roster that will not be able to contribute offensively. Even players who are known to be strong in their own zone—Jacquie Greco, Colleen Murphy, Kathy Donohue, and others—are ever-capable of finding the back of the twine.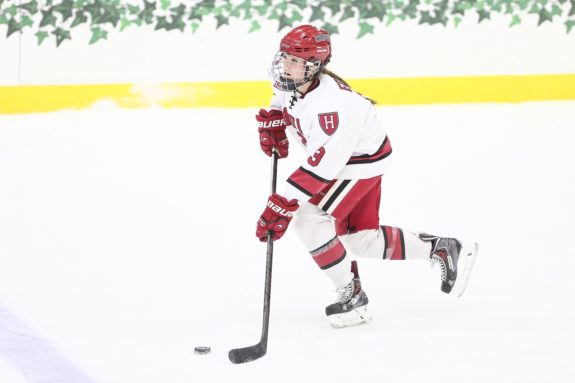 Here is the Beauts roster as of Aug. 21:
Goalie: Amanda Leveille, Kelsey Neumann, Julia DiTondo
Defense: Lisa Chesson, Sarah Casorso, Kayla Parsons, Colleen Murphy, Jacquie Greco (defender-forward), Kelly Seward, Sarah Edney, Jordyn Burns
Forward: Jessica Sibley, Kourtney Kunichika, Kathy Donohue, Taylor Accursi, Hayley Scamurra, Jordan Ott, Corinne Buie, Kaylyn Schroka, Sarah Shureb, Kristin Lewicki, Maddie Elia. 
General Manager of the Buffalo Beauts (NWHL). Hockey history writer "The Hockey Writers". Credentialed media for the NHL Combine and 2018 IIHF World Junior Championships in Buffalo, NY, USA. Born and raised in Buffalo, NY. Lifelong hockey fan for over 40 years. Proponent of the women's game.