When it comes to the Washington Capitals' roster, the team has strong depth down the middle. Not only do they have one of the league's top centers in Nicklas Backstrom leading the charge, but they also have a young star in Evgeny Kuznetsov, who is on the rise and already ranking among the NHL's elite.
This offseason, Washington re-signed Kuznetsov to an eight-year deal that will pay him around $7.8 million per season. With this new contact, Washington hopes that he will continue to put up top scoring totals and make himself a core member of the team moving forward.  can he also prove his worth and win the role of the team's first-line center?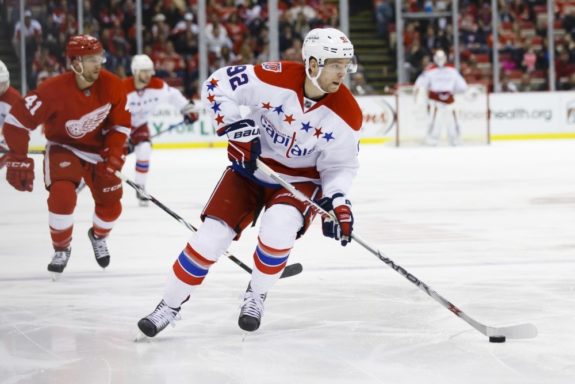 As Kuznetsov enters this season with confidence and a new long-term contract and considering his chemistry with Alex Ovechkin and overall skill-set, he has the potential to take over and win the role of Washington's first-line center.
Kuznetsov's Ability and Growth
Though taken by Washington in the first round of the 2010 NHL Entry Draft, the Russian center played five and a half-seasons in the KHL before coming to North America, putting up high scoring totals while playing with Traktor. His performance and ability overseas caught the attention of the Capitals, and they were eager to get him to bring his game to the NHL.
Finally, after registering eight goals and 21 points in 37 games with Traktor in 2013-14, Kuznetsov signed an entry-level deal with Washington in March and immediately jump into the NHL. He played the final 17 games of the season with the Capitals, posting three goals and nine points. His numbers were solid for a player just entering the league, and there was a lot of promise in his game.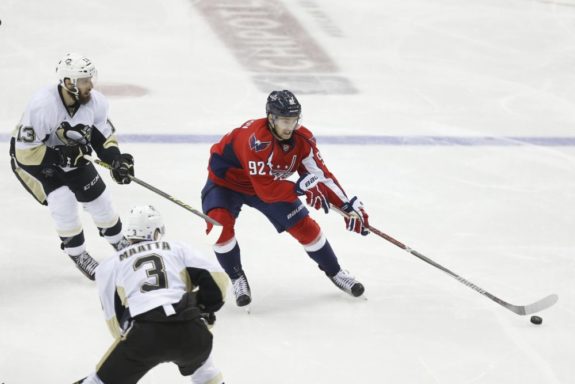 Fast-forward to his sophomore season 2015-16, and Kuznetsov is busting out onto the scene as one of the league's top centers. With 20 goals and 77 points, he not only lead all Capitals skaters in points but also finished ninth in the league in scoring. His performance also led him to the first line, where he'd show tremendous chemistry with Ovechkin and T.J. Oshie.
While he didn't have another 70-plus point campaign this season, he still managed 19 goals and 56 points. However, he spent a majority of his time on the second line, mainly due to the fact that Backstrom was a better fit on the top line and also led his team with 23 goals and 86 points in one of the best seasons of his career.
Moving Up the Lineup
Coming into this season, Kuznetsov told Sports-Express reporter Igor Eronko that he would like to have the opportunity to play with Ovechkin this season and that he is excited to see more youth on the Capitals' main roster. While Backstrom is the team's top center, Kuznetsov and Ovechkin will likely get the chance to play together, as they have tremendous chemistry.
Playing with Ovechkin, Kuznetsov puts up 3.88 goals for per 60, while Backstrom and Ovechkin put up 3.00 GF/60. Though it doesn't look like a huge difference, the Kuznetsov-Ovechkin duo produces nearly a goal more per game than Backstrom-Ovechkin.
While Backstrom has put up higher point totals than Kuznetsov, the 25-year-old has a lot of ability and a case to make a run for the top line. First off, he does display tremendous chemistry with Ovechkin, and the Great Eight could use the young Russian to bounce back in the goal-scoring department.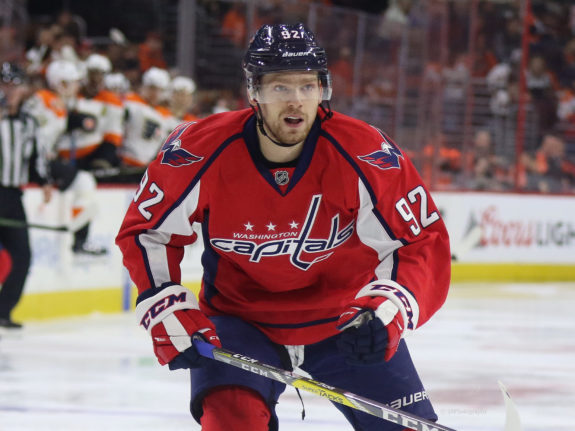 After three straight 50-plus goal campaigns, Ovechkin found himself with 33 goals this past season and appeared a bit slower at times. Not only that, he needs to thrive more at even strength, considering about half of his goals came on the man advantage. With Ovechkin needing to improve his totals and performance playing at 5 vs. 5, Washington could try to put Kuznetsov on the top line and re-ignite that chemistry.
However, Ovechkin is not the only thing that moves Kuznetsov up the lineup; he also works well with T.J. Oshie, and the two of them combine for an average of 3.42 goals per 60. He doesn't just have chemistry with Ovechkin, but with Oshie as well. In addition, back in 2015-16, when Backstrom was injured to start the year, Kuznetsov filled in and was tremendous on the top line, and he also helped Ovechkin and Oshie put up strong numbers as well.
Not only that, Kuznetsov is a great skater who is still elevating his game and is even considered one of the top centers in the league. He has remarkable stickhandling ability and a rocket of a shot and has spent a lot of time focusing on his playmaking ability. If he comes into the preseason with a lot of confidence and the will to win, he will have no problem cracking the first line and getting top-line minutes from head coach Barry Trotz.
Kuznetsov's Role This Season
Despite Kuznetsov's potential and upside, as well as the fact that he may be ready for the first line, he may not be needed there. Lines are always changing in the NHL, and it all surrounds not only around chemistry but where the pieces on the roster are best utilized.
While Kuznetsov has evident chemistry with Ovechkin, the statistics say that Backstrom is the better top-line center. Kuznetsov and Ovechkin don't truly suffer when they're not on the same line, and can still put up impressive numbers. However, Backstrom helps Ovechkin more-so, and the two of them appear to struggle without each other. With Backstrom and Ovechkin dependent on each other, it is probably a better idea to keep them together.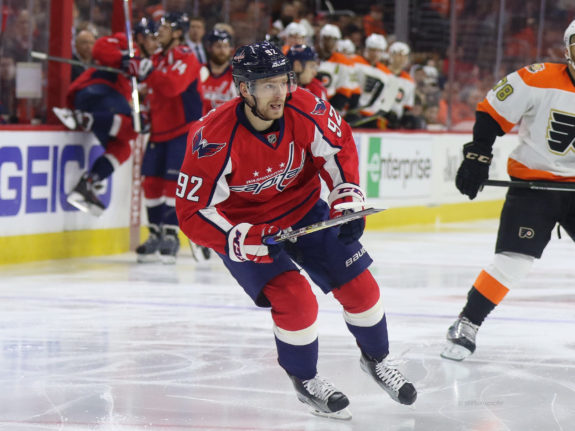 Not only that, Washington will be looking to Andre Burakovsky and Jakub Vrana to join the top six ranks next season, and will need someone like Kuznetsov to slot into this role and carry this line. This line is relatively young and needs someone who is speedy and thinks the game well, and that's where Kuznetsov comes into play. With his skating, youth and overall ability, he will be able to not only help Burakovsky and Vrana thrive, but he will likely see better chemistry playing with the younger players as opposed to the top-line veterans.
Kuznetsov is also experienced enough to serve as a role model and carry his line, and with him down the middle, Burakovsky and Vrana are bound to get more scoring chances and reap the benefits of playing with a skilled, fast center like Kuznetsov, which will, in turn, lead to more impressive scoring totals from the younger players.
Overall, while Kuznetsov will most certainly develop into an elite, top-line center, that could happen sooner rather than later.
Sammi Silber covers the Capitals beat for The Hockey Writers and is an NHL contributor with Sporting News. She has also contributed to USA TODAY College, Huffington Post, FanSided and the Nation Network. Silber has written four books and recently worked on graphics for the film, The California Golden Seals Movie.