The 2016-17 NHL schedule was a slog for all 30 teams. The World Cup of Hockey concluded on Sept. 29, deep into the NHL's normal training camp period. As a result, teams featuring many new faces (like the Bruins) had to play catch-up in terms of developing chemistry and hammering home philosophy and talking points.
Moreover, the condensed schedule bred an unprecedented number of back-to-backs. A newly-introduced bye week gave teams a week-long breather, but teams were thoroughly exhausted before and after their hiatus.
This season, things get back to normal, with no international tournaments eating into the preseason and condensing the schedule.
For the Bruins, that's excellent news, as they figure to once again be injecting new faces into the lineup. Furthermore, the likelihood of a player like Patrice Bergeron sustaining another injury (as he did playing for Team Canada) prior to the start of the regular season is drastically diminished.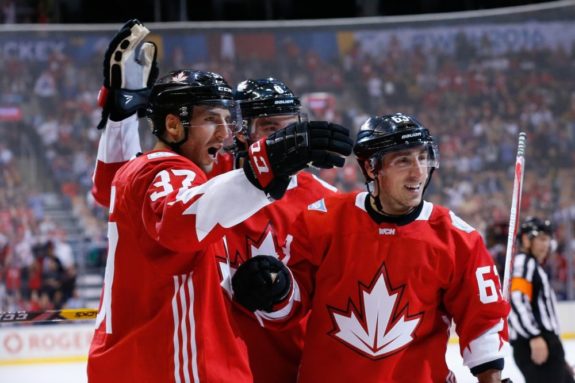 In addition to the lightened workload, Boston received a fortuitous roll of the dice from the league regarding its early-season scheduling. Both in terms of opponents as well as home/away splits, the road to a hot start is wide open.
Facile Foes
For the third time in four seasons, Boston kicks off the year with a home game. This year, the Bruins have a formidable foe on their hands, as the defending Western Conference Champion Nashville Predators visit Causeway Street.
Tall task notwithstanding, a visit from old friend P.K. Subban always seems to get the juices flowing.
From there, the sledding gets significantly easier, at least on paper.
A home-and-home with last season's cellar-dwelling Colorado Avalanche is Boston's reward for a tough home opener. The Avalanche failed to hit the 50-point plateau in what was easily the worst season in franchise history. With Joe Sakic's club embarking on a full rebuild the team figures to be just marginally (if at all) improved.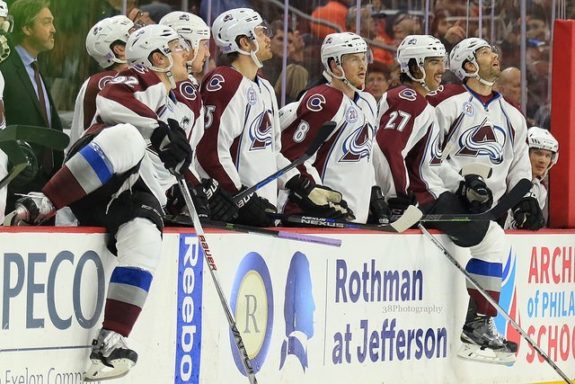 From Denver, the Bruins head to the desert for the season's first back-to-back. A date with the rebuilding Arizona Coyotes, fresh off a 70-point season, awaits them. Like Colorado, Arizona's prospects for success remain dim, at least for the time being.
Twenty-four hours later the B's will play their first-ever tilt against the Vegas Golden Knights. With both eyes fixed toward the future, Vegas GM George McPhee has compiled a roster destined to struggle this season.
Following their brief three-game sojourn through the west, Boston returns home for a four-game home stand, with the first two contests coming against the Vancouver Canucks and Buffalo Sabres. Both squads finished dead-last in their respective divisions a year ago and neither has the look of a playoff team this upcoming campaign.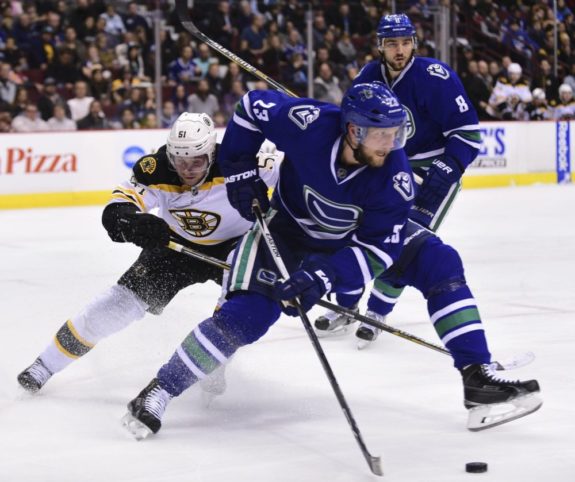 In total, that's five games versus the 30th, 29th, 27th and 26th-ranked teams from a year ago, with an expansion club thrown in for good measure. A team couldn't ask for a more manageable start to its season.
Bruins Home/Away Splits
Last season, the Bruins were on the road for six of their first nine contests, including a three-game trip to start the season. This year, the team will be treated to the inverse, with six home contests through the same nine-game span. Following one road tilt versus Columbus in Game 10, they come home for yet another homestand, this one lasting three games. That's nine home games through their first 13 contests.
Concerns regarding Boston's multi-year ineptitude at home were put to bed following the team's mid-season coaching change. Under Bruce Cassidy, the Bruins finished the regular season by winning 11 of their last 14 home games, including each of their last four. As such, it's hard to view the early-season schedule as anything but a boon.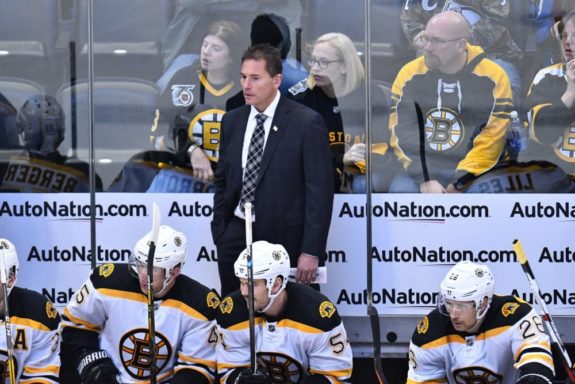 Moreover, there are even positives to glean from the road affairs. Games 3, 4 and 5 of a season are the perfect time for a cross-country road trip; the team will be bright-eyed and bushy-tailed that early in the season.
Their tilt at Columbus will be the Blue Jackets' third game in four nights, with a flight to nearby St. Louis included. Conversely, Boston will be playing just its third contest in nine days. Jeremy Jacobs should have some "thank you" cards and a nice bottle of bubbly for the league office.
Beyond the Numbers
The hope here obviously is that favorable matchups and home/away splits lead to points in the standings. Whether they come in Game 1 or Game 82, every point matters. A strong start out of the gate could be the difference between being able to fend off a division foe down the stretch and succumbing.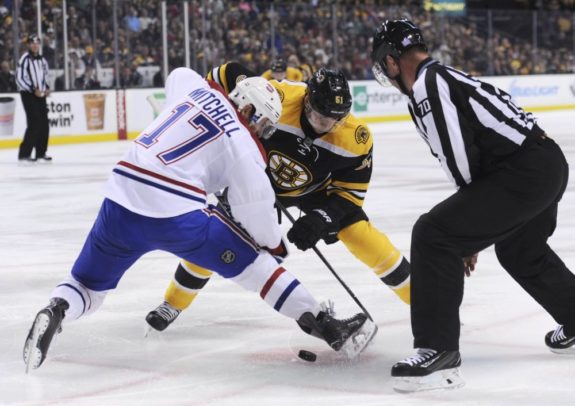 However, important though they may be, points in the standings are not the sole benefit to a favorable early-season schedule. Confidence, particularly amongst Boston's younger players and rookies is of arguably equal importance.
Last season, five of Boston's first seven opponents wound up qualifying for the playoffs. Five of the first seven goaltenders they faced were Sergei Bobrovsky, Cory Schneider, Carey Price, Devan Dubnyk and Henrik Lundquist; that list includes four of the past five Vezina Trophy winners not named Tuukka Rask.
After torching Bobrovsky for a touchdown opening night, the Bruins scored just six goals in four games against the remaining aforementioned netminders.
The team's sagging confidence was especially noticeable in rookie Danton Heinen. After an electric, prolific training camp and preseason, the organization was left with no choice but to award Heinen with a roster spot to begin the year. He played eight games in Boston, going pointless while looking progressively less and less comfortable on the ice.
Perhaps an easier slate of games, matchups, and goaltenders could have helped Heinen register a few points and build some confidence. It might not have been enough to keep him in Boston for the entire season, but it likely would have prevented the two-month slump he endured in Providence following his demotion.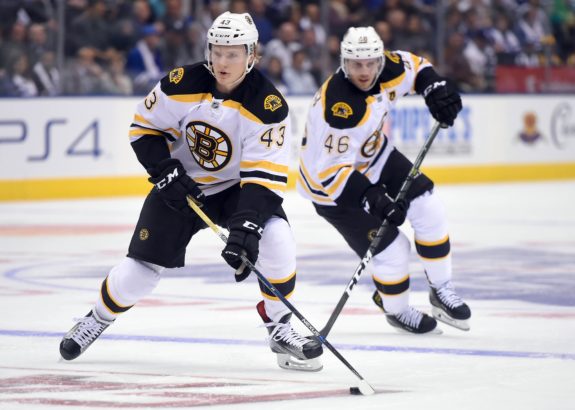 This year's Bruins team will feature numerous young faces. Charlie McAvoy and Boston's cadre of roster hopefuls at forward all stand to benefit greatly from the team's early-season slate.
Successful teams take care of business against lesser foes. With a heavy dose of inferior teams and home tilts on the docket, the Bruins have a golden opportunity to hit the ground running.