For many fans of the Boston Bruins, the offseason discussion has revolved around left wing prospect Anders Bjork. The former fifth-round pick from 2014 has been making noise over the last two seasons at Notre Dame, including 21 goals and 52 points in 39 games last season. As such, many have been calling for the Bruins to pull out all the stops and sign Bjork to a contract. With the Bruins needing a top-six left winger to play alongside David Krejci next season, the fit seems perfect.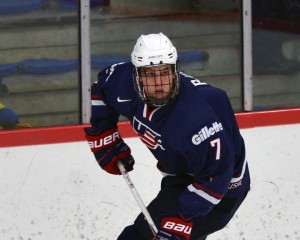 While Bjork would seemingly be the perfect player to plug into that role, there are a few quality left wingers in the organization who are making their own case to play with the big club next season. One of those players happens to be Danton Heinen. Many people tend to forget that prior to signing with Boston last year, Heinen was in the same boat as Bjork.
A former fourth-round draft pick in 2014, Heinen excelled in each of his two seasons at the University of Denver prior to signing his first NHL contract. In his first season following the draft, Heinen scored 16 goals and 45 points in 40 games and immediately put the Bruins on notice – Heinen could play. Improving in his second year, Heinen scored 20 goals and 48 points in 41 games and looked like a potential breakout candidate for the Boston Bruins in 2016-17 once he put his pen to paper.
Slow Start Changed the Narrative
Earning a position out of training camp, Heinen immediately looked like he fit in the NHL. Playing well positionally and never looking out of place, the expectations were unusually high for a fourth-round pick who was still just 21-years-old. After eight games, Heinen's ability to play at the pro-level didn't translate into a single point. With just two penalty minutes and a minus-three rating, it appeared that the Bruins pushed Heinen too fast. As a result, the Langley, British Columbia-native was sent to the AHL to refine his skills with the Providence Bruins.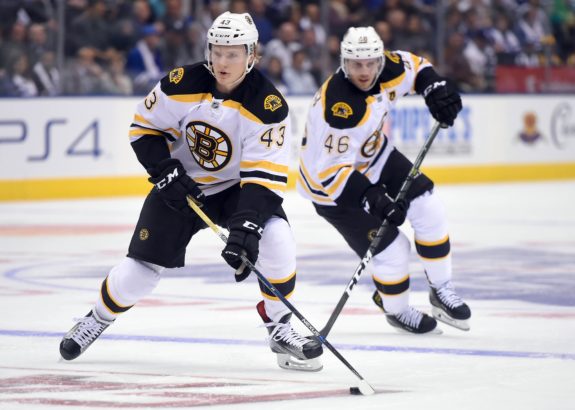 It was a quick fall from grace, but it also wasn't necessarily Heinen's fault. Thrust into a situation that was much bigger than himself that included a team desperate to make the postseason, a general manager being critiqued for his early moves in his new position and a coach who's head was constantly being called for, Heinen was simply in the right place at the wrong time. That didn't deter the forward from making the best of the situation in Providence, however, as he went on to score 14 goals and 44 points in 64 games. It wasn't until the postseason, though, when Heinen really showed what he could do for the club.
Making History in Providence
When looking at the core of the Bruins, two names that have been mainstays in the lineup since the 2010-11 season have been Brad Marchand and David Krejci. Both players have solidified themselves as two of the best Bruins' players in history and will be forever etched in stone as Stanley Cup champions. Prior to joining the team in Boston, however, both players made their marks in the AHL.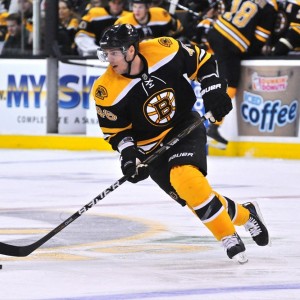 In 2006-07, Krejci scored 31 goals and 74 points in just 69 games as an AHL standout. He went on to set the all-time Providence Bruins point total from a rookie as well when he scored three goals and 16 points in 13 games. When Marchand debuted with Providence in 2008-09, his regular season was a similar one to Heinen. He didn't score at a point-per-game pace or higher like Krejci did. He scored 18 goals and 59 points in 79 games in a solid showing that earned him some notice from the big club. In his postseason debut, however, Marchand found another gear, scoring seven goals and 15 points in 16 games – the second-highest postseason point total among Providence rookies in history.
This postseason, Heinen found his stride and has scored eight goals and a franchise-record 17 points in 15 games so far with Providence. Searching for a Calder Cup victory against the Syracuse Crunch, Heinen has done more than his fair share. It's a good sign of things to come for the 21-year-old who could see himself in Boston sooner than later. With a need at the left-wing position, Heinen will be afforded an opportunity to compete out of training camp next season.
Earning His Spot
It won't be easy for Heinen. The competition will include many talented players that could include himself, Bjork, former first-round pick Jake DeBrusk as well as anyone else the Bruins might bring in during the offseason. With his playoff surge and proven ability in college, Heinen has shown that he deserves to be in the discussion. Soon, he'll need to prove that he is the best-suited player for the job and he'll need to produce at the NHL level.
It's a good situation for the Bruins to be in as they continue to develop their team from within the organization. Brandon Carlo and McAvoy are just the tipping points. Many more Bruins' prospects will be competing in the coming years and the team will look to turn the corner on the lack of success that has come in recent years. Heinen could be one of the next stars in Boston, he'll just need to work hard and prove he can do so.
Brandon Share-Cohen has covered the NHL and various professional sports for seven years. Working with The Hockey Writers, Brandon works extensively on covering the Boston Bruins in addition to his role as the News Team Lead.