When injuries plagued the Boston Bruins heading into the 2016-17 playoffs, the team was fortunate enough to be able to dip into their organizational pool to bring in backup, particularly from the world of college hockey. The Bruins convinced 19-year-old Charlie McAvoy and his teammate, Jakob Forsbacka-Karlsson, to leave Boston University after the conclusion of their collegiate season in order to fill the gaps in the ailing NHL squad.
Of the many Bruins prospects whose names were mentioned heading into last season's playoffs, three were considered serious contenders to jump ship from the NCAA and head to Boston. Alongside McAvoy and Forsbacka-Karlsson, Notre Dame forward Anders Bjork was monitored closely by those who believed that he would make the jump to the NHL.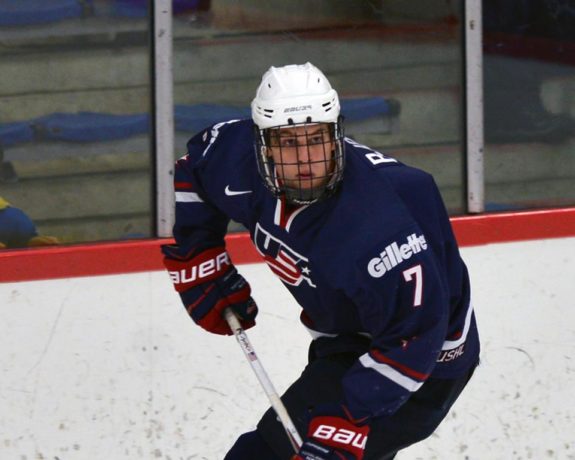 McAvoy and Forsbacka-Karlsson followed through, inking deals with the Bruins at the end of the season. Bjork, on the other hand, has not signed, leaving many people to speculate whether or not he's interested in becoming a Bruin.
Anders Bjork Has Options
Bjork exploded in his junior season with the Fighting Irish, making him one of the most highly touted prospects in the Bruins organization. In 39 games with Notre Dame this season, Bjork notched 21 goals and 31 assists for 52 points – 17 more points than last season.
However, his success does not necessarily mean he'll jump ship from Notre Dame quite yet.
In fact, Bjork's opportunity, should he remain in school for his final season, is very appealing. For starters, Bjork could earn his degree at Notre Dame, a prestigious university that his parents and two sisters both graduated from. Should he return, the Notre Dame team that made this year's Frozen Four could be a serious contender for a national championship.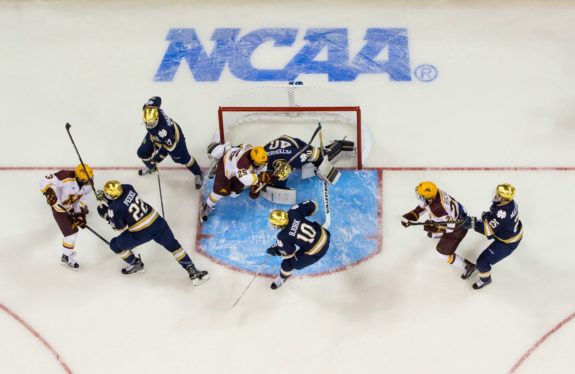 And, once he's done at school, the forward would be eligible to participate in the 2018 Winter Olympics in PyeongChang and could be one of the more highly sought-after players to fill a Team USA roster that, barring a change, won't have any NHL players.
Then, at the end of his collegiate season, he'd have another opportunity to join the Bruins, potentially in the playoffs.
Bruins All in on Bjork
Earlier this month, Bruins president Cam Neely said that the Bruins were doing "everything they possibly can" to sign Bjork this offseason.
"Well, we're doing everything we possibly can," Neely said, per MassLive. "He had a very difficult decision right after his season was over. I think it was overwhelming for him. He's at the World Championships now. His camp has told (Bruins general manager) Don (Sweeney) that he's going to make a decision whether or not to return to college hockey or turn pro after the World Championships at some point.

"So, our hopes are that he sees where we're at as a team and some of the young players we're putting in our lineup and we hope that he understands that he's a player that we think very highly of that can step in and contribute here."
Bruins head coach Bruce Cassidy, who took over behind the bench midway through the season, said he didn't want to involve himself too much in Bjork's matters. The new Bruins coach understands that the decision to turn pro is a tough one, and impacts the player's entire family.
"Part of that is I don't get involved too much in that," Cassidy said. "You kind of coach the guys that walk through the door. I think everyone with the Bruins values what he brings, but him and his family advisor have to figure out what's best for him and that's what they're doing. … Hopefully he does join us but I'm just speculating when I say that."
What If He Doesn't Sign?
If Bjork decides not to sign with the Bruins this offseason, then there's reasonable cause for concern. The Bruins are only in control of Bjork's rights until the end of next season. Should he decide not to sign with the Bruins, he could test the free agent market next August (2018), as Jimmy Vesey did last year.
If Bjork has another stand-out season, the prospect of this happening could become very scary for the Bruins. If next summer rolls around, and Bjork has yet to sign, then it'll be pretty clear that he doesn't feel any rush to sign with Boston. If that's the case, then he may feel it's best to test the free agent market, where he'll undoubtedly draw attention and cash from many teams.
Just waiting for Anders Bjork to make a decision. @BlackAndGold277 @BruinsArsenal @Bruins_Fn88 pic.twitter.com/rm5LEe1yL6

— TDyck (@tylerdyck15) May 23, 2017
For now, though, the Bruins shouldn't worry. Bjork may still sign this offseason, and even if he doesn't, it doesn't necessarily mean he's eager to test the market. Even if he plans on signing in Boston at the end of all of this, the young forward still has very good reason to hold off on signing a contract. Next season, should he remain at Notre Dame, Bjork would have the opportunity to compete for a national championship, an Olympic medal, and possibly even a Stanley Cup, all in one season.
Bruins fans shouldn't hit the panic button because of what they saw from Vesey last season, but it is something that they should keep an eye on moving forward.
Cam is a Broadcast Journalism student at the University of Maryland. He's the Boston Bruins Beat Writer at The Hockey Writers, and is an avid college hockey fan. Find him on Twitter @CamHasbrouck!