The Vegas Golden Knights will be the central piece of news during an exciting few days coming up this summer. They'll be granted to opportunity to select one player from each NHL team to help build a roster they hope is competitive come the 2017-18 NHL season. Some teams will have no choice but to leave some very good players exposed. This will help the Golden Knights tremendously. Other teams will do whatever they can to leave only the unwanted and garbage contracts available.
As a result, some crafty managing my take place and some trades will come out of nowhere. No matter what happens, there are a number of players the newest NHL franchise should avoid. Below are seven players that should be avoided like the plague.
Benoit Pouliot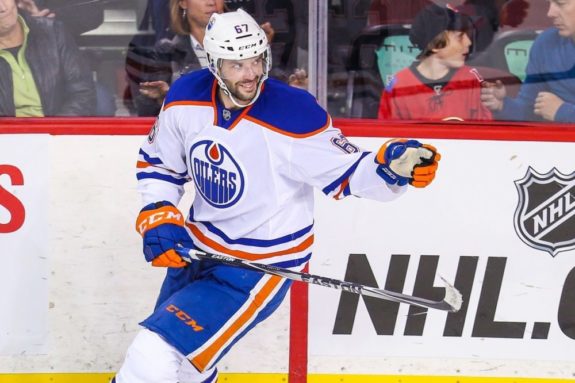 As a fan of the Edmonton Oilers, I'm extremely familiar with Benoit Pouliot. So as much as I'd like the Golden Knights to pluck him off the Oilers roster, as a man with an ethical conscience, it behooves me to say Vegas should stay as far away from Pouliot as possible. He's been nothing but a disappointment since being signed as a free agent and he's proven to be an example of how analytics should not be solely used to sign players to big time contracts.
Pouliot is owed $4 million for two more seasons and he scored a whopping 14 points in 67 games. The Oilers were hoping he'd rebound a little during the playoffs, but instead, he scored absolutely no points over 13 games. It was ugly and there really isn't a scenario where he's a part of the Oilers' organization moving forward. Over his entire tenure with the team, he has 84 points in 193 games. He spent most of that time as a top-six forward.
Nail Yakupov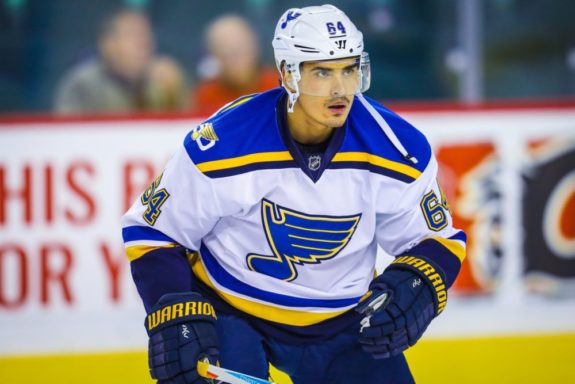 In what has to be viewed as the biggest first-overall NHL Draft selection bust in years, Nail Yakupov has proven to be more than a mistake for the Edmonton Oilers. He's now a two-time flop at his tenure in St. Louis has been nothing shy of disappointing. In 40 regular season games had nine points and in the postseason he didn't appear at all.
There may be a desire by the Golden Knights to take on a reclamation project or young prospect that just needs the right environment or playing time to succeed but Yakupov is showing quickly that he's probably not that player. His attitude is not one that is conducive to growing with an expansion team either. He's shown he doesn't have a lot of patience when he doesn't agree with a coaching or management decision.
Bobby Ryan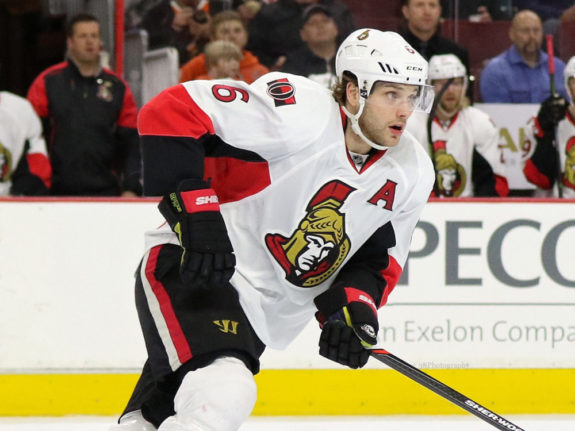 Bobby Ryan has rebounded from an exceedingly bad regular season for the Ottawa Senators by scoring 15 points in 18 postseason games. He may have found some of his game and if he has this is a good thing for Ryan, the NHL and whichever team he ends up with. No one wants to see a second-overall pick struggle so mightily.
Still, there may be the temptation by the Golden Knights to take a flyer on him. Not that they should struggle to do so, but they need to get to the salary cap floor and Ryan is a $7.5 million cap hit for the next five seasons. As such, he may help the team, but he is a huge risk. Even at the pace he's scoring in the playoffs, that equates to a 68-point regular season player and that's not necessarily worth the kind of money he's being paid.  He was at one time an on-the-cusp superstar and if he has a good season, could provide more immediate scoring than any other possible player Vegas might pick up. It's tempting, but Vegas should avoid this temptation if possible.
There is still a very good chance Ryan is more the 25-point guy he was during the regular season than the almost point-per-game guy he's been in the playoffs. If he's the lesser of the two players, that is a very long time that the Golden Knights would be on the hook for his contract.
Dustin Brown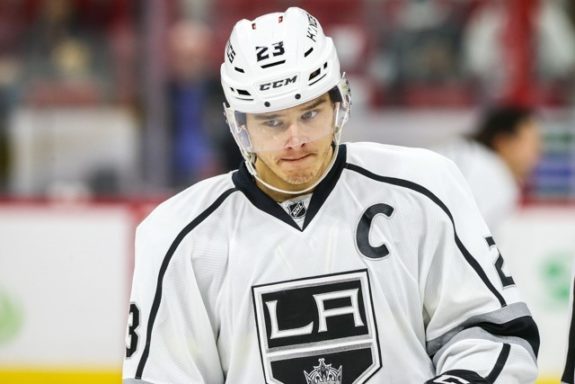 Sometimes players NHL play just sort of falls off a cliff. That's what's happened with Dustin Brown of the Los Angeles Kings. It's not that he's a "bad" player, he's just far too slow to keep up with the pace of a speedy NHL and his game will likely regress before it improves. That he's a $5.875 million cap hit for five more years makes him about as unattractive a pick up as there is for the Golden Knights who need to build for the future.
Perhaps his lack of production could be overlooked if the Golden Knights were actively looking for someone to be their captain. After all, at one time, Brown was looked at as the on-ice leader for the Kings. Even in that respect, there are questions as the Kings did far more poorly than they would have liked and the organization is in the midst of a massive overhaul of management, coaches and player/personnel. He was stripped of the captaincy and Brown's contract is one that the Kings will have to live with unless they choose to buy him out.
Kevin Bieksa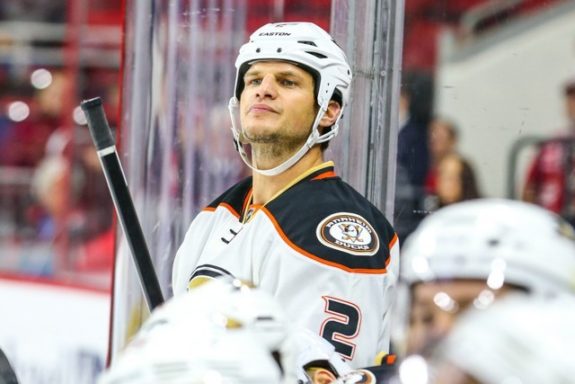 He's the one defenseman the Anaheim Ducks would be willing to lose and he's the one defenseman they'll be forced to keep. With a no-movement clause, if Anaheim doesn't convince Bieksa to waive his rights, the Ducks are stuck with the aging and slow defenseman. It only makes sense that Anaheim will try to work something out between the player, the Golden Knights and the expansion draft, but Vegas shouldn't bite.
At 35 years old and with a $4 million cap hit, he's exactly the type of player the Golden Knights should be avoiding. As a liability on a Ducks team that has a pretty good defensive core, the last thing an expansion franchise wants is a defenseman who is going to struggle while the team is already behind the eight ball, which expansion franchises often are.
Justin Abdelkader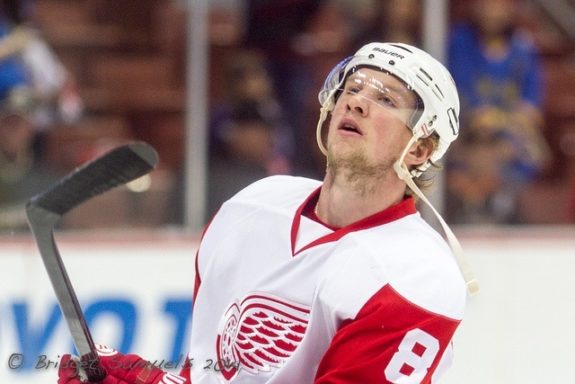 The combination of injury concern and declining play make Abdelkader a player the Golden Knights should stay away from. It's ironic because the Red Wings might choose to protect him.
Abdelkader is making $4.25 million per year on a contract that lasts through the 2022-23 season and he's been producing like a third, often fourth line player. With a mere 21 points in the 2016-17 season, he's only once cracked 20 goals in his career and never more than 44 points. That's a huge investment on the part of an expansion team that needs to pick a few diamonds in the rough and avoids players who'll keep them on the hook with an untradable contract.
Semyon Varlamov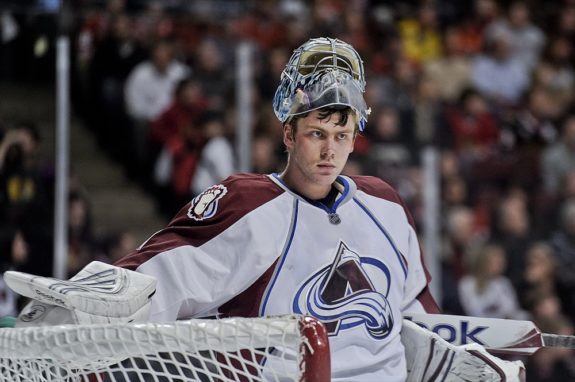 Varlamov had a good year in 2013-14 but outside of that, he's been mediocre and last season he was simply not good. The 2016-17 campaign was the worst of Varlamov's career, as he went just 6-17 with a 3.38 goals-against average and .898 save percentage. He ended up missing the remainder of the season with an injury and when a goaltender has groin issues, it's not a small thing. So too, there are better and less expensive goaltending options out there for the Golden Knights. Varlamov's $5.9 million cap hit for two more seasons is likely not a smart financial bet.
To top it all off, Vegas should be leery that Varlamov is just not the best teammate and comes free of drama. His off-ice issues back in 2014 may be in the past, but this off-ice stuff tends to linger and potentially pose complications for a player who could be part of a club where being a teammate, strong person, leader and part of the community are almost as important as winning.
Instead of These Guys
The Golden Knights need to make good bets. They need to choose productive players, but they also need players who are on the way up and not on the way down. They need players who will represent the franchise in a positive way and above all else, any press and media attention drawn toward the team should be positive and not about the mistakes the NHL's newest franchise made in making their expansion selections.
Jim Parsons is a senior THW freelance writer, part-time journalist and audio/video host who lives, eats, sleeps and breathes NHL news and rumors, while also writing features on the Edmonton Oilers. He's been a trusted source for five-plus years at The Hockey Writers, but more than that, he's on a mission to keep readers up to date with the latest NHL rumors and trade talk. Jim is a daily must for readers who want to be "in the know."
Other content contributions include: NHLtradetalk.com, The Sportster and hosting weekly video casts, THW News and Rumors Rundown, plus Oilers Overtime.
For interview requests or to provide content info, follow Jim on Twitter or his social media accounts. They appear under his photo on articles like this one.