If the Buffalo Sabres wish to put an immediate end to their current six-year playoff drought, there are two holes they need to fill this offseason.
The first is obviously defense, and even though the team should be improved with the anticipated additions of Viktor Antipin and Brendan Guhle, newly-hired general manager Jason Botterill would be wise to add one more affordable piece to the Sabres' blue line.
After defense, the second-largest area of concern for Botterill and company should be strengthening the left side of Buffalo's offense. For the sake of argument, let's assume that the Sabres keep Evander Kane, which makes sense, given the fact that he led the team in goals in 2016-17. Once you get past Kane, Buffalo's scoring options at left wing go from limited (Marcus Foligno, a third-line player at best who spent far too much time skating alongside Jack Eichel last season) to wildly inconsistent (Tyler Ennis, a shell of his former self) to obsolete (Matt Moulson, who started out strong last season and then managed to find the net only seven times from December through April).
[Related: Full Sabres Salary Cap Information]
It is hard to imagine that the Sabres will keep both Ennis and Moulson on the roster for the 2017-18 season. Fans might want the Sabres to continue to build a young team, but with Alexander Nylander probably being one more year away from the NHL, there are no prospects who can step in and provide top-6 scoring. Instead, Botterill will need to bring in a player who can provide reliable scoring to a crop of forwards that desperately need it – but he may have to get creative in order to do so.
Note: this piece will focus solely on free agency and the opportunity for trades that will be made possible by the expansion draft. Prospects found in the 2017 NHL Entry Draft will be covered at greater length in the near future!
Weak Crop of UFAs
The Sabres took advantage of a strong crop of unrestricted free agents during the summer of 2016 to land the second-biggest fish in the UFA pool, Kyle Okposo.
Sadly, Botterill will not find too many fish worth waking up early for this offseason . . . unless it's dinosaurs and not fish he's hunting for this offseason.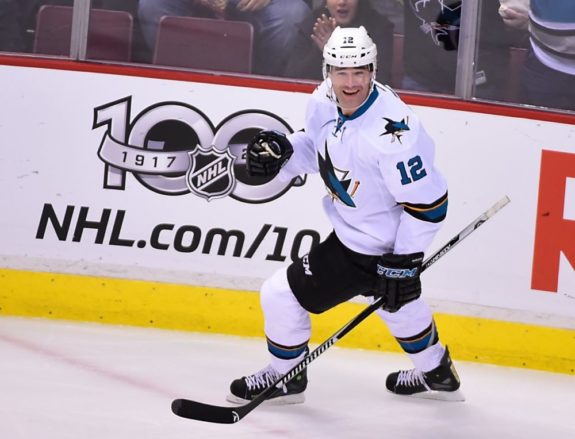 If you head over to Spotrac and skim through the list of left wingers who will become unrestricted free agents on July 1, you will find a who's who of veterans that are in the twilight of their career. At the top of the list, is Patrick Marleau of the San Jose Sharks. At 37 years of age, Marleau leads all available left wingers in scoring with 45 points in 2016-17 and probably has another two or three years in him. Those looking for the Sabres to bring in a veteran for a one- or two-year farewell tour, however, can cross Marleau off of their wish list, as it is impossible to imagine him uprooting his family and leaving California at this stage of his career.
There is another 37-year-old left winger set to become a UFA who might be on Botterill's wish list, and that is Chris Kunitz, currently enjoying another deep postseason run with Botterill's former team, the Pittsburgh Penguins. With just 29 points in 71 games this season, Kunitz is not going to transform the Sabres into one of the NHL's best offenses, but he will bring over 150 games of postseason experience into Buffalo's locker room. He will also bring a "whatever it takes to win" mentality, as proven by his 41 hits this postseason, third-most on the Penguins.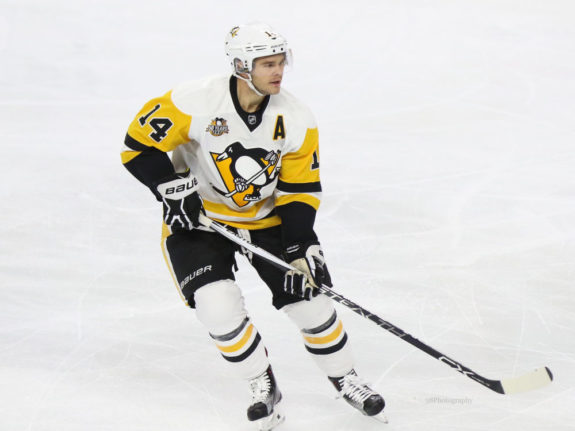 I am not a fan of bringing in a third-line player to shore up the left wing, but you cannot deny that the young Sabres lacked discipline and leadership this season. With captain Brian Gionta's fate still unknown, it would not be surprising to see Botterill offer Kunitz a short-term deal in order to help create that culture of winning that has been missing in Buffalo for so long.
There are two other veteran left-wingers who will become UFAs this summer that Botterill might look to add – former Sabres player Thomas Vanek and Kris Versteeg, who just finished a 37-point season playing in Calgary. Again, I am not a fan of bringing in a player with as many miles as Vanek (33 years-old) or Versteeg (31), since I'd prefer Eichel and Sam Reinhart had a fast, creative player who will compliment their style. Still, I am not the GM, and can't ignore the dearth of veteran leadership the current roster has. If the Sabres favor adding experience over scoring punch, then unrestricted free agency is the way to go this summer.
On the other hand, if speed and scoring are what the team is looking to add . . .
Tough Times Call for Creative Solutions
UFAs might provide the Sabres with leadership, experience, and scoring that falls somewhere in between second and third-line production, but where can Botterill and the front office turn if they are looking for the sort of player that would make Buffalo's second line the stuff of nightmares?
Well, the opportunities that will be created by the upcoming expansion draft have been discussed to death, often in reference to Buffalo's search for a top-4 defenseman. I am not convinced that a legitimate top-4, much less a top-pairing, defenseman will be had for as cheap as many people think . . . but when it comes to top-6 forwards, the Sabres might be in luck, simply because they are slightly easier to come by.
As always, we look at the Anaheim Ducks as an example of how the expansion draft could help a team like the Sabres. The Ducks have a difficult decision staring them in their fowl face: do they protect seven forwards and only three defensemen, in which case they lose a solid defenseman like Sami Vatanen or Josh Manson, or do they choose to protect eight skaters, in which case a winger such as Andrew Cogliano becomes exposed to the draft?
Cogliano is still considered a veteran player but, unlike Vanek, he doesn't take nights off, and his two-way game would make up for some of the defensive deficiencies exhibited by Eichel and Reinhart.
Obviously, Anaheim is not the only team that must make tough calls. Will the St. Louis Blues protect Finnish center Jori Lehtera, who could easily slide over to the left wing if paired with Eichel and Reinhart? Will Minnesota be able to protect Jason Zucker, who was the Wild's sixth-best scorer this season? Pierre LeBrun joined Schopp and the Bulldog on WGR 550 Wednesday and said what many people are thinking about the upcoming offseason:
LeBrun- "I think the period from June 15th to July 2nd could be the busiest in the 100 year history of the National Hockey League."

— WGR 550 (@WGR550) May 24, 2017
Make no mistake about it: thanks to the expansion draft, players will be moving.  It's up to Botterill to work the phones and see if he can plug some holes.
And lest we are accused of failing to cover all of our bases, the Sabres can always attempt to snatch a young RFA such as Tampa Bay's Jonathan Drouin or Calgary's Micheal Ferland away from the opposition. Again, a good GM will cover all of his bases and get a feel for which RFAs might be due for a change of scenery, but be aware: as our own Brandon Share-Cohen has pointed out, using an offer sheet is an absolute shot-in-the-dark. Since the 2004-05 lockout, only eight offer sheets have been signed in the NHL, and of those eight only once did the original team fail to match the competitor's offer.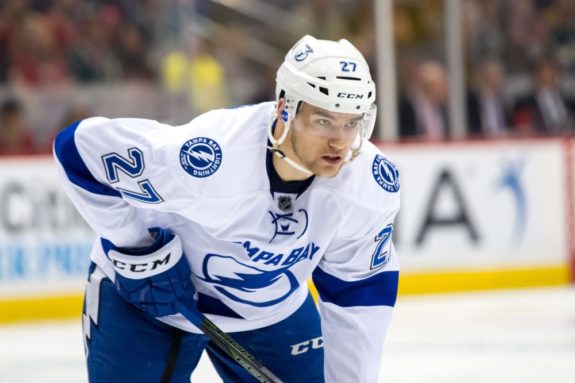 Does that mean Botterill should not consider making an offer sheet for someone like Drouin, who again appears to be in limbo with the Lightning? Of course not. Lightning GM Steve Yzerman has to negotiate new contracts for Tyler Johnson and Ondrej Palat as well, and anyone who follows hockey is aware that Drouin's career in Tampa Bay has been a bumpy ride at best. Using an offer sheet might be a gamble but, like any gamble, the payoff could be significant so it is absolutely worth a shot.
Botterill is the Perfect Man for the Job
If anyone can figure out how to add a quality left winger to Buffalo's roster, along with some depth on the blue line, it is Botterill. He's well-respected, has enjoyed great success in his 10+ years with the Penguins, and has built a reputation as a master of the salary cap thanks to his degrees in economics and business administration.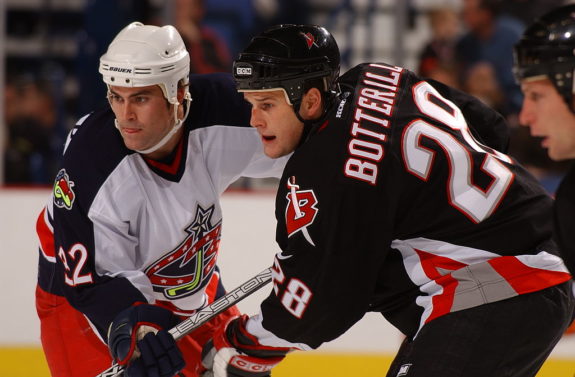 Fun fact: According to John Vogel over at The Buffalo News,
The Penguins have remained perennial contenders while adding pieces at the trade deadline despite five players with salaries of $5.75 million or more.
Under general managers Darcy Regier and Tim Murray, the Sabres have taken on some unattractive contracts that currently limit what the team can do, but don't expect those contracts to be albatrosses around the Sabres' necks for long. With the expansion draft looming, a buyout in his pocket and trades to be had, Botterill should be able to shed some bad contracts in order to bring in a few more key pieces in Buffalo's quest to return to the Stanley Cup Playoffs.
It might not happen overnight, but if anyone can fix the holes on Buffalo's blue line and left wing, it's Botterill.