Now that the Buffalo Sabres have announced that former Pittsburgh Penguins assistant general manager Jason Botterill will be the team's new GM, the franchise must get to work. There is a lot to be done, and not a lot of time to do it if this team wishes to make the playoffs next season.
Botterill inherits a team that had one of the league's worst defenses in 2016-17, but while the Sabres may need help on defense, they are a team with very few assets to spare, meaning Botterill should avoid trying to win over fans by swinging a blockbuster trade in his first few months on the job.
Sure, a splashy trade that brings someone like Cam Fowler or Jonas Brodin to Buffalo will make Botterill an instant hit with the fan base. The cost of acquiring such talent would almost certainly outweigh the benefits of such a move, however, and Botterill seems savvy enough to know better than to swing for the fences just to win the poplar vote.
Fortunately, for all the talk about just how bad Buffalo's defensive corps played in 2016-17, the Sabres are in a position to improve their blue line without breaking the bank. Fans might see a big trade as a sign that the front office is committed to making the playoffs in 2017-18, but there are much more affordable options that Botterill and his staff should pursue.
Help is Already on the Way
Before we talk about who the Sabres should go out and add to their blue line this offseason, it is important to understand: help is already on the way.
Before he was shown the door, former GM Tim Murray made a play for KHL defenseman Viktor Antipin, who just finished a season in which he put up 24 points in 59 regular season games, added 11 more in the postseason, and is skating with Russia at the IIHF World Championships.
#9 Viktor Antipin All Postseason Points https://t.co/eS3JRrY0Ee #Antipin #NHL #Sabres #КХЛ #ММГ @SabresProspects #Антипин #Металлург #НХЛ

— Dva Experta (@Dva_Experta) May 3, 2017
Fans were afraid that Antipin might decide to sign elsewhere once Murray and coach Dan Bylsma were fired, but he has since terminated his contract with Magnitogorsk Metallurg and is still expected to sign with Buffalo. While it is impossible to know if his game will translate into a successful NHL career, he has potential to become a top-4 defenseman for the Sabres and could become a linchpin on Buffalo's second power play unit.
Then there is Sabres defensive prospect Brendan Guhle, who impressed everyone during his short stint with the club last season.
Guhle played no less than three levels of hockey last season, and even though he seems destined to skate with the Rochester Americans in the AHL for most of 2017-18, he will be the first defenseman called up whenever the Sabres need a hole to fill. His skating, passing and scoring touch should land him in Buffalo's top-four as soon as the front office decides to offer him a permanent spot on the roster.
Sabres Have Numerous Options in Draft
With Antipin and possibly Guhle poised to join the Sabres' roster for 2017-18, it's safe to say that the blue line will be stronger next season. Even so, defensive depth should be a top priority for Botterill and the front office this summer, which means the team should be looking to acquire a future top-4 d-man with their first-round pick in the 2017 NHL Entry Draft.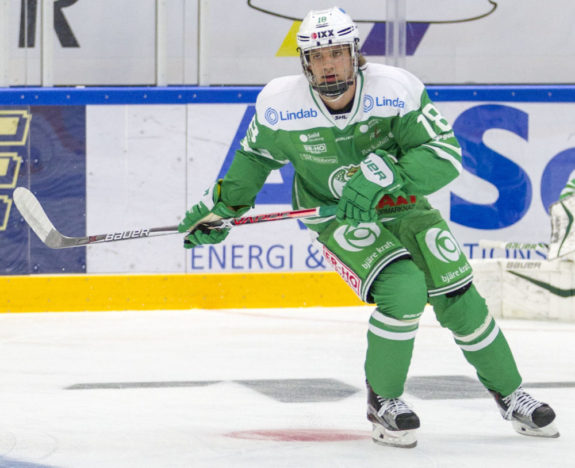 Despite the fact that this draft has been labeled a weak one, there are a handful of defensive prospects who look to be near NHL-ready, starting with one who will certainly be available when the Sabres pick eighth: Timothy Liljegren.
Yes, Liljegren's stock dipped a bit this season, due in large part to a case of mononucleosis and some questions about his decision-making. Still, he was ranked 7th among all NHL prospects in Jeff Marek's April rankings over at Sportsnet and is still considered a top-10 pick almost everywhere you look. Here is what Marek had to say about the Swede who has often drawn comparisons to Ottawa's Erik Karlsson:
A strong and well balanced skater who possesses a really good shot. Good puck mover who likes it on his stick a lot. Some scouts feel he'll be better around better talent.
It's hard to be concerned about a highly-touted defenseman whose stock is dropping a bit as the draft approaches – people love drama, and these are the types of stories that make the NHL Draft interesting. Liljegren is on track to become this year's Jakob Chychrun, but keep in mind: Chychrun was the only defenseman in the 2016 Draft to play a full season in the NHL, and he put up 20 points on an abysmal Arizona Coyotes team, to boot. The Sabres should not write off Liljegren as quickly as so many teams wrote off Chychrun last June.
Even if the Sabres have concerns about Liljegren, though, the team should still be able to draft a promising blue-liner with the eighth pick. Miro Heiskanen, the 17-year-old Finn who measures 6'0″ and 174 pounds, has been dubbed "the consensus top defenceman available in this draft" by both Marak and Bob McKenzie over at TSN, who explained why Heiskanen and Liljegren appear to be moving in opposite directions:
[Heiskanen] has been rocketing up the scouting charts, moving from No. 13 on our list to No. 4, effectively replacing Swedish defenceman Timothy Liljegren, who went from No. 3 at mid-season to No. 12 on the draft lottery rankings list. Heiskanen is the consensus top defenceman available in this draft.

Liljegren missed much of the first half of the season with mononucleosis. While he's still viewed as a prospect with a high offensive ceiling, his spotty play in the second half, combined with Heiskanen greatly elevating his play, resulted in a big swing for both players.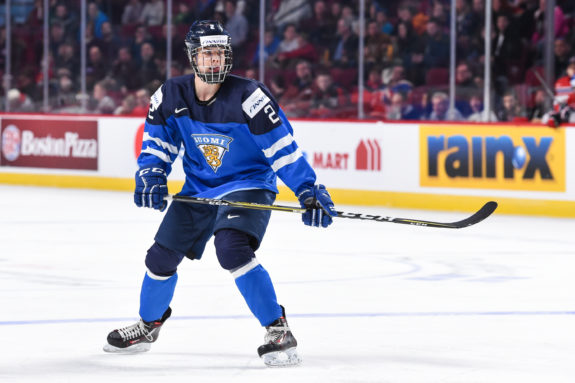 With Heiskanen's ascension in the rankings, it's hard to imagine he will still be available when the Sabres use their first-round pick, but it's easier to envision a scenario in which the team makes a trade to move up in the draft than one that will bring a proven blue-liner to the 716.
Then there is Cale Makar, the 5'11" defenseman who has also seen his stock rise as the season progressed. While Makar still ranks slightly behind Liljegren in Marak's rankings, he managed to shoot all the way up to seventh in McKenzie's rankings.
Even though he is a right-handed shot, Makar has proven to be a puck-mover who can quarterback a power play. It is easy to envision Makar becoming a second-pairing guy on Buffalo's blue line in the very near future, but again, his recent rise in the rankings makes it hard to predict whether he will still be on the board when the Sabres are on the clock.
Any way you slice it, the Sabres should be able to snag a defensive prospect who is at most 1-2 years away from being NHL-ready, all for the price of an entry-level contract.
Sabres Could Look to Free Agency – but Not the Guy You Think
If for whatever reasons the Sabres decide not to use their first-round pick on a defenseman, there is still a good chance that the team can acquire a top-4 blue-liner via free agency this summer – and no, we are not talking about Kevin Shattenkirk here. (This article is called "Affordable Options," after all!)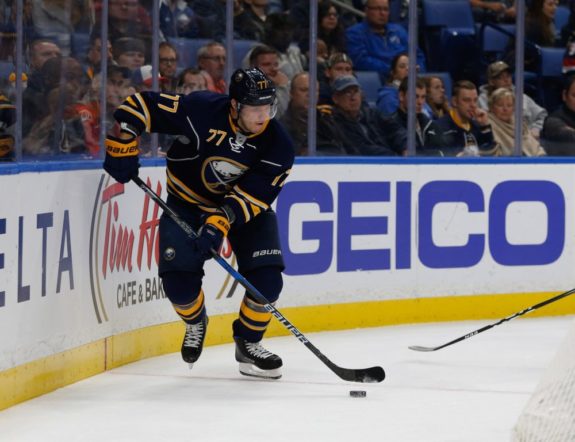 For starters, the Sabres have a decision to make regarding pending UFA Dmitry Kulikov. While Kulikov's season was an absolute disaster, courtesy of an open bench door, he appeared to be regaining his form at the end of Buffalo's 2016-17 campaign. If healthy, the 26-year-old Russian could provide the Sabres with the sort of hard-hitting, shot-blocking defense that a team such as the Anaheim Ducks used to negate the speed of the Edmonton Oliers in the second round of the playoffs.
Should the Sabres pass on Kulikov, there is always Washington's Karl Alzner, probably the second-best defenseman in what is admittedly a weak crop of UFA blue-liners. Alzner is experienced, hard-hitting, and won't get the sort of money that Shattenkirk will get. Of course, Alzner is not the offensive presence that Shattenkirk is, but he was also just a -1 in the Capitals' most recent playoff collapse, compared to Shattenkirk's -4. Sometimes, you just want a guy who can play shut-down defense.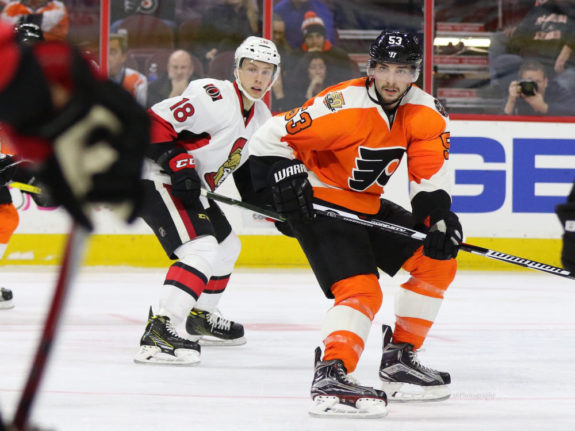 Other pending UFAs include the New York Rangers' Brendan Smith (another guy who is not flashy, but solid in the defensive zone) and Philadelphia's Michael Del Zotto (injury-prone, but definitely more of a puck-mover than Smith or Alzner). Speaking of Philadelphia, the Sabres could try to make a play on pending RFA Shayne Gostisbehere, who didn't help his cause by falling to the dreaded sophomore slump following an electrifying rookie season.
Botterill would have to make the sort of offer that Philadelphia would be willing to refuse, but with the Flyers' defensive depth and the growing rift between Gostisbehere and coach Dave Hakstol, Ghost Bear might be up for grabs. The Sabres will lose picks, but won't have to give up a player, making this play more attractive than a blockbuster trade.
There are other options for the Sabres to consider – this is not meant to be a comprehensive list of every prospect, UFA, or RFA the team could pursue – but the bottom line is this: the idea of a trade is sexy, but the Sabres don't have to give away picks, prospects and/or a top-6 forward in order to strengthen its blue line.