"Today is truly a dream come true," Jason Botterill told the media. "I truly understand, from my time as a player here in Western New York, both in Rochester and Buffalo, how passionate and loyal the fans in this region are towards the game of hockey. I know they deserve success."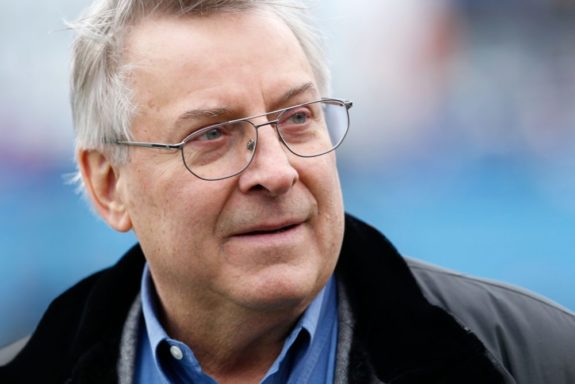 Though some of Terry Pegula's key buzzwords – character, structure, discipline and communication – came out of Botterill's mouth during Thursday afternoon's welcome press conference, they took on a whole new meaning.
It's one thing to hear the words from a billionaire owner who's rehearsed them ad nauseum, and yet another to hear them from a former player that's built a very impressive resume, with success at every level.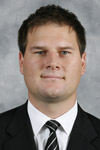 The Anti-Murray
Botterill and Tim Murray, while both rookie general managers, are easy to compare and contrast.
After opening with a prepared statement, Botterill took questions from the media and presented himself the way you'd expect an MBA grad would. He came across as calm, confident and likeable. His polished, friendly demeanor was very different from Murray's terse, abrupt style.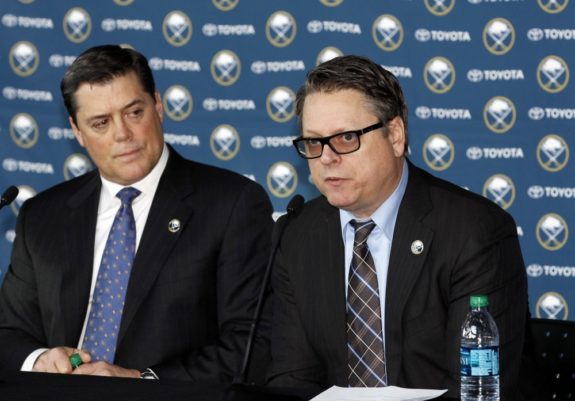 Murray prided himself on his scouting skills. That was his bread and butter.
In contrast, Botterill, in Pegula's words, "has been involved in the game – playing, evaluating, drafting, developing and also managing and molding players into a team and an organization." He has lived and breathed the game his entire life.
"He's been around some winning organizations and has been a winner himself," said a proud Pegula, knowing he clearly hit the nail on the head with this hire.
Murray was a bonafide scout; Botterill is a businessman.
Organizational Success
Also, unlike his predecessor, Botterill's treatment of the Rochester Americans will not be an afterthought; it'll be a priority.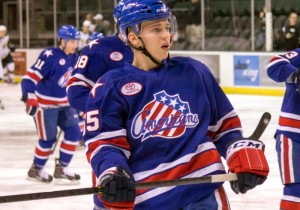 "I believe success comes from structure," said Botterill. "We want to build two teams, one in Buffalo and one in Rochester, that are highly competitive year in and year out."
More than lip service, he'll look to hire a general manager for the Amerks as well as make it a priority to be present there. He pledged to build a winning organization in Rochester and cited the importance of having strength in both the AHL and NHL in order for it to all work together.
A Pipeline of Talent
Botterill wants competition at all levels and said players won't be rushed into a job until they are ready.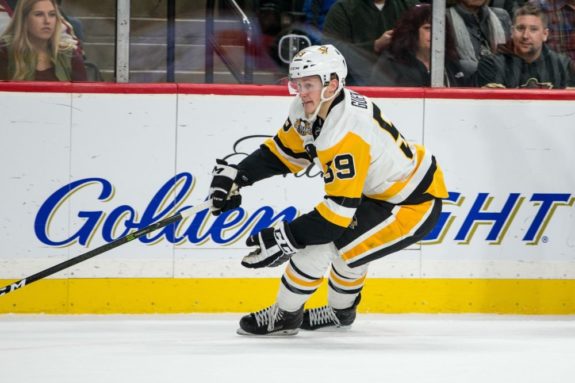 He cited Pittsburgh's Jake Guentzel as a perfect example of this, saying he wasn't ready for the bright lights of the NHL in October but was in December. Now, he's been an offensive threat for the Penguins who have advanced to the Eastern Conference Finals.
"We have some young players," Botterill said. "It's imperative now that we develop them."
In contrast, Murray tended to shuffle his prospects and young talent like they were poker chips.
Style of Play
Unlike Murray who tore down the team and began a rebuild, Botterill has a lot to work with.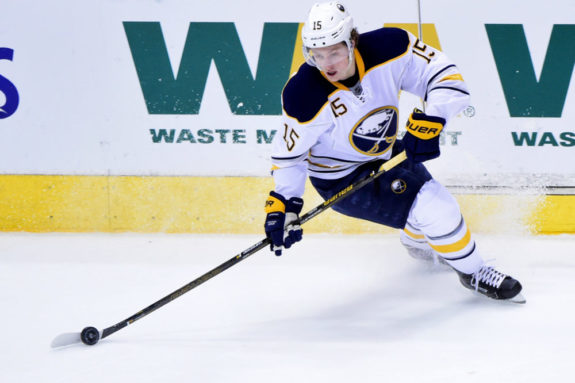 "This is a league that thrives on centermen. The fortunate thing here is we have a couple of amazing, high-end centermen," he said. "I also like the fact we have a few young defensemen that can handle some big minutes."
Botterill's plan is for the team to have a high, up-tempo, north-south puck possession game.
Goal Setting
Getting a coach in place by the draft is one of Botterill's immediate priorities.
He knows there are a number of great candidates to choose from and is looking for him to be "… a developer, an educator, a communicator and have a presence in the locker room." He added: "The coach will be in control and leading the charge."
Unlike Murray, Botterill knew better than to promise any playoff action. Instead, he stated: "Our goal next year is to be competitive. We have to be competitive, we have to be challenging."
A Star on the Rise
At 40 years old, Botterill is the second youngest general manager in the NHL and is considered one of its rising stars.

"I'm excited about leading this organization to the next level," he said. "My job will make sure that every player and staff member knows the importance of wearing the Buffalo Sabres logo."
"I'm looking forward to building a hockey operations department here that challenges me and creates a collaborative environment that will make the best decisions for our organization."
It sure sounds easy to buy into Botterill's plan. It's even better to know he has one that's proven.
Jeff has been covering the NHL for over a decade for various sites. He's been with The Hockey Writers as a lead Sabres writer three years, while also writing a satire column called "Off the Crossbar."