Following a first-round playoff exit, the Minnesota Wild face a busy offseason full of questions and signings. One of the more important issues surrounding the team is the state of the goaltending.
Currently, the Wild are rolling with a tandem of Devan Dubnyk and Darcy Kuemper. Now, it's no secret that Dubnyk has been an elite netminder during his time with the Wild. His role as the unquestioned starter is not in jeopardy for next season, even though he had an awful (and well-documented) month of March.
The starting position clearly isn't a concern for the Wild, but the backup position is. Dubnyk started 63 games this year, showing that Bruce Boudreau does not have confidence in his young backup Kuemper. With such a high number of starts, it's possible that fatigue was a factor in Dubnyk's poor play towards the end of the season.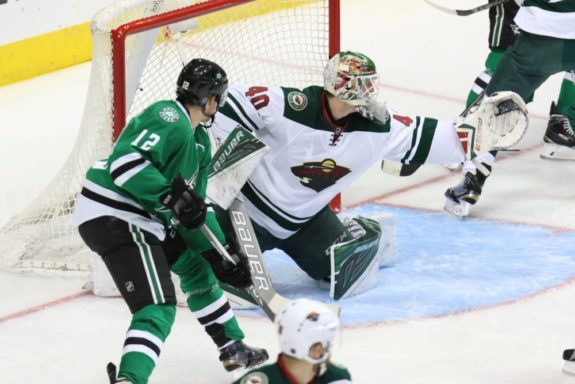 Kuemper wasn't great in the games he did play this season, and he is at the end of his contract. This leaves the backup spot open and puts GM Chuck Fletcher in a bind in regards to his backup goaltender. In addition to Kuemper being a free agent, the Wild also have Alex Stalock set to become a UFA on July 1.
This puts the Wild in a tough dilemma, they can only keep one, and both have been generally mediocre over the course of their careers. Given Dubnyk's play at the end of the season, fatigue cannot be ruled out as a factor, so the Wild need a goaltender who can provide solid netminding and give Dubnyk more rest. With both of his choices having average career numbers and nobody from the minors ready to make the jump to the NHL, who does Chuck Fletcher choose to bring back next season? Neither seems like a goalie the Wild would want to rely on in a tough spot.
Kuemper – A Perennial Backup
Let's not beat around the bush, Kuemper hasn't been great since he started his career with the Wild. In his entire career, he has a 41-34-14 record with a 2.60 GAA and a .910 SV %. Those numbers aren't awful, but they certainly aren't great either.
However, it's important to realize that this may not necessarily be Kuemper's fault; he has been through a lot of adversity in his career with the Wild. He was placed in tough situations and forced to play beyond his years to carry the team. At one point, he was hailed as the franchise's future in net, but that never came to pass.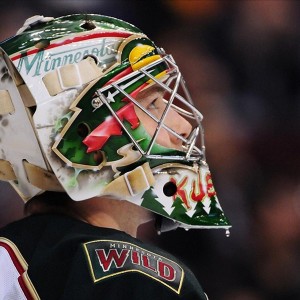 Kuemper was drafted in the 6th round of the 2009 NHL entry draft, and was the second goaltender drafted by the Wild that year, the first being Matt Hackett in the third round. At this point, Kuemper was viewed as unquestionably behind Hackett in the depth chart, and didn't see NHL action until the 2013 season when he was called up to relieve Josh Harding, who was suffering from Multiple Sclerosis (MS).
His first game was a 3-2 victory over the Red Wings in which he stopped 29 of 31 shots.
In April 2013, Hackett, who was Kuemper's major competition for a spot in the NHL, was traded to the Buffalo Sabres as part of a package for Jason Pominville. This was a clear message from the team telling him that he would now be the future of the franchise between the pipes. The Wild were in win-now mode and needed a goaltender to step up; this was their biggest issue at the time, especially with their tandem of Niklas Backstrom and Josh Harding. Backstrom's play had been steadily declining and Harding faced continuous health issues, leaving the Wild pretty short on goaltending options.
No Pressure
This meant the team was forced to rely on the young Kuemper to be a full-time NHL goalie and carry the team. For such a young goaltender with hardly any professional experience, the expectations placed on him were enormous.
Understandably, Kuemper struggled during the 2013-14 season, with wildly inconsistent play, and he even dealt with concussion symptoms for almost a month in December and January.  The pressure on him was ratcheted up another notch when Backstrom suffered a sports hernia and was forced to miss the rest of the season, depriving the Wild of a capable backup. The weight on the young goaltender's shoulders at this point must have been enormous, and he continued to struggle. This forced Fletcher to bring in Ilya Bryzgalov to help.
Following the end of the season, the Wild were forced to re-sign Kuemper because Backstrom was hurt, Bryzgalov walked, and Harding broke his foot and earned himself a suspension.
During the 2014-15 season, Kuemper started a career-high 28 games but posted underwhelming numbers again and left the team searching for answers. This time, they turned to Dubnyk, and the rest is history. Dubnyk has taken the league by storm since his arrival in Minnesota and Kuemper, once thought to be the next starter, has been relegated to the occasional game in the backup role.
Kuemper is an example of a young goaltender who was brought up much too soon and forced to play beyond his experience by a desperate team. It's no wonder he hasn't lived up to expectations; he's been constantly thrown into the pressure cooker with little room to grow and develop himself. This is even truer now that he's stuck as a backup. If given a chance, he could be a solid reclamation project.
The question now is: do the Wild re-sign him and keep Kuemper in his backup role next season or give their other netminder, Alex Stalock, a chance?
The Other Guy
Stalock was brought in last offseason on a 1-year, $650,000 cap hit but spent most of the season in Iowa. He finally made his debut with the Wild at the end of the season, when the team was trying desperately to get out of a funk. He made two appearances, going 1-1-0 with a 1.51 goals-against average and .944 save percentage. He played quite well in both his starts, but two games is practically a non-existent sample size to make any judgements. He performed decently in Iowa, posting a 20-16-7 record (including four shutouts) with a 2.31 goals-against average and .924 save percentage in 45 games.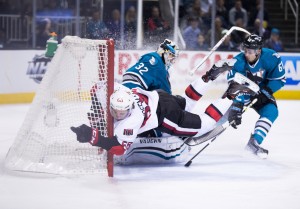 Stalock is 25-20-7 (including four shutouts) with a 2.34 goals-against average and .912 save percentage in 64 career NHL games during six seasons with San Jose and Minnesota. He has never been a high-end backup, and was seen as mostly mediocre during his time in San Jose.
In terms of how he stacks up to Kuemper, raw numbers would indicate that Stalock is equal to or perhaps slightly better than Kuemper. However, Kuemper has more experience in the big leagues; he has played 102 games to Stalock's 64. In addition, Kuemper's numbers over the last three seasons are more consistent than Stalock: .905, 9.15, .904 to Stalock's .932, .902, .884. While Stalock started well and dropped off, Kuemper had a decent start, elevated his play, and then dropped, but not to such a high degree that Stalock did. In addition, Kuemper also boasts 8 shutouts to Stalock's zero.
Let's take a look at some advanced stats. Based on data gathered from Corsica hockey, over the last 3 seasons, Kuemper has a better High-Danger save percentage at 79.93 to Stalock's 76.36, meaning that Kuemper was more effective at stopping difficult shots, even if the difference between them isn't huge. The two are also extremely close in both low and medium-danger save percentages, with Stalock having just a slight edge: 97.90 and 91.29 respectively to Kuemper's 96.89 and 90.10. So overall, the difference between the two is almost negligible, but Kuemper does have a clear advantage over Stalock because of his shutouts, ability to post consistent numbers, and a better percentage of high-danger shot attempts stopped.
Looking To The Future
In my opinion, the way forward is pretty clear. The Wild should sign Kuemper to a short-term deal (perhaps 1-2 years) to be Dubnyk's backup next season. His advanced stats indicate that he is better than Stalock and, at age 26, he still has plenty of room to grow. He isn't much younger than Stalock (age 29), but Stalock hasn't really inspired much confidence anywhere he's been. Plus, Kuemper can work with Boudreau and the organization's goalie staff over the offseason to improve his play. If he gets a contract and manages to help stabilize the goaltending tandem, it would also be a good redemption story for the franchise that misused him and forced him to play above his experience level. Working with a high-end coach such as Boudreau could allow Kuemper to turn his career around, and if he plays well enough, he may be able to develop into a capable starting netminder. This provides added benefit for the organization because they can deal him to another team to help him develop further and recoup some assets in the process.
This move makes sense for the team. After this season, it's pretty clear Dubnyk can't do it all on his own. He needs a capable backup to stabilize the net and share the load with, and he needs one now. Kuemper has shown that he can do that in brief flashes. If the Wild sign him, they need to commit to his development and helping him grow. This is a cost-effective option for both sides that allows the team to plug a major hole, and provides Kuemper with another shot at redemption.