When she is out on the ice her bite is worse than her bark. There is no shying away from the action on her behalf. Rather, she seeks it out and goes full bore into the scrum. Backing down from no one, the Buffalo Beauts' newest defender Colleen Murphy exudes a moniker that was applied to her in college.
"My coach at Northeastern from our senior banquet probably put this into the best words to describe me as a player," Murphy shared. "He described me as a 'little bulldog' on the ice. By that he meant, I'm not the biggest player but I will scrap with anyone. I will go into the corners hard. I'm not afraid to play physical. I'm one of the hardest workers."
Murphy is going to fit right in playing in Buffalo. A playing style such as hers is something that the Queen City has long supported in athletes that have played in this blue collar town for decades. Effort, attitude, hard working. Ideals that apply to Buffalo and to Murphy alike.  The city is affectionate towards underdogs. Always has been. In this case, it's a little bulldog.
Life Down South
Off the ice there is no bite or bark to Murphy whatsoever. Charming and polite to the utmost. There is a touch of a sweet Southern intonation to her voice and she is warm when she speaks. Murphy, who is a originally from Florida, grew up in North Carolina and lives in the city of Cary. The soon-to-be Beauts' roots in the game stem from a brand of hockey often found in non-traditional hockey markets.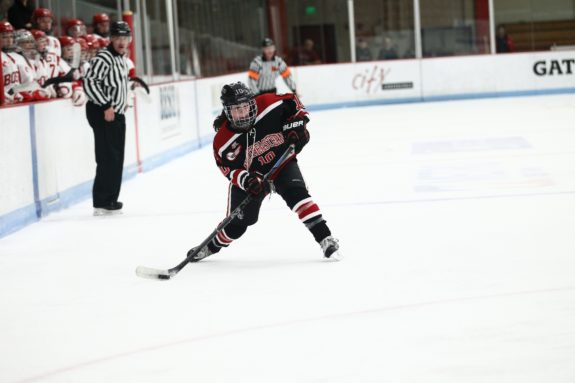 "I actually started out in roller hockey down here," Murphy explained. I had just moved up to North Carolina from Florida. First day in school I was invited to a kids birthday party at a roller skating rink. Took a dare from a couple of my friends where we said 'hey, let's start playing roller hockey'. A bunch of us took the dare and started playing. Eventually I moved with the group of boys into ice hockey when I was 14 or 15 years old."
Inspiration From Lidstrom
The earliest success of the NHL's Carolina Hurricanes came when the team reached the Stanley Cup Finals in 2002. They would meet the Detroit Red Wings and an idol of Murphy's.
"One of my biggest hockey heroes was Nick Lidstrom from the Red Wings," Murphy recalled from her younger years. "I wrote papers on him in school. He is by far one of the best 'D' that I can remember watching as a kid. He was definitely my idol."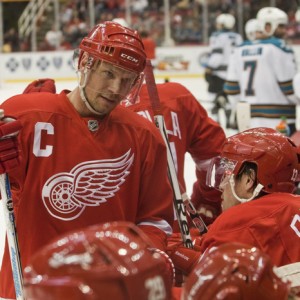 Though the 2002 'Canes would lose to Lidstrom and Detroit in five games, there was an ignition of sorts that took place in the Carolinas. The spark would culminate a few years down the line into a Stanley Cup championship for the franchise. Between the 2002 and 2006 Hurricanes' championship appearances, hockey would spread like wildfire in the region. Murphy was one of the youngsters who would be part of that regional growth of the game.
"I started playing down in North Carolina right when the Carolina Hurricanes were starting to get big when they won the Stanley Cup back in 2006," she said. "That was when it started blossoming a bit. I played with the boys from when I was ten to fifteen years old. I didn't play on any girls teams."
Finding a Spot for Women's Hockey
Though hockey became popular in North Carolina, opportunities were still limited at the time. Murphy, a true student of the game, knew that if she were to play at an elite level of hockey during her teenage years she would need to venture northward from home. This was especially the case when it came to playing girls' or women's hockey.
"When I was about 14 I traveled to Maryland and played with a team called the Montgomery Blue Devils just to start playing girls hockey. I knew that the boys were going to start getting too big and I would have to start going somewhere else. I also started to make the national development camps and started playing with the girls there."
The best option for high school and to play hockey during Murphy's teenage years ended up being the North American Hockey Academy (NAHA). The school is designed to allow girls in grades 8-12 the opportunity to receive a strong education while also pursuing competitive hockey. NAHA is located in Stowe, Vermont. Numerous current and former NWHL players like Paige Savage, Kaliya Johnson, Taylor Holze, Meagan Mangene, as well as many others (more on that shortly) are NAHA alumni.
Murphy's Time at NAHA
Murphy's play was noticed by NAHA's director. She explained:
"At one of the national camps, Bill Driscoll saw me play. He owns NAHA. He reached out to me and my family and said, 'Hey, why don't you come up to NAHA, take a visit and see if you are interested in coming up here for your high school years?' So I went up there. I knew a couple girls already at the time that were up there. I stayed with them for a couple days. Basically when I was 14 I decided that I wanted to leave my boys team, leave North Carolina, and go straight to Stowe, Vermont. I wanted to start making myself known in girls hockey."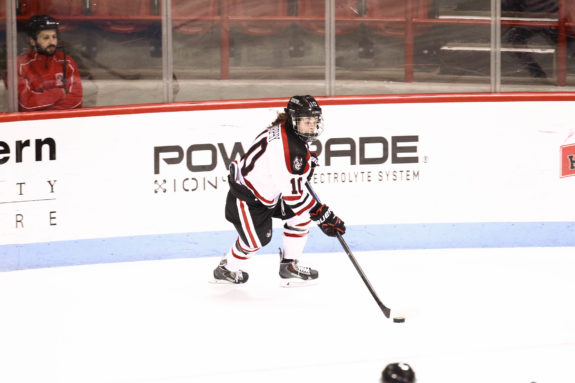 She went on to say, "I went up to NAHA when I was 14. Started as a freshman and stayed up there for four years. Had an awesome time there. Probably the biggest part of my development was playing up at NAHA. Got to know a bunch of the girls on the Buffalo team now that went to NAHA. So I am super excited about playing with them again."
The girls on the Beauts that Murphy played with are goaltender Kelsey Neumann, defender Kayla Parsons, and forward Kathy Donohue. Neumann specifically was instrumental in what led to Murphy coming to Buffalo. This contingent of familiarity bodes well already for what the Beauts will accomplish in 2017-18.
"I'm really good friends with Kelsey. She's definitely one of the girls that has helped me out trying to get in contact with the Beauts for this season," Murphy shared.
Searching for the Right College
The formative years spent at NAHA fully prepared Murphy for the college hockey road. Doors were opened. Among them were multiple ones to scope out in the Boston area. The right door to choose was not immediately apparent to Murphy. A particular visit, humorous in retrospect, left some uncertainty.
"After spending four years at NAHA, fortunately for me, I developed well enough where I got seen by the colleges early. Committed fairly early, and just did the best I could to keep developing for college. The summer between my sophomore and junior year, me and another girl from NAHA were in the Boston area. We were about to play for the Beantown Classic tournament, so we were up there. We just decided that we were going to go around some colleges like Harvard, BC, Northeastern. Drop by, talk to the coaches, shoot them an email saying 'we are interested and want to come see the campus and school. If you are available we would like to come talk to you,'" Murphy recalled.
First Visit at Northeastern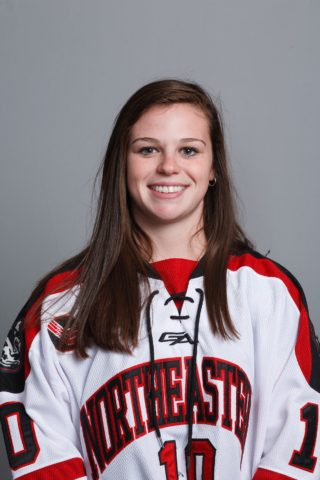 What ended up feeling right for Murphy as far as appearances went ended up not being fully reciprocated by an assistant coach.
"Northeastern was on the list," Murphy recalled of the school that would eventually become her alma mater. "When I went in, the assistant coach at the time was there and I was able to sit down and talk with her. I loved the campus, the school. The rink is amazing. So much history there, and that is what I kind of fell in love with. When I talked to the assistant coach, she said ' You know, you're a little small. I don't know if as a defenseman you'll be able to make it up here in the Hockey East conference.'
"I thanked her for being honest, and figured maybe would talk a little on down the line. That lit a fire under me. I was like, 'I'm not that small. I just need to bulk up some'," Murphy laughed.
If nothing else, the encounter between the assistant coach and Murphy lit a fire inside her belly. She was determined to prove that she could in fact play in arguably the best collegiate conference in the nation. That determination carried over onto the ice while she was finishing up her high school career at NAHA.
At Last, Northeastern
Things rarely work out as we envision that they will. Oftentimes, they work out even better. What Murphy could not have conceived during her later high school years was that the school where she was slightly snickered at would be the one she would end up attending. It would also be the one where she would etch a storied career.
"Going into my junior year at NAHA was probably the best hockey that I've played in my career," she remembered of herself. "I had started to reach out to more colleges and I had reached out to Northeastern again. I let them know that I was playing at certain tournaments and that I would love to have them there. Come see me play. They came to some tournaments. We talked on the phone again. Went up and did another visit. When January of my junior year came around I had another call with them and that was when they offered me a scholarship. It happened super fast."
From there, Murphy and Northeastern were made for each other.
"It was funny because I was definitely interested in some other schools," she said. "The last thing I expected was Northeastern to come back around to me based on what they had said a few months prior. I loved the campus. I wasn't used to being in a big city, especially being in Stowe, Vermont for four years. Boston is super cool. Loved the school. Just based on the girls that I met at Northeastern I knew I wanted to be in Hockey East because it is such a challenging conference. I called them back and was like, 'Yeah, I'm in! I want to be a Huskie'. It was definitely one of the best times of my life, for sure."
.@GoNUwhockey alumna Colleen Murphy inks pro contract with NWHL's Buffalo Beauts #GoNU https://t.co/hNPseyTSu6

— Northeastern Huskies (@GoNUathletics) July 21, 2017
Memories and Accomplishments With the Huskies
Murphy would played 138 career games for Northeastern. That ties her for sixth most in the school's history. In that time she scored 12 goals, 38 assists, and 50 points. She would finish her time with the Huskies as a plus-14, and would play plus seasons her freshman, sophomore and junior years.
Asked to recall her best moments at Northeastern, Murphy chose two that are equally as memorable as they are impressive. She said:
"There has got to be two. When we won Beanpot back-to-back my freshman and sophomore year. We have always been underdogs compared to BU, BC and Harvard. It had been about ten or twelve years since we had won the Beanpot. We were coming in as underdogs and ended up making it to the championship game against BU. They were the favorite. They had (Marie-Philip) Poulin, (Jennifer) Wakefield, all the big names. We ended going into overtime in the Beanpot championship. I remember when Casey Pickett scored in overtime about five minutes in we went nuts! It was at BU too, so that made it even better."
A Second Beanpot for Murphy and Northeastern
The Beanpot is an ice hockey tournament involving the four major college hockey schools in Boston. Harvard University, Boston College, Boston University and Northeastern. It is one of the longest running tournaments in all of women's college sports. At the time of Murphy's first Beanpot victory (2012), Northeastern had not won the tournament since 1998.
"The year after in 2013 we had it on our home ice at Matthews (Arena). Even though we had won it the year prior we were underdogs again. We played BC in the championship this time. Ended up grinding it out for a one goal win. It was probably just as sweet (as the first year) winning on our home ice. I have never seen Matthews Arena more packed than that. When your home rink is packed, and you've won a Beanpot, and it's back-to-back, and you're beating BC whom everybody hates, it's just so much better. It was pretty cool, especially being on the ice during the last minute. It was awesome."
Listening to Murphy share her memories of both Beanpot victories can cause goosebumps. Considering that the tournament is only once every year and only four hockey teams in the world can have a shot, it is a special rarity to win one, let alone two.
An NWHL Opportunity
Murphy's collegiate career wrapped up in 2015. Her four years of play saw her accomplish more than most. Certainly enough to hang her hat on. So why the NWHL now after not pursuing it for two years? Murphy explains:
"When I left Northeastern back in 2015 I was completely prepared mentally to be done with hockey. I accepted it. I wanted to go back home to North Carolina and start my career in business. Just play for fun with my friends in North Carolina. One-hundred percent didn't want to play in the NWHL the first year it was up and running. I could have but I decided that I didn't want to. I went back home. Here in North Carolina we have a travel women's team called the Carolina Aces. They're pretty competitive. I joined them with a bunch of my friends. Kelsey Neumann is part of that program as well. I played with Kelsey, knew that she was part of the Beauts."
Support From Kelsey Neumann
Neumann now enters her second year as a goaltender for the Beauts. Murphy goes on to explain how her long time friend played a vital role in making her professional career come to fruition:
"Basically, throughout these past two years I got a bit of that drive back. Although I was happy with where I was in North Carolina playing hockey, the fire in me wanted me to play the same level or even better than the level I was playing at Northeastern," she said. "I wanted to push myself again. Play at that speed. The high intensity. Fortunately for me Kelsey explained to me more about the Beauts, how the NWHL works, and put me in contact with Coach Craig (Muni) and Coach (Ric) Seiling. I reached out to them a couple months ago and had a chat with them to see what their interest level was and what my interest level was, and what we could do to make it work. Fortunately for me, here I am. I'm pretty pumped about it."
@cmurphsmurph10 Congrats Smurph!!! #fromNAHAtoAcestoBeauts #proudteammate #carolinagirls #smallfry pic.twitter.com/SSzKt9x10U

— Kelsey Neumann (@lilneumy) July 21, 2017
Chemistry with Hayley Scamurra
An interesting tandem could likely be formed with Murphy now in Buffalo. One Beaut who will likely have a breakout season is Murphy's former Northeastern teammate Hayley Scamurra. While they only played two seasons together with the Huskies, Scamurra capitalized on Murphy passes on multiple occasions. Scamurra scored 39 goals during her four years at Northeastern. Last season she had five points in three games (combining regular season and playoffs) and scored a goal in her first (and up to this point) only regular season game.
Putting Murphy and Scamurra onto the ice together as a part of unit could generate a fair amount of offense and a plethora of opportunities. Power play situations could be interesting especially. Murphy was asked if she anticipated chemistry between she and Scamurra in Buffalo this coming season.
"Absolutely," she said in full confidence. "With Hayley being on the Beauts it makes it even sweeter. I love Hayley as a person and as a player. She is one of the best teammates that I have had. Unfortunately, I only got to play two years with her at Northeastern. But during our two years there together, she was just perfect. I felt like I knew where she was positionally. Her shot was amazing. The thing that is crazy for me is that I know that she's gotten even better from when she was a freshman and sophomore. I definitely think that that chemistry is going to come over to the Beauts."
The Battle and The Rush
Murphy will most assuredly add unique dynamics to the Beauts' defense due to her style of play. She has a proper balance between offense and defense when she is on the ice. Lidstrom-esque, which is perhaps no coincidence.
"The biggest thing for me with my play is that I love to be offensive and jump into the rush. I take my offensive opportunities, but also will be a shutdown 'D'. I think I have that balance between when to jump up and when to stay back."
More than anything else, Murphy has missed the battles that hockey brings out on the ice. Intensity, tenacity, winner take all. A hockey player's heart yearns to partake in that struggle. Murphy is no different.
"My favorite part that I have been missing these past two years when I haven't been playing at that level is the battle. Battling with the girls. My style of play is pretty much a little bulldog. Just going full-speed at everything," she said.
Enthusiasm for Her First NWHL Season
Right now Murphy gets to be a kid all over again. So much of her first NWHL season will be new and exciting. A new team and a new atmosphere. Familiar faces in new jerseys. Fresh rivalries. She is simply taking it all in.
"I know a lot of the Boston Pride girls and a lot of the New York Riveters," she said with much enthusiasm. "Super excited to play against them and battle them again. Not only just to play but I am extremely excited to get involved and grow women's hockey again. That is something that I have been trying to work with down here since I got out of college."
"I'm pumped about everything right now," Murphy stated. "I have been following the NWHL since I left Northeastern because I have a couple of good friends that play up there. Up in Buffalo last year I was fortunate that I was coaching one of the girls U12 Hurricanes teams at a tournament, and we got to see one of the Beauts' home games. The girls got to see the game and meet Kelsey. She showed them the locker room. From there I realized that I really wanted to play this again."
Just as she fell in love with Northeastern, Murphy seems to have already fallen for Buffalo. She is eager to experience the city to the fullest, and how supportive Buffalo is of its professional athletes.
"I'm super excited for the atmosphere," she expressed. "I've heard that the Buffalo community is absolutely amazing in supporting their teams. I am super excited for that, and I cannot wait to play at that level again."
Beanpot gameday vs Harvard #defendthetitle pic.twitter.com/j4i8f8MKbN

— Colleen Murphy (@cmurphsmurph10) February 4, 2014
Growing the Game in the Carolinas
Murphy knows full well that her playing pro hockey in the NWHL could easily have a ripple effect. The league already reaches youngsters across the northeast United States especially, but also worldwide. Knowing that eyes in her North Carolina home are upon her, Murphy is aware that she can make a lasting impression upon youngsters in her own neck of the woods.
"I have been working with the youth girls teams down here," Murphy explained. "Just recently we changed the Carolina Aces women's team to be under the Carolina Hurricanes branch so now we are the Lady Hurricanes. The girls down here after they play youth but don't want to play in college, they will have a women's team to play for right here. I want to grow hockey down here and be a role model for my girls. The U12s, 14s, 16s. I have been out of competitive hockey for two years but it doesn't mean it's over. If you keep working hard, you can get to anything you want… if you're a girl hockey player in North Carolina, that doesn't mean that you can't go anywhere. I'm super excited to be a role model for the girls down here and just grow the game."
What The Challenges Will Be
Murphy is not naive. Something new typically presents challenges and there will be some in her first NWHL season. Murphy recognizes that. She is mindful, but not intimidated.
"This is something that I have been thinking about for a while," she stated. "It will be challenging getting back into the speed and that level of play again. I haven't been at that level since I left college. That is something that is definitely going to be a challenge to get back that mental speed of the game and the physical part of it. I have been doing the absolute best that I can to physically get back into shape. There really is nothing that is going to compare to playing at this level. Getting used to playing back at that same playing speed as before. These players are the most talented players in the world. That will definitely be a challenge."
What Can Buffalo Expect From Murphy?
Onto the fun part. Murphy is definitely going to be one of the most adored Buffalo Beauts this upcoming season. Some old favorites have stepped aside, but Buffalo fans should fear not – they will soon become endeared with Murphy's style of play and her character. She was specifically asked what should Buffalo fans be most excited about her as a player. Murphy responded: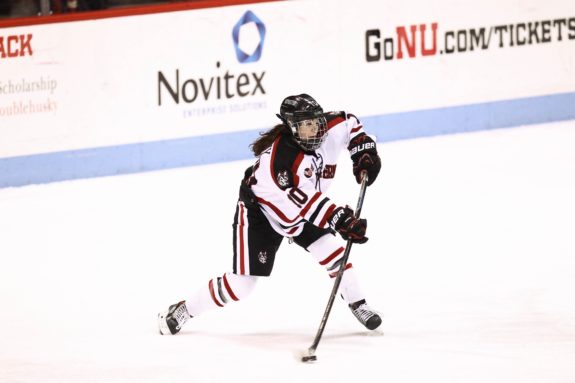 "The fans should be excited for some offensive looks coming from a 'D'. I try to get up there and create as many opportunities as I can. One of the things that I am kind of known for, and Northeastern I know has helped me out with Tweeting some things, is that I definitely like to 'celli' after I score. Try to add a little bit of flair into that."
"I wouldn't say that I'm a flashy player, but I definitely like to get into it," she went on to say. "I like to be physical. Hopefully I will get the fans excited in that way with some creative plays, some physicality, and I'm really looking forward to getting involved with them as well."
Buffalo, Colleen Murphy Is Coming For You!
For the Beauts fans and the Buffalo community, Murphy is just as excited to take you all in as you should be about her. She is ready to wrap her arms around the city and become one of your favorite Beauts. Especially the young fans who attend the games. She stated:
"I want to hang out with them. Talk to them. Be as accessible as I can. Make them feel like they are really a part of our team. That's what you've got to play for. The kids get most excited. They're going to want to talk to you. Having these girls have something to look forward to."
Buffalo, the Beauts and "The Little Bulldog" might easily be a match made in heaven.