The Boston Bruins and forward Ryan Spooner have settled on a one-year contract worth $2.825 million, per Elliotte Friedman. The two parties were originally set to meet in arbitration with the Bruins offering $2 million and Spooner asking for $3.85 million. Arbitration is never a good idea as it typically leads to ill-will between the two sides as both sides try to argue their case. For a team, it becomes a matter of diminishing the player's abilities and accomplishments in hopes of lowering their value in the ruling. For a player, those comments simply don't go away once they're said.
https://twitter.com/FriedgeHNIC/status/890207935518953472
While many have figured that Spooner would be skating in a different uniform come the 2017-18 season, the Bruins haven't yet traded the 25-year-old center who could very likely still be in the Bruins plans moving forward. Though he's coming off of a disappointing season in which he scored just 11 goals and 39 points in 78 games and saw his role diminished down the stretch, Spooner is still only one year removed from 13 goals and 49 points in 80 games. As a power play specialist who has tremendous offensive instincts and ability, Spooner is a valuable player at the NHL level. Still, his defensive ability and tendencies to go cold at times have created a rift between himself and the opinion of the media and fanbase in Boston.
In 214 career games, Spooner has scored 32 goal and 117 points and has been a mainstay on the team's top power play unit in recent years. With the Bruins losing Loui Eriksson just one offseason ago to the Vancouver Canucks, losing Spooner would have meant the team's power play would take another big hit. The Bruins do have an influx of young talent set to join the league this season, however, and if they deem them ready to take a prominent role in the offense from the start of the season, Spooner could still find himself traded if the Bruins deem the return satisfactory.
Decisions to Make in Boston
With a deal at just under $3 million, Spooner has a decent contract for his skillset. If the Bruins do determine that they would be better off trading him and moving forward with their young crop of talent, there should be no shortage of suitors calling general manager Don Sweeney to try and work out a deal. While the Bruins don't want to lose Spooner with a minimal return and with reports indicating that the return for him would likely be somewhere in the range of a third-round draft pick, the Bruins could likely do better at some point in the near future. Whether that time comes during the offseason or as a mid-season trade is anybody's guess at this point.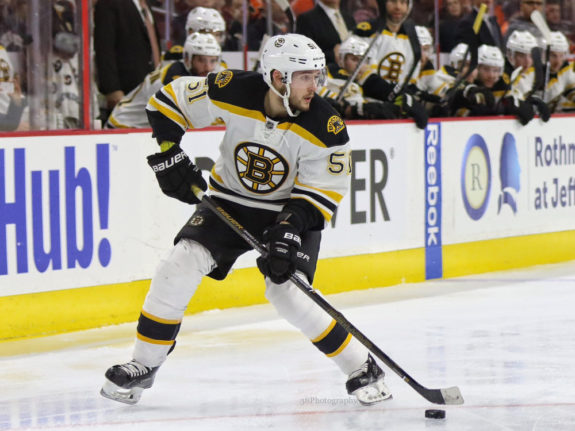 At any rate, the team has some decisions to make in training camp and during the preseason. There are many young players just waiting to hear their names called up to the main roster, and while Spooner is a proven commodity – albeit one coming off of a down year, the team could deem the ceiling of some of their younger prospects to be higher than that of Spooner. The job is Spooner's to lose, but the two coming to terms on a deal bodes well for both sides if a long-term deal is still in the plans.