The NWHL offseason has moved past the midway point and it is very apparent that the Buffalo Beauts have not lost any focus. From the co-coaches through the entire roster, the mindset of the Beauts throughout the summer has been to defend their Isobel Cup. Sure, as the Cup has journeyed from player to player there has been cause for celebration. Amidst the enjoyment, however, there has also been an underlying vibe of preparedness and one of concentration.
One Beaut who has steadily been gearing up for October is defender Kayla Parsons. The Alaskan native will be relied upon more heavily in the 2017-18 season. Thus far the only announced signings on Buffalo's backend are Parsons, Jordyn Burns, and Sarah Casorso. Knowing already that Olympians Emily Pfalzer and Megan Bozek will not be back for the upcoming season, Parsons and her two counterparts appear to be the workhorses for Beauts blueliners.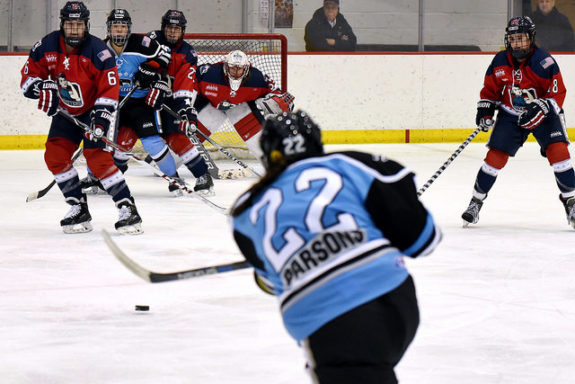 Parsons' Summer Training Regiment
That being the case, Parsons has been making certain that her body is up to the task of more games and more minutes.
"As I have moved through the summer, I have found a new home at the ALP Training Institute," Parsons said. "There I have focused my training on hockey-specific areas to improve performance and decrease my likelihood of injury, as well as improve my dietary needs."
22 DAYS until the battle for the #IsobelCup hits Buffalo ice. Kayla Parsons is ready, are you? #NWHLOpeningWeekend pic.twitter.com/TRTq6lSibL

— Buffalo Beauts (@BuffaloBeauts) September 15, 2016
The institute itself is located in the Hamilton, Ontario area and houses over 6,000 square feet of gym floor space, as well as 1,000 square feet of artificial turf. With their training staff and training tools with multiple squat racks, ropes, and sled kettlebells, it is an ideal place for Parsons to develop and grow.
She went on to say, "ALP has helped me focus my training by providing me with individualized performance training and nutritional plans based on my goals and demands. I feel confident that I will be more prepared for the upcoming season with their outstanding coaching abilities and guidance."
A Puck Mover for Norwich University
At 5 feet 8 inches, Parsons has ideal size and build for a defender. Prior to joining the Beauts, she played four years of NCAA Division-III hockey at Norwich University. At Norwich, Parsons demonstrated that she can contribute from the backend and move the puck well.
Parsons' junior campaign with the Cadets (2012-13) saw her set career highs in goals (11) and points (26) in 29 games. The ECAC also named her East All-Conference First Team that same season. A career high of 18 assists would follow during her senior season when Parsons served as an alternate captain. Each of her four seasons at Norwich saw her hit double-digits in points.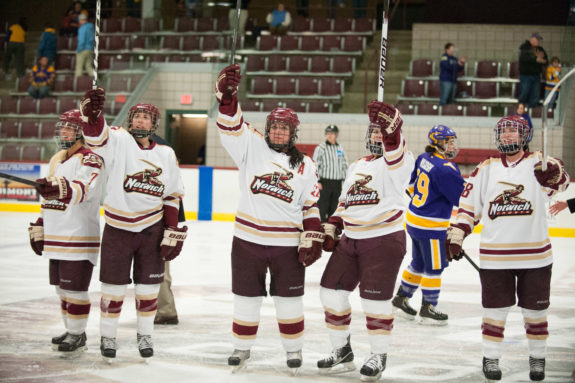 Size and scoring aside, Parsons feels that her own best attributes are the intangibles that she brings to Beauts bench and locker room.
"I would say my attitude and love for the game as a competitor," she explained. "One of the main reasons I refused to hang the skates up was how much I enjoy the game and the competitiveness and being able to push those around me to be better. My favorite quote that helps resonate my attitude is, 'Don't be upset by the results you didn't get with the work you didn't do.' For that reason, when I even think about giving up in the gym or on the ice, I remember someone is still going. Because the best way to improve the team is to improve yourself and push those around you."
Beauts Will Need More
Parsons played in 10 of the Beauts' 17 games during their championship season. In that stretch she would block five shots and register a shot on goal. Parsons' minus-2 may not seem like much, but for a Beauts team that only registered a league-low 44 goals while allowing 68 against, her plus/minus tied for the third-best on the team.
Expect those numbers to improve even more so during Parsons' sophomore NWHL season. She is one of the veterans now. The summer workouts and training she is putting forth will set a strong example for the newest Beauts that will join the roster. There are still plenty of defender spots to fill on the team. Parsons even has her own sage advice for the newcomers.
Advice For Beauts' Rookies
"Speed, speed, and speed," said Parsons. "Work on the first three steps. That would be my most important advice and knowing your decision before you get the puck on your stick. This isn't Division-III hockey anymore where you had an exorbitant amount of time to catch the puck and then make your decision. I had this learning curve as a new rookie in the NWHL this past season. But also remember to have fun. The goal is to grow the game for future girls to play. What we have here in the NWHL is a gift. Embrace it, enjoy it, and grow the game."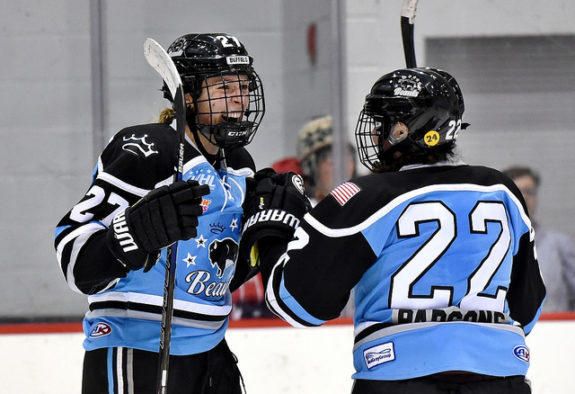 Part of what has made following that mantra easier for Parsons is how much she embraced the city of Buffalo. She attributes some of the Beauts' success as a team to the support that the fans and the city have shown. One thing about athletes in western New York is that they quickly become ingratiated with the city. With the Beauts it is no different. The city is one that Parsons has fallen for. She is ecstatic to be back for another season.
Terms of Endearment for Buffalo
Parsons shared what she is most excited about for the upcoming season:
"Defending the crown of course! I will need to take my hat off to the Buffalo community. It has been a dream come true this summer with our fans. They are the real MVPs and I am honored to take the ice again in representation of this great city. We are very lucky to have such a supportive hockey community, and I look most forward to their energy and support this upcoming season."
Defense of the Isobel Cup will be no small feat to accomplish, even while the love and support of the Buffalo fans can be counted upon. The Beauts' roster presently still has a good amount of holes to fill. Veterans are leaving the holes too, through retirements or national team obligations. This poses an even greater challenge. As mentioned earlier, the most depleted area, for the time being, is Buffalo's blue line. Parsons, Burns and Casorso return, but Bozek and Pfalzer leave big spots to fill.
Back-To-Back Cup Titles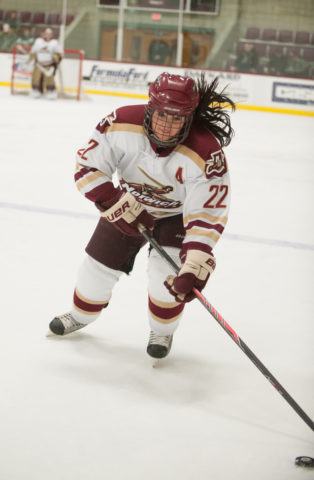 Fully expect Parsons and her fellow Beauts to rise to the occasion. Their success will continue to be achieved in increments as the season progresses. It is a mindset. Parsons and teammates have been programmed to expect it of themselves.
"It's never easy to defend back to back titles, and we certainly have made a statement this past season," she explained. "As our head coach has always reminded us, it's about getting better and making improvements each practice and game. It is not always about the win but the momentum heading throughout the season. We don't want to be peaking during December. We want to be moving up towards that peak during the playoffs. It's about momentum and positive progression."
There are a wide variety of words that can be attributed to teams of players who have become champions. One word easily attributed to the Beauts is accountability. Parsons holds herself accountable in this process of retaining Isobel and has done so all summer. The other players do too. The coaches will undoubtedly hold the players as a whole accountable as well.
Excited For Neumann
In addition to Parsons, her teammates are following similar summer expectations for themselves. She alluded to the importance of this earlier—the best way to improve the team is to improve yourself and push those around you. When it all comes to a head on the first day of the regular season, it will be exciting to see the improvements in each players' game and personal performance. The commitment is there.
Parsons was asked if there was a particular teammate she was looking forward to seeing in action this season. A player who has put the work in and prepared herself. She indeed has in mind a certain player:
"Kelsey Neumann, hands down," said Parsons. "Many people are not aware, but this is someone who arrives 15 minutes early to the gym and stays 15 minutes late after we have finished. She is a key contribution to the Buffalo Beauts and is a prime example of what it takes to be professional hockey players. I look forward to seeing her this upcoming season and what she brings to the ice. I can only imagine what work she has put forward this summer, knowing her work ethic and dedication to the Buffalo Beauts."
An Active Ingredient on the Roster
Anyone who watched the Isobel Cup Final will remember the exuberance that both Parsons and Neumann showed. They flung open the rink doors and ran onto the ice to join their teammates in celebration. Each will have a larger opportunity to contribute this upcoming season, but will also be called upon to do more. No doubt that both are readied for such a calling.
WE'VE DONE IT! WE'RE CHAMPIONS! THE ISOBEL CUP IS COMING HOME TO BUFFALO!!! pic.twitter.com/3gHCvVghQU

— Buffalo Beauts (@BuffaloBeauts) March 20, 2017
Comments such as her thoughts about Neumann are a large part of who Parsons is as a hockey player. Encouraging words, personality, mentality, and character are a nice chunk of what she can bring to the Beauts' locker room. She's also a defender with a good head on her shoulders who can also move the puck and stymie opposing shooters. Kayla Parsons is ready, willing and able to be an active ingredient in the 2017-18 Beauts' success.
General Manager of the Buffalo Beauts (NWHL). Hockey history writer "The Hockey Writers". Credentialed media for the NHL Combine and 2018 IIHF World Junior Championships in Buffalo, NY, USA. Born and raised in Buffalo, NY. Lifelong hockey fan for over 40 years. Proponent of the women's game.