The Carolina Hurricanes announced today they have added forward, Marcus Kruger to their roster. The trade with the Vegas Golden Knights sends a fifth-round selection in the 2018 NHL Draft to the Golden Knights.
Hurricanes Executive Vice President and General Manager, Ron Francis said this past Saturday after acquiring Justin Williams that he would still be looking for potential players to add to his team. In Kruger, he has found another former Stanley Cup winner, and another former Chicago Blackhawks player with which to build.
[TRADE] The #Canes have acquired forward Marcus Kruger from Vegas → Details: https://t.co/Ij9F1jvVW3#Redvolution pic.twitter.com/JDmQKt2Xwy

— Carolina Hurricanes (@Canes) July 4, 2017
Meet Marcus Kruger
Kruger is 27 years old and a native of Stockholm. Last season, he scored five goals, 12 assists for a total of 17 points. Kruger had a plus-7 rating in 70 games for the Chicago Blackhawks during the 2016-17 season. While his statistics last season do not jump off the page, he has the qualities that Francis is looking for. In the team's announcement, Francis said,
We were determined to bring in experienced players with winning pedigrees and Marcus is another addition who fits that mold. He's a solid, two-way center who has achieved success both in the NHL and internationally.
The organization also listed Kruger's winning history: "Kruger led all Blackhawks forwards in shorthanded time on ice per game (2:13) and was second on the team in faceoff percentage (minimum 100 face-offs), winning 52.3 percent of his even-strength draws. Following the season, Kruger joined Sweden for the 2017 IIHF World Championship, where he won the gold medal along with fellow Hurricanes Elias Lindholm, Victor Rask and Joakim Nordstrom."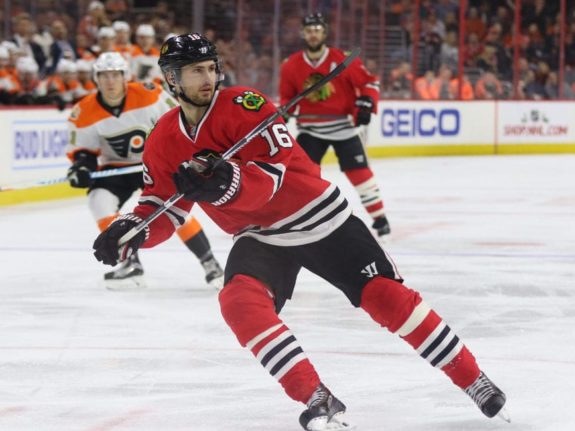 He was drafted in the 2009 NHL Entry Draft by the Blackhawks, picked 28th in the fifth round and 149th overall. He has never put up large numbers offensively, but Gavin Lee at prohockeyrumors.com wrote today: "Kruger is a very effective checking center who has received Selke votes twice in his career, and is generally well-regarded in a shutdown role." (The Frank J. Selke Trophy is an annual award given to the forward who best excels in the defensive aspects of the game). As a player with above-average checking skills and a winner's resume, Kruger should fit nicely into the Francis puzzle.
Lee also broke down Kruger's salary situation, saying,
After the signing bonus was paid out, Kruger is owed just $1.45 million for the rest of the 2017-18 season despite his cap hit of $3.08 million. Next year his salary is just $2.3 million, meaning the Hurricanes will pay out a grand total of $3.75 million for two years of the checking center. Contracts like that are the lifeblood for a team that simply can't pay up to the salary cap ceiling.
In other words, the Hurricanes are in a situation where they are more worried about hitting the salary cap floor rather than the cap ceiling. Capfriendly.com has the team's cap hit, after Kruger, at $57.8 million, just over the cap floor of $55.4 million.
On paper, this should translate into a huge advantage when looking to sign that elusive scoring forward that some say they still need, even after adding Williams and now Kruger. However, the question with the 'Canes has always been whether owner Peter Karmanos is willing to dole out a big salary at this point.
A Room Full of Cups
Kruger was with the Blackhawks when they won the Stanley Cup in 2013 and 2015. Along with Williams, goalie Scott Darling and defenseman Trevor van Riemsdyk, the Cup-winning player acquisitions that Francis has made this offseason brings invaluable experience into the locker room. 
With the Kruger deal done, the @NHLCanes have now added players/staff with a combined nine Stanley Cup rings this summer. #Redvolution pic.twitter.com/7RfAtnppDI

— Mike Sundheim (@MikeSundheim) July 4, 2017
Add in former Blackhawks forwards Teuvo Teräväinen and Nordström, former Pittsburgh Penguins center Jordan Staal and Hurricanes goalie Cam Ward and there is now a sense of ultimate NHL victory surrounding the team. This is no longer a team full of only "young guns," but a team with a real history of players who have been to the top. Getting to the top again should be tremendous motivation for the guys who have won a Stanley Cup, and hopefully, they will be able to impart that desire to the younger players.