From May 1-31, NWHL teams can re-sign players from their 2016-17 roster and their draft picks during the restricted free agency period, and beginning on June 1 any unsigned players left will be free to sign with any team.
The third season of the NWHL will begin in October as the Buffalo Beauts defend their Isobel Cup championship, and with up to 12 players unable to participate in the league this season due to their selection for Team USA's 2018 Olympic team, this will be the most competitive season yet.
My colleague Dan Rice will keep THW readers up-to-date on New York and Connecticut's signings throughout the summer, while I post updates on Buffalo and Boston.
[vc_row][vc_column width="1/2″]Whale Ink a Trio, Russo a Riv Again[/vc_column][vc_column width="1/2″]Whale and Rivs Kick Off NWHL Signings[/vc_column][/vc_row]
[vc_row][vc_column width="1/2″]Pride Ink Their First Three RFAs[/vc_column][vc_column width="1/2″]Riveters Re-Sign Captain, Complete Goalie Puzzle[/vc_column][/vc_row]
[vc_row][vc_column width="1/2″]Pride's Emily Field Back For Third Season[/vc_column][vc_column width="1/2″]Beauts & Pride Sign Perennial Champions[/vc_column][/vc_row]
[vc_row][vc_column width="1/2″]Dempsey & Parker Back With Pride[/vc_column][vc_column width="1/2″][/vc_column][/vc_row]
Neumann Signs
One of the most colorful and compassionate members of the Buffalo Beauts will be back with the team for the 2017-18 NWHL season. Goaltender Kelsey Neumann, one-third of the popular "McLevman" trio, has signed a contract to be back with the club and looks to play a larger role this upcoming year. Word of the signing came out this weekend on June 3rd.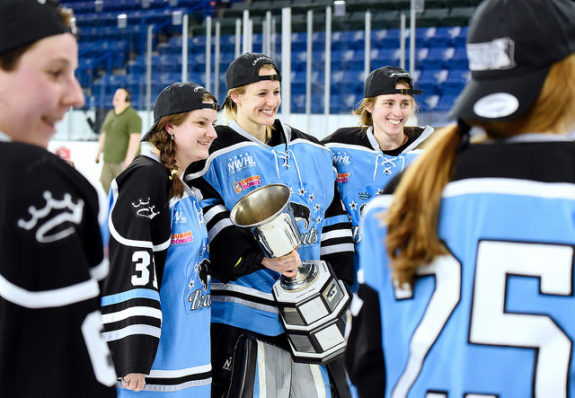 Anyone who witnessed the 2017 Isobel Cup Final between the Beauts and the Boston Pride would be well aware of the goaltending heroics of Brianne McLaughlin. The netminder made 60 saves in the game. Without a performance such as hers, the Isobel Cup would not have made its way to Buffalo.
A Larger Role
But Brianne McLaughlin is now recently retired and will not be that cornerstone between the pipes for the Beauts. That means opportunity has come knocking for Neumann and her counterpart, fellow Beauts goaltender Amanda Leveille. Neumann shared her thoughts on playing a larger role:
"Bri leaving definitely leaves big shoes to fill. But I think that Lev and I were very fortunate to have her as a goalie partner last year and learn from her. I think we both know she isn't someone that can be replaced, but I also think we are both ready to do what we have to in order to help our team win games this year."
Defending Their Championship
There is no doubt that Beauts co-coaches Ric Seiling and Craig Muni will be counting on a big season put forth by Neumann if the team is to defend their title. While Leveille played in 10 regular season games plus another in the playoffs opposite McLaughlin's 13 games and her brilliant finals appearance, Neumann did not have the opportunity to showcase her skills full bore. That will certainly not be the case for the league's third season.
"I think a big part of our success last year was having everyone buy into the belief that we could win. So going into this season, there are definitely different roles that will need to be filled. But I think that if we come together and all buy in from the first practice forward then we are going to have a great season."
Continuing Adventures
One thing is for certain, hockey fans will be delighted with more upcoming "McLevman Adventures". Combining portions of the last names of the three Beauts goalies – "Mc"Laughlin, "Lev"eille, and Neu"man"n – with homage to the unforgettable "McLovin" character from the film SuperBad, the trio were hilarious all of last year. Wacky photos, lessons in goalie stereotypes, videos that invoked knee-slapping responses, we simply fell in love with these three Beauts and are anxious for more of them to come. Neumann is mischievously secretive on what they have in store for us.
"When life throws you a rainy day, play in the puddles."#mclevman #treatpuddleslikeyourhaters #needabiggerraincoat #beauts #NWHL pic.twitter.com/AByob5bqxk

— Kelsey Neumann (@lilneumy) May 5, 2017
"I can't give anything away, but we will definitely be keeping up the shenanigans during the season and we are working on some different things for this summer, so everyone just has to keep their eyes out."
A Big Heart
One of the best parts of having Neumann back with the Beauts is not something that can be measured upon the ice. Rather, it comes across if you have the opportunity to meet this young athlete in person. As one of the recipients of the NWHL's Foundation Award, Neumann was recognized for her work off the ice. The fun-loving "McLevman" antics are just a glimpse into her warm character. Neumann is one of the game's biggest supporters of women's youth hockey, and she has fostered the most positive relationships with her young athletes that she coaches; the effects of which will last a lifetime. You can always find her at any public event that the Beauts are involved in; signing autographs and taking photos.
Had a great time meeting and talking with students @ John A. Sciole Elementary about being kind to others and the Beauts! #nwhl #growthegame pic.twitter.com/oVqIblxVcg

— Kelsey Neumann (@lilneumy) February 16, 2017
Having Neumann back with the Beauts is a win-win-win situation. A win for the team on the ice as she solidly defends her net. A win for the team off the ice by having one of their staple teammates back in the locker room. And a win for the Buffalo and NWHL community by having a positive role model who is always readily involved with her big heart.